If you are running a business such as a restaurant, cafe, hotel, travel, gym, and so much more, you probably need a WordPress website to spread out your brand. However, a website with only content and information on it is not enough. It should include a lot of functions to make a powerful site and WordPress Booking Plugin is absolutely a necessary one. It allows your customers to book or reserve your services online on any device within a few mins. 
In this article, we will share with you some of the best WordPress booking plugins so you can use one of them to manage all your appointments and reservations with ease. Let's dive in with us so you can pick one in ten booking plugins that suit your purpose.
Top 10 Free and Paid WordPress Booking Plugin
Bookly – Top Booking Plugin WordPress
Learn More
Bookly is a famous Booking Plugin WordPress or it can be called a Reservation Plugin WordPress. It's designed for any business website that wants to have online bookings, such as hair salons, health, and beauty theme website. Especially, there are 2 versions: free and paid. The free version offers basic features and the paid version brings various extensions. However, these basic features don't support online payment gateways and the unlimited number of staff members as well as services.
To customize and edit the online booking form, you just need to add custom form fields to meet your business requirements even if you are not a developer or professional. In particular, this booking form is fully responsive on all screens and devices, like smartphones, tablets, computers, laptops. After filling in some personal information to the preferred service and time, your customers will receive instantly an email or SMS notification to confirm their booking details. And, the system will auto-update orders to the appointment booking calendar.
In addition, if you are using the Bookly Pro version, your online booking form will become the most powerful form ever. With the unlimited number of staff members feature, you can set up different pricing and availability for each staff member. You and they will receive the notification once customers booked by connecting with Google Calendars. Moreover, Bookly integrates with the WooCommerce plugin to provide multiple payment gateway channels. Let's try Bookly to explore many more functionalities!
StartBooking – WordPress Booking Plugin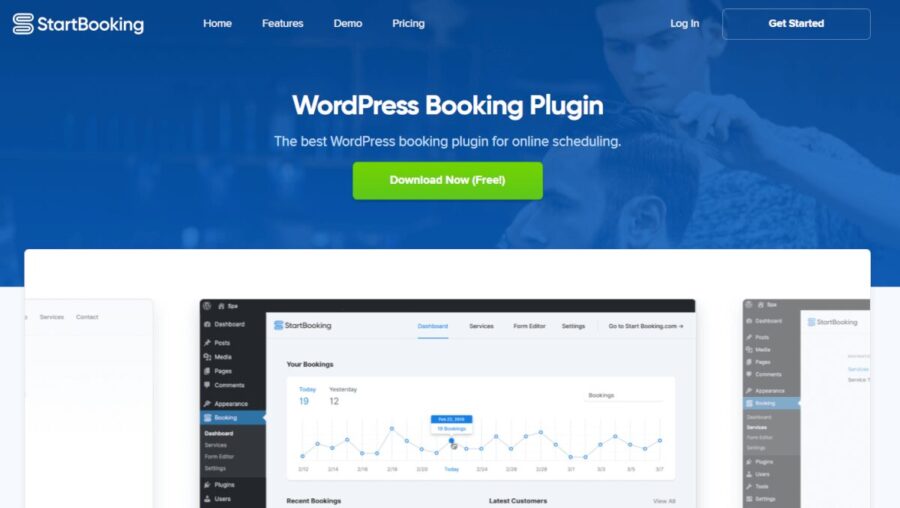 Learn More
StartBooking is a perfect solution for creating an online booking, scheduling & appointments, classes & group bookings. This WordPress Booking Plugin comes with a simple interface so any level can use it without any issue.
StartBooking lets you customize any aspect you want such as services, business hours, available staff/ time slots, and so on. Plus, setting up recurring appointments and events is possible as well. Especially, if customers are a group, they can book appointments as the same steps as individual appointments by configuring the capacity, instructors, etc. Also, you can indicate the certain time that customers can book on the calendar. Together with this, you might display the cancellation policy or full control to change the appointment dates and times too.
Furthermore, customers can pay online before using your services. But it's possible to pay while or after appointments, it depends on your setup. Another key point is the integrations. StartBooking integrates with most of the famous third-party platforms, like Google Calendar, Google Analytics, MailChimp, Stripe, Zoom. Lastly, this plugin has limited, basic, and business plans. The limited plan costs $0/ month, this means it's free and always free but with restricted features. The most popular plan is basic with $25/ month. Is it a good deal? Try StartBooking today!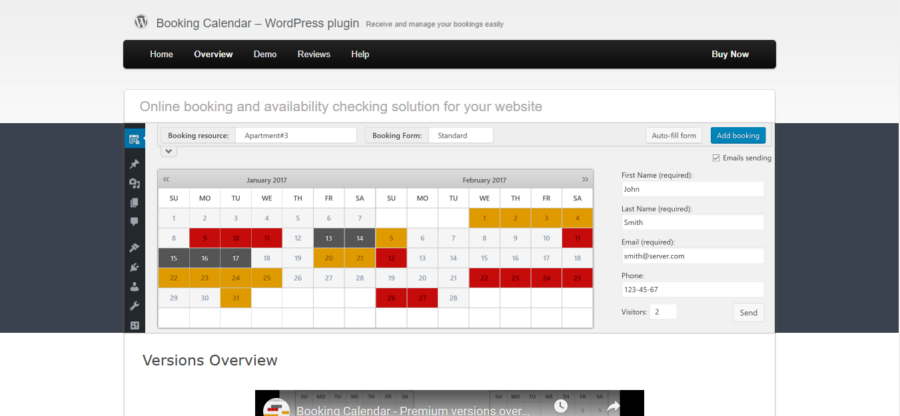 Learn More
Another best WordPress Reservation Plugin we highly recommend on the WordPress.org site is Booking Calendar. It has had over 60,000 active installations since 2009 and it is one of the oldest booking tools but still powerful from time to time. This plugin definitely can be used for small or larger businesses such as coffee shops, real estate agencies, and travel.
Booking Calendar comes with a smart booking system to make sure you and your customers feel convenient while using it. Once visitors visit your website, they can check your service types and availability to book. You can set up a specific time slot or even a full day. After booking, both of you and your customers will receive the notification emails. So it's time for you to approve or reject the order in the WordPress Admin Booking Panel.
Apart from the Google Calendar, Booking Calendar includes syncing bookings with famous booking websites like Airbnb, HomeAway, TripAdvisor, and Booking.com. Plus, it works in widgets for adding a calendar or booking form to sidebars. Lastly, to welcome international customers, you can translate your site with ease.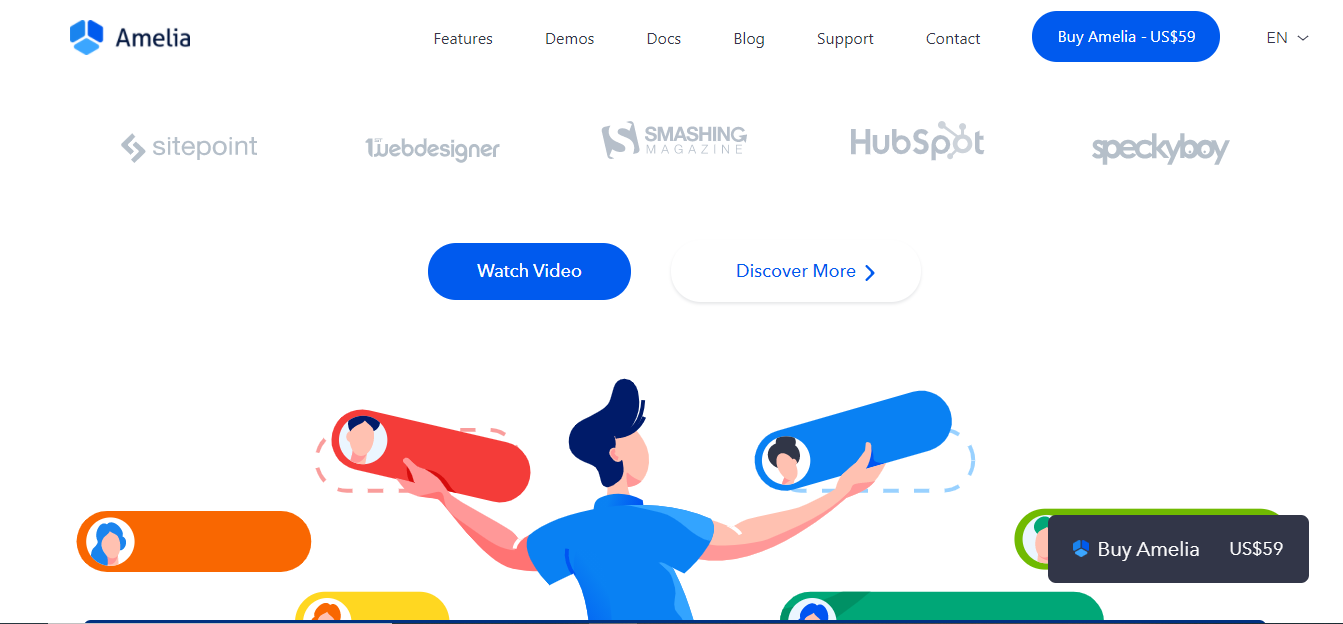 Learn More
Amelia Lite is a Booking Plugin WordPress Free available in WordPress.org. This plugin is really easy to use and it includes all the basic features of an automated booking system for small businesses. However, if you want to extend more functionalities for your larger business, you can check out the pro version. It costs only $59 with 6 months of support.
With Amelia Lite, you can create a booking view quickly by using their shortcode. Together with that, you can freely set up time slots, appointment status, Google Recaptcha, minimum time required before booking/ rescheduling/canceling, and so on. All appointments and statuses can be viewed by month, week, day, list, timeline on the calendar admin view. Also, whenever there are changes on appointments, your customers, as well as operators, will get the email notifications immediately.
Unlike the Amelia Lite, Amelia Pro comes with powerful features, such as a booking search view or catalog view. You can set up recurring appointments or add the locations too. Google Calendar, Outlook Calendar, Zoom, WooCommerce, and so on, all are in this package as well. It's possible to pay online or offline, depending on your setup for customers. Try Amelia, a perfect WordPress Booking Plugin today, and make an amazing online booking system!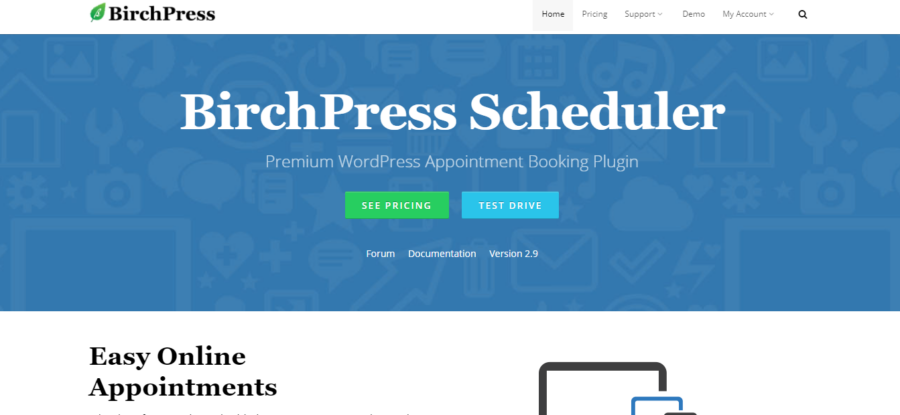 Learn More
BirchPress is a fully responsive Booking WordPress Plugin for any kind of business. Once you purchase this tool successfully, you can install/ download it to your WordPress site. BirchPress contains a customizable booking form. Hence, you can customize any aspect you want it to be. Visitors or customers can see the availability then book the services online. With the integration of WooCommerce, there are multiple payment gateways available to choose from.
Moreover, this plugin can sync your booking calendar with Google Calendar, Outlook Calendar, iPhone calendar, etc. There are options to import or export the appointment data as well. If visitors booked an appointment, they can reschedule and cancel as per your policy. Every change will be sent to your email and their email. Plus, to avoid missing upcoming reservations or appointments, you also can set up email reminders too. Besides, you can gain sales by turning your visitors into your customers with the help of a WordPress Popup Plugin.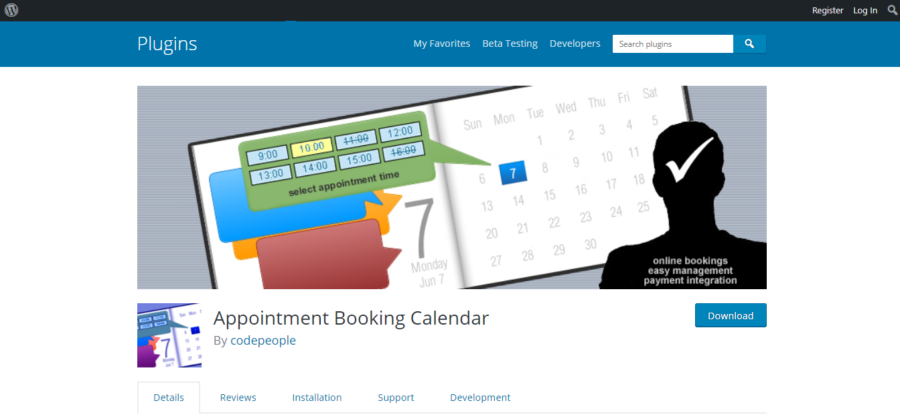 Learn More
As its name suggests, the Appointment Booking Calendar comes with a free and unique WordPress Booking Plugin. It is the first tool that offers a free PayPal integration. For removing the Paypal link, you can upgrade Appointment Booking Calendar to the commercial versions and explore a lot of features. Plus, it can be used for medical consultation websites, education websites, transportation websites, and so on.
Apart from the basic functionalities such as available time slots, booking capacity, email notifications, users who are assigned now can access the appointment calendar. To clarify, this plugin offers captcha validation as well. Exporting all your appointment data to Google Calendar or other famous calendars is possible with ease. Worth considering. Try the Appointment Booking Calendar today!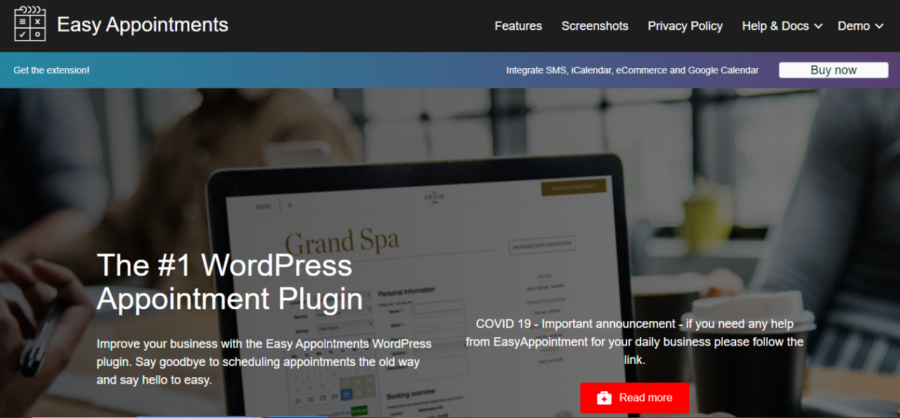 Learn More
If you are still searching for a WordPress Booking Plugin Free which is to fit your requirements, Easy Appointments is absolutely our next choice in our collection today. It is really simple to use for all levels even with no technical experience.
This plugin gives the option to add not only multiple locations but also multiple services and workers to your dedicated booking calendar with multiple time slots. After making appointments, the system will send email notifications to customers, admin users, employees to make sure everyone knows these activities. Plus, there are various custom form fields to pick for customizing and design your own booking form within a few clicks. Also, the Easy Appointments plugin helps you to translate to a lot of languages. Don't hesitate to explore this WordPress Bookings Plugin today!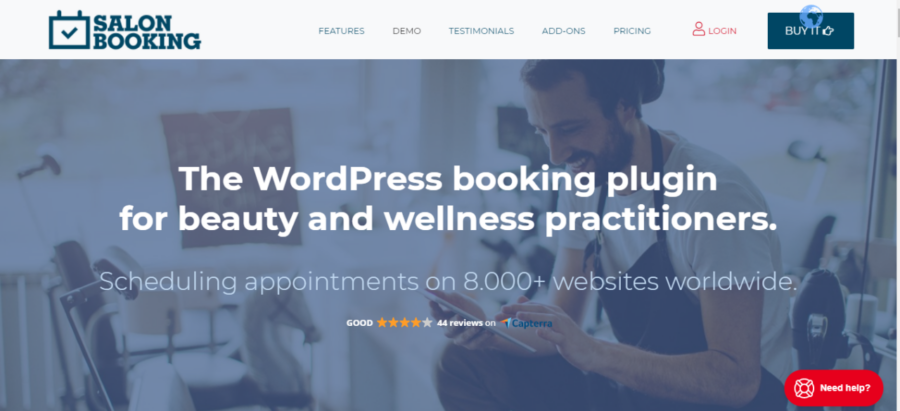 Learn More
Are you having a salon website, a barber website, a beauty website, or a similar business, and looking for a WordPress Booking Plugin to let customers book online reservations? Then you find the right plugin, Salon Booking System.
With Salon Booking System, you can check the adding reservation easily from daily view or weekly view or monthly view. Also, you can block some time slots unavailable. Plus, there are email notifications or SMS if customers reserve or review your services. They will receive an email or SMS of the upcoming reservation once they booked successfully. This plugin especially supports WhatsApp notifications too.
If you purchase the premium version, you will get a lot of salon payment options. It provides many online payment methods. Customers even can pay after appointments. However, if you want to set up a small percentage or deposit, you can confirm it in the WordPress admin dashboard. Sometimes, your customers like your services, they can give a tip. Hence, developers added tip functions to online booking. Like the above plugins, it syncs Google Calendar to check, manage, add, or cancel reservations.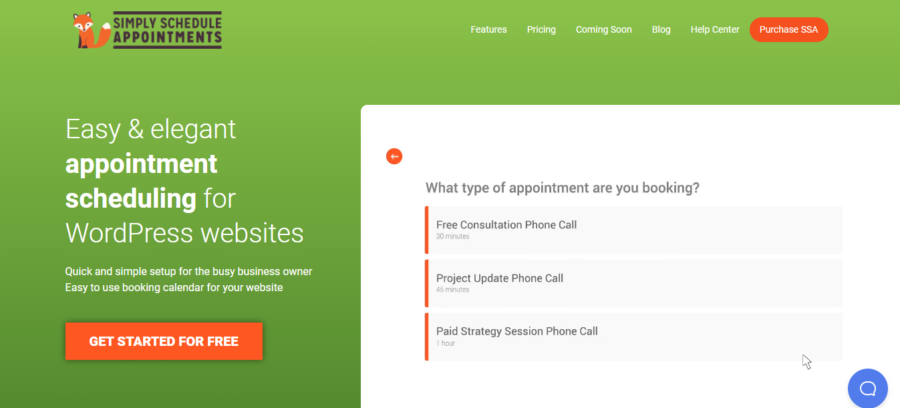 Learn More
Simply Schedule Appointments is an easy and elegant Booking Plugin WordPress. Even though you don't have technical knowledge, you can install and set up this plugin quickly within only 5 mins. Plus, Simple Schedule Appointments comes with a simple admin dashboard so every level can edit and manage the appointments with ease. In particular, it integrates with over 20 famous platforms, like Google Calendar, Google Analytics, PayPal, Stripe, Elementor, Divi, etc. Simple Schedule Appointments can be translated for local customers as well. Try it today!
Learn More
Last but not least in our WordPress Booking Plugin collection today is WP Simple Booking Calendar. Apart from the free version which can be easily installed and downloaded on WordPress.org, you can check out the premium version, this is the perfect WordPress Booking Plugin with Payment and more extended features that surely fit your requirements.
Basically, the plugin's fully responsive and it comes with a simple interface. Once you have done creating a calendar, you can display every aspect you want such as the availability. If there are bookings, they will be saved in your booking calendars organized and you can check them by day, week, month, year. Moreover, WP Simple Booking Calendar is translated into over 30 languages to support international clients.
Final Thoughts
Overall, all the above WordPress Booking Plugins are the best one in a dozen booking plugins on the market that our experts have tried. If you're an owner of a small business and have a small budget, you can download the free plugin with basic features. Once your business grows, it's time for you to upgrade to the premium version. Hopefully, you can pick the right one through our collection today.
Read More: 10 Best WordPress Restaurant Themes – 2021 Review