Google Ads shopping ads bug results in huge CPC increased; issue now resolved
Google has confirmed a bug with its Google Shopping Ads product where the cost per click (CPC) prices spiked from 50% to over 200% over the weekend. The issue happened last night, Friday, November 12th between 9pm EST (6pm PST) through this morning, Saturday, November 13th at 12am EST (3am PST).
Confirmation. Google confirmed the issue after 1pm EST today, November 13th on Twitter saying "The Google Ads system encountered an unexpected issue between 6pm PST on Friday Nov 12 – 3am PST Saturday, Nov 13 that affected Shopping Ads. We identified and fixed the issue. Everything is working as expected now."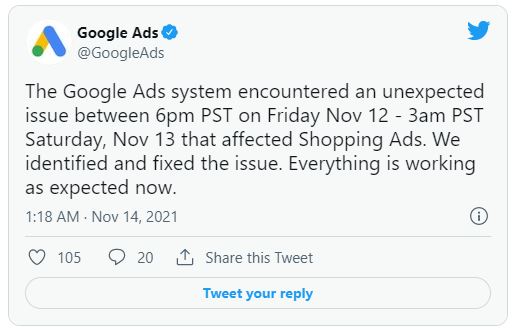 What's next. It appears that if you were impacted, a Google Ads representative will be in touch with more details. Ginny Marvin, the Google Ads Liaison from Google wrote on Twitter "impacted advertisers will be notified with more details." Of course, it doesn't hurt for you to check your Google Ads reporting and see if you were impacted and then to proactively reach out to Google for help and refunds.
How bad was it. Well, look at this chart from one Google Ads advertser: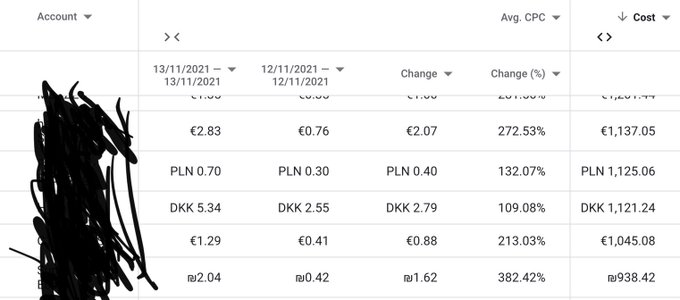 Source: Google Ads shopping ads bug results in huge CPC increased; issue now resolved
Google: Bolded Text Can Help Your SEO
Google's John Mueller confirms bolding important text in a paragraph can help your site's SEO as it allows Google to understand the content better.
This is stated during the Google Search Central SEO office-hours hangout recorded on November 12, 2021.
A question is submitted asking about the benefits of using bolded text.
Is it purely a stylistic choice? Or can it also be utilized for SEO purposes?
Mueller states definitively that it does help SEO.
However, the extent to which it helps is relative to the rest of the content on the page.
There's more on what that means in the next section.
Google's John Mueller On Using Bolded Text For SEO
In answering this question, Mueller references a video from former Googler Matt Cutts where this subject was touched on once before.
"This is something that comes up every now and then. I double checked before the session, actually, and Matt Cutts did a video, I think, in like, 2012 or something around that about bolding and strong on pages."
Mueller adds that Google can usually figure out what's important on its own, but bolded text makes the message more clear.
SEO Benefits Of Bolded Text Are Relative
Mueller clarifies that the value of bolded text is relative to the rest of the content on the page.
A few snippets of bold text throughout an article can send stronger signals to Google. But bolding all text on a page would add no value at all.
Source: Google: Bolded Text Can Help Your SEO
WordPress Template Plugin Vulnerability Hits +1 Million Sites
WordPress plugin by the makers of Astra Theme patched an XSS vulnerability that can lead to total site takeover and attacks on site visitors
Starter Templates — Elementor, Gutenberg & Beaver Builder Templates
The Starter Templates plugin is published by Brainstorm Force, the makers of the wildly popular Astra WordPress theme. The plugin allows users to use over 280 WordPress templates that help speed up website development.
The templates are made to be compatible with Elementor, Gutenberg, Brizy and Beaver Builder, as well as with the Astra theme.
Stored Cross Site Scripting (XSS) Vulnerability
The Starter Templates plugin by Brainstorm Force was discovered by security researchers at Wordfence to contain a type of vulnerability that allows an attacker to upload a malicious script that is in turn stored on the website itself.
A Stored XSS vulnerability is particularly troublesome because the uploaded script is stored on the server of the attacked site itself.
Website Takeover and Attacks on Site Visitors
"An attacker could craft and host a block containing malicious JavaScript on a server they controlled, and then use it to overwrite any post or page…
Any post or page that had been built with Elementor, including published pages, could be overwritten by the imported block, and the malicious JavaScript in the imported block would then be executed in the browser of any visitors to that page.
This could be used to redirect site visitors to malicious websites, or hijack an administrator's session in order to create a new malicious administrator or add a backdoor to the site, leading to site takeover."
Starter Templates Plugin Fixed
The publishers of the Starter Templates plugin were notified by Wordfence of the vulnerability and they promptly patched the plugin in version 2.7.1.
The public changelog for the Starter Templates plugin accurately records the patch:
v2.7.1 – 7-October-2021
– Security Improvement: Validate the site URL before processing the import request.
– Security Improvement: Updated right file upload permission before importing images.
Wordfence Advises that Publishers Update Their Plugin
Wordfence recommends that all publishers using this plugin update to the very latest version of the plugin is 2.7.5 because this newest version also contains important bug fixes.
Source: WordPress Template Plugin Vulnerability Hits +1 Million Sites
Amazon sellers battle the giant's algorithm-based policy- and decision-making
"Their algorithms are garbage," said Lesley Hensell Demand, partner in Riverbend Consulting, a firm that helps Amazon sellers overcome a host of challenges, including account de-activation and loss of ASINs (a kind of ISBN number Amazon assigns to products. Riverbend is heavily staffed by former Amazon employees.
There was a lot of discussion about Amazon's algorithms at the AMZ Innovate event for Amazon sellers in New York City this week. The reason: Amazon sellers are deeply invested in a platform which is essentially too big to be held accountable. They're at the mercy of policy-making and enforcement which can seem capricious or even be downright mystifying.
Hensell Demand offered a grim tour around the problems sellers can face. Amazon attempts to exert control over pricing decisions by third-party sellers. If, for example, it sees a product from a seller listed at a lower price on a competitor website, it will enforce a price reduction. Because the process is automated (those algorithms), it's not uncommon for Amazon to confuse a "pack of one," say, with a "pack of three." If Amazon believes it detects systematic over-pricing, more penalties can follow.
And then there's the reported practice of simply copying a successful product and putting Amazon branding on it. According to Hensell Demand it has even been known for Amazon to approach the manufacturer and offer to place a larger order than the successful seller.
Source: Amazon sellers battle the giant's algorithm-based policy- and decision-making
2022 could be the year of 8K monitors: Here's why
The first 8K monitor to launch was the Dell UltraSharp UP3218K 8K back in May 2017, nearly five years ago. It remains the only one of its category with an extremely high price tag (several thousand dollars/pounds) and lacking newer technology, like HDMI 2.1.
This may all change in 2022 though. TechRadar Pro contacted a number of monitor vendors – and Dell rivals – that have confirmed plans to release 8K – and/or 5K monitors – in 2022.
A spokesperson for Benq said their models are likely to arrive in Q2 2022 at the earliest while NEC – reinforced by its partnership with Sharp – confirmed that 8K displays are on its future roadmap.
Coming soon?
None of the manufacturers confirmed the screen size of their future models or pricing, but we expect a hefty price tag, as the new products will target users looking for large format display, monitors for video editing and monitors for photo editing.
Other companies we got in touch with (MSI, Lenovo, Asus and HP) have yet to confirm whether they will still go ahead with displays with 5K or 8K screen resolutions. IIyama has no plans for 8K monitors in 2022 while Dell told us that it wouldn't comment on future product releases.
Nvidia, Intel and AMD embracing 8K
2022 will also – hopefully – be the year where the current global supply chain problems will go away bringing prices down while more video editing software developers will add 8K video compatibility to their products. 
Other improvements we expect to see in 2022 are the native support for 8K-over-HDMI for onboard graphics (given the lesser appeal of DisplayPort as a universal video connector) and more widespread availability of Thunderbolt 4 both on laptops and desktop PCs. 
Source: 2022 could be the year of 8K monitors: Here's why
More News:
Freelancers can now offer their services on LinkedIn's new gig marketplace
WordPress Security Just Leveled-Up