Nowadays, for any company, a great WordPress Calendar Plugin plays an important part in setting up events, meetings, and appointments to prevent misunderstanding and confusion between partners. Even more, sticking the calendar system to the business seems to get very effective by making planned meetings, attendants' communication, and saving time/effort. Selecting the rightful one for your website will decide whether you can keep the current partners and attract potential customers in the future or not. Also, its duties include decreasing the time spending on those activities, conducting researches, improving users' experience, and gathering ideas/enhancements. In case your website is running in WordPress, we will introduce you to our best 10 WordPress calendar plugins to use on all websites.
Before we check them out, let's get through some characteristics for a proper WordPress schedule plugin.
An Appropriate WordPress Calendar Plugin's Characteristics
To work well, a calendar plugin must have basic and essential factors like event date and time, the number of participants/involved people, needed materials, and many other related things. Also, here come some basic and necessary features of the best WordPress plugin:
Customers and groups can make reservations in real-time.
Asking for the registrars' information and store for later uses.
Event and schedule recording in the calendar.
Showing the status (available/occupied) of bookings or special occasions.
Sending confirmation letters and updates in events.
Those are some basic functions of a good WordPress plugin for calendars and now we will check the list of top 10 in the market.
The Top 10 Event Plugins for WordPress websites
BookingPress Plugin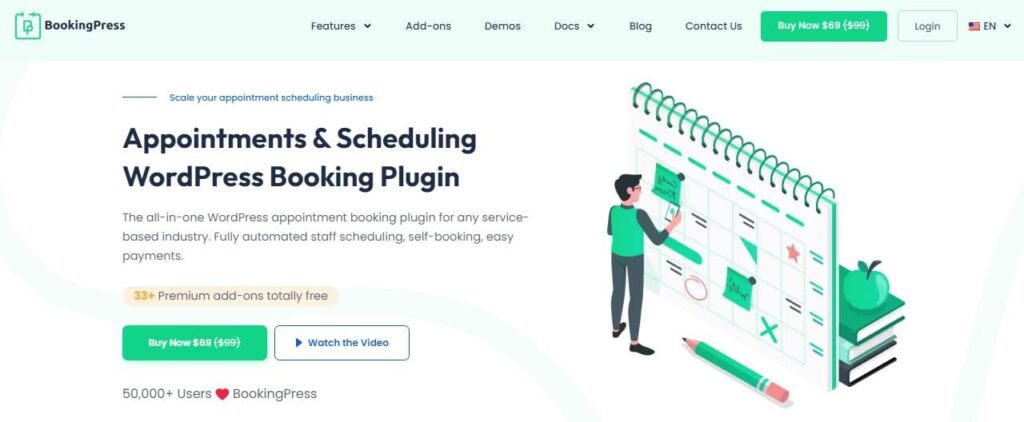 BookingPress is an exceptional WordPress Booking Plugin that boasts strength and adaptability, making it one of the best plugins available on the WordPress Plugin repository. With its impressive range of features, the online appointment booking process on your business website runs effortlessly, ensuring a seamless experience for your customers.
Thanks to its flexibility, BookingPress is a versatile tool that caters to a diverse range of needs, making it an excellent choice for businesses of all sizes.
Premium features of BookingPress Plugin:
● 33+ Premium add-on completely free to use (it is the only WordPress Booking Plugin that gives such huge facility)
● 15+ worldwide online payment gateway integration free to use (PayPal, RazorPay, Stripe, Square, Worldpay, Skrill, WooCommerce, etc.)
● Award-winning responsive design for frontend and backend
● Fully customizable Appointment Booking System
● Advanced service options with extras selection
● Advanced staff dashboard for staff members
● Invoicing feature with pdf support
● Custom booking fields with conditional hide/show
● Fully customizable booking forms and customer panel
● Suitable for various types of business
● Cart facility for multi-booking
● Google & Outlook calendar integrations
● Advanced reports and analysis
● Whatsapp & SMS notifications
● Customizable email notifications
● 24/7 Customer support
In addition to its impressive range of features, BookingPress offers a free version with a highly dynamic and flexible user interface. This version can be easily downloaded from the official WordPress plugin repository, allowing businesses to quickly set up their booking operations with ease. The user-friendly interface is both intuitive and adaptable, making it an excellent choice for businesses seeking a seamless and hassle-free booking process. With BookingPress, you can kick- start your booking operations in no time and enjoy a stress-free experience.
The Event Calendar – A Free and Popular Toolbox for Events and Schedules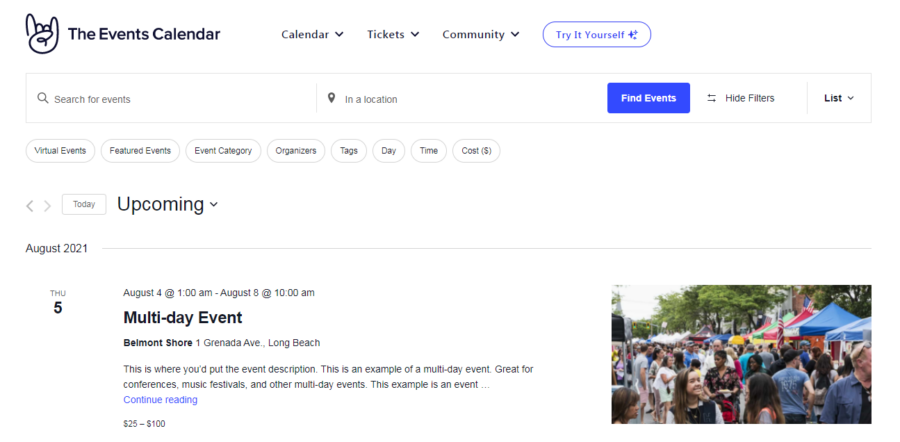 Learnmore
Learn More
Powering 800000+ websites around the globe, The Event Calendar is an active and smart events plugin WordPress. It will only take you a couple of minutes to create, edit, and manage an event schedule. Besides, the plugin's interface can work well with all WordPress themes and dashboards.
In the dashboard, you can add multiple places and sections for your events, and those venues are reusable if you want. Having the tools built in the plugin, your work will be much easier: sidebars, layouts, searching tools, customer views (light/dark), etc. Further, the plugin may co-operate ell with developers since it is well-optimized for coding.
In case you need more stuff, you can buy the Pro version of The Event Calendar. Additionally, you may make repeating projects, controlling event ticket selling, using social media integrations, and importing online events from other apps like Google Calendar.
Events Manager – Helping You with Event and Schedule Management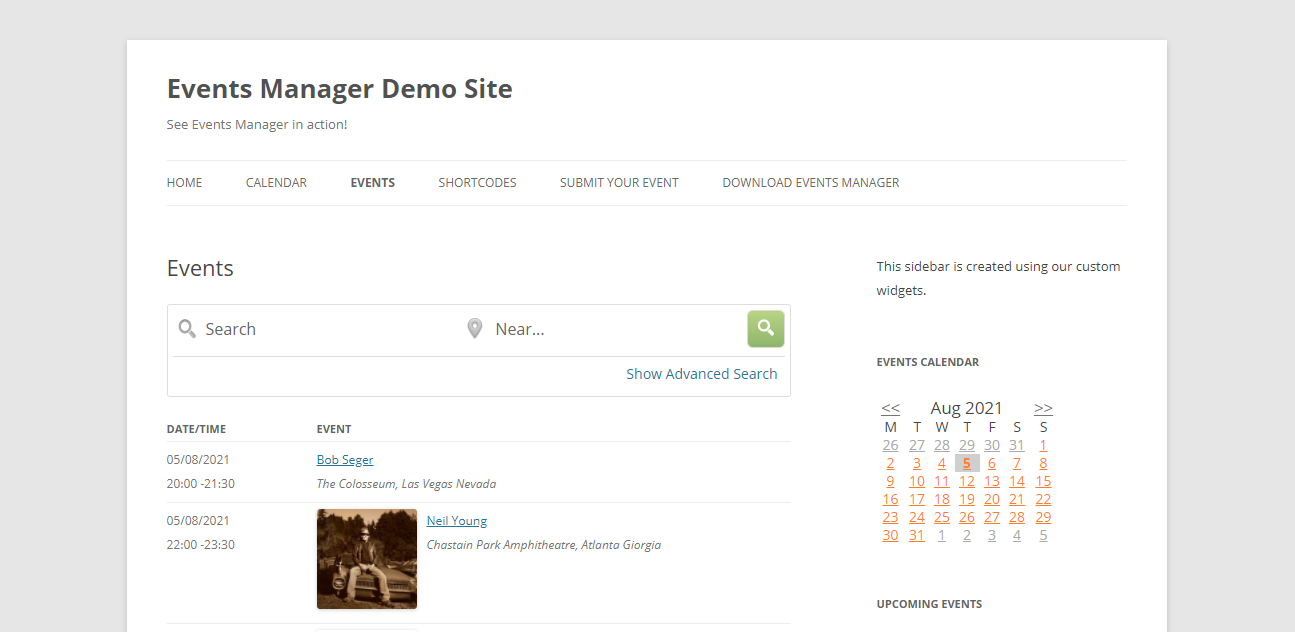 Learnmore
Learn More
Having been updated usually, Events Manager has become a helpful calendar plugin WordPress for your site. It is easy for you to create an event and manage it in real-time. With built-in widgets, you can make repeating ceremonies with lots of customizations if you want. To add a section or social media integration, you can use the social media options built to co-operate with the BuddyPress plugin. With this feature, it offers you the ability to add activity feeds, forums, comments, or even mixing with other plugins to increase the efficiency of your website.
With Events Manager, making endless event sections in your site becomes very possible when you try to create a calendar. Moreover, your clients can find the right place for the events thanks to the Google Maps assimilation. Not only the location but the plugin can also showcase your events on the page simply.
My Calendar – Free and Attractive WordPress Calendar Plugin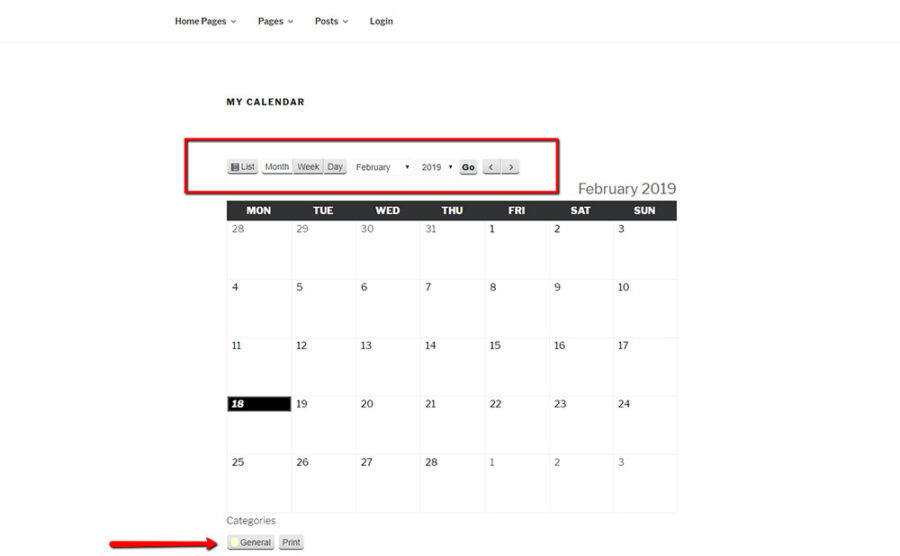 Learnmore
Learn More
My Calendar is a WordPress calendar plugin that will cost you nothing but still make your site charming and eye-catching.
You may add as many areas for events as possible in your dashboard and manage them via the calendar options panel in the plugin setting. Furthermore, users can add time, date, recurring possibility, tags, and categories to those events to make them more reasonable and simpler to look for. In the WordPress control panel, users can add various locations to the event so that they can be reused easily. Also, you can create groups and add specific events to the specific groups, as well as manage those occasions.
Since the basic appearance of this plugin is not so smooth, you can adjust the templates and CSS to improve it. Besides, there are some helpful tools to showcase multiple calendars and upcoming schedules. You can upgrade to the Pro version to have more possibilities.
EventOn – Premium Multi-Concept WordPress Event Plugin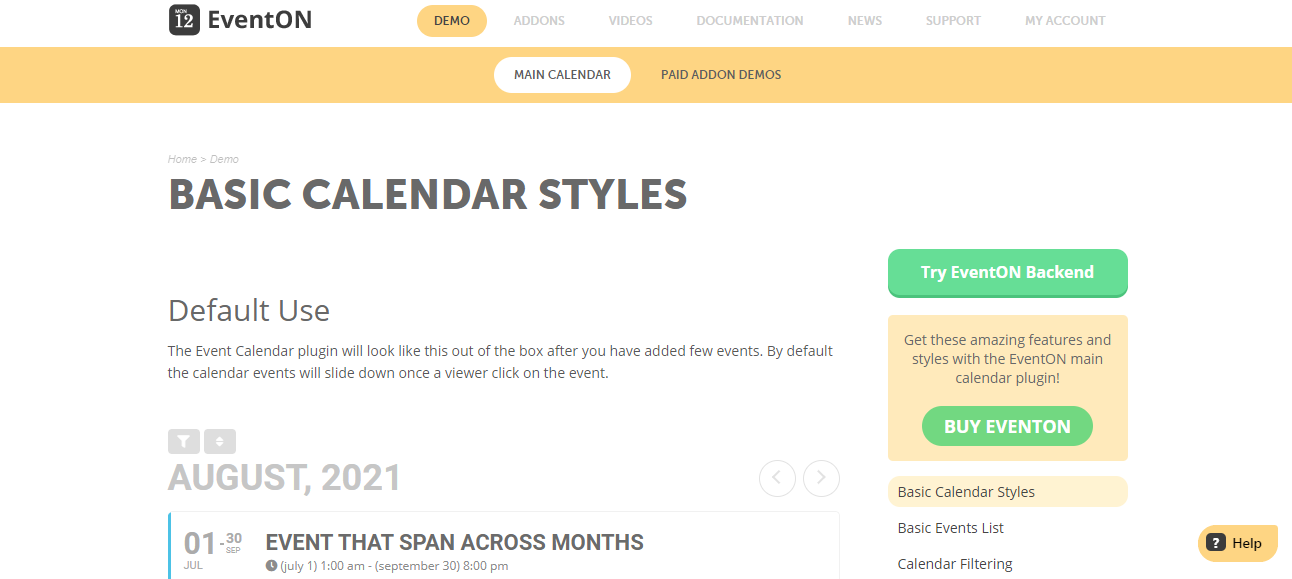 Learnmore
Learn More
Released in 2012, EventOn has become the best-selling WordPress event calendar plugin in the marketplace. It's full of features, multi-purpose, easy to process, and good outlook.
In the setup option panel, you are free to make up events and repeat them on a planned calendar, saving your time and effort. Also, you can add pictures/videos, Google Maps integration, tags, and categories to those special events. Further, EventOn lets users choose color and font options freely.
On the homepage, the title will impress visitors from the first time looking, while the layout and inner pages' appearance will keep them with the site. Also, the plugin enables your page to get on well with all parts of your site. The sidebars can be used to show the event's information. Indeed, this plugin's shortcode system is highly optimized for fast event adding or managing.
Modern Events Calendar – A Suitable Solution for Your Business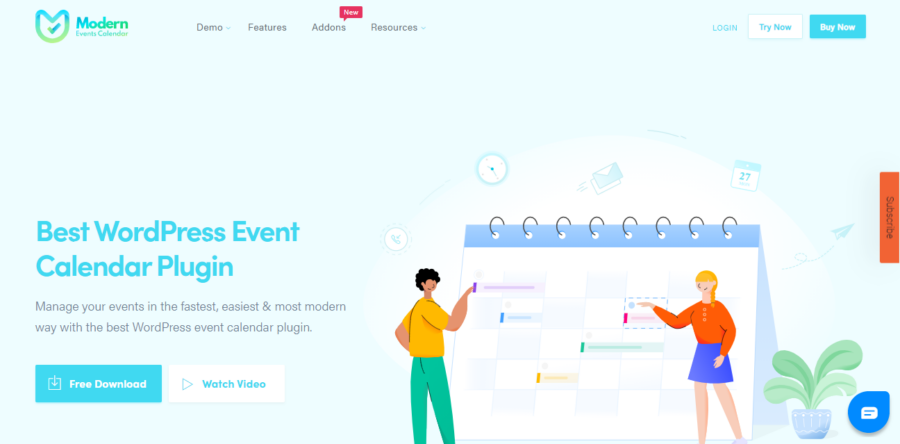 Learnmore
Learn More
For business websites, Modern Events Calendar is the stunning and excellent event calendar WordPress plugin. The plugin will help you receive bookings and reservations from customers without any obstacles. On the other hand, we have designed this theme so that it can be more modern and optimized for any type of website. Furthermore, your web will go well with the current theme or other third-party plugins or add-ons.
The appearance can be changed based on your interests and intentions to fit your site's settings. Therefore, you can break the limitation of colors and fonts. Indeed, all layouts and demos are 100% responsive and retina-ready, giving your visitors a good and smooth experience. Logging in to your website from any device at any time will be much more enjoyable.
There is one more important feature here: Google integration. With the development of Google tools, you can add Google Maps locations and Google Calendar schedules to your site. Also, the compatibility to WooCommerce and PayPal opens a way for you to create and maintain online stores on the main page and provides various payment gateways. All of these functionalities have made this plugin a popular and powerful toolbox for all people.
Stachethemes Event Calendar – New but Good for WordPress Users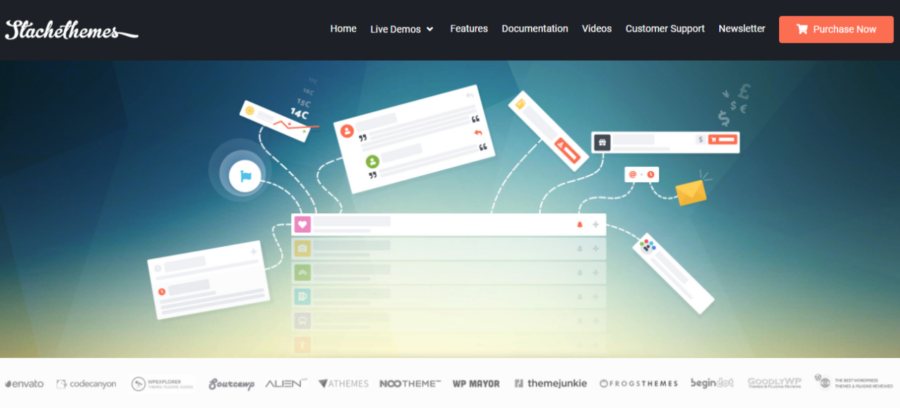 Learnmore
Learn More
Receiving the rate of 4.5 – 5 stars in the market, Stachethemes Event Calendar is a trustful and well-prepared event calendar plugin WordPress.
Having installed the plugin, you can build one or many noted occasions for your site at the same time. More detailed, you will fill in the date, time zone, and visibility condition. It means your viewers from all places in the world can get access to the website at a current time or a secret calendar. When you make an event, you may add a simple description, a place, time, and a list of attendants. Besides, products relating to the event, buying activities, comments, and discussion places are suitable to add, too.
In short, Stachethemes Event Calendar is a strong and multi-purpose plugin waiting for you to discover.
Events Schedule – Smart Booking and Event Reminding Widget for WordPress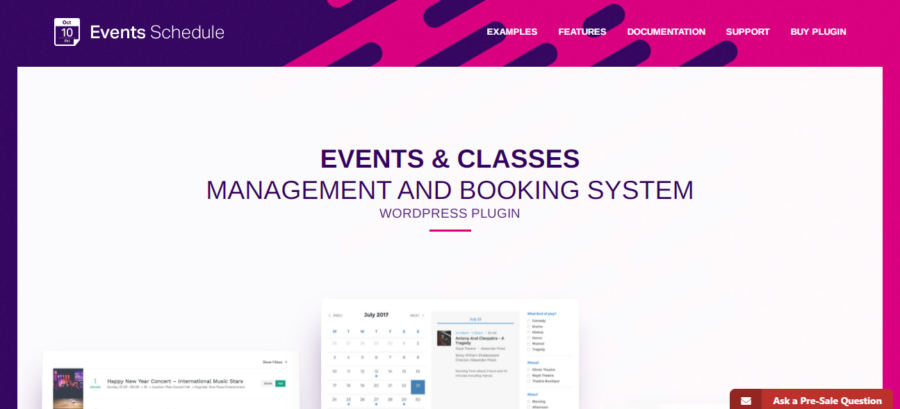 Learnmore
Learn More
Events Schedule stands the powerful and premium WordPress plugin that will have anything you need for an event builder. It will offer you a variety of design layouts so that you can choose the one that fits your website. In advance, you can use the visual composer to make a brand new one or redesign the outlook by yourself. These layout demos have many purposes which means users can take advantage of them for lots of projects. In each layout, this plugin has given from simple calendars to complex events and reservations.
On the website, the Events Schedule will make every single inner page reaching perfection to pixel. In addition, it builds those pages user-friendly and responsive so your customers can surf with joy. One more thing, the timeline describes very detailedly how the information will be arranged and noticed.
Calendarize It – A Feature-Rich Calendar Gadget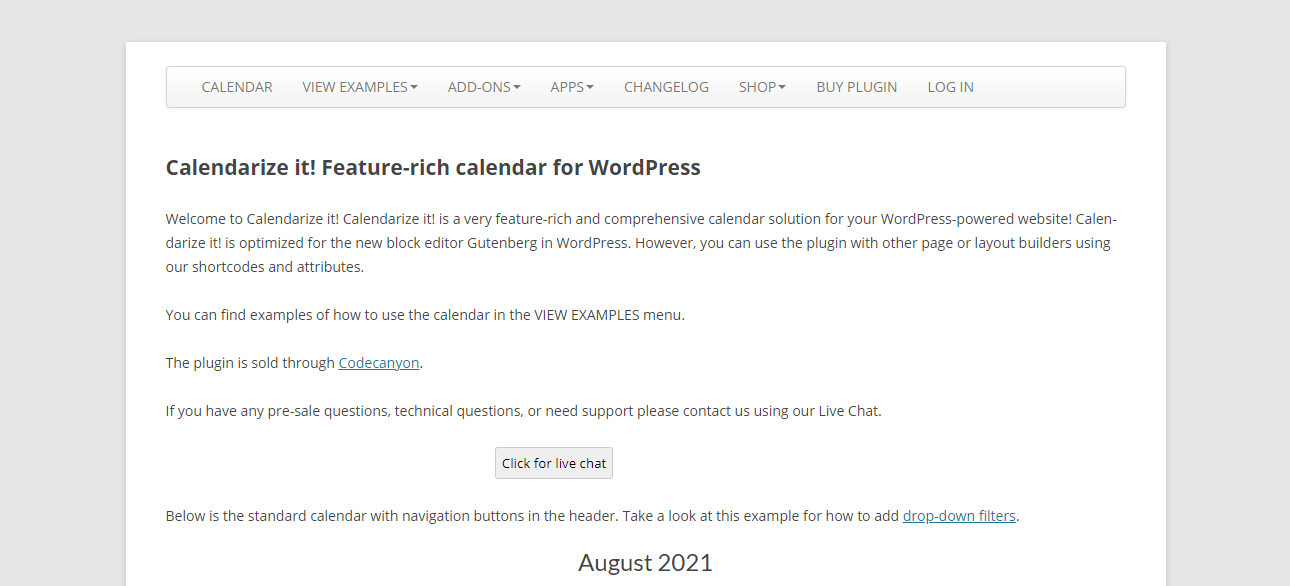 Learnmore
Learn More
Calendarize It has shown us the features of a multi-function premium toolbox for your WordPress site. The visual composer will help you make templates for your schedules and events or use pre-made template demos. Therefore, you will have many options to manage your website calendar.
Also, we have imported many add-ons and additional tools for you to customize your site: a countdown ticker to make events more precious and exciting, 1-year viewing section to easily filter and check for all activities and events in a year, and fast event uploading thanks to the CSV files. As has been said before, the plugin stacks a large and advanced pack of free features and add-ons but there are some paid ones. However, you will only need to buy if you intend to advertise on your site and events, sell tickets, or receive payments through the site.
In the end, we can see the plugin Calendarize It as a well-prepared and quick-setup WordPress plugin for your website.
Event Plus – Easy Event Publishing and Management Solution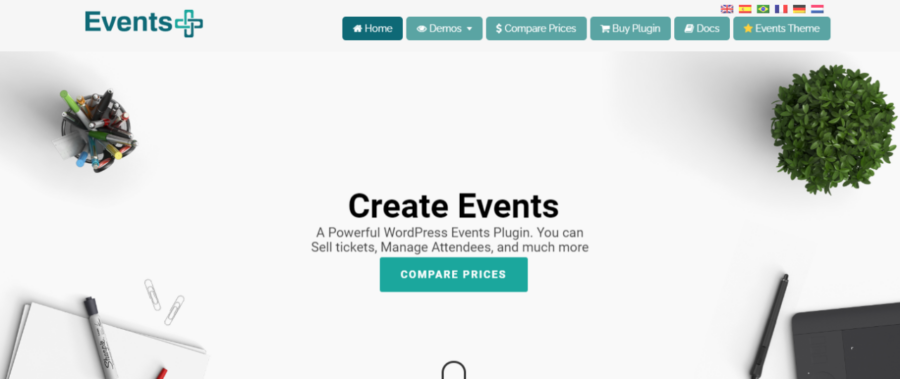 Learnmore
Learn More
You can focus on a wide range of websites or templates to create and manage events and bookings using this calendar plugin Event Plus.
This plugin will prove its power when building a calendar or an online/offline event. Furthermore, you can make advertisements, set up an online shop, sell event tickets, and control the participants with the WooCommcerce compatibility, a countdown time-stop, social media function, and fully responsive layouts. To edit your events, you can access via the WordPress dashboard and check in real-time while designing. In the admin board, you can control the events, check the transactions, and follow the participants. Also, developers can put up some discounts to fill the events with customers.
In addition, all of these features cost nothing so you are free to use these tools and widgets for your site.
HubSpot Meetings – Stylish WordPress Plugin for WordPress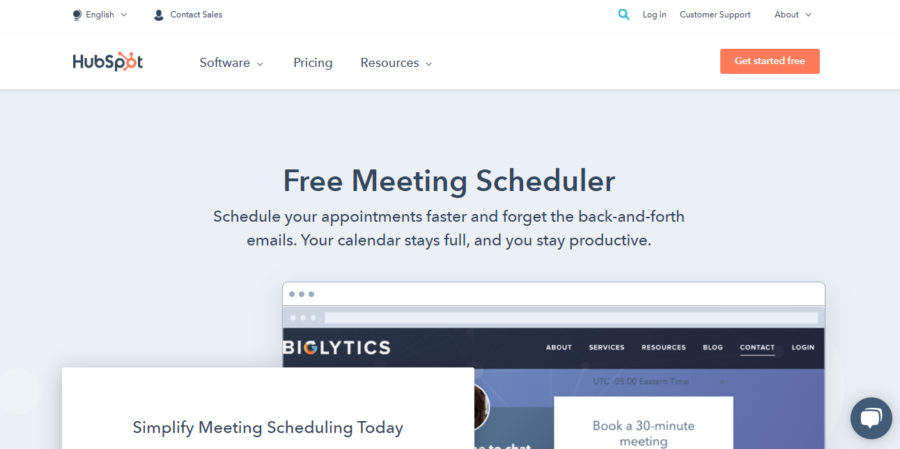 Learnmore
Learn More
Integrating with WordPress websites, HubSpot Meetings stands as a great and free WordPress calendar plugin for users to create events and calendars.
There are 2 versions of this plugin: the free version and the paid version. The no-cost version has all the necessary features of a good schedule plugin: time and date, event building options, event editing options, free forms (register/login/etc.), and more. In each event, you can change the time starting the event, when to remind the attendants of the event after registering, and the details of that special occasion. In the paid version, you will earn more advanced functions including recurring events on your websites for later use.
Conclusion
We believe you have found the most suitable WordPress event plugin to make your website stand out from the crowd through the article.
Read more: 10 Best WordPress Gallery Plugin for Websites in 2021