The Best SEO Plugin For WordPress is absolutely necessary for every website nowadays.
If you are writing blog posts or product pages, you totally need a tool to help you target the keywords, images, content readability, and other SEO standards. These steps will completely save your time as well as optimize your website to rank better in the search engines. In particular, a SEO plugin can avoid overwhelming for beginners and newbies.
In this topic today, you will understand the main features of each SEO tool for WordPress and see which is the right one for your purposes. Even if they have specific features, all of them are totally easy to install and set up, promising to improve your WordPress site engagement and boost traffic. However, you can find a web or SEO agency like WebplusValencia to start your business quickly. Let's get ready!
Top 7 Best SEO Plugin For WordPress in 2021
Yoast SEO – Top of The Best SEO Plugin For WordPress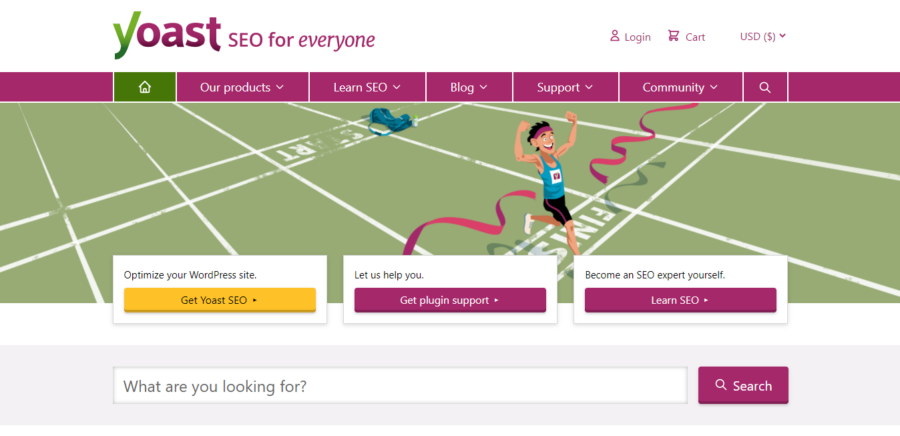 Learn More
Yoast SEO is absolutely the Best SEO Plugin For WordPres since 2008 with over 5 million active installs and you can download the free version on WordPress.org. Surely, it helps to optimize your site so your site will get higher rankings in the search engines. Plus, Yoast SEO is built for all sorts of business sizes, from small sites to medium sites and large sites. Every level can easily download and use within a few mins without any issues because of its simple interface.
Moreover, Yoast SEO gives you 4 parts: SEO analysis, readability analysis, social, and schema. In SEO analysis, you can add focus keywords, synonyms, SEO tiles, descriptions, auto canonical URLs, and inform you which one you should change to fit SEO standards. In readability analysis, you can check your passive sentences, transition words, subheading distribution, etc. To make the search engines crawl your site easily, this plugin includes XML sitemap features as well.
In addition, Yoast SEO supports all customers in every country around the world. It offers a Google preview to let you see easily how the listings look like in the google search results' desktop and smartphone. If you think the free Yoast SEO version isn't enough, let's move to the premium with amazing extension features. Try Yoast SEO today to grow your business!
Rank Math – The Best WordPress SEO Plugin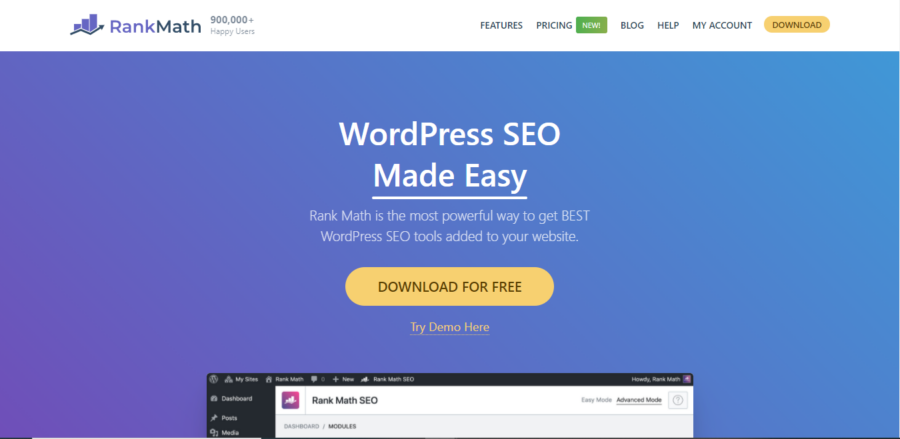 Learn More
Rank Math is another Best WordPress SEO Plugin for bloggers, startups, photographers, or any business website. It has over 900 thousand active installs on WordPress.org with over 3 thousand 5-star ratings. You can quickly install into your website then start optimizing for the search engines and social media. One of the specific functionalities of Rank Math is to allow you to import entire settings from the famous SEO plugins such as Yoast SEO or SEOPress.
While other SEO plugins limit the focus keywords, Rank Math offers unlimited focus keywords so you can have lots of options. For single posts or pages, this tool allows to not only add focus keywords but also choose Google keyword and internal link from the suggestions. What's more? Rank Math integrates with most of the famous tools like Google Keyword Ranking, Google Analytics, LSI keyword, Google Search Console, bbPress SEO, and BuddyPress SEO to make sure your site has the best optimization for rankings. Apart from that, Auto Facebook Open Graph as well as Twitter Meta Cards are available for social media as well. Let's check Rank Math today!
SEMRush – The Best SEO Plugin For WordPress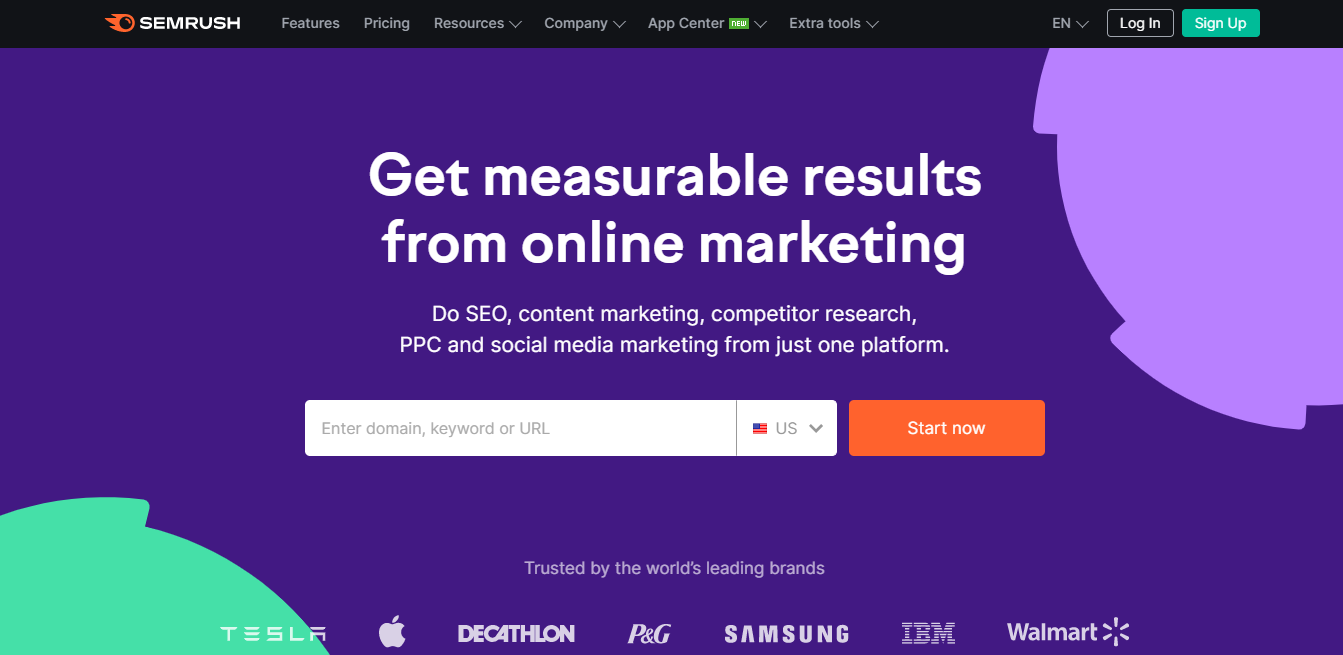 Learn More
SEMRush is another Best SEO Plugin For WordPress for all business sizes on the market at this time. It actually doesn't only focus on SEO but also on advertising, social media, content, competitive research, reporting & management. The highlight feature of SEMRush is the analytic part, you can easily check the organic traffic and paid traffic with a simple interface so every level can use it easily.
Furthermore, you can add the focus keyword you want then SEMRush will check and recommend which SEO-standar makes your content broken down. However, SEMRush is a bit expensive and you have to create an account before starting.
Ahrefs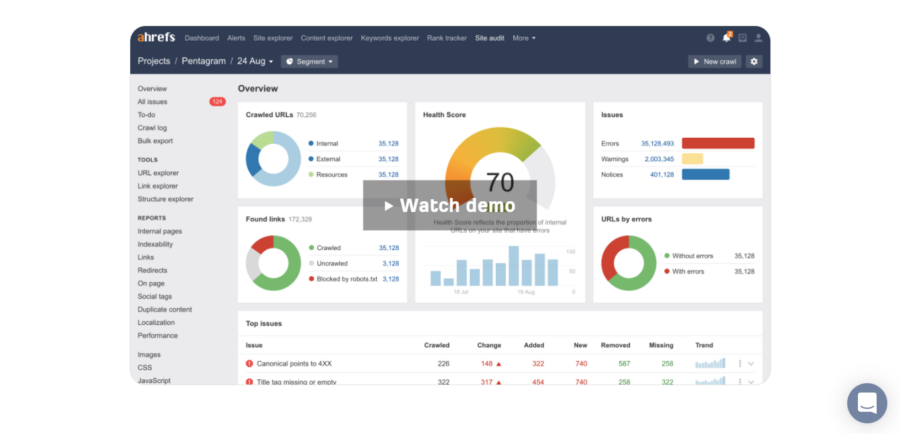 Learn More
Ahrefs is the Best SEO WordPress Plugin that allows you to check every website's information like organic keywords, paid keywords, backlinks, competitor analysis, rank tracker, etc. Also, you can see your competitor's keywords and compare which keywords they have not taken yet. In particular, every website can use Ahrefs even if that website is not using the WordPress platform.
Moreover, the keywords explore feature gives you a lot of ideas to target the keywords and you can find which one that other competitors are using and ranking for but you didn't rank. Then you can create content based on those keywords. There is an option for you to check which websites linking to your competition and you can contact those sites too. Ahrefs provides a dozen features that you should explore. However, this plugin is a little pricey. The cheapest plan starts from $99 and it costs $7 to start trial. It's absolutely worth considering, try Ahrefs today!
Before you move to the next plugin, you can visit our 10 Best WordPress Cache Plugins for 2021 which also help to improve your SEO too!
SEOPress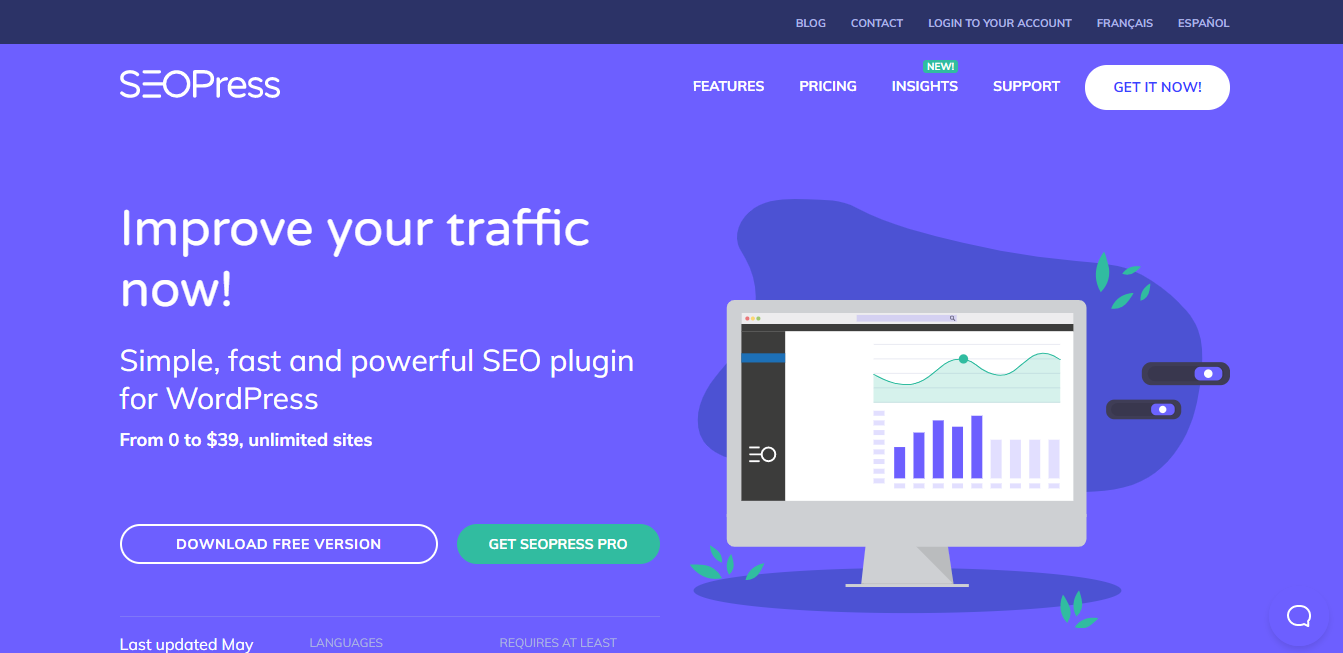 Learn More
Another Best SEO Plugin For WordPress that you can try is SEOPress. It definitely helps your WordPress site rank higher on Google and other search results and increase the traffic. All necessary features are packed in this plugin such as meta description, tile tag, XML & HTML sitemaps, optimize tags (Open Graph and Twitter Cards), and so on. Even if you are beginners or professional, you can easily use and control SEOPress. SEOPress is a freemium tool, meaning you can use the free version or the pro version with only $39.
Unlike other SEO tools, it contains Google Analytics and content analysis right on the free version to help you optimize any post quickly. Especially, there are no ads, footprints, or anonymous data collection. Apart from that, the premium version provides extension of functionalities like Google structured data types, import/ export SEO metadata, URL rewriting, WooCommerce, 4040 monitoring, and so much more. Try SEOPress and make it yours now!
KeywordTool.io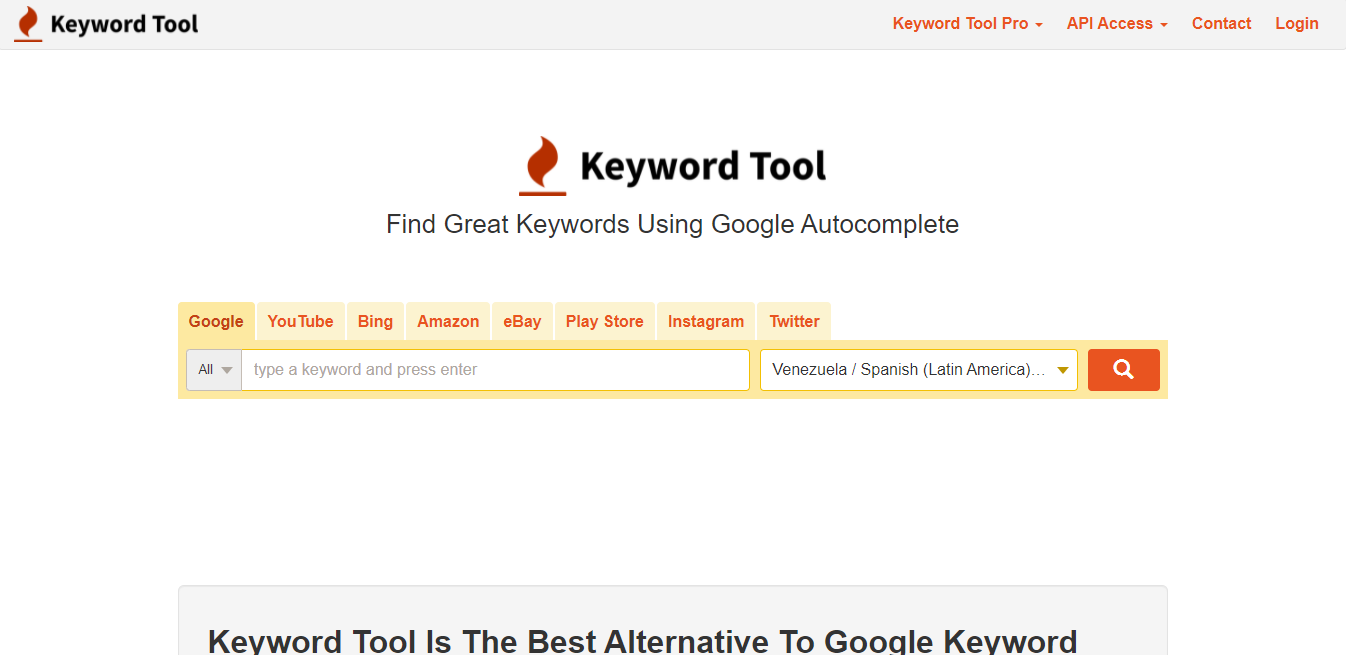 Learn More
KeywordTool.io is the Best Free SEO Plugin for WordPress. This tool is super simple and easy to use. You can go directly to its website page then type a keyword, it will show a dozen keyword ideas with the data about the search volume, the trend, CPC, and the competition of each one. Apart from Google, it allows you to search on Youtube, Bing, Amazon, etc. However, you only can see the keyword suggestions but you can not see each keyword's cost per click and other data if you don't upgrade to the pro plan.
SEOquake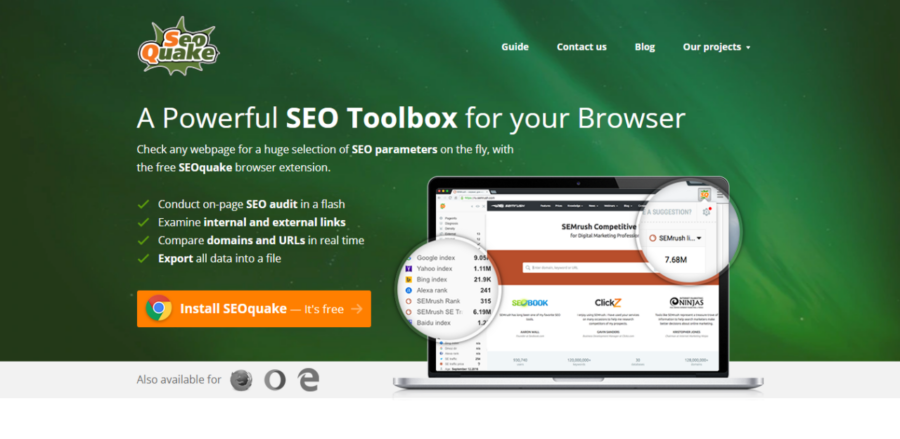 Learn More
The last free one in our list today is SEOquake, the Best one in the SEO Plugin For WordPress suitable for all sorts of websites. Hence you can easily set up this tool to your website by simple clicks. Firstly, just go to Google Chrome or another web browser then search for SEOquake on the browser add-on. After adding it, you can see all SEO information, for example, Alexa rank or backlinks for all websites right away. You can even print or export the SEO data too. However, you should create an account to get further data. Get SEOquake now!
Final Thoughts

Overall, finding a WordPress Best SEO Plugin is not difficult if you read in the right place. It actually depends on your SEO needs when picking one of them as well. If you focus on optimizing your pages or blog posts, Yoast SEO or Rank Math is the best choice. If you want a tool with all features in one, let's try Ahrefs. But if you want a SEO plugin with no ads, you can try SEOPress.
Read More: Top 10 Best BuddyPress Themes for 2021 (Free & Paid)