WordPress Social Media Plugin is likely an integral aspect of your website nowadays. There are social media buttons on your posts or pages so visitors who like the content can share it with ease. Hence, it's a great step to engage audiences, increase followers, and boost your website traffic. 
In this article, we are going to share you with the top 7 WordPress Social Media Plugins. Surely, these social media tools fit with all sorts of business websites like bloggers, freelancers, travels, real estates, and so on.
2 Things should Have in a WordPress Social Media Plugin
– Performance: Installing a plugin will somehow affect your website's performance. So you should check your website's speed before and after installing a WordPress Social Media Plugin if it has negatively affected the performance. If yes, you can uninstall it right away even though the plugin has a lot of features. This will avoid slowing down your website as well as customer experience.
– Prominence: In general, all social media tools are good but there are still ratings. You should find which one is suitable to prominente your website compared with other competitors. Especially, choosing the simple but powerful social networks bring better user experiences .The main part is its appearance. You can show the social icons in your website's sidebar, at the top/ bottom of your article, etc.
Let's take an exploration with us!
Top 7 WordPress Social Media Plugins
Smash Balloon – Top 1 WordPress Social Media Plugin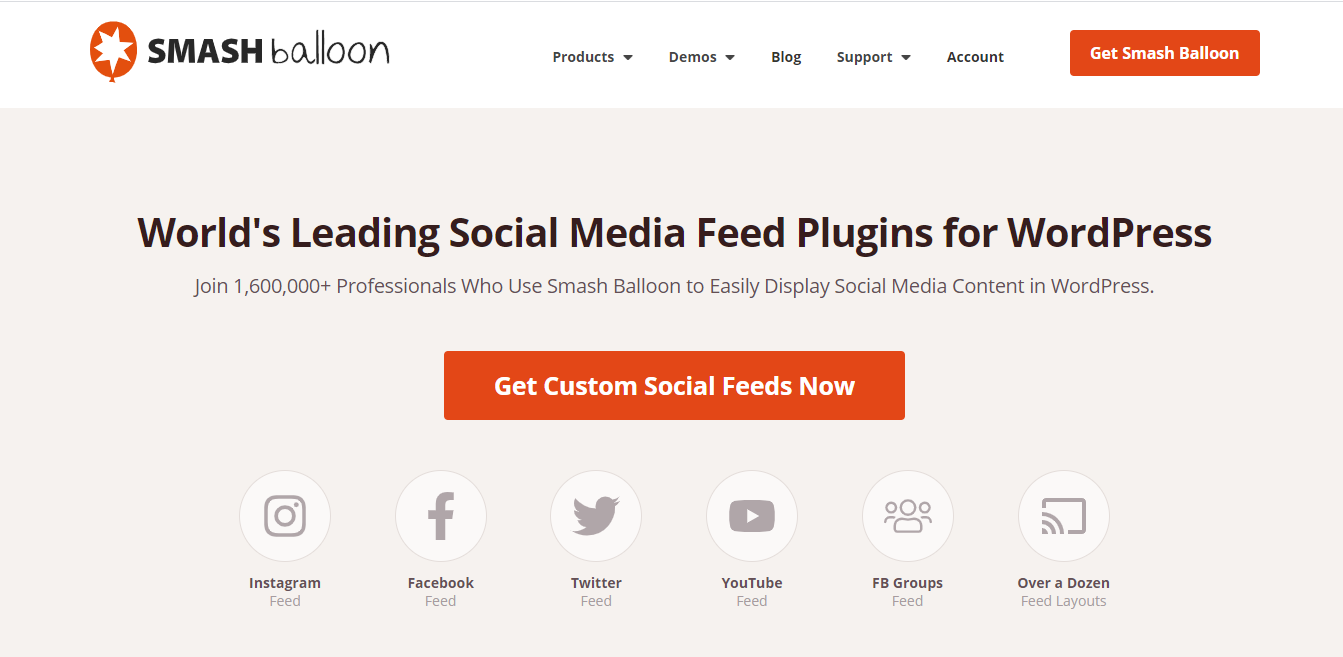 Learn More
Smash Balloon is the most well-known WordPress Social Media Plugin. This plugin supports a lot of famous social feeds such as Facebook, Instagram, Twitter, Youtube feed, etc. Instead of hiring a developer, you now can easily set up any custom social feed you want even if you don't have coding experience. These custom feeds especially work well on any screen. Smash Balloon also provides you the option to customize the social feed designs as your brand identification so customers can know right away.
Besides, there is no limitation for displaying feeds from multiple social accounts. Unlike others, their developers embed the content directly on your WordPress webpage, promising to increase SEO rankings. Next is the reaction icons. You can like, share, comment, purchase, etc right below each item. Plus, you can create shoppable feeds to sell products online with ease.
Shared Counts – Top Social Media Plugin WordPress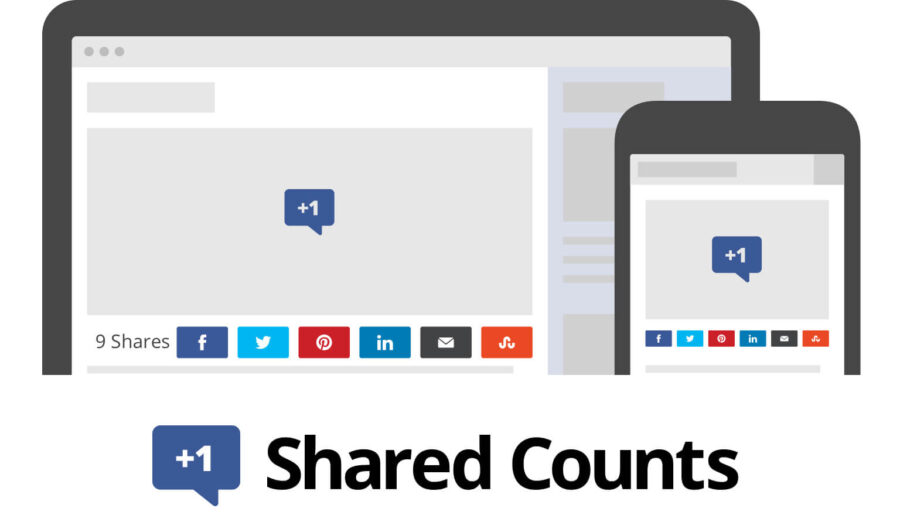 Learn More
Shared Counts is a free Social Media Plugin WordPress that you can easily download on WordPress.org. It provides multiple social media share button styles for visitors to share your content such as Facebook share button, Email sharing, Twitter button, Linkedin share button, etc. In particular, it displays the social share count of each platform.
Moreover, Shared Counts is a lightweight tool too. It completely does not use cookies or store any user data. Surely, installing this tool won't make your site slow down. You can also enable or disable the custom post types as your needs. Try this Social Share Plugin WordPress today!
Revive Social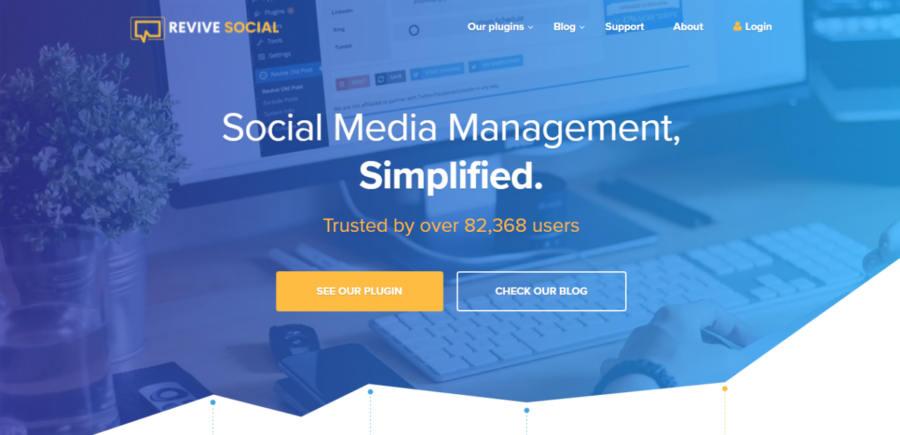 Learn More
Revive Social is a clean and fast WordPress Social Media Plugin and is trusted by over 80 thousand users. After writing your content, the plugins will help you automatically share it to your social networking. Moreover, you can even set a schedule for automatically sharing the old/ new content. By using URL shortening functionalities for sharing with the social media analytics, you can check which posts are famous and how many clicks it gets. Plus, the hashtags is another important step that Revive Social provides. If you like to remove some posts out of your social feeds, the plugin can help to do it too. Let's check out Revive Social now!
Social Warfare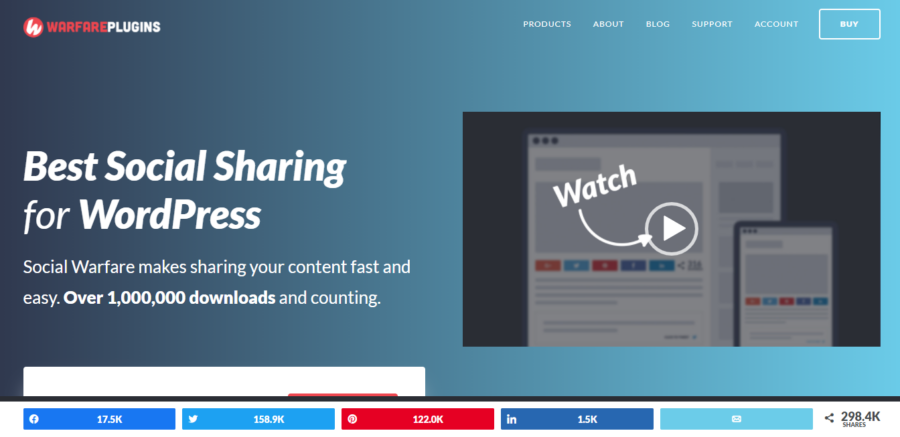 Learn More
Social Warfare is the best Social Plugin WordPress to optimize your website's social sharing. The first thing is its powerful sharing buttons. You can see these buttons on all devices, from mobiles to laptops. Secondly, Warfare is easy to install, set up, and use. It takes only a few minutes and clicks. Of course, developers mainly focus on loading time to make sure users like this tool and also it's good for SEO. If you plan to change your domain or move to SSL, worry no more since the Share Recovery feature will absolutely help to keep your social share counts. Lastly, Warface comes with advanced social sharing like minimum counts, content protection, analytics integration, share recovery, and so on. Try this famous Social Media Plugin for WordPress and make it yours today. You also can refer 10 Best Free & Premium WordPress Contact Form Plugins too!
Sassy Social Share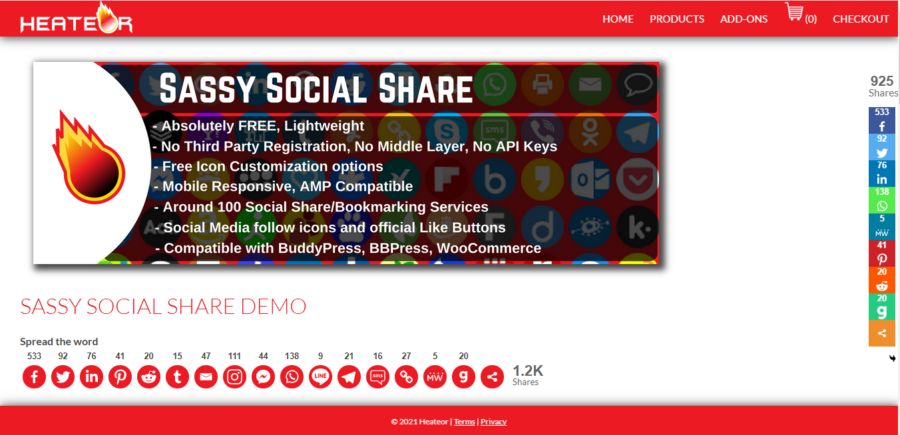 Learn More
Like its names, Sassy Social Share comes with responsive, lightweight, and free WordPress Social Media Plugin that is available for every kind of website. The tool supports a hundred social networking services like Facebook, Whatsapp, Pinterest, etc. If you want to add the social media buttons into your post or set sticky floating social media menu, you can do it easily with Sassy Social Share. With 3 basic icon styles: rounded, square, or rectangle buttons to choose from, so you can design according to your desire. Besides, there are share counts to help you analyze your data. Another highlight feature of Sassy Social Share is it's compatible with famous plugins like BuddyPress, bbPress, WooCommerce. To increase sales, you can probably enable social sharing functions at each product too.
WordPress to Buffer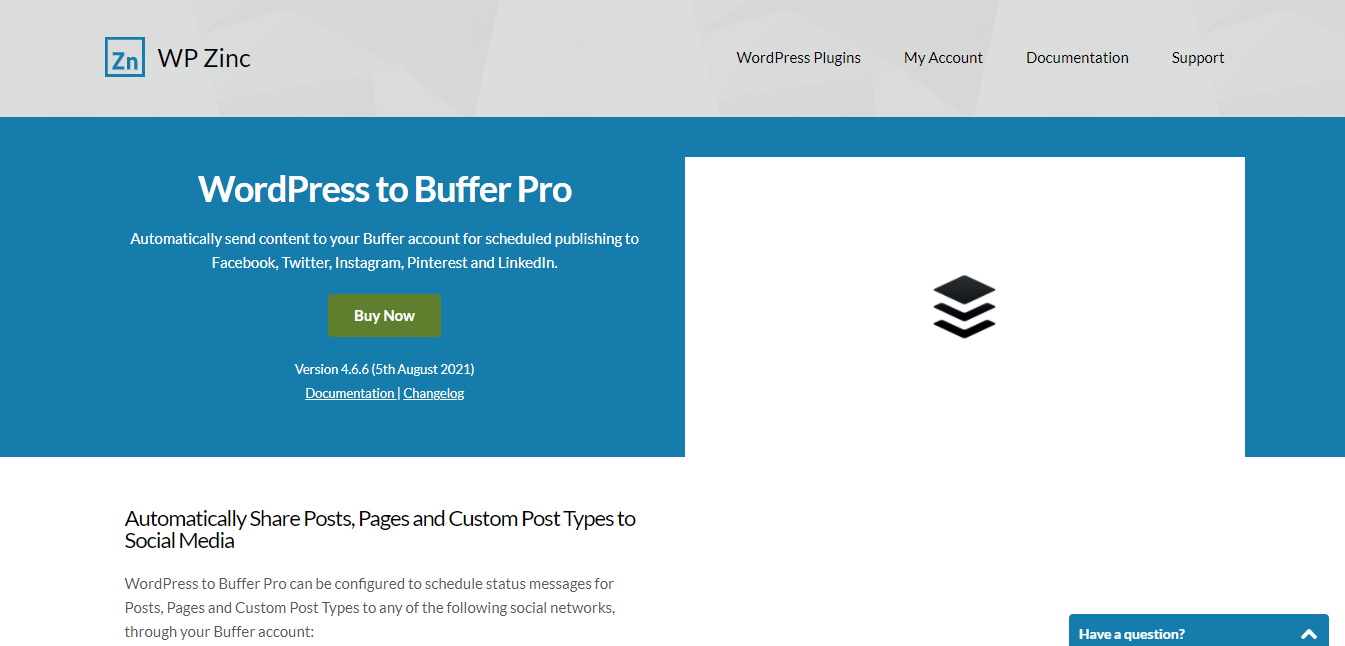 Learn More
WordPress to Buffer is the smartest WordPress Social Plugin that is worth considering. This social media tool has a free and pro version. You can try the free one first before updating to the pro version. To begin, you must sign up to have a Buffer account. Hence, when you plan to publish or update the content, it will auto post it to this account. Apart from sending scheduled publications to Facebook, Twitter, and Linkedin, the pro version supports on Instagram and Pinterest as well. It's SEO & WooCommerce integration. Try this amazing WordPress Social Media Share plugin today!
AddToAny Share Buttons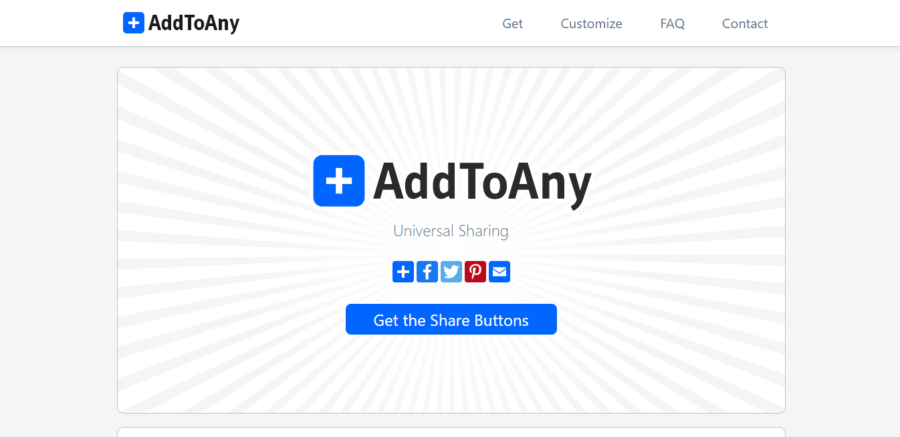 Learn More
AddToAny Share Buttons is the last one we mention in our topic today. It's a great tool for everyone since AddtoAny Share Buttons is entirely simple to use. Besides, the plugin includes a lot of wonderful features: Plenty of social media platforms, sharing buttons, social share bars (standard/ floating), universal share menu, Google analytics integration. It surely looks good on any device and screen size. You can see social share count even though you don't create an account. Try AddToANy Share Buttons, WordPress Social Media Plugin, now and make it yours.
In Conclusion
Using the right and the Best Social Media Plugin for WordPress will bring your business growing since readers can help to spread out your brand on their social networking and gain more followers. It means improving your traffic and SEO. Hopefully, you enjoy our article today – 7 Best WordPress Social Media Plugins in 2021.
Read More: 10 Best WordPress Membership Plugins