Google Search Console Video Indexing Report Now Available
Google is adding a new report to Search Console that will help you understand how your videos perform in search results.
Previewed in May at Google I/O, the Video Indexing report makes it easy to identify and fix issues preventing your videos from surfacing in Google Search.
You can use the report to answer questions such as:
In how many pages has Google identified a video?
Which videos were indexed successfully?
What are the issues preventing videos from being indexed?
Update To URL Inspection Tool
After entering a URL in the inspection tool, if Google detects a video in it, you will see the following in the results:
Details such as the video URL and the thumbnail URL.
The page status shows whether the video was indexed or not.
List of issues preventing the video from being indexed.
Source: Google Search Console Video Indexing Report Now Available
4 Facebook app strategies to reduce costs
Facebook's App campaigns are a great way to promote and increase installs for your application across both Android and iOS.
You can promote your app by launching campaigns designed to drive more installs or you can optimize for custom in-app events, delivering ads to people more likely to specific actions within the app, such as a purchase.
This tool also allows marketers to promote more than installs and custom app events.
You can create custom audiences and lookalikes from app installers and any custom in-app events, such as users who have made a purchase within your app in a designated number of days.
These audiences can also be leveraged across other Facebook marketing initiatives, ensuring you're always reaching the people at the right time in the right place.
But if you've struggled with app campaigns in the past or want to improve your overall cost-per-install (CPI), here are four proven Facebook app strategies.
1. Ensure you have iOS14+ turned on
This campaign setting needs to be enabled when you create a campaign. Turning it on allows your Facebook campaign to reach everyone on iOS 14.5 and higher.
More reach allows for more data to be passed back to Facebook's algorithm to deliver your app ads to the people who are most likely to install and therefore will help to drive costs down.
Remember, Facebook needs 50 conversion events per week per ad set to optimize campaigns to its best ability. Hence, why the iOS 14+ campaign feature is so important.
Without this feature, your campaigns only serve a handful of impressions, which can skyrocket your CPIs.
For example, before turning this feature on, we saw 42 impressions compared to 5,000 for a single ad set within a 7-day period.

2. Leverage open targeting
If you've struggled with your audience targeting not producing cost-efficient results, try going broad and letting Facebook do the work for you.
"Open" targeting allows you to select your demographics (country and age) and leave the rest blank.
Use this strategy to test on any of your existing campaigns (not just app install campaigns) if you aren't producing the most cost-efficient results.
3. Catalog ads (DPA Ads)
To run Catalog ads, you need to set up a product feed. This can be imported or automatically synced directly into Facebook.
You don't have to be an ecommerce marketer to use catalog ads. You can easily "hack" this format to make it work for you in most cases (i.e. real estate listings, travel listings, education programs, etc.)
Essentially, if you offer products or services in a large quantity, then it's worth looking into Catalog ads to see if they are "hackable" for you – the manual import. 

4. Automation, automation, automation!
Facebook's algorithm truly does work with automation, which removes most of the heavy lifting – a major plus if you're a small business trying to promote your app!
Work with Facebook, and make sure you're set up to work best with the algorithm.
Ensure that you have Campaign Budget Optimization (CBO) turned on and that you're kicking off with Automatic Placements.
CBO will automatically drive more budget to the ad sets that are seeing the best results for your campaign. In this case, the cheapest CPI will get more budget.
Automatic Placements works the same as CBO in serving more ads to the placements that are driving the best results. Automatic Placements typically always drive down costs, and you use Facebook's "breakdown" reports to identify and learn which placements are working best.
Source: 4 Facebook app strategies to reduce costs
WhatsApp starts rolling out support for all emojis to react to messages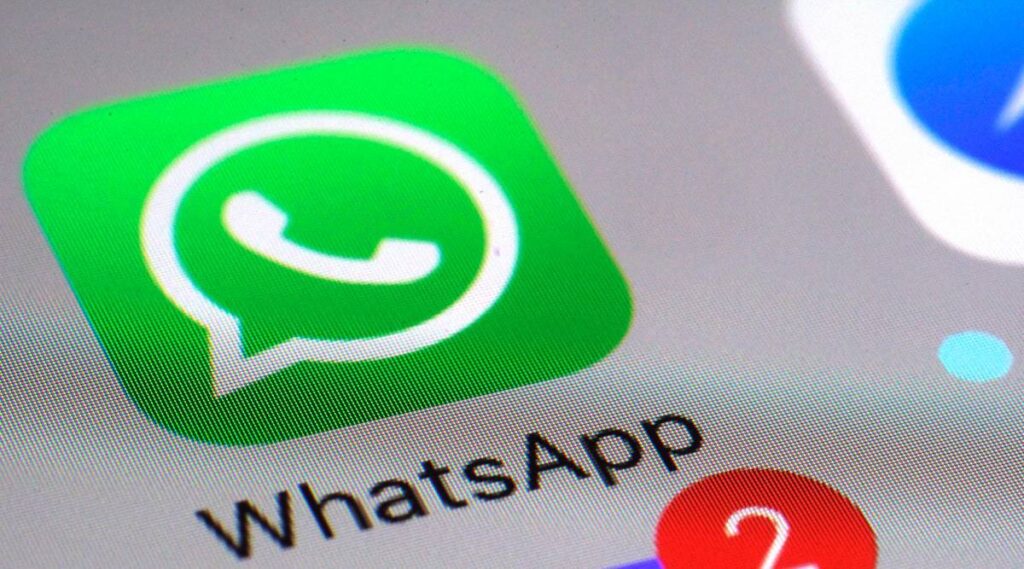 WhatsApp started rolling out the 'Reactions' feature in the month of May. All users of the instant messaging application received the feature within a few weeks of the announcement. Now WhatsApp is rolling out the support for all emojis in the form of reactions. Earlier, users were limited to just six options. Now, all available emojis can be used to respond to texts. The announcement of the rollout has been made by Meta CEO Mark Zuckerberg.
In a Facebook post, Zuckerberg stated, " We're rolling out the ability to use any emoji as a reaction on WhatsApp. Some of my favorites: 🤖🍟🏄‍♂️😎💯👊". Currently, the feature is not available to all users but it will be rolled out to all users in the coming weeks. In order to make sure that you get the new feature, the user should keep the application updated at all times.
How to use the WhatsApp Reactions feature?
You can currently use the Reactions feature with six emojis. Here's how to use it.
-First, open any chat you want to react to
-Press and hold the message that you want to react to
-As soon as you do that, a pop-up with six different emojis will show up
-You just have to drag your thumb/finger to your desired emoji and just leave it
-Soon you'll see the reaction under that particular message.
This particular feature will be useful in Group chats that can get overwhelmed for numerous short messages. With the reactions feature you won't have to type a separate reply. You just have to tap and hold. This substantially decreases the overall response time.
How to change your existing reaction
-You can change your reaction to a different one.
-Long press on a message you reacted to.
-Tap a different emoji.
How to remove an existing reaction
-You can remove your reaction to a message. A notification won't be sent to the sender of the message if you remove a reaction.
-Long press on the message you reacted to or tap the reaction.
-Tap the emoji you reacted with to remove it.
Source: WhatsApp starts rolling out support for all emojis to react to messages
Creating better ads in a world with only RSAs
Frederick Vallaeys spent 10 years working at Google and was instrumental in helping build features like conversion tracking and analytics. For the last 10 years, he's been running his current company Optmyzr, which is a PPC management software that helps advertisers optimize their campaigns. In his session at this year's SMX Advanced, Vallaeys goes into detail on how to make the most out of your RSAs and automated bidding strategies.
The numbers. About 92% of advertisers have shifted to using RSAs, and the majority of those who have turned them on or used them, leave them on without shutting them off. Vallaeys hypothesizes that even years ago when advertisers didn't know that RSAs were going to be the only option, performance was good enough that advertisers were willing to stick with them.
Vallaeys goes on to say that of the 1.7 million ads they audited, the CTR was almost exact between RSAs and ETAs. However, the conversion rate was about 11% worse with RSAs. They found that ad groups with RSAs received 1.6 times as many conversions as ad groups without RSAs. And that's all we really want, right? More conversions.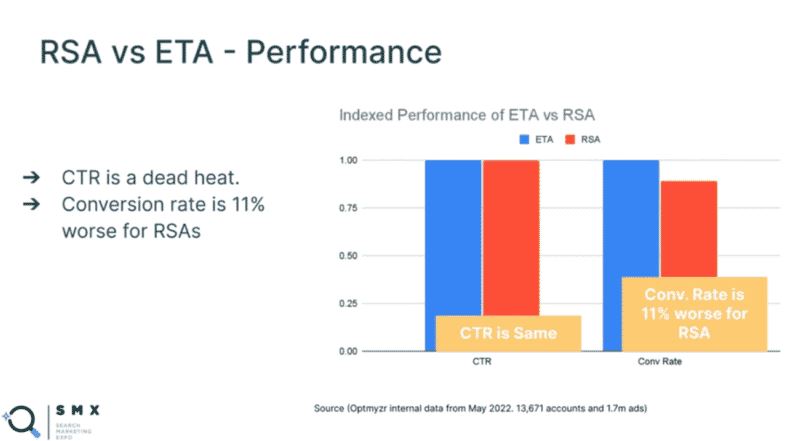 Making the leap to RSAs. Google recommends taking your existing ETAs and start building your RSAs. Google claims that without making any changes to the ad text, creating an RSA will result in about a 7% increase in conversions with a similar cost per acquisition. 
Smart bidding strategies. Vallaeys is a fan of using smart bidding with RSAs, though when it comes to using broad match keywords, he says that's up to the advertiser. Google did studies where they found a 20% "lift" when enabling smart bidding and broad match keywords. Though they didn't clarify if the "lift" was an increase in clicks, CTR, or conversions. 
Google loves scores. Ad strength is another score in your account. Vallaeys explains that ad strength scores tend to help newer advertisers, but seasoned ad veterans know that it's not related to actual performance. Ad strength scores are suggestions gathered from other advertisers and "what everyone else does." Limited Eligibility status is now gone and "Poor" ad strength is not an indicator of how well your ads will serve, so take it with a grain of salt.
RSA structure. Based on the 1.7 million ads that Optmyzr has analyzed, Vallaeys provides several tips to help make the most of our ads:
Having two RSAs per ad group seems to be ideal for improving conversion rates
Use labels to connect RSAs with automation
Use pinning techniques to fake ETAs or leave ad combinations exactly where you want them (this is suggested if you have been testing for a long time and know what works)
More headline variants lead to more impressions
Adding DKIs and ad customizers may increase impressions, but likely decreases conversion rates
RSAs need to be tested against RSAs. RSAs cannot be tested against ETAs simply because they're too different
Don't fixate on old metrics
Use ad variations to test and iterate creative (on the Campaign level, under the Experiments link)
Source: Creating better ads in a world with only RSAs
More News:
Pinterest is doubling down on Shopping by adding 4 new features
Meta to shutter its Novi digital wallet, drawing a line under Libra