How to use Google Ads Competitive Metrics
If you've been running Google Ads for any amount of time, you're probably aware that there's generally a competitive aspect to any campaign that makes you want to monitor your vanity metrics around where you rank.
In one of my former jobs, a senior leader would walk by every day and ask who ranked number one that day, us or the competition.
The question wasn't are we lowering our cost per acquisition or improving the overall metrics of the account, it was pure vanity and the desire to "win."
While "winning" in this way isn't actually meaningful, it is important to pick your head up out of the sand from time to time and understand how your campaigns are performing vs. the competition. This helps you know who your actual competition is and how aggressive they are.
These data points can be used to understand fluctuations in your own data. If your click-through rate is down, but you really haven't changed anything, that doesn't mean your competition isn't on the move. Google recognized the importance of these data points and has been rolling out more competitive metrics into the Google Ads platform.
You will find these metrics under "Competitive Metrics" and "Auction Insights" from the metrics and dimensions menu list in the reporting section of Google Ads. Underneath these two areas are some really great tools for understanding how you stack up to your competition. Here are a few of my favorites. 
Search Outranking Share
This data will let you know what specific domains are outranking your ads and how often. You can use this data at all levels (account, campaign, ad group, and keyword).
We find this particularly helpful when there is a direct brand selling with various affiliates. Since seeing all the various competitors is difficult given a host of factors, it can also be helpful to understand and identify competitors that were not on your radar.
Search Overlap Rate and Position Above Rate
A couple of other similar, but important metrics available are Search Overlap Rate and Position Above Rate.
Search Overlap Rate helps you understand how often a brand or domain also appears with you. This will give you a better understanding of the options your consumers have on the search results page.
The Position Above Rate metric provides insights into how often that brands ad appears above your own ad when they are both shown together. The last part is really important.
The data is not just telling you how often that brands ad has a higher rank than your average rank, but specifically when you are bidding against one another for the same customer search result.
Why is this important?
Because it helps give some insight into direct competition.
In the below data Listingbaby.com outranks the clients ads almost 90% of the time.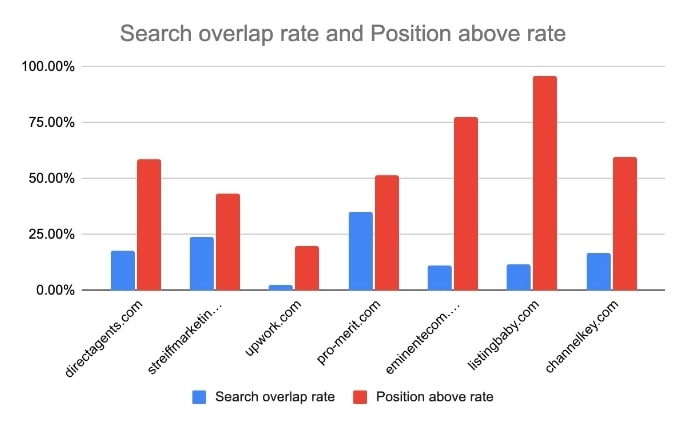 Click share is another crucial competitive metric that is provided. "Click share" is the clicks you've received on the Search Network divided by the estimated maximum number of clicks that you could have received.
These impression share metrics are available for both display and search campaigns.
They are also available for absolute top impressions (true #1 ranking). Reminder, it is a vanity trap to just chasing the absolute number one position, unless you are crushing your KPIs, then it's game on.
Source: How to use Google Ads Competitive Metrics
Google documents how to inject canonical tags using JavaScript
Google has updated its JavaScript SEO help document to add technical details on how to inject canonical link tags using JavaScript. Google added a new section titled "properly inject rel="canonical" link tag."
What is new. Here is the new section where Google recommends not to implement your canonical tags using JavaScript, but if you must, Google explains this is the proper way to do so. Google wrote:
While we don't recommend using JavaScript for this, it is possible to inject a rel="canonical" link tag with JavaScript. Google Search will pick up the injected canonical URL when rendering the page. Here is an example to inject a rel="canonical" link tag with JavaScript:
Google added this warning stating "When using JavaScript to inject the rel="canonical" link tag, make sure that this is the only rel="canonical" link tag on the page. Incorrect implementations might create multiple rel="canonical" link tags or change an existing rel="canonical" link tag. Conflicting or multiple rel="canonical" link tags may lead to unexpected results."
Hit or miss. We have seen cases where Google can pick up these canonical tags or other embedded elements, even structured data, using JavaScript. But it can be hit or miss, so it is recommended that if you are going to use JavaScript specifically to inject your canonical tags, follow these directions precisely.
Source: Google documents how to inject canonical tags using JavaScript
How We Create The Perfect SEO Brief That Aligns Teams & Beats Competition
Does aligning SEO goals with multiple teams and departments feel like herding cats?
To add fuel to the ever-extending timeline, you may have uninformed stakeholders who also need to provide their input.
Marketing, SEO, and content teams share many of the same goals, but how aligned are you in creating timely and consistently effective content?
It's time to try the perfect SEO brief.
On June 22, I moderated a webinar with Ajay Rama, CEO of Alps.ai. He demonstrated how to create a well-coordinated brief that seamlessly connects your teams, elevates your content program, and outperforms your competitors.
Here is a summary of the webinar.
Challenges With Producing High-Performing Content
As you scale, these creating content can become more challenging.
Many companies have difficulty staying on track, resulting in deteriorating content quality.
Quality of content is highly subjective and hard to scale, as it depends on the content writer's capability, which varies from person to person.
Research on the topic takes too much time, and the research quality is inconsistent.
Multiple stakeholders make aligning and executing a vision a challenge.
What's needed then?
A content brief is a solution to addressing scaling challenges.
What An Effective Content Brief Covers & The Execution Steps
A well-structured brief can elevate your overall content performance.
Three steps address each aspect of the core pillars that make a solid piece of content.
Step 1: Research User Needs
Research the keyword landscape for your topic before you start writing. You'll need to understand what queries people are typing into search engines.
Once you know this, you can finalize keywords with which you should optimize your content.
Step 2: Perform Competitive Research
The next step is creating quality content.
Competitive research can help you build quality content. You can achieve this by knowing:
What competitors are covering.
How competitors are optimizing their content.
Step 3: Optimize Your SEO Outline
Know the elements of how you plan to communicate your content to the search engines.
This can be achieved through:
Keyword targeting.
Addressing user queries.
Identifying and targeting the SERP packs.
Here's what your content brief should look like.
Source: How We Create The Perfect SEO Brief That Aligns Teams & Beats Competition
CMS Market Share Monthly: 64.2% Of Sites Use WordPress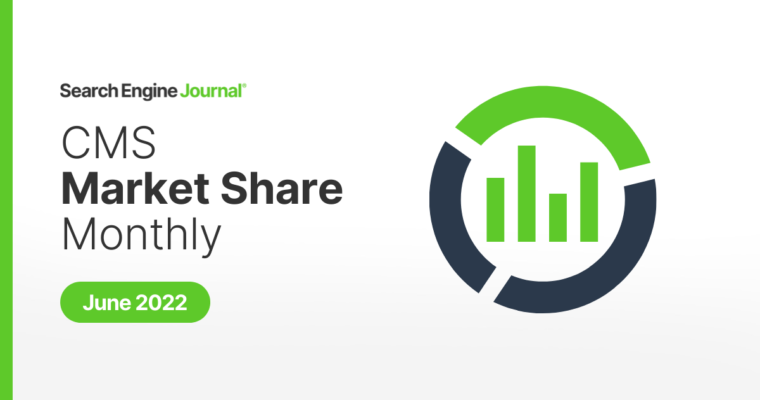 WordPress continues to dominate the content management systems (CMS) market and is currently used by 64.2% of websites that have a CMS, according to data from W3Techs.com.
Shopify is a distant second for June 2022 and accounts for 6.3% of the CMS market.
Wix, Squarespace, and Joomla round out the top five with less than 3.5% market share each.
WordPress Plans To Continue Working On Security, Stability
WordPress shows no signs of slowing down and is currently about five years into a ten-year project that involves rewriting its entire codebase.
In a recent interview, Josepha Haden Chomphosy, Executive Director of WordPress, told SEJ,
"…the next year, as with all of the years in a project like that, is making sure we are still as stable and capable as a CMS as people have come to expect while still pushing forward with a newer more modern way to manage your content online."
Shopify Enters B2B Marketplace With June Update
Shopify released its Summer '22 Edition in June, adding more than 100 new features for users.
A new feature simply and aptly called "B2B" will connect Shopify Plus merchants with wholesalers and offer integrations with NetSuite, Brightpearl, Acumatica, and others for a more seamless experience.
Wix Publishes Structured Data Guide For SEO Pros
Wix, in third place for CMS market share this month, released "Wix Structured Data Guide: How To Use Standard & Custom Markup" in June.
Contributing author Mordy Oberstein, Head of SEO Branding at Wix, shared his comprehensive guide to implementing structured data on Wix here at Search Engine Journal.
"In fewer than three years, Wix went from supporting little by way of structured data to offering SEO pros and site owners the ability to do nearly whatever they want with relative ease," Oberstein wrote.
He also noted that due to recent platform updates, any content elsewhere on the internet around this topic is now out of date.
Source: CMS Market Share Monthly: 64.2% Of Sites Use WordPress
More news:
Inflation's Impact On Ad Spend Detailed In Merkle Report
FCC tells Google, and Apple to remove TikTok