Inflation's Impact On Ad Spend Detailed In Merkle Report
The leading technology and data-driven customer experience company, Merkle, released its quarterly Performance Media Report last week.
Research from the past quarter shows valuable insights into marketers' priorities, challenges, and performance.
With over 57% of respondents indicating an increase in paid search spend YoY, these findings are especially crucial as we face economic challenges and uncertainty.
I sat down with Matt Mierzejewski, SVP of Search at Merkle, where he provided his take on some of the most glaring stats from the Performance Report.
Prioritizing Privacy And Measurement
From the Merkle report, 45% of respondents stated that getting accurate reporting in the face of privacy regulations is a top priority in measurement.
Many companies are likely in the same boat but may not know where to start.
Mierzejewski states: "Brands are big on cross-device measurement. Apple disrupted the measurement game. Many companies are looking to build their data warehouses for multiple reasons:"
Too much reliance on individual platforms. The more conversions are modeled in a platform, the less perfect a company's individual measurement is.
They're tired of black box solutions. Brands want to be able to own or change the way they model conversions.
Prioritizing Audiences & First-Party Data
Looming privacy regulations have kickstarted the need for brands to create and manage their first-party data.
However, only 35% of respondents prioritize managing audiences and first-party data.
Mierzejewski summarized: "It misses out on the opportunity for the best customers. You'll be left competing for the worst customers!"
Paid Social Growth In 2023
When asked about what social platform would see the most growth in 2023?
"If we're talking raw dollars, Facebook and Instagram will still win," Mierzejewski stated.
Further, he notes: "If we're looking at percentage growth and who to watch for, it's TikTok." Matt shed some light on user projections, with TikTok's growth projected to surpass Snapchat next year.
Inflation Is Driving Faster Adoption Of Machine Learning
With inflation costs, adopting automation and machine learning may be put on the backburner.
Not according to the Merkle Performance Report.
41% of respondents are beginning to take action on automation and machine learning strategies
38% of respondents have made significant progress in their ML strategies
Inflation's Impact On Advertiser Strategies
We've seen the stats on increased advertiser costs YoY.
We have a better understanding of what marketers are prioritizing in the future.
Amid economic factors that companies can't control, advertisers might not know how or where to pivot their strategy. When posed with this question, Mierzejewski provided his expert opinions.
"Expect double-digit changes to ad spend."
Whether the above statement refers to an increase or decrease in ad spend, this change is based on a mixed bag of strategy, cash flow, inventory positions, and the vertical.
CPCs will likely decline.
In these types of environments, CPCs are likely to go down. This could allow advertisers to shuffle dollars based on what will work hardest for them.
"Don't over-pat yourself on the back."
Mierzejewski emphasized, "Be careful on the data." He explained that with inflation and rising costs, you may also see a natural rise in revenue.
Source: Inflation's Impact On Ad Spend Detailed In Merkle Report
Google rich results guidelines now prohibits weapons, recreational drugs, tobacco & vaping products and gambling-related products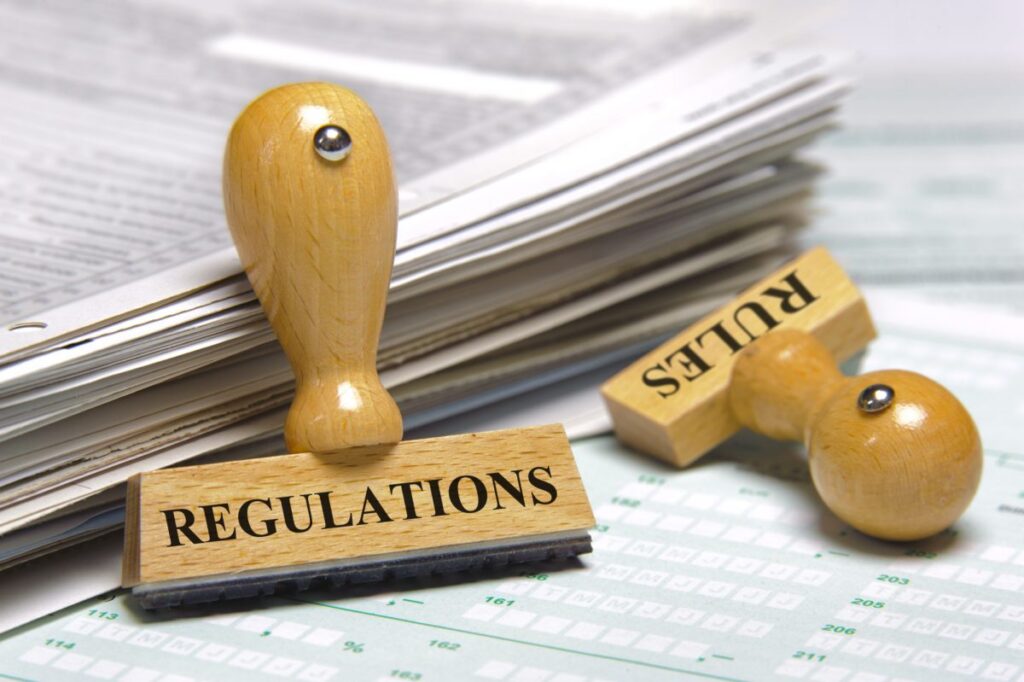 Google has updated its rich results content guidelines to align better with the overall Google merchant guidelines thus disallowing rich results for products that are widely prohibited or regulated, or that can facilitate serious harm to self or others.
These include, but are not limited to, weapons, recreational drugs, tobacco & vaping products and gambling-related products.
New rich results guidelines. Google has updated the rich results product content guidelines to add this section:
Don't mark up content that promotes widely prohibited or regulated goods, services, or information that may facilitate serious and/or immediate or long term harm to self or others. This includes content related to firearms & weapons, recreational drugs, tobacco & vaping products and gambling-related products.
Application. Google said this policy applies to all forms of rich result markup, including star ratings, prices, or availability information and more. This can impact products with rich result structured data markup that are widely prohibited or regulated, or that can facilitate serious harm to self or others. "This could include goods like fireworks, recreational drugs, and other products that can pose acute threats of physical harm," a Google spokesperson told Search Engine Land.
Effective immediately. Google told us this policy goes into affect today, at the time this story has published.
Source: Google rich results guidelines now prohibits weapons, recreational drugs, tobacco & vaping products and gambling-related products
Small Business Search Trends On The Rise In 2022
A new report from Semrush reveals searches related to small businesses, particularly 'opening' a small business, are on the rise.
The report details the business categories and specific search queries gaining traction and offers insight into what areas of marketing businesses are investing in.
Data in the report is based on the keyword and search volume intel collected by Semrush.
After analyzing the traffic growth trends to organic search performance over time, Semrush shares which small business categories manage to do better online.
Here are some key highlights from the report.
Search Trends Around Opening A Business
Looking at search volume for various searches that indicate an intent to open a business, the report finds:
Over the past four years, the number of "open business" searches has grown by 21%.
The majority of "open business" searches occur in January and March.
From 2018 to 2022, searches for all things related to starting a small business spiked by 76%.
Most Popular Small Business Categories
While general interest in starting a small business is spiking, search volume indicates aspiring business owners are looking to open boutiques:
Almost one-fifth of all entrepreneurs-to-be want to open a boutique.
starting an Etsy business looks attractive to almost one-fifth of all the searchers.
Vending machines appear to be gaining the most significant traction, as the category broke into the second spot of most-searched small businesses.
Most Frequent 'Small Business' Related Searches
Half of all the top small business-related searches are related to financing.
Here are the top queries, ordered by average monthly searches:
Small business loans
Small business grants
Small business administration
Small business ideas
How to start a small business
Small Business Searches Related To Marketing
Keyword stats indicate small business owners try to embrace all the up-and-coming trends:
Searches for digital marketing services surged by 1,500% (especially fast during the pandemic).
Interest in creating short videos for small businesses grew by 420%.
600% more people were looking up free text message marketing in 2022 than in 2018.
Small Business Site Categories With the Highest Traffic Growth
The report finds the average traffic growth for small businesses across the board was 2900%.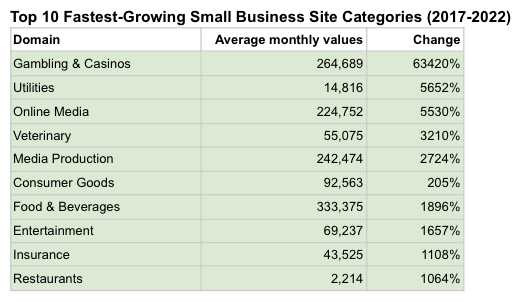 Top 10 Small Business Site Categories By Share of High-Ranking Organic Keywords
Here are the categories listed in order, followed by the median number of organic keywords where the domain ranks in the top 10
Publishing: 45,581
Online Media: 10,116
Veterinary: 9,379
Entertainment: 6,627
Consumer Services: 3,518
Consumer Goods: 3,339
Building Materials: 2,957
Music: 2,593
Human Resources: 2,145
Food & Beverages: 1,839
Source: Small Business Search Trends On The Rise In 2022
WordCamp US 2022 Tickets Now On Sale: Limited to 650 Attendees
WordCamp US will be hosting its first in-person event since 2019 in San Diego this year. The three-day event will run from September 9-11 at Town and Country Resort.
Tickets went on sale today and are still available but likely to sell out soon. Unlike previous years, which had attendees number in the thousands, WCUS 2022 will be capped at 650 tickets sold. Organizers said this is to allow for adequate social distancing and to give the team better flexibility in case changes are necessary.
Tickets will include lunch on Friday and Saturday as well as entry to Contributor Day on Sunday. It also includes admittance to the Saturday night after party and a commemorative t-shirt. WCUS will feature more than 30 speaker presentations and six workshops. Attendees will have the opportunity to network with fellow WordPress enthusiasts and approximately three dozen sponsors.
WordCamp US 2022 is requiring all attendees to be vaccinated or test negative within 24 hours of the event. Masks will be required indoors and organizers have hired a company to enforce proper mask wearing and verify vaccination and testing.
WCUS has negotiated a hotel block with a reduced rate ($199/night) at the Town and Country Resort. A reservation link will be published July 7.
There were only 50 tickets remaining at the time of publishing. Speakers have not yet been announced. Volunteers and speakers will receive a free ticket but are advised to buy one just in case and will be able to receive a full refund. Sponsors and organizers do not need to purchase a ticket.
Source: WordCamp US 2022 Tickets Now On Sale: Limited to 650 Attendees
More News:
Core Web Vitals scores improving for top-ranked sites
FCC tells Google, and Apple to remove TikTok