Google Analytics just introduced a new suggested audience
The new suggested audience is called "7-day unnotified users." These are app users who have not been reached via push notification.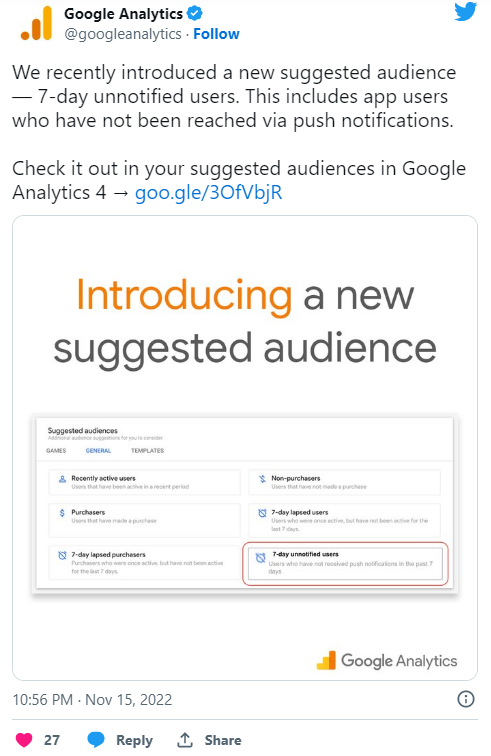 GA4 suggested audiences. When you create a property in Analytics, you specify the industry category for your business. Based on those specifications, Analytics displays a number of preconfigured suggested audiences you can use that are based on the recommended events for those categories.
Google says, "Although you see only the suggestions relevant to your category, you can create any of these audiences if you find them appropriate to your business. You need to collect the events and parameters that form the basis of the audiences you want to use. You can modify these suggested audiences as necessary."
Dig deeper. To see the full list of suggested audiences, you can view the Google Analytics Help Center here.
Why we care. Suggested audiences help advertisers easily add audience segments for the industry categories you use the most. Test different segments and most importantly, start setting up GA4 now before it sunsets in July 2023.
Read more: Google Analytics just introduced a new suggested audience
Google's Panda algorithm evolved into the Coati algorithm
Did you know that the Google Panda algorithm from 2012 is no longer? Over the years it not only was incorporated into the core ranking algorithm but also at some point evolved into a new algorithm named after a new animal – Coati.
Hyung-Jin Kim, the VP of Google Search, told us this tidbit during our SMX Next keynote this morning. While this is not something actionable or something that necessarily matters today, I don't believe anyone in the SEO industry ever heard that Panda evolved into Coati.
What is Google Coati? Kim told us that while Panda has been "consumed" into the larger core ranking algorithm, "Panda has been subsequently replaced by Coati." Coati was a successor to Panda, he said Coati is an update to the Panda algorithm. 
As time evolved, so has Panda, Kim said, and it evolved to Coati. Coati is another black and white animal.
Coati would not be considered a core update but Panda and Coati are part of the core ranking algorithm, Kim added.
What is Panda? Google Panda was a major algorithm update that impacted search rankings for 11.8% of queries in the U.S. Google said Panda was designed to reduce the rankings for low-quality sites ("sites which are low-value add for users, copy content from other websites or sites that are just not very useful") and reward better rankings to high-quality sites ("sites with original content and information such as research, in-depth reports, thoughtful analysis and so on").
Read more: Google's Panda algorithm evolved into the Coati algorithm
Microsoft Video Ads Are Now Broadly Available
Following a pilot period that lasted over a year, video ads from Microsoft Advertising are now broadly available.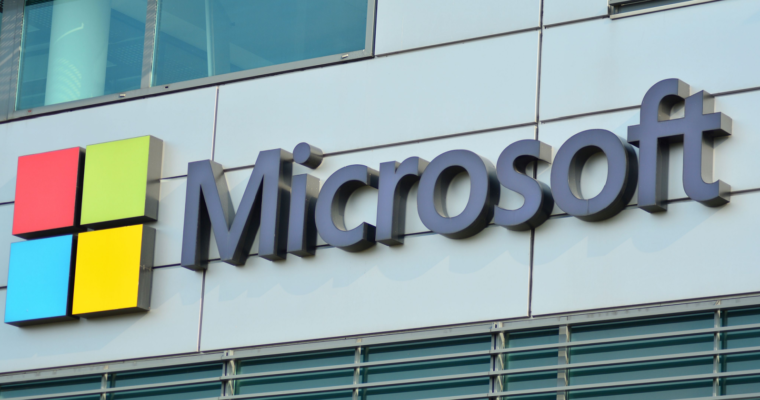 Video ads on the Microsoft Audience Network are now broadly available to augment existing search and image advertising campaigns.
Microsoft piloted video ads in September 2021 in select countries.
Over a year later, video ads are available to all Microsoft advertisers in the United States, Canada, the United Kingdom, France, Germany, Australia, and New Zealand.
Video ads are served across the Microsoft Advertising Network in the countries mentioned above.
Microsoft video ads are targeted using intent data from Bing search, the Microsoft Edge Browser, LinkedIn, and users' web activity.
In testing, Microsoft says adding video to search campaigns increased conversions by 50% compared to running a search campaign only.
Microsoft video ads can range from six seconds to two minutes, though the company advises that videos shorter than 30 seconds drive the most engagement.
The video aspect ratio can range from 16:9 (widescreen) to 9:16 (vertical).
Microsoft offers the following bidding options for video ads:
Optimize for impressions: Bid per 1000 viewable impressions. An impression is counted when a viewer watches two seconds of continuous play.
Optimize for views: Bid on a single video view. A view is counted when a person watches at least 15 seconds of video or clicks on the ad.
Optimize for clicks: Bid per click on the video. A click is counted when the viewer lands on your website.
Read more: Microsoft Video Ads Are Now Broadly Available
Google Updates Review Snippet Structured Data
Google updated the review snippet structured data to recommend one form of writing numbers over another way that is popular worldwide.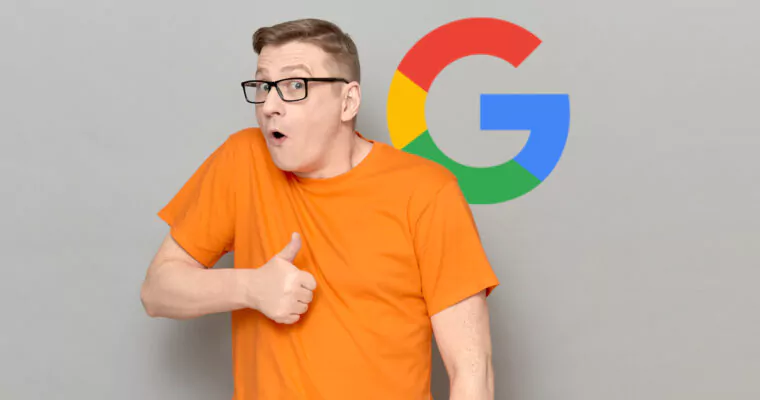 Google updated the review snippet structured data to standardize how numbers are written within the structured data code for reviews.
The change has the effect of standardizing one version of writing numbers of decimals instead of another one that is fairly common in other countries.
Review Snippet Structured Data
The review snippet structured data is important for sites that feature product reviews because valid markup and reviews can result in a rich snippet result or a Knowledge Panel that can include stars and a snippet of the review.
Google's documentation explains what a review snippet is:
"A review snippet is a short excerpt of a review or a rating from a review website, usually an average of the combined rating scores from many reviewers.
When Google finds valid reviews or ratings markup, we may show a rich snippet that includes stars and other summary info from reviews or ratings.
In addition to the text of the review, a rating is an evaluation described on a numeric scale (such as 1 to 5)."
Change to How Numbers Can Be Expressed
Google's change to structured data affects how decimals are written.
In some countries, the currency may be expressed with commas to separate the main part of the number from the decimal or cents part.
For example, one hundred euros and twenty-five cents can be expressed in two ways.
Comma version: €100,25
Dot version: €100.25
Google is standardizing how decimals numbers are expressed within the structured data.
The change does not affect how it is written on the visible web page itself.
The review snippet structured data documentation itself remains nearly exactly the same.
There is a trivial change in one paragraph that doesn't affect the meaning (removal of quotation marks).
Read more: Google Updates Review Snippet Structured Data
More news:
TikTok has launched an in-app eCommerce feature
Google Ads Reach Planner now forecasts Video Action campaigns