Google Ads Reach Planner now forecasts Video Action campaigns
Advertisers will now have the option to select "Action – Online Conversions" as a goal when setting up their plans in Reach Planner and can also add Video Action Campaigns to existing plans.
What is the Reach Planner? The Google Ads Reach Planner makes it easier for advertisers to plan for Conversions, Views, Reach, and Impressions-based metrics. It provides a forecast for how your media plan might perform, based on your desired audience, budget, and other settings such as geographic location and ad formats.
How it works. Google says that forecasts are modeled on trends in the ad market and the historical performance of similar campaigns run in the past.
Why we care. Advertisers using video will now be able to predict campaign performance using the new tool. This could be helpful for budgeting during the holiday season.
Read more: Google Ads Reach Planner now forecasts Video Action campaigns
YouTube has expanded its comment translations and smart replies
YouTube has just announced an expansion of its comment translation tools, as well as broader access to Smart Replies, its streamlined, template response option which allows fast replies on videos.
Comment translations. Last year YouTube announced the availability to comment translations within the app via a Google Translate integration.
YouTube said the feature became so popular that it has now added comment translations to Studio Mobile as well.
Smart Replies. The experiment, which provides comment suggestions and templated responses, is also being expanded.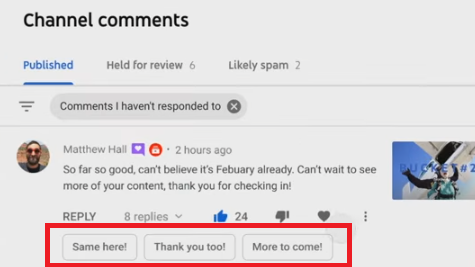 Smart Replies have been available to some users for a while, but now, YouTube is making them available to all creators in the main app, while it's also launching a new experiment of Smart Replies on Studio Mobile.
Why we care. The translation feature could make video interaction and engagement easier and more robust for viewers in different countries, and those who speak different languages. If you're a creator, interacting with your viewers and receiving feedback is a great way to help grow your community.
Read more: YouTube has expanded its comment translations and smart replies
YouTube has launched a global Target frequency feature
YouTube now has a global Target frequency goal option for video campaigns. The new goal allows advertisers to select a frequency goal (up to four per week), which YouTube will optimize towards.
What YouTube says. "Now advertisers can select the frequency target and our systems will optimize towards maximum unique reach at the frequency goal. With our built-in capping, campaigns deliver within a tight distribution range so viewers don't see the ads too many times. In fact, over 95% of Target frequency campaigns on YouTube successfully achieved their frequency goals when set up following recommended best practices. Not only do the campaigns deliver on their target frequency, but they drive brand impact as well."
Early testing. YouTube tested this new goal with Triscuit, whose goal was to ensure that its brand stays top of mind with consumers.
According to YouTube, the brand set up a Video experiment to determine the incremental ad recall that a weekly frequency of two could deliver. The Target frequency campaign achieved a 93% higher absolute ad recall lift compared to the non-frequency optimized campaign, at a 40% cheaper cost per lifted user.
Also available in Ads Editor. Google also announced today that the new Target frequency goal was going to be supported in the new Ads Editor v2.2.
Dig deeper. Learn more about the new Frequency goal on the Google Ads & Commerce Blog.
Read more: YouTube has launched a global Target frequency feature
Most Of You Aren't Leaving Twitter, Poll Results Show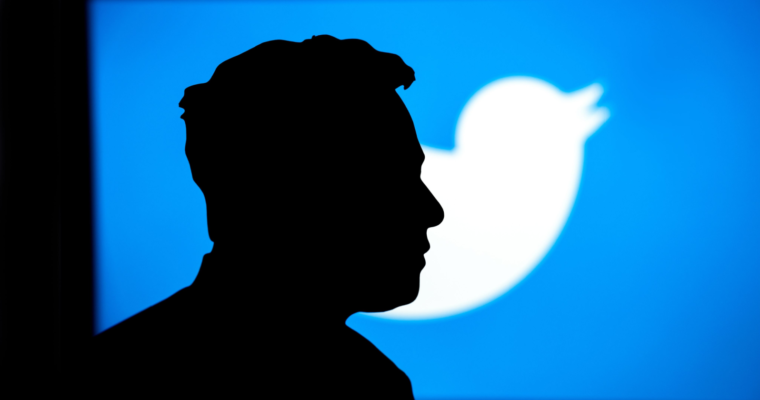 As SEOs and marketers discuss leaving Twitter for other platforms, we asked what your plans are. You told us you're not leaving.
CEO Elon Musk's ongoing changes have many reconsidering their decision to use Twitter, with reports indicating the site may have lost over a million accounts since Musk took over.
We asked Search Engine Journal readers whether they're joining the #LeaveTwitter movement. And, if so, where are they going?
Here's what you told us.
Are You Leaving Twitter? – The Results
With 1,500 combined responses across LinkedIn and Twitter, a majority of you told us you're not leaving Twitter.
On LinkedIn, 41% of poll respondents said they're staying on Twitter.
A total of 34% of respondents have either left already or are planning to leave, while 25% aren't sure whether they're leaving.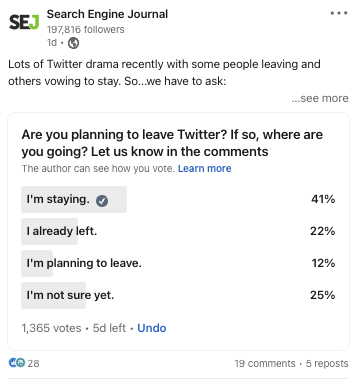 Reader Comments
The responses in the comments section are split, to say the least.
A few of you are leaving Twitter to join Mastodon, which has reportedly seen a surge of new users since Musk took over.
Some of you are enthusiastic about staying on Twitter, while others are cautiously waiting to see how the situation unfolds.
Within the responses, we also learned several readers had just joined Twitter, and some left years ago.
Read more: Most Of You Aren't Leaving Twitter, Poll Results Show
GA4 reports updated to allow customized metrics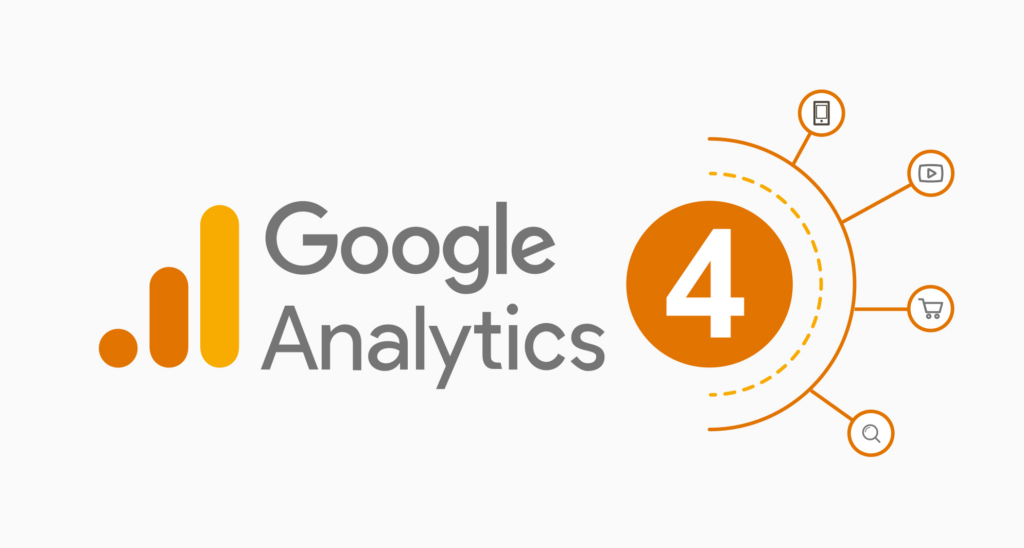 Google Analytics 4 provided pre-determined dimensions for reports. It was a limited set, and companies had no choice in it. But each brand will measure its performance based on different metrics. These may be outside the generic group. So, Google has added more customization to GA4 reports.
This feature was only accessible through Universal Analytics. But now, you can add new variables when creating a report. It helps you find your business's performance and which parts need improvements. For example, suppose you are a cosmetics company. You may want to know about YouTube influencers. You can analyze how many YouTube results are on the Google search page for your products. The GA4 update allows you to view this information.
The GA4 changelogs also state that they simplified the Metrics pickers. You can find it in Reports Builder with ease. It said that doing this enables faster and more efficient GA4 reports. For example, you can consider the word count of articles. It will help you know what length of articles your customers prefer. Thus, you can shift your marketing tactics.
Read more: GA4 reports updated to allow customized metrics
More news:
Apple could be building an ad network for live TV
Meta earns MRC accreditation for content-level brand safety on Facebook