TikTok Advertisers Can Now Set Custom Attribution Windows
Marketers running ads on TikTok can now optimize their campaigns with flexible attribution windows ranging from one day to 28 days.
An 'attribution window' refers to the time it takes for a customer to take action after an ad is clicked or viewed.
Some conversions happen immediately, while others require multiple touch points before a customer is convinced to make a purchase.
A customizable attribution window allows marketers to optimize campaigns for their individual goals.
One business may only want to measure clicks that lead directly to sales, in which case a one-day attribution window is most appropriate.
Another business may expect their customers to think about the purchase for several days before converting, in which case a seven-day attribution window is more suitable.
With TikTok Attribution Manager, you can select a specific time period to measure success for both click-through attribution (CTA) and view-through attribution (VTA). Here's how it works.
TikTok Attribution Manager
TikTok Attribution Manager is a new tool that lives inside TikTok Ads Manager under the Assets menu.
For web and app campaigns, the CTA window can range from one day to 28 days, while VTA can be up to seven days.
Advertisers can select from the following options:
CTA: 1, 7, 14, 28 day
VTA: off, 1 and 7 day
What's The Ideal Attribution Window?
The best attribution window for your campaigns depends on the products or services you're advertising, and the action you want customers to take.
When Is TikTok Attribution Manager Available?
Attribution Manager is available now in TikTok Ads Manager, and will soon be available to advertisers running web campaigns using the TikTok Pixel or Events API.
App promotion campaigns will get this feature when TikTok Ads Manager moves to a self-attributing model, which is said to happen at a later date.
Source: TikTok Advertisers Can Now Set Custom Attribution Windows
Google Marketing Live 2022: Reactions from the experts
At this year's SMX Advanced Julie Bacchini, President of Neptune Moon, moderated a roundtable discussion with three other experts on the topic of the recent Google Marketing Live 2022.
Included in the panel were: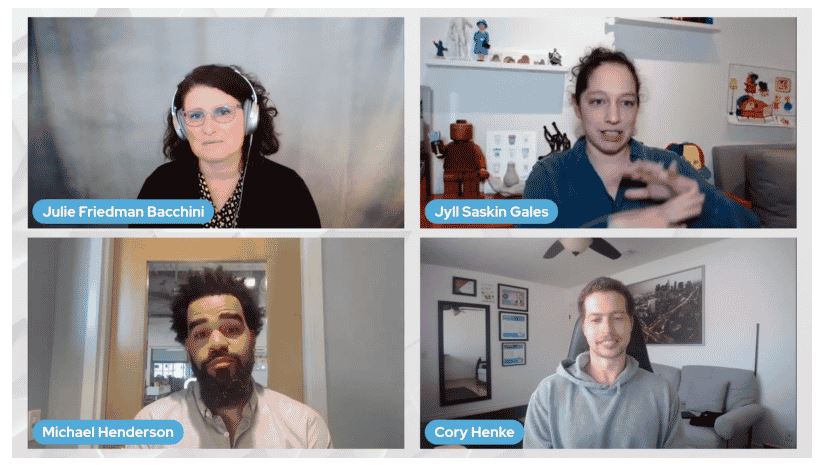 GML2022: Thoughts & reactions from the panel
"So this year's Google Marketing Live was all about commerce," Gales said. "Commerce was the star of the show and I don't know that I was expecting that."
Bacchini highlighted the point that this year there was a lot of talk about auto-generated creative and speculates that we will see more of this in the future.
"In the keynote, they said 'Let's build the future of marketing together' and then every mention of the future of marketing was AI and automation," Henderson said. "It felt a little over the top."
The consensus was also that folks were expecting more about some of the newer campaign types like Performance Max, but real news on the topic never materialized.
All agreed that the lack of talk around keywords and bidding was surprising, and unique, for a Google Marketing Live event.
Reaction to Amazon & Tiktok
The panel thought that the event felt more "reactive" to Amazon and TikTok with announcements aimed at taking market share from the ecommerce and social media giants.
Everyone on the panel also agreed that this year's event was the most ecommerce heavy event to date.
Gales was most excited about the new vision for the search experience. She said:
"We always think of search as more bottom of funnel, demand capture with people looking for exactly what they want and finding a solution … and instead this new vision informed by shopping features, by video features was really about discovery and engagement."
Other positives from Google Marketing Live
Shareable asset library. Henderson noted that he wasn't expecting the new shareable asset library, but that he was delighted at the prospect of it.
Google tag. The panel had high hopes for the new Google tag that was announced but are still hungry for more information.
Connected TVs. Henke made an astute point that you can currently target TV-only campaigns, but with new partners like Hulu this is yet another way to "step on more turf" of competitors.
Geo-experiments. Henerson was excited to test the geo-experiments feature around conversion lift.
Discovery campaigns. The panel was excited about the ability to bring video into discovery campaigns and on the continued buildout of that campaign type.
Potential concerns from Google Marketing Live
One main element of concern for the panel was the risk posed by uploading user data.
Bottom line
Whether you like or dislike the changes announced at this year's Google Marketing Live, they will be coming to your accounts soon. This roundtable gives a fair look at how four ads experts are planning for these changes.
Watch the full SMX Advanced roundtable
You can view the full discussion at no cost until Aug. 31, along with all of the other sessions from this year's SMX Advanced.
Source: Google Marketing Live 2022: Reactions from the experts
LinkedIn Lists This Year's Top 25 Marketing & Advertising Companies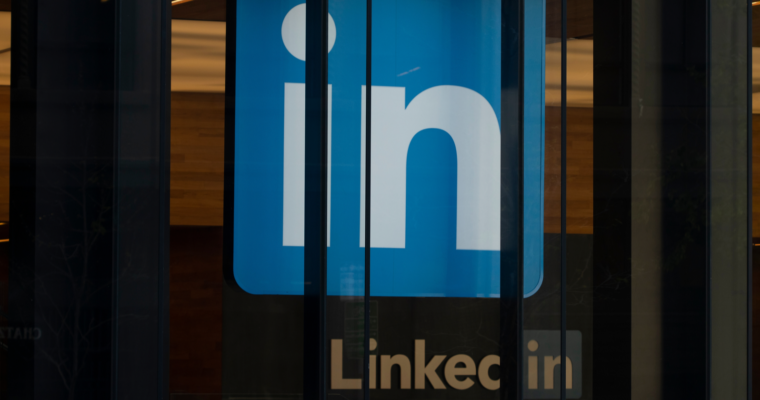 LinkedIn lists the top 25 companies in the marketing and advertising industry in a new report that could be a valuable resource for job seekers.
The report aims to highlight the 'best workplaces to grow a career' in 2022.
Companies are chosen based on a methodology that looks at LinkedIn data across seven pillars:
Ability to advance
Skills growth
Company stability
External opportunity
Company affinity
Gender diversity
Educational background
LinkedIn's Top 25 Companies In Marketing & Advertising
Havas Media Group: Media Planner, Media Supervisor, Investment Associate
Merkle: Search Engine Marketing Analyst, Account Manager, Senior Analyst
VMLY&R: Creative Director, Engagement Director, Account Manager
Criteo: Account Strategist, Account Executive, Software Engineer
Spark Foundry: Media Associate, Strategy Associate, Senior Analyst
Power Digital: Marketing Strategist, Account Manager, Search Engine Optimization Specialist
Quotient Technology: Customer Success Manager, Campaign Manager, Sales Director
PHD: Strategy Supervisor, Media Strategist, Associate Media Director
Digitas Art: Account Executive, Art Director, Producer
Publicis Health: Search Engine Marketing Analyst, Account Manager, Pharmaceutical Sales Representative
Area 23: Account Supervisor, Producer, Associate Creative Director
RPA: Account Coordinator, Account Executive, Media Planner
Intouch Solutions: Account Manager, Project Manager, Marketing Coordinator
Digitas North America: Data Analyst, Account Manager, Art Director
Horizon Media: Brand Strategist, Digital Media Planner, Strategy Supervisor
Spectrum Reach: Account Executive, Account Planner, Local Sales Manager
Ogilvy: Account Executive, Art Director, Copywriter
Octagon: Account Executive, Event Specialist, Group Director
McCann Workgroup: Account Executive, Art Director, Copywriter
Starcom: Media Associate, Senior Analyst, Strategy Supervisor
Saatchi & Saatchi: Account Executive, Art Director, Copywriter
Walmart Connect: Partnerships Manager, Campaign Manager, Account Manager
WPP: Researcher, Executive Assistant, Information Technology Operation Manager
360i: Media Manager, Account Manager, Art Director
DDB: Account Executive, Art Director, Copywriter
Source: LinkedIn Lists This Year's Top 25 Marketing & Advertising Companies
What to do if you're negatively impacted by a major algorithm update
"Not all Google updates are equal," said Glenn Gabe, SEO consultant at G-Squared Interactive, in his presentation at SMX Advanced. "Google pushes thousands of changes per year, but some are small and some are large."
Whenever a new Google algorithm update is announced, SEOs often spend a lot of money, time, and resources optimizing their sites. And while this can be a good thing, as it helps improve these properties, it can also distract marketers from higher priority tasks when the update is overhyped.
For example, many sites worked heavily on improving Core Web Vitals even though the page experience signal is lightweight (more of a tiebreaker). Gabe showed examples of sites that saw no movement at all when their CWV scores were "poor" and "good".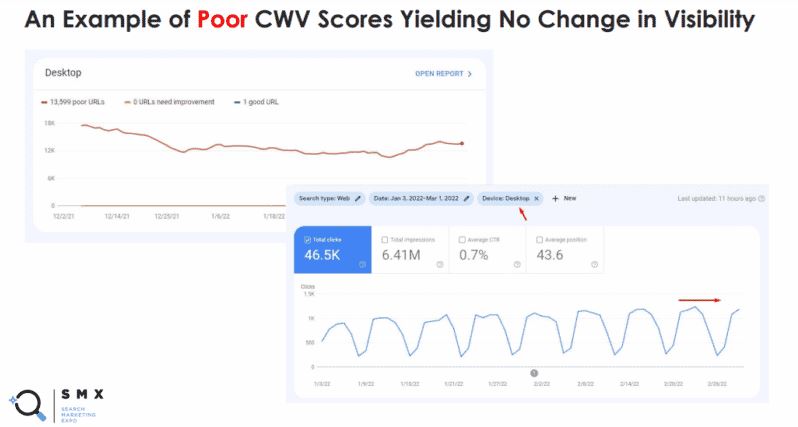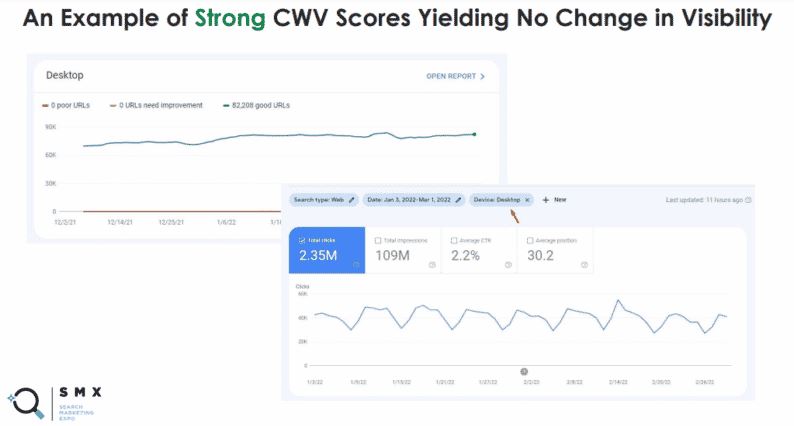 Don't jump to conclusions
Any major drop in rankings/visibility following a Google update will undoubtedly spur many SEOs to action. But, to avoid wasting too much of your valuable time and resources, Gabe recommended getting all the facts in place before jumping to conclusions.
"Avoid the knee-jerk reaction when rankings drop," he said. "You might need to [make changes], or you might not need to. A drop during a major algorithm update could be due to relevancy adjustments, intent shifts, or overall site quality problems."
"All of these are very different, so don't just charge ahead," he added.
Determine if there are site quality issues
Sometimes visibility changes following a Google update stem from a quality issue with your site, rather than a change in the algorithm or new competitors.
"If you determine this is the case, there's good and bad news," Gabe said. "You can address those problems and see recovery eventually, but it takes significant work over the long term. You will typically not recover quickly — it's usually months of hard work."
Pay attention to E-A-T
"E-A-T, or expertise, authoritativeness, and trust, is super-important," said Gabe. "You could think of Google's algorithm like a human who's asking if the [site] creator has expertise on a topic. You have to look at your content objectively."
Because E-A-T isn't a score or scale, it's not always easy determining how well your site embodies its principles. Yet Google's documentation has highlighted its importance — especially when future-proofing sites for algorithm updates. So, SEOs should ensure they're adhering to its standard.
When it comes to improving E-A-T after a ranking drop, many SEOs focus on improving content quality and thoroughness, which are incredibly important. But, as Gabe noted, authoritativeness is also heavily influenced by links and mentions from authoritative sites.
Source: What to do if you're negatively impacted by a major algorithm update
More News:
Core Web Vitals scores improving for top-ranked sites
TikTok commits to updating ad policies to better align with EU rules