TikTok commits to updating ad policies to better align with EU rules
Following discussions with the Commission and network of national consumer protection (CPC) authorities, TikTok has agreed to implement regulations around promoting alcohol, cigarettes, and 'get rich quick' schemes.
TikTok will also allow users to report undisclosed branded content and flag ads that trick children into making purchases.
New labels for paid ads. The policy will identify ads with a new label, allowing users to see immediately whether a post is sponsored. Publishers will also have to switch on a toggle button when they're publishing content captioned with certain keywords such as #ad or #sponsored.
In addition, users with more than 10,000 followers will also have their videos reviewed to ensure they meet TikTok's guidelines.
The new commitments. According to the European Commission, the main commitments agreed to by TikTok are:
Users can now report advertisements and offer that could potentially push or trick children into purchasing goods or services.
Branded content now abides by a policy protecting users, which prohibits the promotion of inappropriate products and services, such as alcohol, "get rich quick" schemes and cigarettes.
Users are prompted to switch on a toggle when they publish content captioned with specific brand-related keywords such as #ad or #sponsored.
If a user has more than 10,000 followers, their videos are reviewed by TikTok against its Branded Content Policy and Community Guidelines to ensure that the content is appropriate.
Policies clarify how to purchase and use coins, and pop-up windows will provide the estimated price in local currencies. Consumers are allowed to withdraw within 14 days from the purchase, and their purchase history is also available.
Policies also clarify how to get rewards from TikTok and how to send gifts, for which users will be able to easily calculate their price.
Paid advertisements in videos will be identified with a new label, which will be tested for effectiveness by a third party.
Users are able to report undisclosed branded content, and new rules for hashtags and labels will be implemented.
What the Commission says. "All social media platforms are required to play by the rules and make sure that consumers can easily identify commercial content, including when promoted by influencers. … Despite today's commitment, we will continue to monitor the situation in the future, paying particular attention to the effects on young users."
A troubling history of challenges. In 2020, TikTok came under hot water regarding its content moderation process and its exposure of young users in the app. While there was no evidence of wrongdoing by the app itself, a leaked document in 2020 showed that TikTok moderators had been instructed to suppress content that featured people who may have been seen as less desirable, as investigations have uncovered that TikTok relies on pretty young women, in particular.
TikTok's commitment. To learn more about TikTok's commitment to EU rules, you can read the article here.
Source: TikTok commits to updating ad policies to better align with EU rules
Deepfake Technology Pros & Cons For Digital Marketing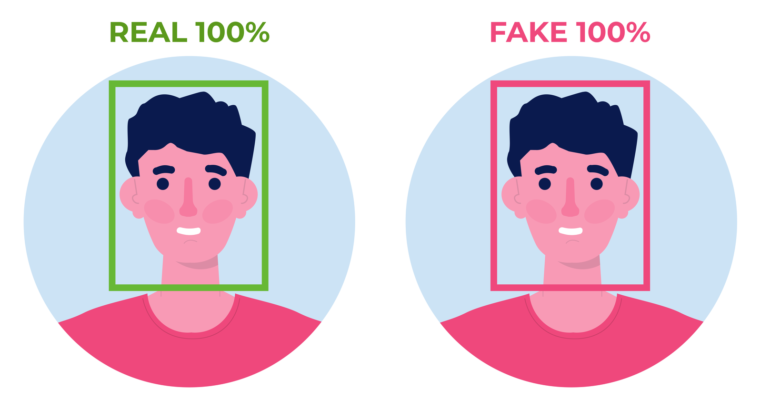 Deepfake technology is changing the way people see digital marketing.
Though marketers are still in the early stages of experimenting with deepfakes and deepfake technology, these videos convey a more immersive marketing experience through storytelling.
Deepfake technology is a type of "deep learning."
Deep learning is a machine learning type that allows computers to learn tasks independently without being explicitly programmed.
Deepfake technology also involves computer vision, allowing computers to recognize objects in images.
For example, computer vision uses deep learning algorithms to identify objects in photos or videos. So it can tell you whether there's a dog in your photo or not!
In addition to computer vision and deep learning technologies, the creation process for deepfakes involves image synthesis:
Taking one image (like someone holding up an American flag).
Combining it with another image (a person holding up an Australian flag).
And creating something new from these two components (a person holding up both flags).
Deepfake Examples
Deepfake Pros
This type of technology is beneficial for marketers in three ways:
First, it can lower the cost of video campaigns.
Marketers can save money on video campaigns using deepfakes because in-person actors are unnecessary.
Instead, they can purchase a license for an actor's identity, use previous digital recordings, insert the appropriate dialogue and create a new video.
Second, it can create better omnichannel campaigns.
Since deepfakes don't need in-person actors, marketers can easily repurpose content for numerous marketing channels with less time and money.
Instead of reshooting the campaign to accommodate different media, marketers can edit the video cuts to create a social campaign.
Or, they can create new synthetic dialogue to create a podcast or radio ad.
Third, it can provide a hyper-personalized experience for the customer.
Brands can provide more relevant messaging and experiences for individual customers based on their personal preferences — such as the color of their skin.
Deepfake Cons
Unfortunately, deepfake videos have been used for more nefarious purposes.
For marketers, this can mean fake customer complaints, fake product reviews, and an overall decrease in customer trust.
Lack Of Trust
The most apparent impact of deepfakes is that they are used to create fake videos, which means that verifying the authenticity of any given video becomes more challenging.
Even if you could tell for sure whether or not someone's image was actual or not before viewing a video, it is still impossible for anyone who didn't know the person personally.
For marketers, using deepfake videos could violate ethics if consumers feel manipulated by the campaign.
Increase In Scams
Deepfake technology could increase potential scams, such as creating false accusations against companies.
These videos are made by taking recordings of actual incidents and changing the audio with new dialogue to make it seem like something that it isn't.
How Marketers Can Use Deepfakes In Their Campaigns
Despite the unfortunate ways people use deepfakes, marketers can make their campaigns come to life quickly with this technology.
Influencer Campaigns
Imagine booking one of the top influencers for a campaign.
You only need a bank of digital footage instead of requiring them to shoot a video for hours.
Artificial intelligence and machine learning do the rest.
Or, you could use historical influencers, such as Marilyn Monroe or Audrey Hepburn.
Since there are a plethora of video and voice recordings of them, marketers can use their likeness in a deepfake to boost their campaign.
Experiential Campaigns
To stand out against the crowd, brands can use deepfakes to immerse the consumer into a shopping experience.
Nostalgic Ad Campaigns
State Farm created one famous example of deepfake technology.
The insurance company created an ad for the series The Last Dance by superimposing 1998 Sportscenter footage to make it look like Kenny Mayne predicted the documentary.
Product Demos
Product demos could become experiential for customers.
Instead of using the same b-roll for all clients, marketers could create personalized demos that show the actual client using their product. It can't get more personal than that, can it?
This technology is here to stay, and it will continue to evolve.
Source: Deepfake Technology Pros & Cons For Digital Marketing
Twitter launching Branded Likes
Twitter has launched Branded Likes – custom Like animations for tweets that brands can create through the ads manager.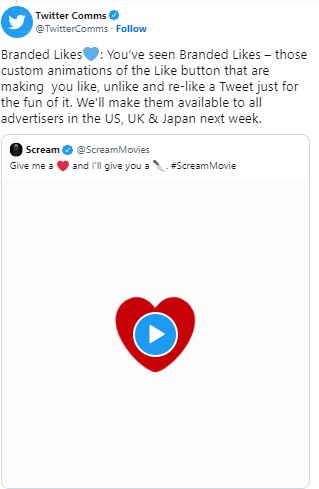 What are Branded Likes. Branded Likes are Like buttons stylized for specific tweets. You can see an example here promoting the "Scream" movie.
A costly addition. Branded Likes were featured during the Super Bowl with brands Anheuser-Busch and PepsiCo taking the bait. But the price tag for the emojis then was around $1 million. They won't cost that much when they're launched, but it does make us wonder what sort of impact they had at that time if any.
Who will get access. Twitter says that they'll make Branded Likes available as an ad option to all advertisers in the U.S., UK, and Japan next week.
Source: Twitter launching Branded Likes
More News:
Twitter testing Notes, a long-form content feature
Now You Can Add Corrections To YouTube Videos After Publishing