Now You Can Add Corrections To YouTube Videos After Publishing
A new feature for YouTube creators will make it possible to add corrections to videos after they go live.
Previously, the only way to correct an error in a published video was to remove it, edit it, and re-upload it.
The old solution created more problems than it solved, due to the fact all watch time and engagement metrics were lost in the process.
Instead, if YouTube creators decide to address their errors at all, they usually do so by adding a note in the description or the comment section.
However, that's only useful if the viewer scrolls down the page, and of no use at all if the video is embedded on another site.
Now you can correct existing videos in a way that's immediately visible while the video is being viewed.
How YouTube Video Corrections Work
YouTube's corrections feature is a mix of old and new. It still requires creators to call out errors and provide clarification in the video description section.
What's new with this launch is the ability to draw attention to corrections during the video itself.
With YouTube video corrections you can alert viewers when a particular moment in a video contains and error, and link them to the description section where the clarification is provided.
When you add a correction to a YouTube video, viewers will see a card appear at the time of the error.
The info card teaser, signalling the presence of a correction, will show up once throughout the video at the correction timestamp.
Clicking on the card will expand the video description where there's a written correction or clarification.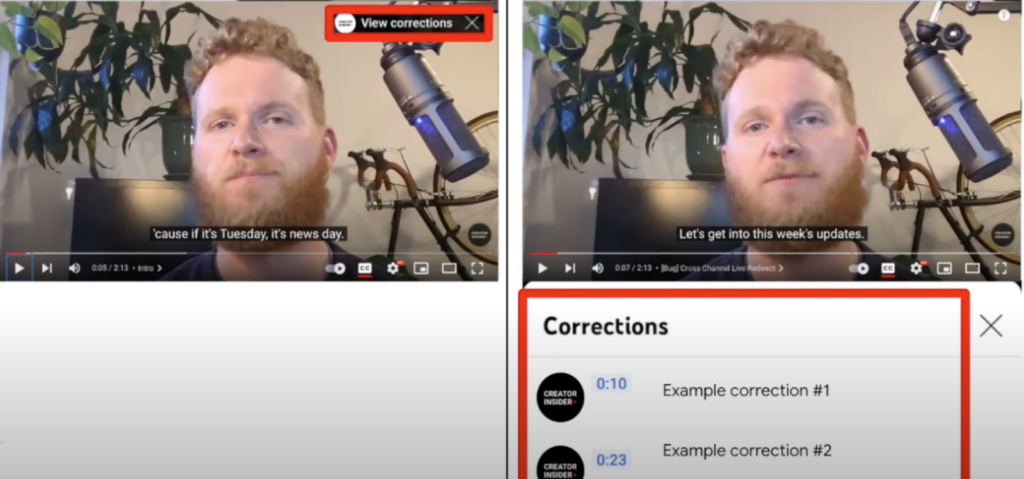 While not a perfect solution, this will at least help make it more obvious to viewers when a creator acknowledges their errors and provides the correct details.
Source: Now You Can Add Corrections To YouTube Videos After Publishing
WordPress.org Strongly Urges Theme Authors to Switch to Locally Hosted Webfonts
In light of a recent German court case, which fined a website owner for violating the GDPR by using Google-hosted webfonts, WordPress.org's themes team is updating its recommendations for hosting webfonts. Most theme authors have been enqueuing Google Fonts from the Google CDN for better performance, but this method exposes visitors' IP addresses.
"The themes team strongly encourages the theme authors to update their themes," Themes Team representative @benachi said in a recent announcement. "We recommend updating by switching to locally hosted webfonts. Luckily Google Fonts can be downloaded and bundled in a theme. Bundled font files allow users to host webfonts locally and comply with GDPR."
The Themes Team is also considering banning remotely hosted fonts moving forward and will discuss at the next meeting.
Many theme authors may not update their themes until forced to by a ban from WordPress.org. In the meantime, users might consider adding a plugin to host webfonts locally. WordPress developer Xaver Birsak has created a small single-purpose plugin called Local Google Fonts that automatically detects Google font sources and gives users the option to download them and use them locally.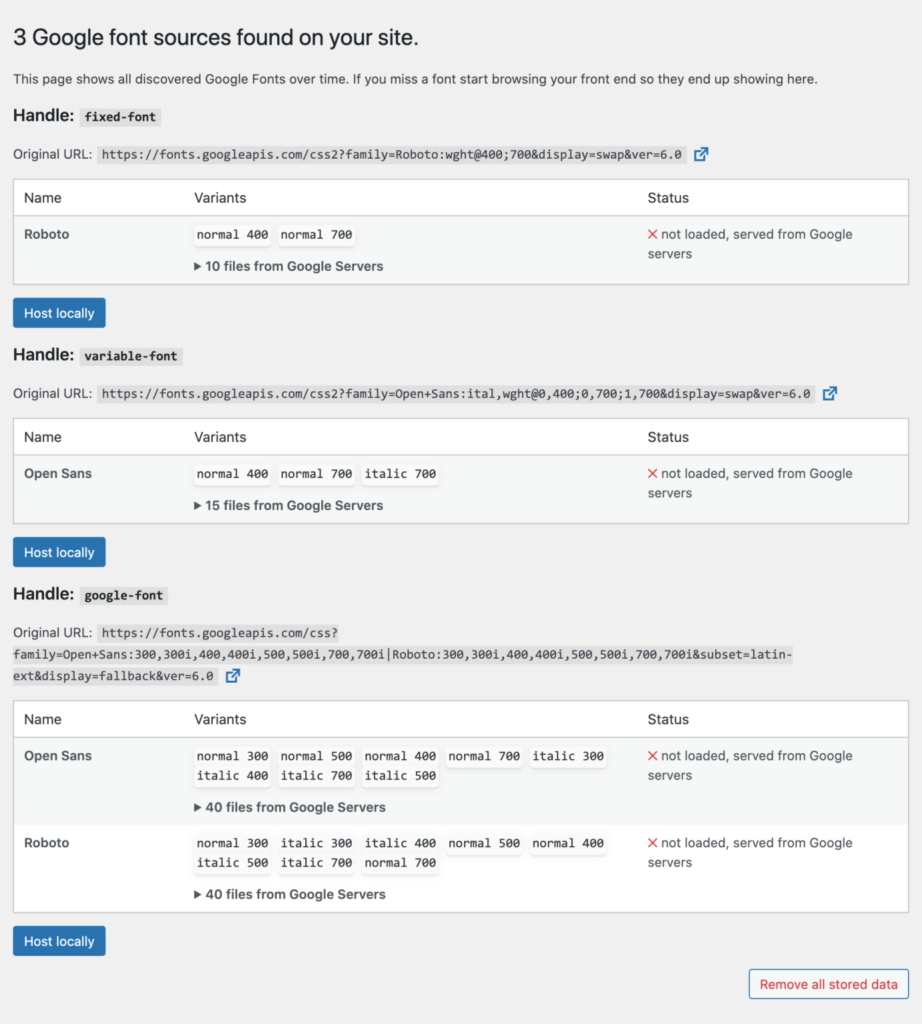 This plugin checks for fonts embedded via wp_enqueue_style. Users who are embedding Google fonts via @import will need to change that before using the plugin. It currently auto downloads new font versions if available. Birsak has created it as a set-it-and-forget it kind of plugin. This may be a good option for non-technical users who have a theme that hasn't yet been updated by the author. Local Google Fonts is available for free on WordPress.org.
Source: WordPress.org Strongly Urges Theme Authors to Switch to Locally Hosted Webfonts
Could TikTok Be A Search Engine? For Many Users, It Already Is
TikTok was spotted testing a new search feature, raising questions about its viability as a search engine.
Interestingly, many people already use it as one.
According to a screenshot shared on Twitter, TikTok is starting to show suggested search terms when viewing a video's comment section.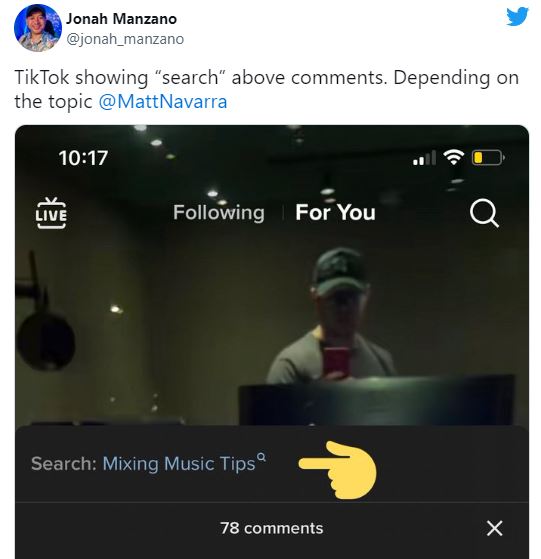 To learn more about this feature, I explored Twitter to see if anyone else was talking about it.
Ultimately, I wanted to answer the question: 'What if people started using TikTok as a search engine?'
Instead, I discovered a whole segment of people treating TikTok as a search provider, with some even preferring it over Google.
The question quickly turned from 'what if" to 'what now?'
We're past the point of questioning whether TikTok has potential as a search platform. The users decide, and increasingly turn to TikTok for their information needs.
'TikTok Is Proving To Be A Better Search Engine Than Google'
The above heading is a quote from a viral tweet from last month.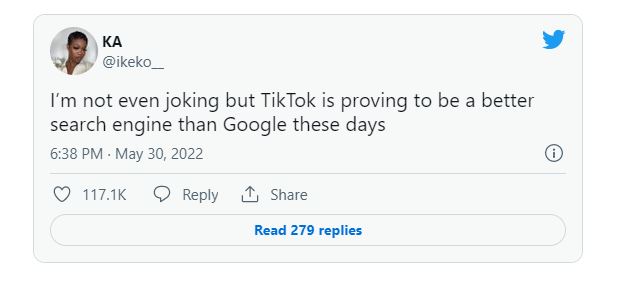 It's unclear whether the tweet received over 110K likes and 14K retweets due to the audacious comparison between TikTok and Google, or because people agree with the statement.
Why Are People Using TikTok As A Search Engine?
The growing use of TikTok as a search engine stems from several factors:
Short attention spans
Unsatisfactory Google results
Visual learning styles
Arguments Against TikTok As A Search Engine
You'll get a different perspective if you check the quote tweets for the viral tweet that started this whole discussion, where it appears the people against the idea of TikTok as a search engine outnumber those who support it.
Due to the colorful language used, I can't share many negative opinions here. Still, it's safe to speculate that naysayers are passionate in their beliefs that TikTok search isn't suitable for keeping up with current news and events.
That's because they don't trust TikTok as a source, alleging that the app spreads misinformation. That happens to be a sentiment shared by a majority of United States users.
What Does TikTok As A Search Engine Mean For Digital Marketers?
For marketers, it's time to consider responding to the demand for short-form video by adding it to your content strategy.
The demand for TikTok-like content isn't about to slow down any time soon, and support for the format from Google and other tech giants is at an all-time high.
Now is an opportune time to branch out and get in front of new customers by diversifying your content output.
Source: Could TikTok Be A Search Engine? For Many Users, It Already Is
WordPress.org Forces Security Update for Critical Ninja Forms Vulnerability
Late last week, Ninja Forms users received a forced security update from WordPress.org for a critical PHP Object Injection vulnerability. This particular vulnerability can be exploited remotely without any authentication. It was publicly disclosed last week and patched in the latest version, 3.6.11. Patches were also backported to versions 3.0.34.2, 3.1.10, 3.2.28, 3.3.21.4, 3.4.34.2, and 3.5.8.4.
Wordfence noticed a back-ported security update in the form builder plugin, which has more than a million active installs. Threat analyst Chloe Chamberland explained the vulnerability in an advisory alerting the company's users:
We uncovered a code injection vulnerability that made it possible for unauthenticated attackers to call a limited number of methods in various Ninja Forms classes, including a method that unserialized user-supplied content, resulting in Object Injection. This could allow attackers to execute arbitrary code or delete arbitrary files on sites where a separate POP chain was present.
The vulnerability affects Ninja Forms' "Merge Tags" feature that auto-populates values from Post IDs and usernames, for example. Wordfence threat analyst Ramuel Gall reverse engineered the vulnerability's patches to create a working proof of concept. He found that it is possible to call various Ninja Forms classes that could be used for a wide range of exploits, including complete site takeover. Chamberland reports there is evidence to suggest the vulnerability is being actively exploited in the wild.
WordPress.org's forced security updates are a mitigation effort used in rare instances where the vulnerability is particularly severe and affects a large number of users. More than 680,000 sites were updated on June 14. This PHP object injection vulnerability scores 9.8 on the Common Vulnerability Scoring System, but it has not yet been given a CVE ID.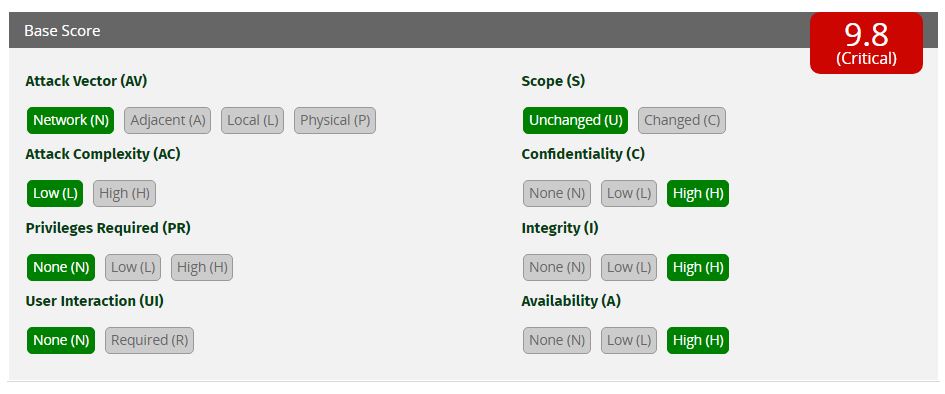 Source: WordPress.org Forces Security Update for Critical Ninja Forms Vulnerability
More News:
The LinkedIn Funny emoji is here
TikTok To Show Who Viewed Your Posts
Google Search Console compare feature in performance reports