TikTok To Show Who Viewed Your Posts
TikTok is in the process of adding viewer history to posts, according to a test that was spotted in the wild.
You'll soon be able to see who viewed your TikTok videos, which is another set of data you can use to identify your most engaged followers.
The trade-off is that your followers will be able to see when you view their posts too.
If you're not comfortable with that, you can opt-out of post view history. But then you won't be able to see view history for your content either.
TikTok's post view history isn't like Instagram and Facebook stories, where it's turned on for everyone by default.
There are other ways it differs from viewer history on other platforms, which we'll look at in the next section. Here's how TikTok's viewer history works.
TikTok Post View History – How It Works
TikTok's post view history is limited to followers only, which you can see in this screenshot shared by social media pundit Matt Navarra: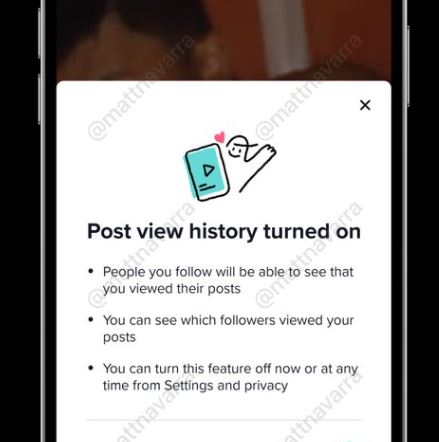 It says people you follow can see when you view their posts, and you'll be able to see when followers view your posts.
In theory — if you wanted to stealthily view someone's content, does that mean you could simply unfollow them?
It's an interesting choice to limit view history in this way. I presume it's to accommodate people with huge followings, as it filters the data down to mutuals only.
TikTok's view history is also limited in duration, which will be available for seven days from the day of publishing.
If viewer history is valuable to you, you'll have one week to collect the data.
TikTok Confirms Test Feature
In a report from TechCrunch, a TikTok spokesperson confirms the feature is real and that it's available to select users.
When it will be available more widely is anyone's guess. There's no guarantee test features will ever roll out at all.
If feedback from the test group is negative, TikTok may decide to scrap viewer history or at least rework it.
At this point it's just something to be aware of, and know that it be added to TikTok in a future update.
Source: TikTok To Show Who Viewed Your Posts
4 things to learn about paid search from The North Face
Managing a large international brand is hard work. Especially when that brand is multi-channel (sold direct and through retailers, online and through individual branded stores).
I was thinking about these challenges recently and wanted to choose a brand and deep dive into how they handle their search campaigns.
The marketing demands of these brands can be difficult when you balance all the stakeholders, internally and externally. So, let's take a look at 4 things you can learn in search from one of my favorite brands in this situation, The North Face:
Own Local – blocking and tackling when you have stores
Strong organic to help fund or offset paid search
Branded search – watch the competition
Getting the website right
To be clear: I have never worked with The North Face as a brand and I don't know anyone who works there, so I have no insider information. This article is from an outside point of view and how I would assess their performance if I were to be in a business development pitch for their business.
1. Own local – blocking and tackling when you have stores
Brands that have their own locations would prefer customers to shop directly with them. They can control the experience, don't have to compete with other brands, and can take home the biggest margins.
The first thing brands should do is ensure their location data (Google Business Profile) is as accurate and up to date as possible. Even though e-commerce has grown, its offline sales are still 80% of total e-commerce sales.
The North Face does a great job of maximizing its listings. All details are completed, and they are supplemented with ads focused on what's available in the store.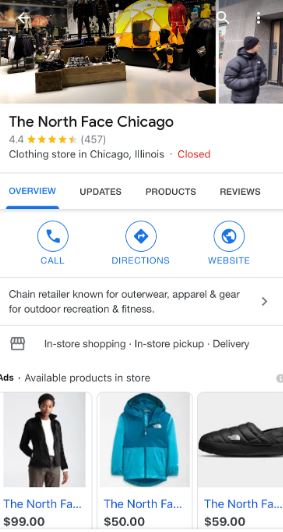 2. Strong organic rankings to help offset competitive paid search
In retail, many brands find themselves in a negative or low ROI for non-branded keywords. It's a competitive space and getting your conversion rates high enough to drive a positive ROI for non-brand alone is tough.
The North Face does a nice job with its organic rankings. Take a look at some data points against some other competitors to see what I mean. The North Face has a paid-to-organic traffic rating of 1.75%. This is the lowest in the group.
However, they have the most organic keywords ranked, and the second highest amount of keywords ranked in the top 3 organically (only outpaced by Canada Goose which has about a third of the total ranking keywords).
The North Face has worked to make sure their organic rankings are strong so that when they do participate in paid they can win and the total portfolio looks strong.

3. Branded search – watch the competition
Should you be bidding on it? Should you let organic listings handle it?
I've been a part of tests for the last 15+ years on this topic. There is no one-size-fits-all answer (for what it's worth: I think you should bid on branded terms).
The North Face is a good example of why. It appears to me that they bid on their branded terms sometimes, but not always.
For The North Face, this is more of a defensive strategy. I found lots of examples where brands like Patagonia, The Gap, and REI were bidding on their brand.
4. Getting the website right
Even though when it comes to search a lot of the interaction and decision-making is on the keyword side. But you still need a strong website to make it all go.
For SEO, that means strong content and a crawlable and highly performant site. For paid search, that means landing pages that tie to your search terms and can convert at a rate that exceeds the bid prices.
This isn't easy to do. However, The North Face does a very nice job in this area.
We discussed earlier how well they do from an organic perspective. On the paid side they also do a very nice job.
All the keywords map to the proper landing page. They maximize the use of ad copy to include all the proper callout extensions and site links. It's very well done.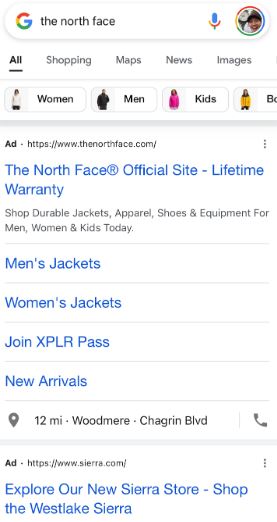 Source: 4 things to learn about paid search from The North Face
Has Google's SEO Office Hours Lost Its Spark?
Google's John Mueller answered a question about what strategy to use to make specific pages show as sitelinks in Google's search results.
Mueller provided an answer that noticeably matched what's in the official Google Search Central documentation for sitelinks, although he added a little more nuance than what's in the official documentation.
Nevertheless, Google's new tightly controlled SEO Office Hours format is starting to show some limitations.
How to Make Pages Appear as a Sitelink?
The person asking the question wanted to know ways to influence Google to show specific pages in the sitelinks.
Sitelinks are additional links from a web page that is shown in a search result, so that one of the search results contains multiple links.
Mueller first explained what sitelinks are:
"So sitelinks are the additional results that are sometimes shown below a search result, where it's usually just a one-line link to a different part of the website."
Next he explained how Google generates sitelinks:
"And there is no meta tag or structured data that you can use to kind of like enforce a sitelink to be shown.
And it's a lot more that our systems try to figure out what is actually kind of related or relevant for users when they're looking at this one web page as well."
Lastly, Mueller offers recommendation on what to do for sitelinks:
"And for that, our recommendation is essentially to have a good website structure, to have clear internal links so that it's easy for us to recognize which pages are related to those pages, and to have clear titles that we can use and kind of show as a sitelink.
And with that, it's not that there's a guarantee that any of this will be shown like that.
But it kind of helps us to figure out what is related.
And if we do think it makes sense to show a sitelink, then it'll be a lot easier for us to actually choose one based on that information."
Answers Are Similar To Google's Official Documentation
Previously the SEO Office Hours format permitted live questions and answers. That's gone now.
What Google is presenting are pre-screened questions with pre-screened answers.
The new format gives Mueller time to choose questions and research good answers ahead of time.
The answer Mueller provided is good but it also highlights a downside of Google's new Q&A format that feels scripted and safe to the point that the information closely mirrors Google's official documentation.
The down side is that the new format has the feel of Mueller Googling the answer for you then paraphrasing what's on Google's developer pages.
This is what's on Google's Search Central page:
"We only show sitelinks for results when we think they'll be useful to the user. If the structure of your site doesn't allow our algorithms to find good sitelinks, or we don't think that the sitelinks for your site are relevant for the user's query, we won't show them.
Make sure that the text you use as your page titles and in your headings is informative, relevant, and compact.
Create a logical site structure that is easy for users to navigate, and make sure you link to your important pages from other relevant pages.
Ensure that your internal links' anchor text is concise and relevant to the page they're pointing to.
Avoid repetitions in your content."
Source: Has Google's SEO Office Hours Lost Its Spark?
Google testing new featured snippet layouts
Google has recently been testing new formats, layouts and interfaces for its featured snippet slot in the search results. Generally, Google shows a single source for a featured snippet but since 2018 Google has occasionally shown multifaceted featured snippets for some queries.
Many featured snippets. Google is testing showing many featured snippets, more than one, more than two – but up to four different featured snippets. Here are some tests spotted by William Alvarez on Twitter and Brodie Clark on Twitter – showing this in action.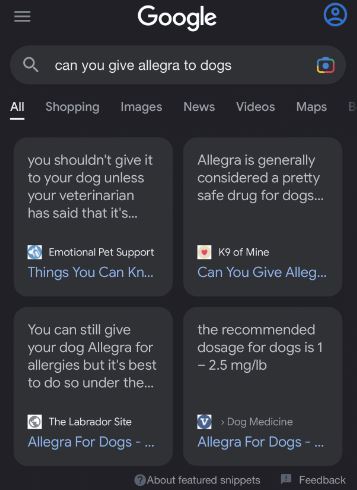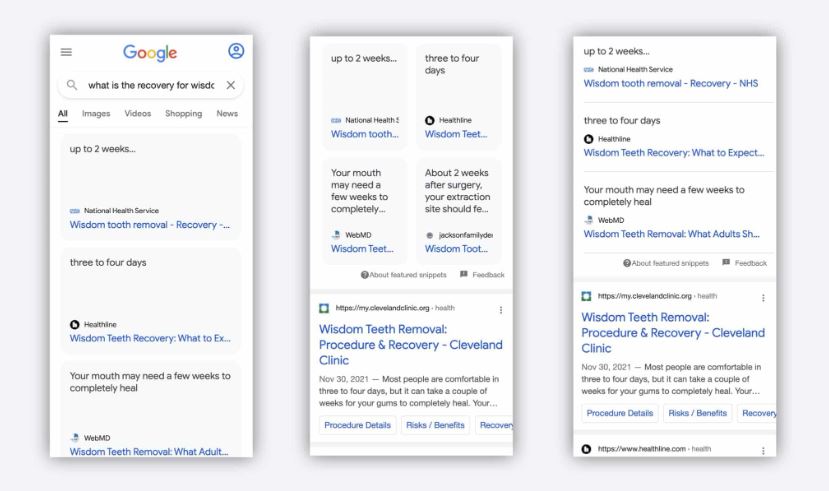 Source: Google testing new featured snippet layouts
More News:
Google Search Console compare feature in performance reports
Headless WordPress And More With Ivan Popov