SMS Marketing For Local Business: Trends You'll Need In 2022
The Evolution Of Business Messaging
The way businesses communicate constantly changes and evolves.
It started with the telegram, morphed into the postal service, and has continued to evolve into the rise of email.
The Problem: Now, our inboxes have become overloaded with emails.
The Answer: SMS messaging.
Consumers say that texting is an easy and convenient method of responding to businesses.
With an extremely high open rate of 98%, text message marketing is equivalent to the open rates of email marketing back in its heyday.
Text message click-through rates are at 18% – 6.9 times higher than email – but only 12% of local businesses use text messaging as a marketing tool.
This means most local businesses aren't tapping into texting yet, and they're ignoring many opportunities to better engage with their customers.
The Power Of Conversational Text Messaging
Your consumers crave conversations that go beyond message blasts.
74% of consumers said they would text a local business as if they were an actual person.
About half of consumers say they are more likely to respond to a business's text message if the employee introduces herself/himself.
The Marketing Advantage of Texting
When asked if consumers would like the ability to communicate with a local business via text message, this is what they had to say:
24% – Yes, and I already do.
43% – Yes, and I haven't yet.
With a big desire to interact with businesses via text, there's also a big chance for companies to set themselves apart through this channel.
Make your brand stand out by being the first to market SMS messaging in your niche.
When done well, you can gain an advantage and stand out from your competition.
Consumer Text Messaging Trends
Texting has a 209% increase in response rate compared to phone calls, emails, or even Facebook Messenger.
While consumers don't typically respond to voicemails and calls, they will usually reply to a text.
Why? It's quick and easy.
Consumers are looking for convenience when communicating with a business.
SMS Marketing Tips For Local Businesses
Podium conducted a survey with 1,000 respondents; their answers will give you insight into how to create the perfect SMS messaging strategy.
Offer Incentives
Podium found that customers would like local businesses to send:
Incentives (coupons, discounts, promo codes).
Loyalty offers and benefits.
"Back in stock" notifications.
Add Personalization
You can also make a stronger connection by adding personalization to your text messages.
Personalization, such as using the customer's name, significantly impacts sales and customer service.
Sending Frequency
On average, Podium recommends sending text messages once per week or once a month.
However, the frequency of sending out promotional messages depends on the type of business.
Create A Frictionless Buying Experience
Text messaging gives your business the ability to be proactive, nurture a client within minutes, and capture a sale.
Just being there to answer questions, provide immediate and valuable links, and show your lead that you care increases your potential to convert.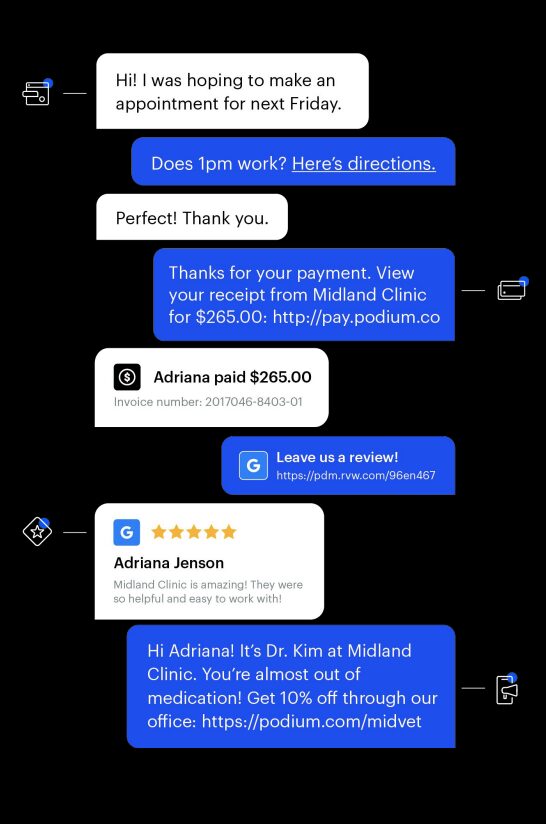 How To Avoid Unsubscribes
Consumers unsubscribe when businesses text them without permission or don't recall signing up.
Make sure you have permission to text your customers by having them opt-in.
Other scenarios that lead to unsubscribes are:
Receiving too many messages.
Receiving messages that are irrelevant to them.
More.
Source: SMS Marketing For Local Business: Trends You'll Need In 2022
The 'Vicinity Update': Winners and losers from the November 2021 local update
Google announced last week that it rolled out an update to the local search and map pack results. It began on November 30 and finished on December 8.
We noticed really dramatic differences in ranking on December 6, 2021. My agency named the update "The Vicinity Update" because the most significant impact we saw was that Google made it so that smaller, less established businesses that are closer to the user are now ranking better than overpowered businesses further away. Google said that it "rebalanced" the factors that make up the algorithm and we have observed that proximity got a big boost while some relevance factors declined. 
What industries did it impact?
This update was dramatic, and in my findings, is the biggest update we have seen in local search since the Hawk update in 2017. Some industries are seeing the impact more than others. We are seeing huge differences for lawyers, home services, insurance, dentists, and many others. It's important to note that you won't likely see the impact of this update unless you are doing grid tracking that shows you how far away from your office you rank.
The winners
The winners in this update are:
Businesses that don't have keywords in their business name but have strong competitors that do.
Secondary locations for prominent businesses
The losers
The losers from this update are:
Businesses that ranked really far from their office.
Businesses with keywords in the business name.
For example, below are screenshots from a business that meets both criteria. One of the keywords that describes their service is a part of their actual LLC name. They used to rank really far from where they are located and no longer do.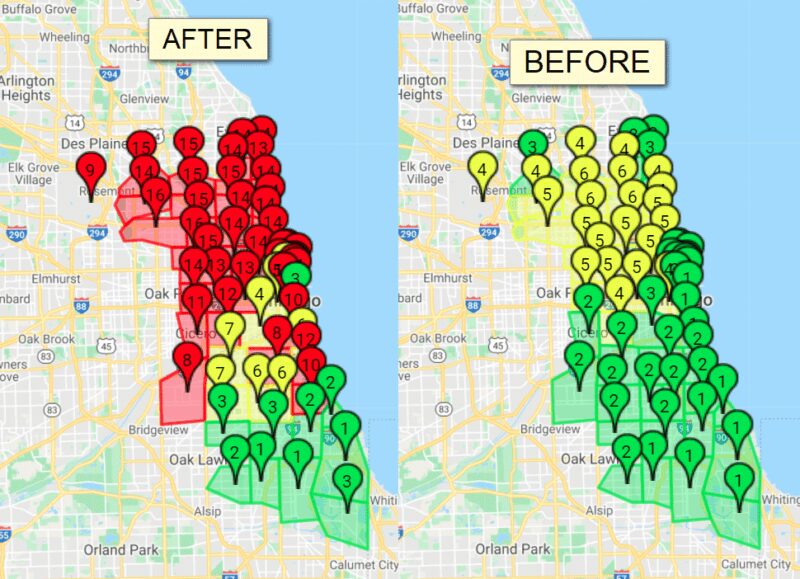 The pins indicate the location the user is searching from. Green pins indicate the business ranks in the top three results, yellow pins indicate the business ranks near the top three results and red pins mean the business does not rank near the top three results.
Source: The 'Vicinity Update': Winners and losers from the November 2021 local update
How To Do A Content Audit: The Ultimate Checklist
How long has it been since the last time you did a complete inventory and analysis of your content?
This is known as a content audit, and most content creators are so focused on creating new content that they forget to audit what they've already created.
If it's been over twelve months, you may be basing your content strategy on out-of-date information.
Here are a few reasons why you need to audit your content on a regular basis:
Goals: Is your content achieving its goals? What is your ROI from the content you've produced? You won't know unless you measure your content's performance and track it through regular audits.
Staleness: Your content can become stale or even outdated over time. Don't beat yourself up, though. Stale content isn't always your fault. What was relevant two years ago may simply need updating now.
Accuracy: As your content ages, facts and data that once were true can become inaccurate. Running an audit through your content regularly will ensure your post's accuracy, helping to protect both your brand's reputation and your search rankings.
Know What's Working: How will you ever know what type of content or which blog post is your most successful if you never go back to audit all of your content pieces? Perhaps pumping out three blog posts a week is really just tiring, and not actually producing any results. You'll never know if you don't go back and do a content audit to see which pieces perform best, and which were the worst.
Hopefully one, if not all, of those bullets spoke to you and you now understand why it's so important to audit your content regularly.
Source: How To Do A Content Audit: The Ultimate Checklist
Google Ads rolling out new icons more widely
Google, over the past few months, has been rolling out new icons within the Google Ads console. Those who spend their days inside the ad console are taking notice of the new icons.
Screenshot. Here is a screenshot of the new Google Ads navigational icons from Brett Bodofsky on Twitter:

Some saw these earlier. Some have said they saw these icons begin to show up months ago, so we assume Google is now more widely rolling the new icons out now.
Reaction. The reaction to the change of icons is not all positive but you'd expect that when Google makes any sort of change to any of its interfaces. ere are some of the responses to the new icons: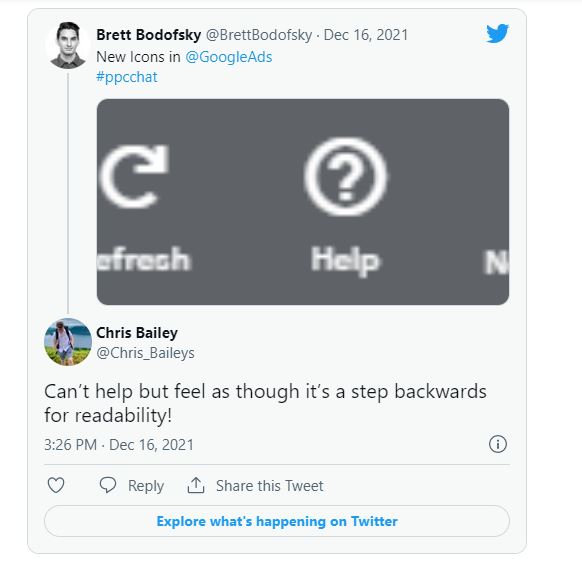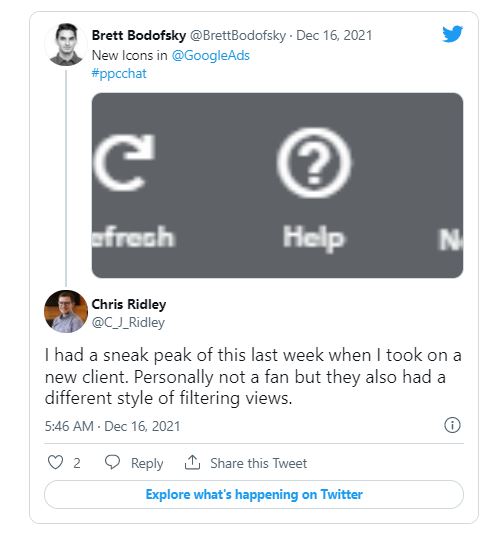 Source: Google Ads rolling out new icons more widely
John Mueller explains self-hosted WordPress vs Wix
Google's John Mueller proposed his viewpoint on shifting a site from Wix to self-hosted WordPress. He also talked about managing WordPress hosting. Also, he replied to an issue on Reddit about changing an SMB site to a self-hosted WordPress setting from Wix. He gave his statement on this particular scenario. This topic discussed the comparative merits and drawbacks of self-managed and managed WordPress for SMBs.
The meaning of SMB is small and medium businesses. What those sizes imply is not anything unchangeable; there are many meanings. Commonly, small industries are those with under 100 workers. Medium size industries have between 100 to 500 workers. Some explanations rank the medium as increased as 1,000 workers. Regulated WordPress hosting is a hosting setting where the web proprietor manages all the technological maintenance.
The host also manages similar details of hosting a WordPress website. The managed hosting company handles things like backups, updates, security, CDN, and caching.
Regulated WordPress hosting achieves pretty much similar things for industries, choosing WordPress stuff. However, it has some regulations. Wix probably also has a benefit over operated WordPress hosting.
A regulated WordPress proprietor optimizes its hosting settings for security and speed. It's flawlessly convenient for industries that eventually wish to scale up. It is suitable for businesses that have full control over SEO and technology. John Mueller discovered one obvious problem. If Wix is operating for a small industry, then there is no point in shifting to a diverse platform.
Source: John Mueller explains self-hosted WordPress vs Wix
More News:
All In One SEO Vulnerability Affects +3 Million Sites
Catastrophic Log4j Security Fail Threatens Enterprise Systems & Web Apps Worldwide