Monetize Facebook Reels With Overlay Ads
Facebook is starting to monetize its reels platform with overlay ads, which gives users another way to monetize their content.
Reels monetization will roll out gradually. By mid-March, overlay ads will be available to almost all countries that currently have in-stream ad programs.
Let's dive into the specifics.
Overlay Ads In Reels, Explained
This is a completely new ad format to Facebook that they are testing. The overlay ads will be available in two formats:
Both ad formats will layer on top of Facebook reels in a transparent format. This means that viewers will be able to watch their favorite content creators uninterrupted, while subtly being introduced to relevant ads to them.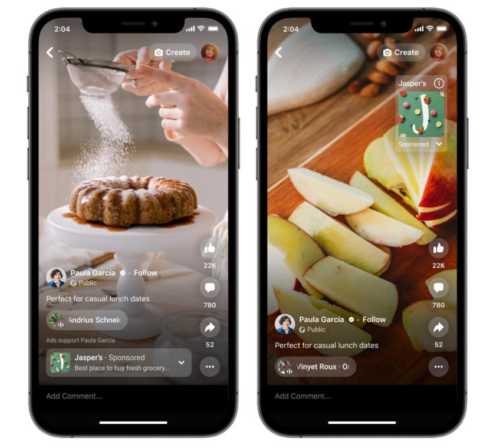 Eligibility For Monetizing Facebook Reels With Overlay Ads
This new ad format test is not available to everyone yet.
If you are currently part of the in-stream ads monetization program for Facebook, you are automatically eligible to start using Overlay ads. There is no need to opt into this feature.
If you are unsure of your eligibility for in-stream monetization, Facebook has a page to check for eligibility and to sign up.
How To Get Started With Overlay Ads
Based on your eligibility of the in-stream ads monetization program, you'll be automatically opted into the banner ad format. However, this does not mean that every single reel will contain an ad.
The ability to show banner ads in your reels will depend on numerous factors, such as:
Advertiser targeting settings
Value of the ad for the viewers
You do have the ability to opt-out of banner ads in your reels by going to the Meta Creator Studio.
To add sticker ads to your reels, there are certain steps that need to be followed.
Tap "Stickers" on the right-hand side of the menu panel (after adding your creative to the reel)
Tap "Ad" below the Stickers tab
Tap "Add Sticker Ad"
Move the positioning of the sticker ad frame to wherever fits best in your reel
Why Overlay Ads?
Facebook is dedicated to investing $1 billion in content creators. By adding tools such as overlay ads to reels, it allows you to create a sustainable business on Facebook.
Creating content takes time and money. Being part of the ad monetization program gives back portions of ad revenue to you, allowing you to spend more time creating quality content for the Meta platform.
Source: Monetize Facebook Reels With Overlay Ads
Google AdSense separates YouTube earnings into its own payments account
Google AdSense will separate YouTube earnings into its own AdSense for YouTube homepage and payments account, the company announced Wednesday. The change will begin in March and roll out over the following months.
YouTube publishers were first made aware of this change in an email sent by Google in January.
Separate payment thresholds. YouTube earnings will be bucketed into its own payments account, meaning that YouTube and AdSense payments accounts will have separate payment thresholds. This could affect payment timing for some as it may take more time to reach the payment threshold.
Source: Google AdSense separates YouTube earnings into its own payments account
Google Rolls Out Short Titles For Product Ads
Advertisers are now able to optimize their product titles even further in Google Merchant Center.
Google recently added a new optional attribute to Merchant Center called "short title". This update allows you to be more concise and to the point with your products.
Where Will The Short Title Attribute Be Shown?
In comparison to the "title" attribute, which is required, the short title attribute is optional.
The main difference between the title and short title attribute are as follows:
Title attribute: More accurately matches the product landing page, as well as a customer's search.
Short title attribute: A brief and concise identification of your product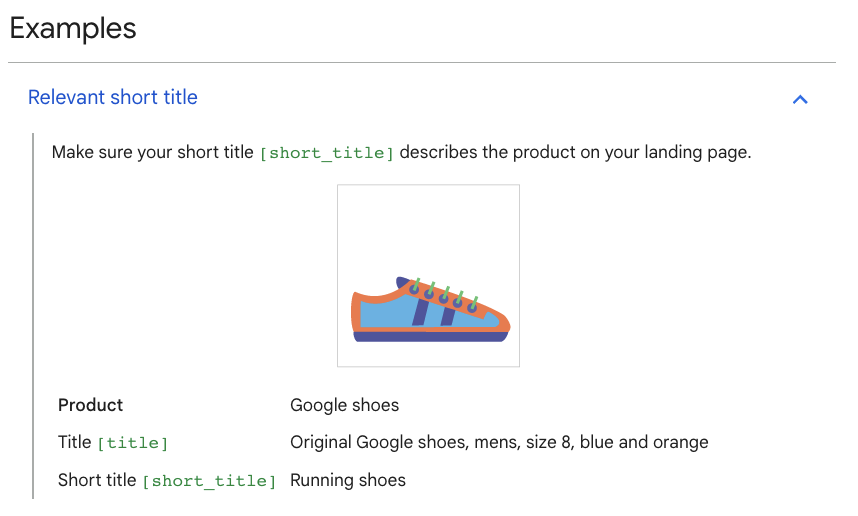 What Are The Minimum Requirements For Short Title?
The current character limits for this attribute are 1-150 characters. However, Google recommends keeping the character count between 5-65 characters.
Google warns that if you do not follow the minimum requirements, they will disapprove your product. Some of the main requirements include:
Use professional and grammatically correct language.
Do not use foreign language words, unless they are well understood.

More specifically, do not use foreign characters for attractive purposes.

Do not include promotions in your short title.
Avoid excessive capitalization.
Best Practices For Short Title Attribute Usage
There are multiple ways to optimize your short titles in your product feed. The main recommendations for short title optimization include:
Staying under 65 characters
List the most important details first
Add the brand name (if it's a differentiating factor)
The character limit is extremely important in more browsy contexts contexts. Because users are more likely to scroll in these contexts (such as Discovery and Gmail ads), keeping your short title to a minimum is better. After 65 characters, your title may be truncated, making the user experience less appealing.
Source: Google Rolls Out Short Titles For Product Ads
BrightEdge acquires Oncrawl in enterprise SEO shakeup
BrightEdge, an enterprise SEO platform, has acquired technical SEO platform Oncrawl. The terms of the deal were not disclosed.
Oncrawl will continue to run as its own company. Both customer bases will soon have access to additional technology without an accompanying price hike.
What it means for BrightEdge. This acquisition mirrors the merging of SEO and data science. It will allow BrightEdge to perform sophisticated data scientist tasks in their website analysis to complement the work they are already doing on the platform, BrightEdge CEO Jim Yu said. He added that this acquisition is good news for digital marketers who want to scale campaigns with speed and precision.
SEO is creating more data than ever – too much for anyone to process without the right marketing technology, Yu said. Data analysis for SEO is complex – and most SEOs aren't data scientists. So this acquisition means that BrightEdge users can combine Oncrawl's "zero-code" data science with BrightEdge's enterprise data and automation.
"We saw a big opportunity to help SEOs be more effective at driving performance with data, without having to become data scientists," Yu said.
Oncrawl is the third acquisition for BrightEdge, which was founded in 2007 and has more than 2,000 customers. In 2019, BrightEdge acquired Trilibis, which was crucial in developing their Autopilot offering. 
What it means for Oncrawl. Oncrawl will still run independently but under the BrightEdge umbrella, Yu said. Typically, when there is a merger, one company absorbs the other, and its customers and employees can suffer in the aftermath. Yu said that would not be the case here.
Oncrawl users will soon be able to start benefiting from BrightEdge's advanced automation and data visualization technology.
Oncrawl, founded in 2013, has 50 employees, more than 1,000 clients, and raised more than $4 million in funding since 2013.
Source: BrightEdge acquires Oncrawl in enterprise SEO shakeup
Nine WordPress Plugins Expose Over 1.3 Million Sites To Exploits
The United States Government Vulnerability Database and WordPress security researchers published alerts of WordPress plugin vulnerabilities. Among those plugins, nine of the most popular plugins affect over 1.3 million websites.
Vulnerabilities in Nine WordPress Plugins
While there were many more plugins found vulnerable, the nine most popular plugins affected well over 1.3 million websites. The vulnerabilities were rated
The following are on the list of nine vulnerable plugins:
Header Footer Code Manager 300,000+ installations
Ad Inserter – Ad Manager & AdSense Ads 200,000+ installations
Popup Builder WordPress plugin 200,000+ installations
Anti-Malware Security and Brute-Force Firewall 200,000+ installations
WP Content Copy Protection & No Right Click 100,000+ installations
Database Backup for WordPress 100,000+ installations
GiveWP – Donation Plugin and Fundraising Platform 100,000+ installations
Download Manager 100,000+ installations
Advanced Database Cleaner WordPress plugin 80,000+ installations
Header Footer Code Manager WordPress Plugin
The Header Footer Code Manager WordPress Plugin was discovered by Wordfence security researchers to have a Reflected Cross-Site Scripting vulnerability.
The vulnerability requires the hacker to trick an administrator into clicking a link or other action in order to make it vulnerable to a full site take over.
The researchers noted that because this plugin affects a sensitive area of WordPress sites in that it's for adding code to websites, the variety of malicious actions could extend to adding backdoors and attacking site visitors.
Publishers are recommended by Wordfence to update their installations to at least version 1.1.17.
Source: Nine WordPress Plugins Expose Over 1.3 Million Sites To Exploits
More News:
Google's Pirate Update can cause 89% drop in search traffic for offending site
LinkedIn's Service Pages for freelancers adds features to showcase credibility
Google confirms Standard Shopping campaigns will remain available