The LinkedIn Funny emoji is here
LinkedIn has finally added one of the most requested features. The Funny emoji started rolling out to LinkedIn users at some point in the last couple of hours.
What it looks like. It is a blue laughing face. Here's what the new reaction looks like:
Why LinkedIn is adding it. Because LinkedIn users have been requesting it more than anything else from the platform. And LinkedIn has become incredibly good about listening to its users and giving them what they want.
If only more companies gave their user bases what they actually wanted instead of not – while shoving lame, minor UI enhancements or features nobody wanted or asked for. Granted, the Funny emoji is a tiny feature, but the ability to make lots of your users happy can be priceless. It can be the difference between loyalty and abandonment.
Reaction on LinkedIn. Joy. And lots of Funny emojis everywhere.
LinkedIn has generally been thought of as a professional social network. But it's not all serious anymore. There is some seriously funny content published on LinkedIn. Now brands, marketers, and creators who post funny content can earn the appropriate reaction. Good, humorous content can get some excellent engagement, and engagement leads to greater visibility on the network.
Source: The LinkedIn Funny emoji is here
Spotify commits to brand safety for podcasts
Spotify has partnered with Integral Ad Science (IAS) to create a brand safety framework for podcasts. The technology will be the first of its kind across a digital landscape where safety precautions currently exist for video, but not audio.
The technology uses episode-level transcription technology to help advertisers exclude topics that don't align with their brand.
What Spotify says. In a blog post, Spotify adds "As podcasts have grown from a niche to mainstream medium, so has the need for consistent, well-established brand safety guidelines and technology." Podcast ad revenue surpassed $1 billion in 2021 and is forecast to almost triple to more than $4 billion in 2024.
Understanding audio safety. Spotify and IAS will launch efforts to help the audio industry understand what tools and resources are needed to deliver brand safety. They'll also develop reporting tools aimed at giving advertisers greater transparency into where their ads are being heard.
The new technology will be powered by Spotify's first-party data and verified by IAS' independent analysis solutions – which adopt the Global Alliance for Responsible Media's (GARM) guidelines. Spotify announced last year that they were the first audio partner to join GARM, helping to define what brand safety is for audio.
Prospective timeline. There is no word yet on when the new safety solutions will launch. You can read the announcement here.
Source: Spotify commits to brand safety for podcasts
Pinterest introduces Idea ads and paid partnership tools
Pinterest has launched a new ad format – Idea ads – and a new partnership tool allowing creators to tag brand partners in their content.
Idea ads. The new Idea ads follow a similar format to Idea pins, which were launched last year. Similarly, Idea ads are an immersive, multi-page format designed for advertisers "to showcase ideas in action." When shoppers click on the ads they're taken to the brand's website to view relevant information.
The paid partnership tool. This allows brands to partner with Pinterest creators. The partnership allows large brands to collaborate with Pinterest's community of creators and connect with their audiences.
With the paid partnership tool, brands can review the tag and approve (or deny) the content. Brands will benefit from the authenticity of the creator's content. Brands can also promote the creator's content as their own Idea ad with paid partnership across Pinterest.
Source: Pinterest introduces Idea ads and paid partnership tools
Instagram's Main Feed Is Going Full Screen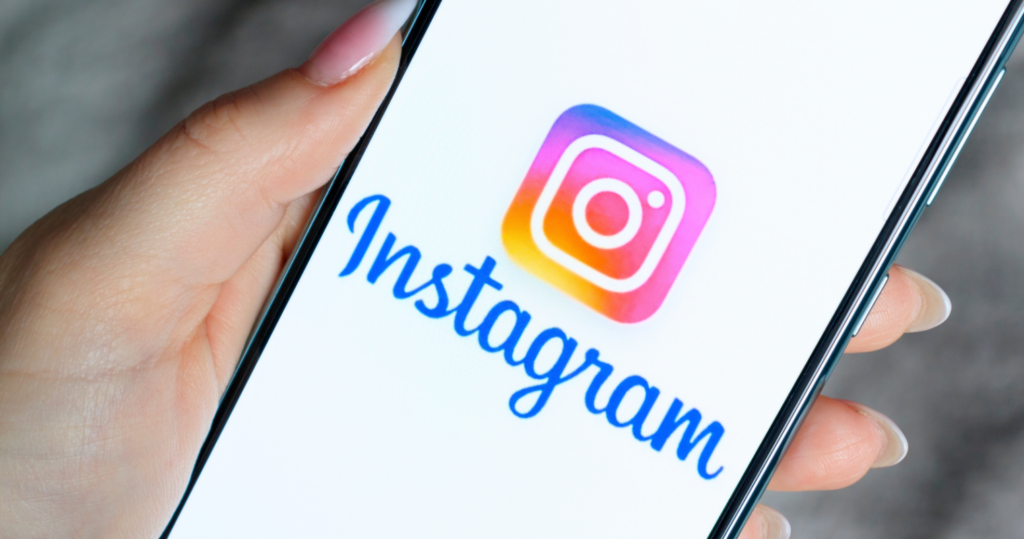 Meta CEO Mark Zuckerberg announced that Instagram will soon begin testing a full-screen redesign of its main feed.
If you blinked you may have missed Zuckerberg's announcement, as it was made via an Instagram story.
Here are some screenshots showing a before (top) and after (bottom) comparison of the new design: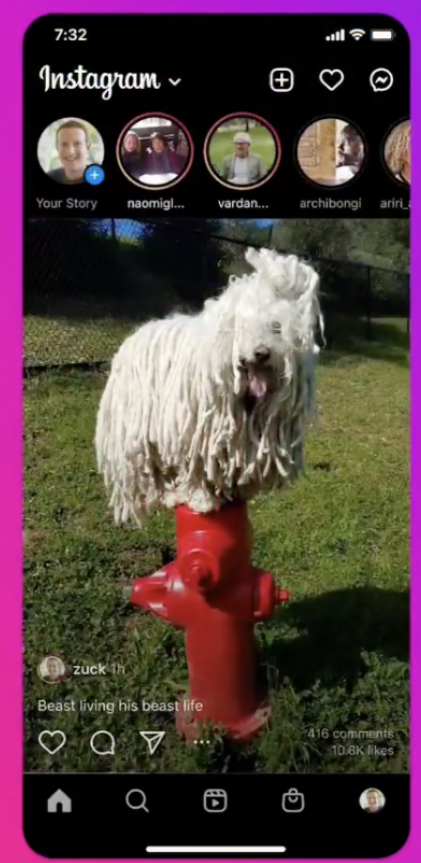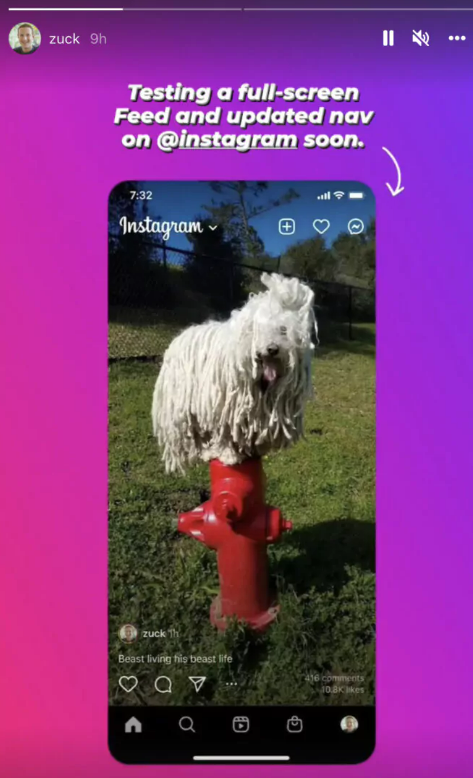 This makes Instagram look more like a TikTok clone, with the content taking up the entire length of the screen.
A small area at the bottom is reserved for navigation, while every other element is overlayed on the content.
To remedy any confusion around the new design, Zuckerberg follows up by clarifying photos will continue to be an important part of Instagram.
Source: Instagram's Main Feed Is Going Full Screen
Facebook aims to bring changes in video content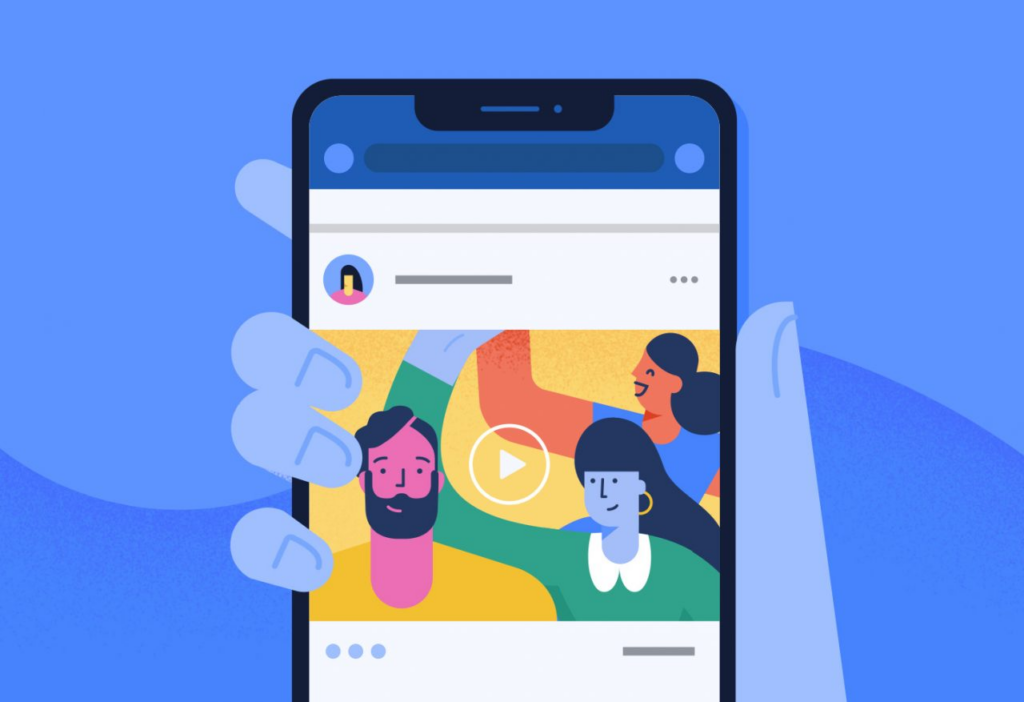 Facebook decides to bring changes concerning the video content. It will dedicate a "discovery engine" to replace the main feed. It got discussed in the internal employee's memo.
We can expect changes pretty soon. Facebook sent those memos on April 27. So the restructuring of video content must be in the processing.
Facebook's dedication to bringing changes is to provide a platform where people can watch the recommended content. A personalized and trendiest space for people to spend time on.
Facebook also defined its three priorities marking its vision for the same. The first is to build an effective recommendation technology. The second goes on to increase the popularity of reels.
The third explains how to unlock messaging-based sharing. The purpose of the discovery engine is to offer video content from creators people are not much aware of. This is the first time Facebook is going to focus on unconnected content. It will also drive content from the entire network. The transformation of the main feed into only a recommendation-filled page will widen the user base.
Alison also stated the upcoming series, "Here's how the future Facebook app will work in practice: the main tab will become a mix of Stories and Reels at the top, followed by posts its discovery engine recommends from across both Facebook and Instagram. It'll be a more visual, video-heavy experience with clearer prompts to direct message friends a post. To make messaging even more prominent, Facebook is working on placing a user's Messenger inbox at the top right of the app, undoing the infamous decision to separate the two apps eight years ago."
Source: Facebook aims to bring changes in video content
More news:
TikTok To Show Who Viewed Your Posts
Google Search Console compare feature in performance reports