FCC tells Google, and Apple to remove TikTok
U.S. Federal Communications Commissioner Brendan Carr wants Apple and Google to ban TikTok from their app stores.
Why? The request is due to the social media app's "pattern of surreptitious data practices," according to Carr.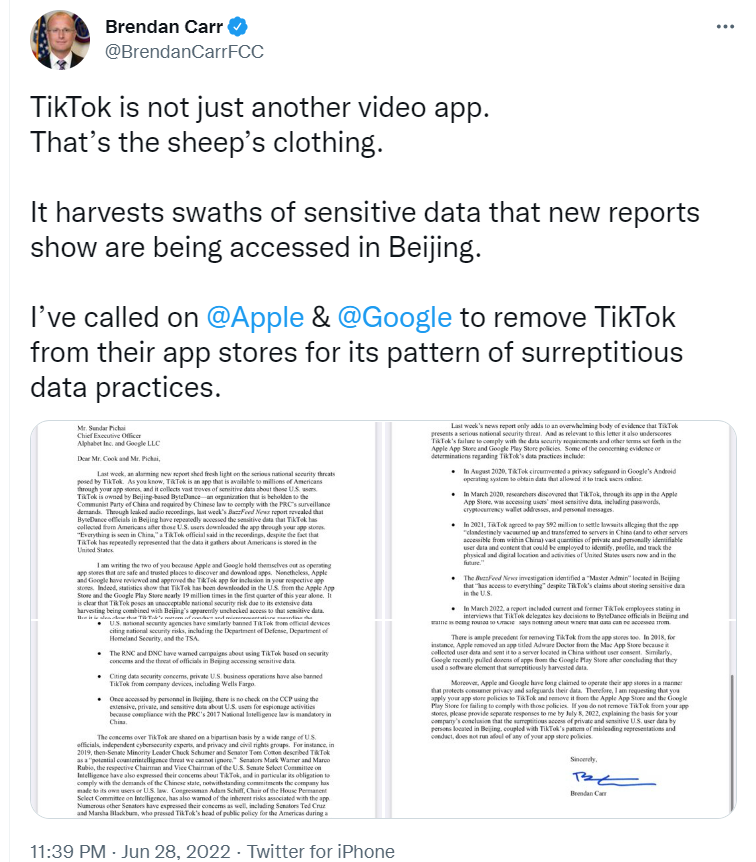 The request also comes after BuzzFeed News reported that U.S. data had been accessed from China.
TikTok had been adamant that any U.S. user data was kept in the U.S. But employees of TikTok have been able to access nonpublic data about TikTok users, according to leaked audio.
"As you know TikTok is an app that is available to millions of Americans through your app stores, and it collects vast troves of sensitive data about those US users. TikTok is owned by Beijing-based ByteDance — an organization that is beholden to the Communist Party of China and required by the Chinese law to comply with PRC's surveillance demands," Carr said in a letter addressed to Alphabet CEO Sundar Pichai and Apple CEO Tim Cook. "It is clear that TikTok poses an unacceptable national security risk due to its extensive data harvesting being combined with Beijing's apparently unchecked access to that sensitive data."
TikTok's response. TikTok said it was moving all U.S. user data to Oracle servers, and they would delete all U.S. user data from their centers.
TikTok caught in a national security loop? In 2020, President Donald Trump signed an executive order banning TikTok from the US, citing an investigation in 2019 over national security concerns. TikTok's response: the order was issued without any due process.
Last year, President Biden revoked the ban and replaced the order with requirements that the Commerce Department review apps that may pose national security risks.
TikTok, Apple, and Google have not yet responded to the request.
Source: FCC tells Google, and Apple to remove TikTok
Google Maps adds a new store location feature, Locator Plus, Reserve with Google integration, new analytics, and more
The Google Maps Platform has added a bunch of new features for businesses to add deeper integration with its Google Maps Platform APIs to help those businesses streamline some of their integrations with Google Maps. These include the ability to embed Reserve with Google on your site, a new embed a store location tool, a Locator Plus feature, store locator analytics, and more.
Reserve With Google Embed Feature
We have seen Reserve with Google feature in Google Search and Google Maps for a while now. Now, Google is allowing businesses to use the Reserve with Google feature on their own sites or portals.
Google added new APIs to allow you to embed the Reserve with Google on your site and your own maps. Google said this allows for "end-to-end appointment booking flow and connects users to a variety of services." It allows your customers who are using your store locator an option for bookings, right within the locator, which creates an easier booking process.
Store Locator Embed Feature
Google also has rolled out a way to manage and publish your store locator using the Google Maps platform. Google said this will allow you to "quickly update and roll out your store locator" on your site. In the Locator Plus solution, you can capture the location of every single store you want to show users – all within one map, Google explained. This can now be done with a simple copy and paste of some embedded code and very little API development coding.
Google Locator Plus
Similar to the store locator feature, the new Locator Plus feature allows businesses to easily import business details from their Google Business Profile. This will allow the business details you already have in your Google Business Profile to be reflected in the store locator on your website. The details include hours, contact information, photos, service options, and more.
Google Store Locator Analytics
With all these announcements, Google also is rolling out a new Google store locator analytics dashboard. This analytics dashboard should help you better understand the impact of your implementation and generate insights from your data. It shows you how well your site visitors are engaging with your store locator, Google said.
The dashboard helps you measure your performance week over week, including the number of views, number of interactions with Google Search and Google Place Details, and overall engagement rate. The dashboard uses anonymized data to provide important benchmarks on how a developer's implementation compares against other developers using the same solution.
All these tools can be useful for large and small businesses to manage their local presence not just on Google but also on their own site. Plus, searchers are accustomed to Google and may find these embedded features familiar and be more likely to use them.
Source: Google Maps adds a new store location feature, Locator Plus, Reserve with Google integration, new analytics, and more
W3C Announces Major Change
The W3C announced the biggest change to its structure and governance in order to evolve and make faster decisions while assuring it will remain the same.
The Worldwide Web Consortium (W3C), the standards body in charge of web standards such as HTML and browser privacy, announced a significant change in how it will operate. Beginning on January 2023, the W3C will become a new public-interest non-profit organization.
Worldwide Web Consortium (W3C)
While many turns to Google to understand how to use HTML elements like titles, meta descriptions, and headings, the W3C created the actual specifications for how to use them.
The W3C is vital for the future of the entire web because it is developing privacy standards with stakeholders from around the world and the technology sector.
Stakeholders such as Google, Brave browser, Microsoft and others are involved in developing new standards for how browsers will handle privacy.
However, there are others with a stake in tracking users across the web via third-party trackers, who also belong to the W3C, who are trying to influence what those new privacy standards will be.
Transition to a New Legal Entity
Although the W3C is transitioning to a new structure, the announcement sought to assure the public that current decision-making processes will remain the same.
While they state that the development and decision-making processes will remain the same, the reason for transitioning to a non-profit organization is to enable the W3C to "grow" beyond the original structure since its founding in 1994 for developing web standards for the early web and to "mature" in order to meet the needs of the future better.
Source: W3C Announces Major Change
WordPress Contributors Propose Improving Block Themes' Visibility in the Directory
WordPress theme authors and contributors from the Themes team are exploring ways to make block themes more prominent on the official directory. These are themes that are specifically tagged with support for full-site editing. Despite WordPress having a block theme for its most recent default theme, authors have been slow to create more. There are currently only 86 themes that support the full range of WordPress site editing capabilities.
A meta Trac ticket opened five weeks ago proposes giving block themes priority in the directory. Themes Team contributor Sandilya Kafle kicked off the discussion with two ideas:
Add a new tab in the theme repository ( Popular, Latest, Block)
Change the popular themes algorithm and add 1 block theme in 1 out of 10 popular themes.
"There might be some other way to encourage block theme authors to contribute more," Kafle said.
"We don't need this always, but we can try this for at least one year and see how it will go. Block themes need some attention and encouragement. Only very few FSE themes are maintained properly."
Source: WordPress Contributors Propose Improving Block Themes' Visibility in the Directory
More news:
TikTok Advertisers Can Now Set Custom Attribution Windows
Core Web Vitals scores improving for top-ranked sites
TikTok commits to updating ad policies to better align with EU rules