Google and Bing halt all ad sales in Russia
Google and Bing have expanded ad sales suspensions imposed on Russia due to its invasion of Ukraine. Google has temporarily halted ads from serving to Russia-based users, the company announced Thursday. Similarly, Microsoft announced that it will suspend all new sales of its products and services in Russia.
Escalating restrictions on Russian state-funded media. Last 2 week, both search engines stopped running ads from Russian state-funded media outlets. In addition, Microsoft is "further de-ranking these sites' search results on Bing so that it will only return RT and Sputnik links when a user clearly intends to navigate to those pages," Brad Smith, president and vice chair of Microsoft, said in an announcement on February 28.
Perhaps this is what Russia wanted. Roskomnadzor, Russia's communications regulator, has accused YouTube of running "advertising campaigns to misinform the Russian audience," according to the Wall Street Journal. The Russian agency demanded that Google change its ad moderation policies and discontinue such ads.
The new ad suspensions are likely to primarily affect Russia-based businesses, but they may also put a temporary end to the ads Russia is complaining about.
Social media platforms halted ad sales in Russia, too. Snap Inc. and Twitter have both paused ads in Ukraine and Russia, with the former halting them in Belarus as well. Facebook has stopped serving ads from Russian state media, but (at the time of publication) is still showing ads to Russian users.
Source: Google and Bing halt all ad sales in Russia
Yandex Warns Debt May Affect Ability To Continue Operating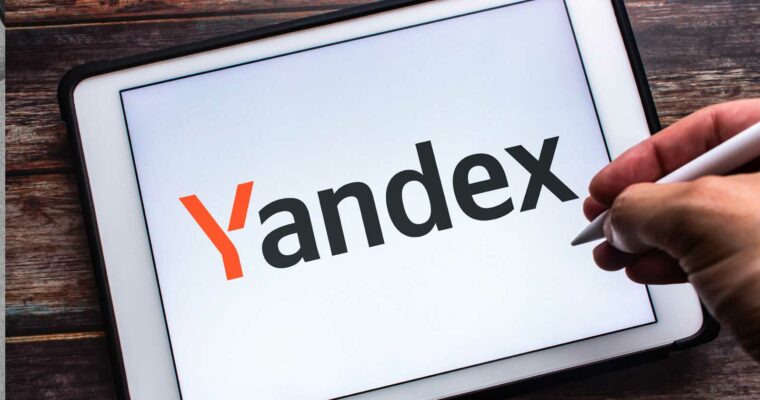 Russia's largest search engine, Yandex, issued a warning March 3, 2022 stating that there are two possible scenarios that could threaten continued operations. Yandex stated that it could operate for many months should either of those scenarios be avoided.
Yandex indicated that current data center and technology capacity will allow it to continue operating for at least one year and up to a year and a half.
But that statement was conditioned on no disruption to supplies, which Yandex said could have a negative impact on operations.
"In the event of any prolonged suspension of supplies of hardware, software or other technology used in our business or offerings, if we are unable to secure alternative sources, our operations could be materially adversely affected over time."
Yandex Search Engine
Yandex is the most popular search engine in Russia, with user visits reported to be as high as over 60%.
Yandex is also ranked by some measurements as the 8th most popular website in the world, ahead of TikTok, Netflix, Reddit and Amazon, to give a sense of scale and importance of Yandex.
Economic Sanctions Impact on Yandex?
The statement from Yandex indicated that none of the economic sanctions target Yandex or any of its subsidiaries, management, directors or principal share holders. That means at the moment there are no direct impact from sanctions to Yandex.
Source: Yandex Warns Debt May Affect Ability To Continue Operating
Microsoft Advertising's Ad Creator extracts site images for use in ads
Microsoft Advertising has announced Ad Creator, a new feature that extracts images from your site so that they can be used in your ads. Ad Creator is currently in pilot; those interested in joining the pilot should contact their account representative.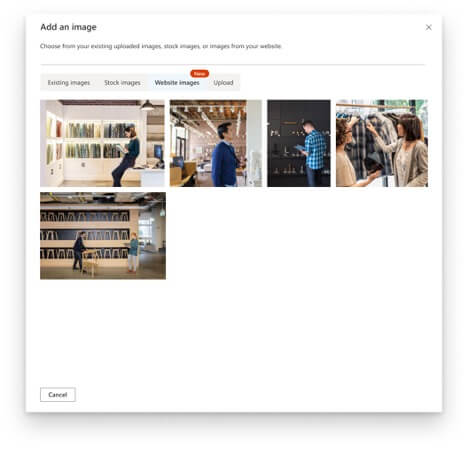 Why we care. Visuals within your ads (for applicable formats) can lead to higher clickthrough rates. They may also help audiences recall your brand/ads.
With regard to this particular feature update, the Ad Creator can help you save time when creating ads by acting as an automated repository for your site images, since you won't have to upload them manually. The built-in editing capabilities, which are now nearly ubiquitous in these types of features, may also be a timesaver, particularly for those that don't have access to a design team.
Ad Creator's editing capabilities. The Ad Creator comes with a lightweight photo editor, known as "smart effects" (shown below).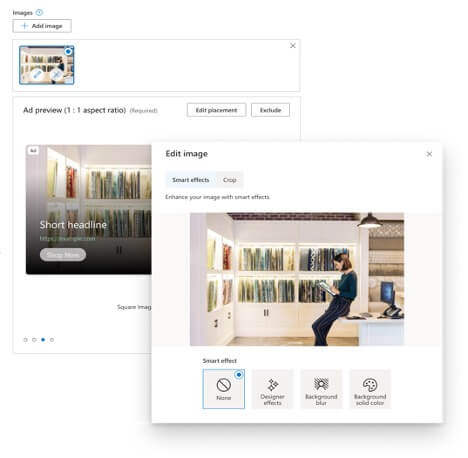 Using smart effects, advertisers can differentiate their ad images from their site images by applying background colors, background blur, filters and/or cropping the images.
Source: Microsoft Advertising's Ad Creator extracts site images for use in ads
Google Ads Has A New Way To Measure Offline Leads
As a marketer, understanding how your leads convert is crucial.
It's easy to have a disconnect between capturing a user's information online as a lead, and the end result of converting them to a customer.
Whether you're in B2B or B2C, you've probably been met with this struggle before.
Last year, Google introduced Enhanced Conversions for web, which benefitted a lot of online stores and ecommerce transaction. Now, Google has a solution for lead generation businesses.
Google is introducing a solution to help advertisers measure offline conversions: enhanced conversions for leads.
We'll explore how the technology works and how you can start implementing it right away.
What Are Enhanced Conversions?
Enhanced conversions is a tool you can use with existing conversion tags in Google Ads to make conversion measurement more accurate.
How does this work?
Information you receive from a lead online (email, name, address, etc.) is hashed and sent to Google. This information is then used to enhance your conversion measurement.
Google uses a secure hashing algorithm called SHA256, which is a one-way data send.
The main differences of enhanced conversions for leads include:
Improves measurement of offline transactions that originally came from a website lead or visitor.
When uploading lead data, the provided hashed information is attributed back to the corresponding Google Ads campaign
Google provided a helpful visual for you to understand the process.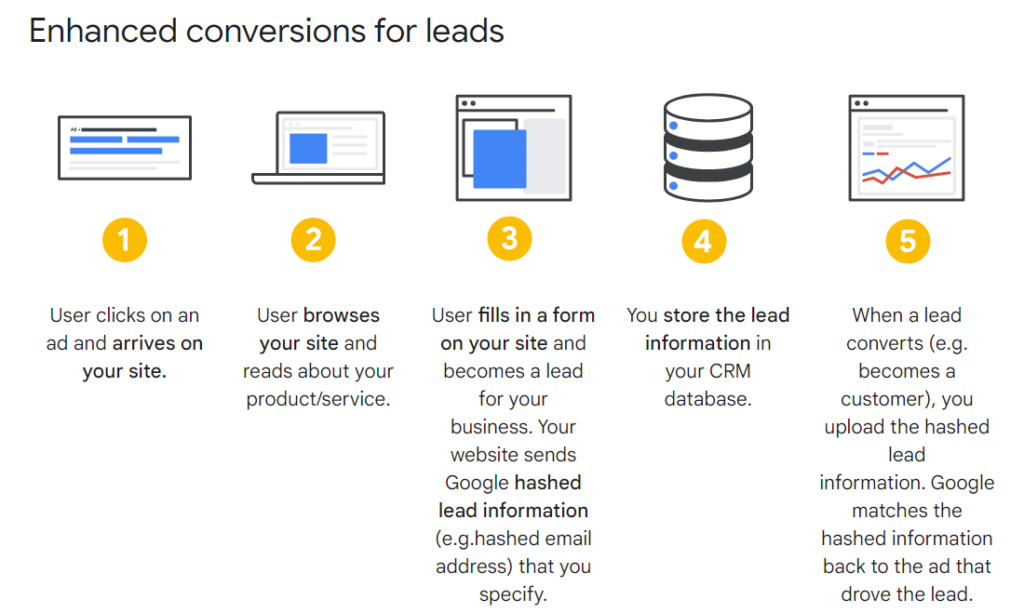 In order for enhanced conversions to be set up, you need to have specific customer information. Google requires at least one of the customer data pieces:
Email address (preferred)
Name and home address
Phone number (this must be provided in addition to one of the other attributes)
Benefits Of Enhanced Conversions
If you're in the lead gen space, you may want to think about adopting this feature. There are many benefits to setting up enhanced conversions. Some of the main benefits include:
Easier set-up
Better performance
Flexible implementation
Source: Google Ads Has A New Way To Measure Offline Leads
Government's WhatsApp chatbot to become a one-stop-destination to access slew of official documents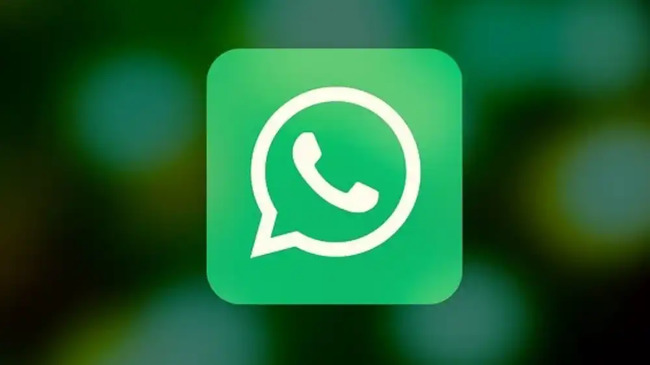 The government's WhatsApp chatbot, launched last year to book vaccination slots and download inoculation certificates, will become a one-stop-destination to access a slew of official documents.
This will mean downloading a driving licence, income tax certificate or PAN card will become instantaneous over WhatsApp for citizens.
The pilot project has already been rolled out for tests, according to officials.
The service is expected to be formally launched in the next few weeks.
The WhatsApp chatbot interface will provide access to documents stored on a citizen's DigiLocker.
The government has also changed the name of the MyGov Corona Helpdesk to MyGov Helpdesk to denote the expansion of services beyond just Covid-19 related resources, two officials aware of the discussions told ET.
"The interface will have the option of unlocking DigiLocker services," a senior government official, who did not wish to be named, told ET. "When you choose the DigiLocker option, it will authenticate with your Aadhaar and OTP and will inform you of the documents available."
The interface will ask for the OTP and mobile number to which the certificate is linked and will provide it immediately.
"It takes around 30 seconds to get the certificate," the official said.
About 100 million people use DigiLocker currently and it has also become the national academy depository with access to all certificates of Class 10 and 12, the official added.
"In future, it will also become the health locker with all the health documents being made available th ..
Source: Government's WhatsApp chatbot to become a one-stop-destination to access slew of official documents
More News:
Help for Ukraine SEO & PPC specialists seeking work
Semrush buys Kompyte so it can upsell competitive intelligence tools