Google's Algorithms Can Understand When Sources Agree On Same Fact
Google's Multitask Unified Model (MUM) algorithm is now capable of identifying when multiple high-quality sources agree on the same fact.
This update to MUM is part of a more significant effort to improve information literacy across the web.
A Google-supported survey conducted by the Poynter Institute finds that 62% of respondents encounter false or misleading information every week.
To help people separate fact from fiction, Google is applying several changes to search results.
Here are the complete details about the updates Google announced today.
Improvements To Google's MUM Algorithm
What does this mean for search results?
Google will now fact-check its featured snippets to see if other reputable sources agree with the information.
Pandu Nayak, Google's Vice President of Search, explains how advancements to the MUM algorithm make this possible:
"Our systems can check snippet callouts (the word or words called out above the featured snippet in a larger font) against other high-quality sources on the web, to see if there's a general consensus for that callout, even if sources use different words or concepts to describe the same thing. We've found that this consensus-based technique has meaningfully improved the quality and helpfulness of featured snippet callouts."
Helping Searchers Identify Trustworthy Information
Expanding 'About This Result'
Google is expanding the 'about this result' feature with more context, such as:
How widely a source is circulated
Online reviews about the source or company
Whether another entity owns the company
When Google's systems can't find adequate information about a source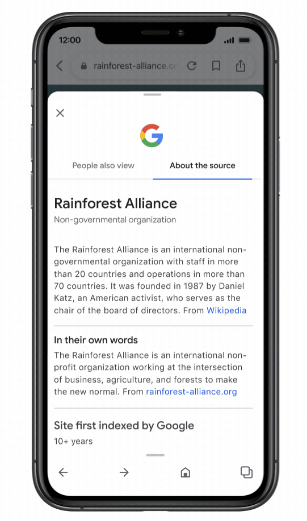 Content Advisories About Information Gaps
A new advisory in search results will alert users when there's not enough reliable information available for a particular query.
Google shares an example of a search related to a conspiracy theory triggering the new content advisory: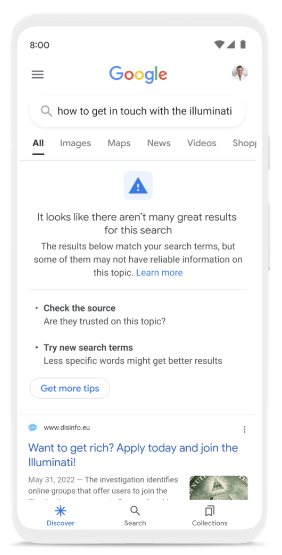 Source: Google's Algorithms Can Understand When Sources Agree On Same Fact
WP Engine Achieves Prestigious ISO/IEC 27001:2013 Certification for Enterprise Security for WordPress Sites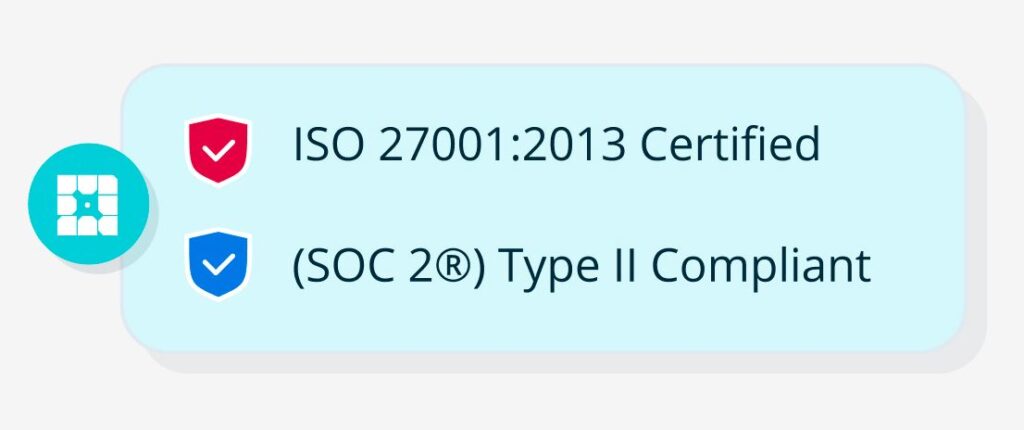 WP Engine, the world's most trusted WordPress technology company, today announced that it has received ISO/IEC 27001:2013 certification for its Information Security Management System (ISMS). This certification demonstrates WP Engine's continued commitment to information security at every level and ensures that the security of customer data and information has been addressed, implemented, and properly controlled in all areas of the organization and platform.
Customers can now have even greater confidence in WP Engine and the company's enterprise-grade security solutions, with the ISO 27001:2013 certification adding to its SOC 2 Type II Report in 2020.
Fuel The Freedom To Create With WP Engine
WP Engine powers the freedom to create on WordPress. The company's products and web platform, the fastest among all WordPress providers, power 1.5 million digital experiences. More of the top 200,000 sites in the world use WP Engine to drive their digital experiences than anyone else in WordPress. Experience the advantage of Managed WordPress Hosting perfected today. See how 11Onze and WONDR used WP Engine to achieve industry-leading performance and enterprise-grade security WP Engine's enterprise WordPress platform.
At WP Engine, we do what is right for our customers, and this focus helps us to do the best work of our careers. We prioritize investing in our employees' success and love offering opportunities to help you grow and develop professionally.
Source: WP Engine Achieves Prestigious ISO/IEC 27001:2013 Certification for Enterprise Security for WordPress Sites
Google steps up featured snippets with MUM; reducing false premise results by 40%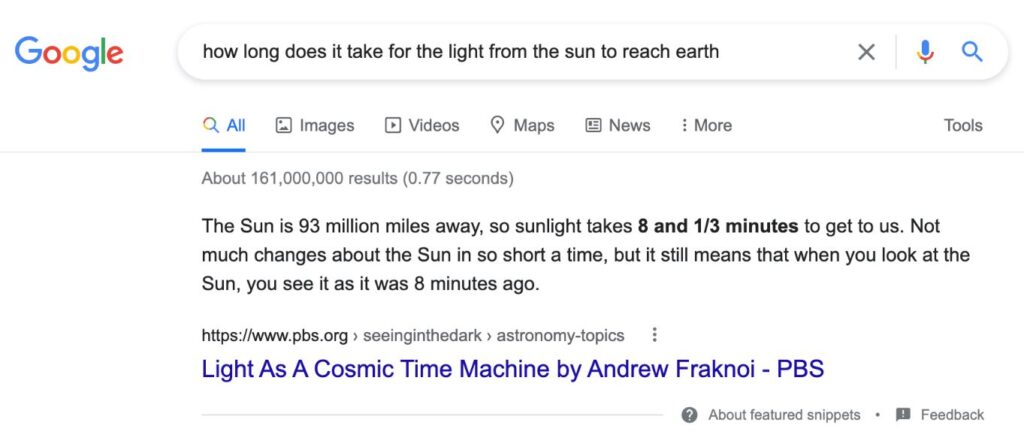 Google has announced several new enhancements to Google Search today that focus on improving the overall quality of the search results, while at the same time helping searchers evaluate the search quality of the results presented to them.
Google has made improvements to featured snippets, its content advisories, and the about this result.
Featured Snippets callouts now uses MUM and general consensus
Featured snippets in Google Search will now use MUM to help understand if there is a general consensus for the information Google shows as callouts in these featured snippets. Google said that its "systems can now understand the notion of consensus" by using MUM, Multitask Unified Model.
MUM has not been used to date in too many applications within Google Search, limited to COVID vaccine names, Google Lens features and some other applications – more on that here, including now featured snippets.
Now, with the help of MUM, Google can understand if there is a consensus across the web to help highlight the callout portions of the featured snippets. Consensus-based techniques, according to Pandu Nayak, Vice President of Search and Fellow, Google, have meaningfully improved the quality of the featured snippet callouts. It is important to note that this does not come to mean that featured snippets will show facts, it does not necessarily do that but it does help improve the overall quality of featured snippets callouts.
Can consensus be spammed? Pandu Nayak explained these featured snippets are generally taken from the top-ranked results, so he is hopeful that those top-ranked results in Google Search are not spammy. It is important to note that consensus is not being used as a ranking factor but rather being used for callouts for featured snippets.
False premise queries reduced by 40%
Another advancement with featured snippets is around what Google calls "false premise" queries. Queries that may be inaccurate or factually incorrect but are nevertheless used by some searchers in Google Search. Google said it has improved what featured snippets it shows for queries that contain information for things that did not happen.
Content advisories expanded to low confidence results
In April 2020, Google launched content advisories in Google Search with the aim of communicating to searchers that the search results are not 100% reliable either because they are new or Google does not have enough information about the topic yet.
Google said it is now expanding content advisories to searches where its systems don't have high confidence in the overall quality of the results available for the search. Google said this "does not mean that no helpful information is available, or that a particular result is low-quality." These notices provide context about the whole set of results on the page, and you can always see the results for your query, even when the advisory is present.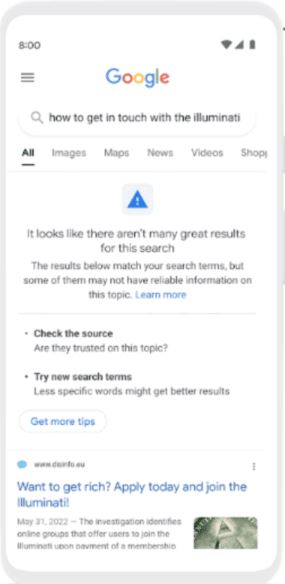 Source: Google steps up featured snippets with MUM; reducing false premise results by 40%
ServerPress Is Shutting Down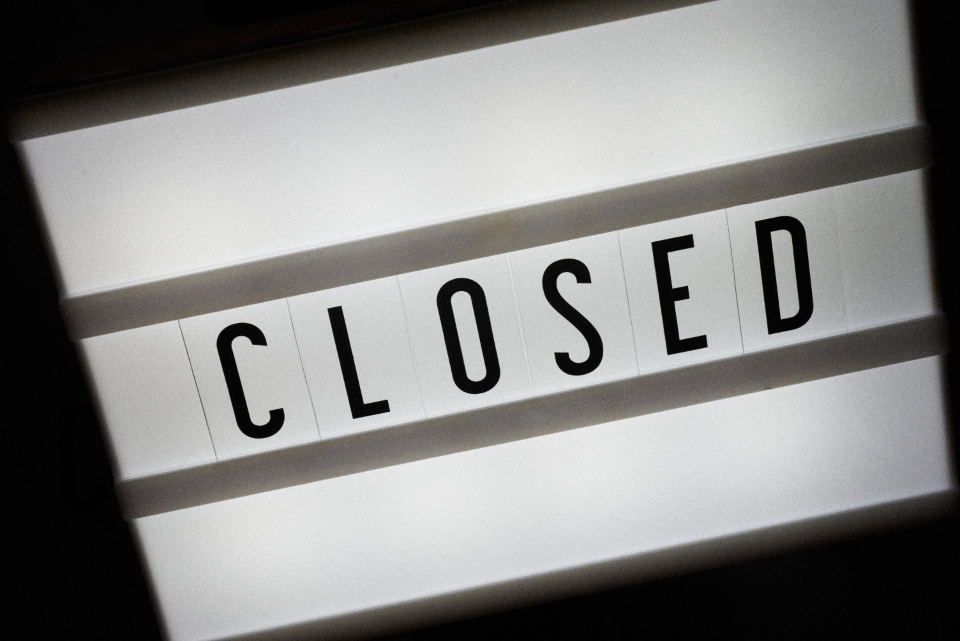 ServerPress, makers of DesktopServer, a WordPress local development tool, announced it is shutting down after 12 years in business. The company emailed its customers and posted a farewell message on its website after disabling new purchases and is in the process of canceling renewals for existing subscriptions.
ServerPress was founded by Steve Carnam in 2010. His leadership helped the company remain independent of large hosting companies that have scooped up WordPress development tools of all kinds. Carnam described how the market has changed, forcing ServerPress' partners to make the difficult decision to close:
"Earlier this year, one of the team members questioned whether or not DesktopServer v5.0 would have a viable market share. We had been so focused on building it out that throughout the development, we lost sight of constantly checking the temperature in the room. Once we started discussing this we came to the conclusion that DS5's potential market share has changed significantly over the last 10 years. The WordPress development tool landscape has grown and diversified greatly. This has diluted DesktopServer's overall market share. The time, effort, and costs to bring in new users to DesktopServer's workflow would be too much overhead for ServerPress to be sustainable. While many larger, well-funded companies would be able to absorb such costs involved, a company of our position cannot."
ServerPress did not communicate any plans for the future of its software products beyond the fact that they will no longer be supported. Longtime users and fans were disappointed to learn that the company is shutting down and some asked if they might consider making DesktopServer available to the public.
Source: ServerPress Is Shutting Down
More News:
Google Search outage causing major issues with search quality and indexing
DuckDuckGo Now Says It Will Block Microsoft Trackers