Facebook changes business ad options in reaction to iOS updates
"The social networking giant has repeatedly argued that Apple's changes would impact small businesses that relied on Facebook ads to reach their customers. But it was not successful in getting any of Apple's changes halted. Instead, the market is shifting to a new era focused more on user privacy, where personalization and targeting are more of an opt-in experience," said Sarah Perez for TechCrunch.
New communication options. The new features include expanded click-to-chat options from ads where "businesses can choose all the messaging platforms where they're available to chat, and we'll default the chat app in your ad based on where a conversation is most likely to happen," according to the announcement.
More sophisticated advertising tools. "We're also introducing File Manager, a new feature that allows businesses to easily create, manage and post content within Facebook Business Suite. Lastly, we're making post testing available in Facebook Business Suite to let businesses test and compare multiple versions of a post to see which one people are more likely to engage with," said the announcement from Facebook.
Source: Facebook changes business ad options in reaction to iOS updates
"About this advertiser" initiative now includes Advertisers Pages for Google Ads
"To give users of our products even more transparency, we are enhancing ad disclosures with
new advertiser pages. Users can access these disclosures in our new 'About this ad' menu to
see the ads a specific verified advertiser has run over the past 30 days," said Google in an announcement today.
As part of the company's advertiser transparency initiative, Google Ads introduced their advertiser identity verification program as well as their "About this ad" information this past year. The new Advertiser Page program takes that transparency for searchers to the next level.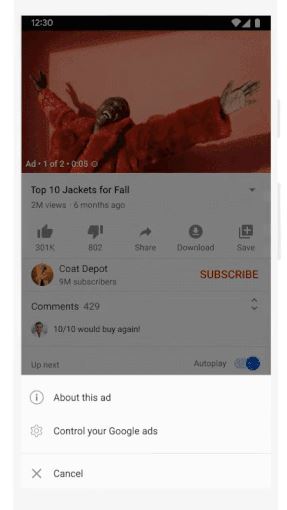 Users can learn more about advertisers and report ad policy violations. Searchers can report any ad policy violations they believe an ad is breaching. From there a Google team member reviews it and takes the ad down if the violations are found to be true.
What type of advertiser info is displayed? "[The advertiser page] will be generated based on the approved ads running and the information in their account. In terms of information about the advertiser, we will continue to show the advertiser's name and location," a Google representative told us.
YouTube has highest ad control adoption. "Users engage with our ads transparency and control tools on YouTube more than any other Google product," added the announcement.
Source: "About this advertiser" initiative now includes Advertisers Pages for Google Ads
Twitter Adds Bitcoin & GoFundMe As Tipping Options
Twitter is expanding its tipping feature to more users and diversifying the ways in which users can receive monetary contributions.
Twitter's "tip jar" was introduced back in May as a way for users to earn money directly from other users. First access was given to select groups of English-speaking professionals and content creators.
Now, simply referred to as "Tips," the feature is available to everyone on Twitter with an extensive list of payment options to choose from.
Twitter Tips – How Does it Work?
Twitter Tips lets you add links to third-party payment services on your Twitter profile.
When Tips is turned on, your profile will display a special icon letting others know you have the feature enabled. The icon looks like a cash bill.
People can tap on the icon to send you money or Bitcoin off-platform via the third-party payment services you selected.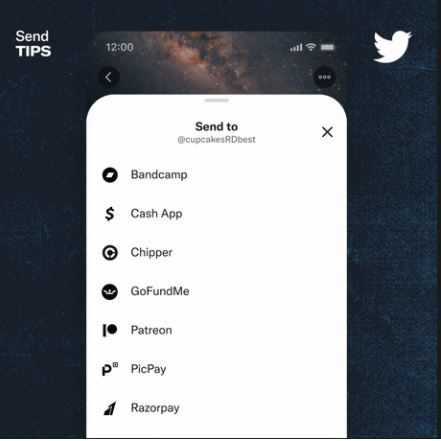 Currently, Tips is only available to users on iOS. This is how to set it up using the iPhone app.
How to Set Up Twitter Tips
On iOS, go to Edit Profile. Then tap Tips to turn the feature on.
You will be asked to consent to Twitter's General Tipping policy to turn on Tips on your profile.
From there you'll be brought to the Tips settings screen. Toggle Allow tips to on and then choose the third-party service(s) you'd like to use.
Now you can enter your third-party service username(s). Note that your username on that service will be publicly linked to your Twitter account.
Payment Providers
Twitter Tips can be sent and received via the following third-party payment services:
Bandcamp
Cash App
Chipper
Patreon
Razorpay
Wealthsimple Cash
Venmo
Source: Twitter Adds Bitcoin & GoFundMe As Tipping Options
NEWSWordPress Ninja Forms Vulnerability exposes millions of sites
Failure in sanitizing these inputs and restrictions on who can input the data can lead to WordPress Ninja form vulnerability. This is exactly the case here.
Two vulnerabilities were the result of a single REST API validation issue in the Permission Callbacks. However, it is a part of the authentication process which restricts access to REST API Endpoints to the authorized users.
Two vulnerabilities have relation to the permissions callback error in the implementation. There is simply nothing wrong with WordPress REST API. But how the plugin makers are implementing it can lead to many problems. The two vulnerabilities are Sensitive Information Disclosure and Unprotected REST API to Email Injection.
The Sensitive Information Disclosure vulnerability allows the registered users and subscribers to export every form that includes all the confidential information. The Unprotected REST API to Email Injection vulnerability takes place due to a faulty permission callback that fails to check the permission level for the registered attackers.
Source: NEWSWordPress Ninja Forms Vulnerability exposes millions of sites
Keanan Koppenhaver Acquires WP Pusher and Branch
WordPress developer Keanan Koppenhaver announced today that he has acquired WP Pusher and Branch from Peter Suhm. WP Pusher, a product we have covered for the past six years, allows users to deploy plugins and themes from popular code hosting services like GitHub, GitLab, and Bitbucket. In 2018, Suhm expanded his offerings to include Branch, a Docker-based continuous integration service for WordPress. Both products were selected for the TinySeed Startup Accelerator, a remote accelerator that funds early-stage SaaS founders to live for a year and focus full-time on their startups.
Source: Keanan Koppenhaver Acquires WP Pusher and Branch
More Young People Are Taking On Remote Jobs They Couldn't Before COVID
Remote working has enabled graduates to accept employment opportunities in areas they were perhaps unable to access or afford in the past, with almost a third of young people accepting jobs they couldn't before, because of a long commute to the office, and almost a quarter (24%) of graduates saying the main benefit of working remotely is flexibility in where they live.
The research shows the opportunity for universities and government to capitalize on remote working as a way to level up countries and improve social mobility for young people. 26% of graduates in the North-West were able to accept a job based in a different city from where they live because of remote working, while 31% of those in the Midlands were able to do the same.
While remote working and higher education have the potential to do a great deal for levelling up, particularly after COVID-19 with 77% of graduates saying the pandemic has widened inequalities, this must come with a balance for graduates.
The research shows face-to-face time in offices will still be an important part of a graduate's career development. Almost half (49%) of young people questioned fear that continued remote working will put them at a disadvantage in their careers, while previous research indicates that 40% of graduates would prefer a mix of office and remote working, with only 6% of graduates wanting to work 100% remotely.
While this is the start of a positive trend, there is still more to be done to tackle the brain drain from rural regions into big cities. The research from Bright Network's 500,000+ members has shown an ongoing regional divide with 63% of students saying they would most ideally like to work in London, and nearly 40% of students who studied in Northern Universities moving to London after their studies.
Source: More Young People Are Taking On Remote Jobs They Couldn't Before COVID
More News:
Google Working on Indexing Instagram & TikTok Videos
Website themes can affect SEO to some extent