Are you a fundraiser? If yes, you absolutely need a WordPress Donation Plugin for your charity or non-profit or relief fund website.  
If you are using a WordPress website, it is really simple and easy to have one of the donation plugins. You can probably set up 1-time donations or recurring payments in any kind of currency using famous channels like Paypal, Stripe, cryptocurrency, and so much more. Keep reading to explore more details in our article today!
How to Choose a Perfect WordPress Donation Plugin
It's hard to choose the best donation plugins if you are a beginner or you are not familiar with this term. Plus, there are a lot of choices available out there and not all of them are fully customized options.
So what exactly do we need to know for choosing the best WordPress Donation Plugin:
– Responsive: A good donation plugin should work well on all devices, from laptops to smartphones.
– Easy to use: It helps all beginners to set up and use it easily even if they don't know technical.
– Flexible payment channels: It should accept multiple payment gateways so donators can choose what method they like.
– Customization: If a donate plugin has enough options to customize, you're definitely satisfied and recommend it to others.
We based on the above features to share the best selection you should try. Let's take a look!
What The Best WordPress Donation Plugins Are
FundPress – Best Donation Plugin WordPress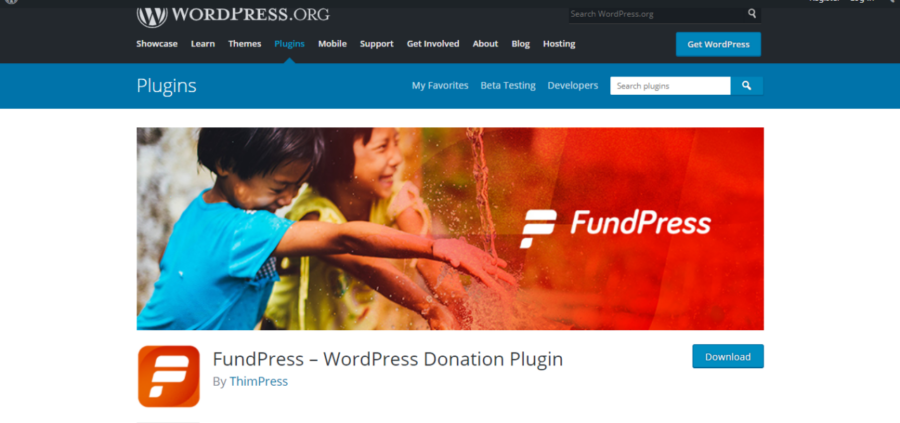 Learn More
FundPress is a free Donation Plugin WordPress that you can download on WordPress.org. It is used for creating donation and crowdfunding campaigns on your WordPress site. If you are a newbie, you can still use FundPress with ease. Moreover, FundPress is inspired by the most famous responsive WordPress charity theme, Charity WP. The plugin has a lot of payment methods to run a donation site, such as Paypal, Stripe, or AuthorizeNet. Plus, there is a donation widget too. For the upcoming charity campaign, you can set up goals, raised, percentage, etc. Even if you'd like to make the compensation plan, you can create it right on the WordPress backend. This way helps donors happier when they donate, like small rewards or small thank you notes
In addition, FundPress is highly optimized for SEO and speed to reach out organic users quickly on the search results and boost their user experience. Other features of this donate plugin are a single campaign page, sending emails to backers, responsive design, strong backend admin setting, and so much more. Let's try FundPress now!
GiveWP – Top WordPress Fundraising Plugin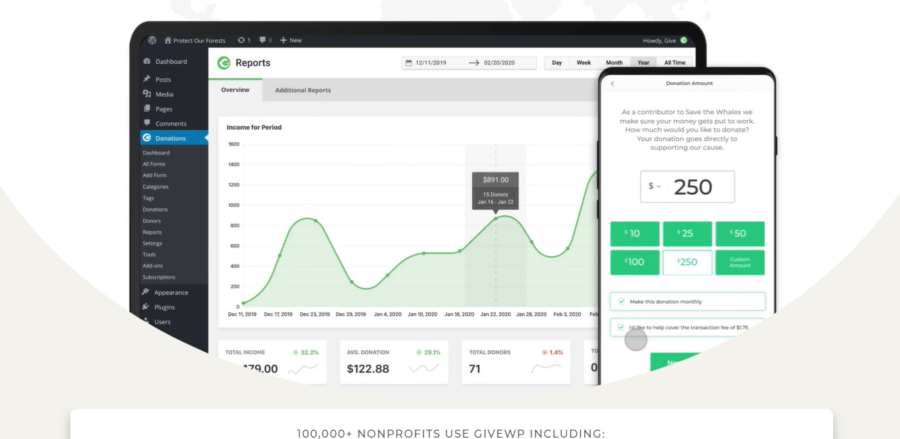 Learn More
If you need a plugin for donation and raising funds, definitely you can try GiveWP plugin, the top WordPress Fundraising Plugin. It's suitable for any kind of related business size. Unlike other donation plugins, GiveWP has a set of powerful features like donor payment history, donation reporting, multiple payment methods, and donor management.
Moreover, GiveWP has fully customizable options. You can set up many donation form styles, which includes standalone pages, buttons, pop ups, etc. Also, you can customize goal formats to track the number of donors/ donations, the amount raised, and the percentage raised too. Recurring donations feature is built into the GiveWP plugin, so you don't need to purchase an add-on. To save your old fundraising data or add your last donation history, you can use the import and export function too.
GiveWP also integrates with the famous email marketing services like MailChimp or Constant Contact. Hence, you can inform your donors if there are any campaigns. In particular, your online WooCommerce store can add on a donation upsell right on the useful checkout page. Plus, it supports Google Analytics for further data tracking.
GiveWP comes with 3 paid plans: The basic plan costs $249/ year, the plus plan costs $360/ year, and the pro plan costs $499/ year. All of the GiveWP plans have different offers, so it depends on your needs and budget to choose the right one. Try this WordPress Donation Plugin today and make it yours!
Charitable – Best WordPress Donate Plugin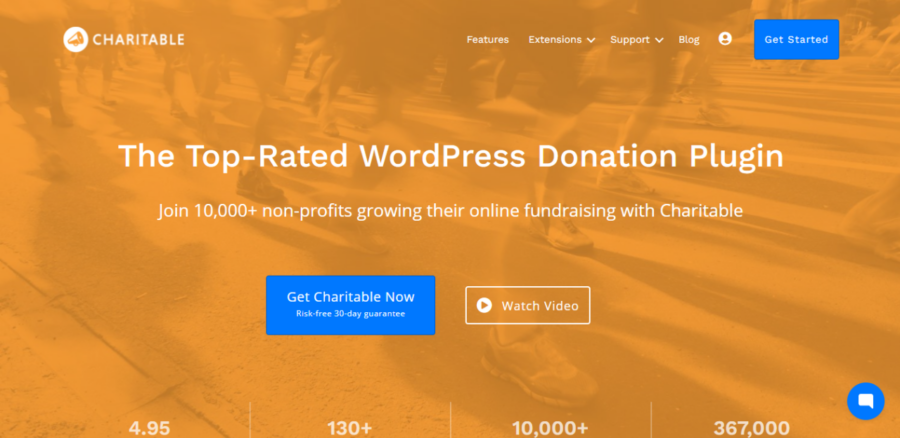 Learn More
Charitable is an simple WordPress Donate Plugin with over 10 thousand active installs on WordPress official site. The plugin especially lets you create the fundraising campaign within a few mins only. The plugin especially lets you unlimited fundraising campaigns within a few mins only. Plus, you can set the goals to show your campaign progress and engage more customers to donate. Unlike other donate plugins, Charitable does not charge any transaction fee when donors transfer the money.
Another highlight feature is its powerful donation forms. You can enter the estimated donation amounts or donors can donate whatever amounts, depending on their choices. There is an option for you to embed the form on the page you want. You don't need to hire any developer to add your Paypal address since Charitable is totally simple to every level. Then after a donor has donated, you can track the status right on the admin site. Aside from Paypal, Charitable accepts donations through cheque, transfer banking, or other offline channels too.
If someone donates on your website, the Charitable system will send a receipt automatically and notification email as well. If donors donate via offline methods, they will receive an instruction email. Plus, Charitable integrates with email marketing and newsletter tools like MailChimp, ActiveCampaign, MailPoet, etc.The most famous plan of Charitable plugin is the pro plan, which costs only $279/ year. This plan includes recurring donations, peer to peer fundraising, crowdfunding platforms, fee relief, and so much more.
Seamless Donations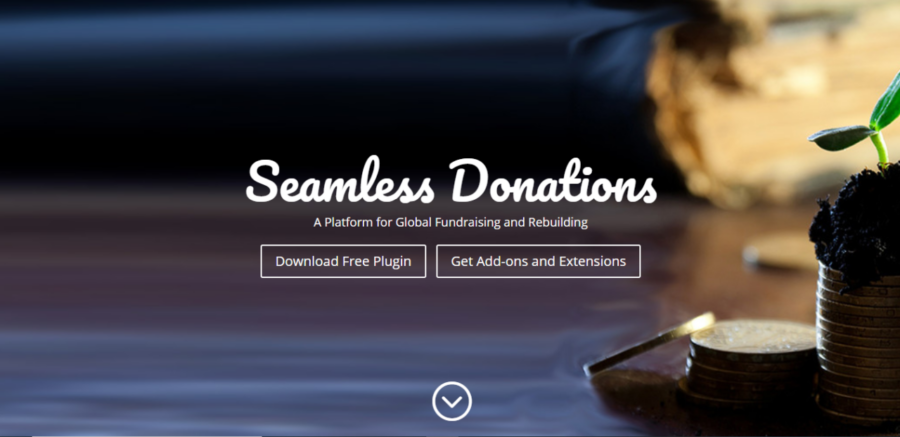 Learn More
Seamless Donations is a free and responsive Donation Plugin for WordPress. If this is the first time you install a donation plugin, you can still do it because Seamless Donations comes with a simple interface. It takes only 5 mins to download and you will have a website for accepting donations through Paypal or Stripe account. Plus, you can set up one-time donations or recurring donations for your website as well. Let's explore more and more amazing features of this WordPress Donation Plugin now!
Donorbox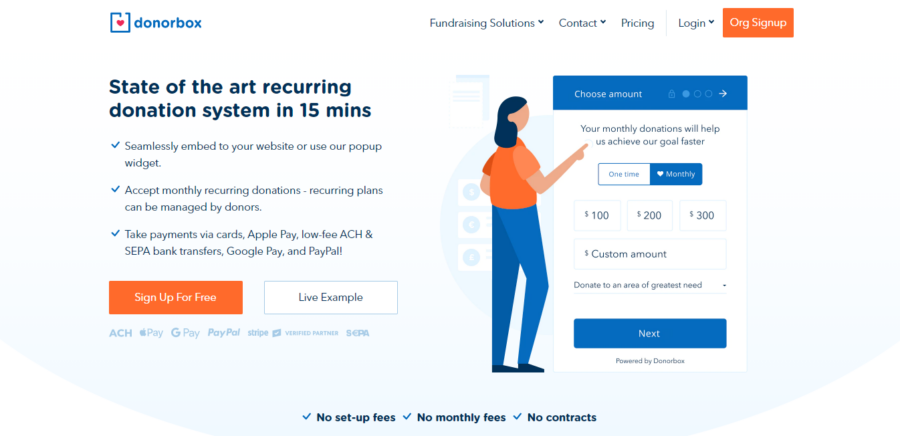 Learn More
Donorbox is another top Donate Plugin WordPress in our list today. The plugin highly focuses on recurring payments. You can manage one-time donations on your backend, depending on your purposes to set up monthly, annually, or weekly recurring methods. Plus, Donorbox has flexible payment channels, from Apple Pay to Google pay, from PayPal to ACH and SEPA bank transfer, etc. Also, Donorbox supports multiple currencies and languages so your donors can easily use your site. It's absolutely worth considering!
Formidable Forms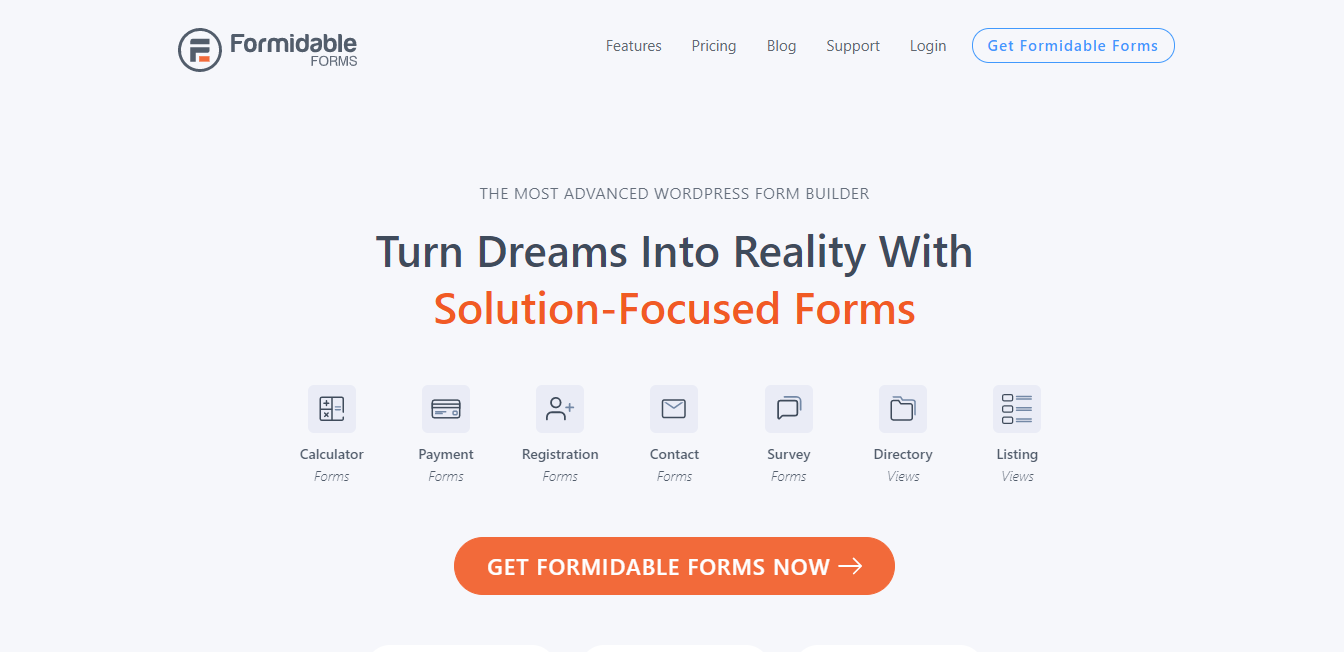 Learn More
Formidable Forms is the Best WordPress Donation Plugin you should try for your project. You can create a form easily with a drag-n-drop builder. In particular, it has a dozen pre-made form templates like payment forms, contact forms, or WooCommerce forms for creating complex forms. Besides, Formidable Form is WPML ready to translate the form to whatever language you want. Apart from that, the plugin is compatible with other famous platforms like MailChimp, Zapier, GetResponse, etc. You can refer some of the best WordPress Contact Form Plugins too. Let's check out this WordPress Donation Plugin now!
Final Thoughts
Overall, all the plugins above are the best for the best. Hopefully, you can find the best suitable WordPress Donation Plugin for your website. If you want a perfect value, you can try GiveWP. But if you want strong recurring payments, let's consider Donorbox. For multiple currencies, you can try Seamless Donations.
Read More: 20 Best WordPress eCommerce Themes for 2021 (Expert-Pick)