DuckDuckGo Now Says It Will Block Microsoft Trackers
DuckDuckGo responds to recent criticism saying the third-party tracking scripts it blocks will now include scripts from Microsoft.
Earlier this year, a security researcher discovered DuckDuckGo's mobile browser transferring data to Microsoft-owned properties when visiting certain websites.
As a company that promises never to track users, DuckDuckGo found itself in trouble when the security researcher shared his findings online.
The issue stems from DuckDuckGo's search syndication deal with Microsoft Bing, and CEO Gabriel Weinberg dismissed it, saying "nothing can provide 100% protection."
Now, Weinberg is on a mission to "raise the standard of trust," as he announces DuckDuckGo is expanding third-party tracker loading protection.
DuckDuckGo Blocks Microsoft Trackers
DuckDuckGo is expanding the third-party tracking scripts it blocks from loading on websites to include Microsoft trackers.
This update is rolling out over the next week to DuckDuckGo's mobile browsing apps on iOS and Android and its desktop browser extensions.
Weinberg adds that DuckDuckGo's tracker loading protection is no longer held back by a policy agreement with Microsoft:
"Previously, we were limited in how we could apply our 3rd-Party Tracker Loading Protection on Microsoft tracking scripts due to a policy requirement related to our use of Bing as a source for our private search results. We're glad this is no longer the case. We have not had, and do not have, any similar limitation with any other company."
After the update rolls out next week, one third-party tracker will be allowed to load to help advertisers measure ad clicks.
Source: DuckDuckGo Now Says It Will Block Microsoft Trackers
Bad website design: Bad for SEO, UX and business
I tell my clients two things to frame organic search discussions around content and user experience:
Search engines want to provide answers to their users in one click or less.
If you design your website with the idea of getting answers to visitors' questions as efficiently as possible, your site should earn more attention in organic search
Search engines must keep their users happy to retain and/or grow their market share. Therefore, it's in their best interest to send people to websites that they calculate will give users a good experience.
Bounce rates increase 32% when download times went from 1 to 3 seconds, according to Google. Also, bounce rates increase dramatically at 3 seconds, while page views also drop off, according to Pingdom.
Both of these stats are a bit old, but there's no evidence to suggest people are any more patient today.
The challenge I most often run into with brands is that they design their websites in a way that hampers the "one click or less" goal. They incorporate things into their designs like:
Large autoplay videos (sometimes with sound).
Large hero images that push informational content far below the fold (add heroes that rotate through a slideshow and the experience is even worse).
Custom fonts that are not likely to have been installed on the local machines of their visitors.
All of these design elements (and others) detract from user experience, conversion optimization and accessibility standards. 
Examples of bad design and UX
Both of these examples show the filmstrip view of the page load over time on WebPageTest.org, a popular site for testing download times that has been recommended by some Googlers. I simulate a Galaxy S7 smartphone over an LTE connection in both examples.
Charity website

This website has a large autoplay video on its home page that pushes much of the main content below the fold. 
In the tests I ran, nothing appeared in the viewport until 3 seconds into the load. The CTA at the top of the page is visible, but only the logo's alt text shows. Some text is hard to read because it is light gray; it is intended to display as an overlay on the darker video. 
Well-known brand website

This website has a large hero image pushing content below the fold and a custom font that must be downloaded before anything displays.
You can see from the example that nothing other than the hamburger menu displays until 4 seconds into the load.
Here's a hint: If you have to include some sort of download timer to let people know something is on the way, it's too big.
Part of the reason the content takes a long time to display is that the custom font alone takes around 4 seconds to download. No text appears until 6 seconds into the load, and that's only the cookie notice.
All told, it takes longer than 10 seconds for this page to completely download. When the page finishes loading, the only thing you can see other than the hero image is the cookie notice.
Why bad UX happens
When I talk with designers and developers about challenges like this, I'm often given the same justifications:
"Everyone else is designing their websites like this." This kind of excuse didn't work when we were kids. Why do some adults think it's still acceptable?
"The search engines are unfair in how they judge download times. Our tools tell us everything is OK." There are many reasons to believe that the search engines are being unfair about evaluating download times. In the end, it really doesn't matter. If we want to compete, we need to be faster!
"But … branding!" Yes, branding is important. But is it so important to risk losing potential customers because the website is too slow?
Source: Bad website design: Bad for SEO, UX and business
Apple orders 95 million iPhone 14 units from suppliers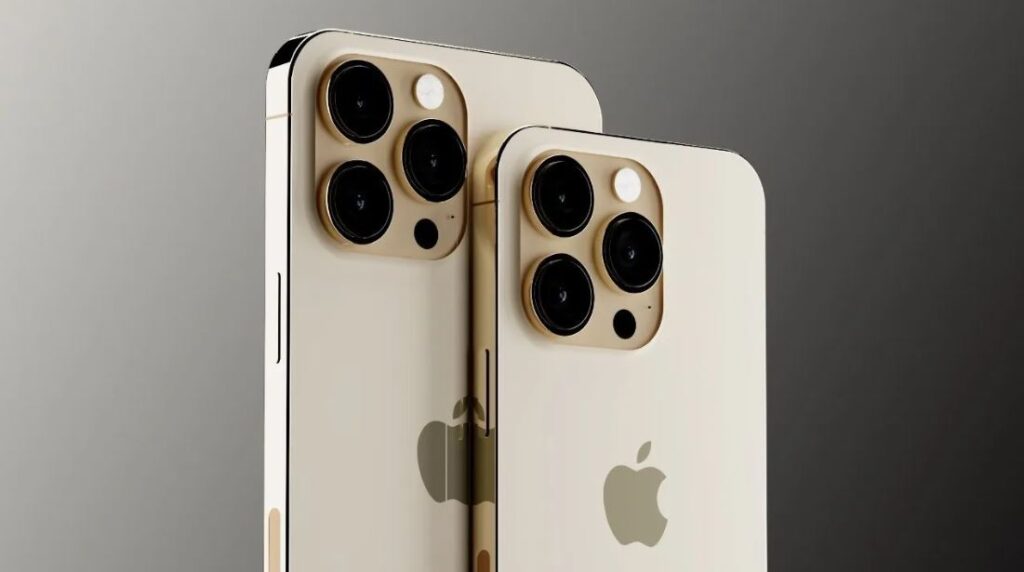 Despite a sluggish market, Apple is reported to be increasing its initial order of 90 million iPhones to 95 million, according to the Taiwan Economic Daily.
The iPhone 14 lineup is expected to consist of four handsets — iPhone 14, iPhone 14 Max, iPhone 14 Pro, and iPhone 14 Pro Max — and according to the report, Apple is expecting the top-of-the-line iPhone 14 Pro Max will be its biggest seller.
The iPhone supply and assembly chain is huge, and ramping up production takes time. This 5% increase has to trickle along a variety of manufacturing and assembly countries — including TSMC, Pegatron, Luxshare, Hon Hai, and Largan.
The iPhone 14 is expected to make an appearance in September and is rumored to feature the A16 processor, a new 48-megapixel rear camera, a smaller notch in the display, and an always-on display.
What's interesting about this upcoming release is that the iPhone 14 will have a very similar hardware specification to the iPhone 13 because Apple is rumored to be planning to reuse components such as the processor, camera, and display. Will rebranding old hardware work for Apple? And if it does, will we see other manufacturers doing the same?
There's also a suggestion making the rounds that the iPhone 14 will go on sale earlier in September than usual in order to avoid the three-day Labor Day weekend preceding the launch.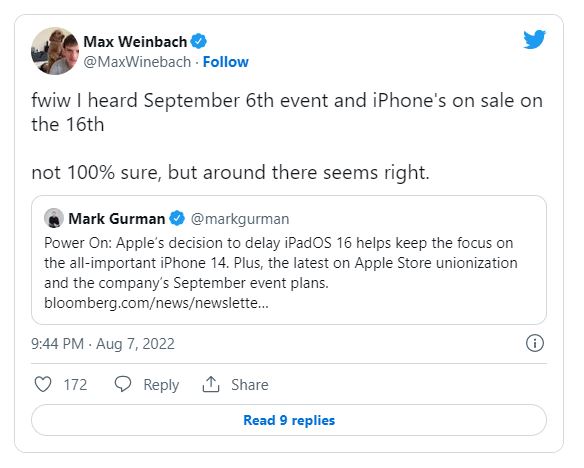 Source: Apple orders 95 million iPhone 14 units from suppliers
Google updates Business Profile posts spam policies
Google has updated what it considers to be spam when it comes to Google Business Profile posts in the Business Profile posts content policies. The new line added under the avoid section says "examples of such content that is not allowed includes "duplicate photos, posts, videos, and logos."
Duplicate. Yes, the new line says that "duplicate photos, posts, videos, and logos" was added as an example of Google posts that would be rejected or removed because it is considered spam. That line was not on the Google document prior and was just recently added.
Screenshot. Here is a screenshot of the addition: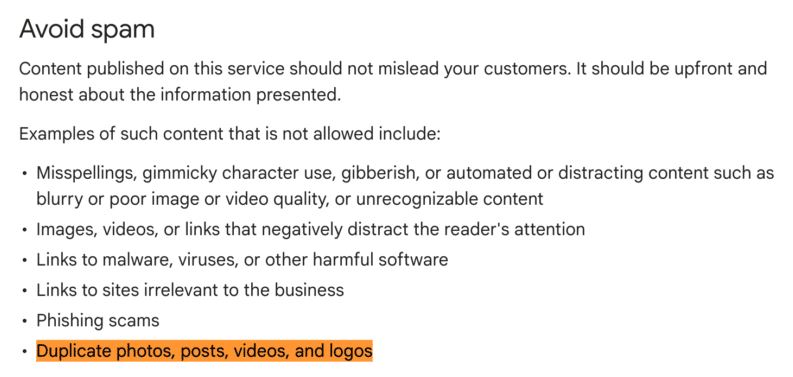 Consequence. What happens if you are caught posting duplicate photos, posts, videos, or logos in your Google Business Profile posts? Well, those posts may be rejected or removed from Google Search and Google Maps.
Joy Hawkins and Colan Nielsen posted this on Friday: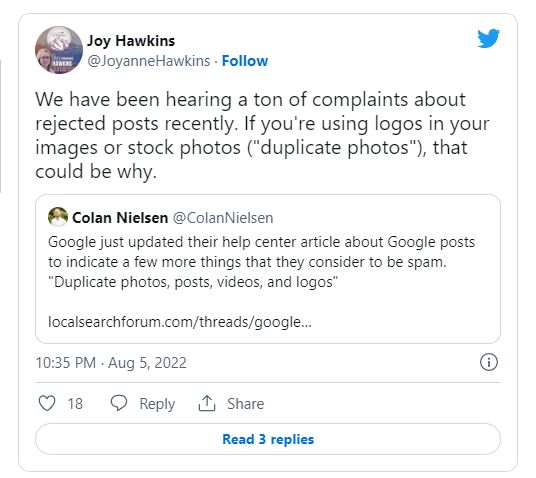 Source: Google updates Business Profile posts spam policies
More News:
Google addresses Impression Share and Auction Insights reporting issue
Facebook To End Live Shopping on October 1
Visualize Information On Twitter With Indiana University's New Tools