Facebook Shifts Focus To Short-Form Video After Stock Plunge
Following the greatest single-day stock drop in recorded history, Facebook CEO Mark Zuckerberg intends to shift the company's focus to growing short-form video.
Zuckerberg communicated this plan to Facebook employees during a company-wide virtual meeting.
The stock price of Facebook's parent company, Meta Platforms Inc, dropped by over 200 billion dollars this past week after reporting major losses in a quarterly earnings report.
Not only did Facebook's expenses exceed its revenue, but it experienced a first-ever decline in daily active users.
From the third quarter to the fourth quarter of 2021, almost half a million people stopped logging into Facebook every day.
Investors panicked after learning the details of Facebook's quarterly report, which triggered the stock to crash
How Did This Happen?
The reason for the loss of daily active users is due to TikTok, Zuckerberg says.
Explaining his company's dismal performance, Zuckerberg cites an "unprecedented level of competition" from TikTok.
What Does This Mean For Facebook?
Unable to fix its advertising problem, Facebook is instead setting its sights on tackling the TikTok problem.
Facebook will take on TikTok by building up short-form video as its main draw.
The company is now said to be prioritizing Reels, a TikTok-inspired video feature available on Facebook and Instagram.
What Does This Mean For Marketers?
The writing on the wall indicates that video is the future of social media marketing.
TikTok is thriving, Instagram has been prioritizing video for over a year, and Facebook is now pivoting to video.
Even Snapchat is turning a profit for the first time, based on its recent earnings report.
Social media users have made it loud and clear they want to go where they're being super-served with video content.
Now it's the job of social media marketers to meet the demand.
If video editing and production isn't already part of your skill set, it certainly should be.
If you're not keeping up with the latest video trends, you need to get on that as well.
A combination of text and well crafted images used to be enough to captivate an audience's attention on social media.
Now it's almost a necessity to add video into the mix.
Source: Facebook Shifts Focus To Short-Form Video After Stock Plunge
Are you showing Gmail ads to customers who have unsubscribed?
The problem
What's really happening here? Is Google Ads actually sending emails to customers?
Well, no (at least, I don't believe so).
They're Gmail ads, more than likely landing in the Promotions tab (based on the layout of your inbox), but the friction seems to come about when these ads fall into the inboxes of the non-techy people who are uninitiated into the complex cult of digital marketing nomenclature.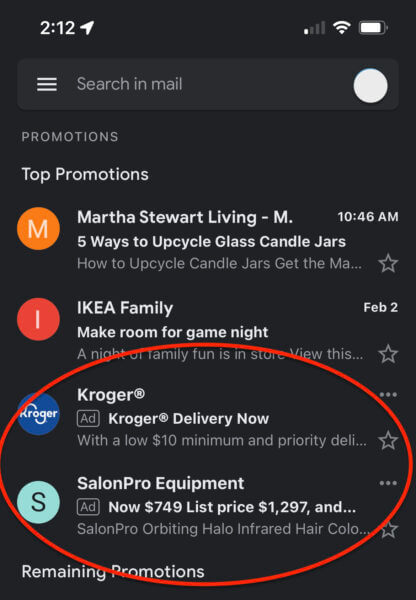 Here's what I believe is happening: customers unsubscribe from a brand email account, and then wonder why they are still "seeing that brand" in their inbox. They don't fully realize they are seeing ads instead of emails. (In their defense, those ads sure do put on a good act as an email.)
In fact, I'll even go out on a limb to say I'm a little surprised this isn't a violation of some of the permissions and privacy laws like GDPR and CCPA – though I will more quickly note that I'm not a lawyer and just surmising there.
To the normal non-marketer out in the world, is a business paid placement in the Sponsored Tabs really all that different from a business-sent email in the Sponsored Tabs (aside from one saying "Ad")?
In reality, customers don't care. They're seeing a brand they chose to no longer engage with – and are angry about it.
After all, when you boil these two entities down to their simplest form, they are both business promotional efforts from a single brand.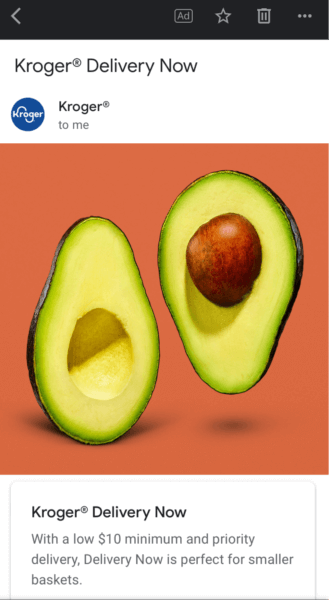 The temporary, less-than-ideal, not-great fix
What can a business do about this to avoid showing Gmail ads to customers who have unsubscribed?
Well, in the Discovery Campaign, a person could create and exclude a Customer Match audience list of the email addresses of those who have unsubscribed (noting the limits required to do so). However, this option is currently unavailable in Smart Shopping and Performance Max, so there is no way to exclude specific unsubscribers from seeing ads in these campaign types.
Rather, the advertiser must rely on a more reactionary approach, waiting until someone has complained to them, and then instructing the CSR's to reply with one of two options:
Help the customer find the "Stop Seeing This Ad" option on that ad. (To my knowledge, this doesn't shut off all brand ads to that customer, only that specific ad. Let's call this the Whack-A-Mole customer option. Spoiler: they'll still hate your brand over this).
Get the customer to reply with their IP Address, and then exclude that IP address manually from each applicable campaign. This is not a viable long-term option because most IPs are dynamic, which means it will all change again at some point in the near future.
The better solution
I realize there are other things that come into play in these decisions, but the better option would likely be for Google to allow some sort of synchronization between email marketing solutions and Gmail-Serving campaigns, or to allow for the same exclusion Customer Match list in Smart Shopping and Performance Max as they allow in Discovery.
The trick here is that smaller lists will likely be limited in serving per Google support documentation here.
In other words, they are potentially unusable by all of the smaller advertisers out there who don't have enough subscribers to meet the list requirements!
Rock, meet hard place!
Source: Are you showing Gmail ads to customers who have unsubscribed?
WordPress Vulnerability in Essential Addons for Elementor
The Essential Addons for Elementor WordPress plugin, with over a million users recently patched multiple vulnerabilities that could have allowed malicious attackers to run arbitrary code on a targeted WordPress website.
LFI to RCE Attack Vulnerability
According to the U.S. Government NIST website, vulnerabilities on the Essential Addons for Elementor plugin made it possible for an attacker to launch a a Local File Inclusion attack, which is an exploit that allows an attacker to cause a WordPress installation to reveal sensitive information and read arbitrary files.
From there the attack could lead to a more serious attack called a Remote Code Execution (RCE). Remote Code Execution is a highly serious form of attack in which a hacker is able to run arbitrary code on a WordPress site and cause a range of damage, including a full site takeover.
Essential Addons for Elementor Patched
The vulnerability was announced on the National Vulnerability Database site on February 1, 2022.
But the "Lite" version Essential Addons for Elementor plugin has been patching vulnerabilities since the end of January, according to the Essential Addons Lite changelog.
A changelog is a software log of all changes made for each version that is updated. It is a record of everything that was changed.
Curiously, the changelog for the Pro version does only mentions "Few minor bug fixes and improvements" but makes zero mention of the security fixes.
Screenshot of Essential Addons For Elementor Pro Changelog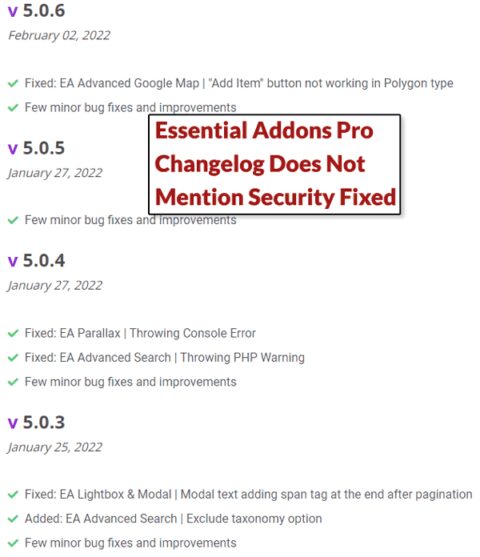 Changelog for the Lite version of Essential Addons for Elementor Lite Plugin
The changelog for the Lite version covering versions 5.0.3 to 5.0.5 were updated from January 25 – 28, 2022 to fix the following issues:
Fixed: Parameter sanitization in dynamic widgets
Improved: Sanitized template file paths for Security Enhancement
Improved: Enhanced Security to prevent inclusion of unwanted file form remote server through ajax request
The changelog notes that today on February 2, 2022 the following security enhancement was performed for version 5.0.6:
Improved: Data sanitization, validation & escaping for Security Enhancement
What is the Safest Version of Essential Addons for Elementor Plugin?
The U.S. Government Vulnerability Database has not assigned a severity score, so it's unclear at this time how bad the vulnerability is.
However, a remote code execution vulnerability is particularly concerning so it's probably a good idea to update to the very latest version of the Essential Addons plugin.
The WPScan website states that the vulnerabilities were fixed in Essential Addons for Elementor Plugin version 5.0.5.
However the plugin changelog for the Lite version of the plugin states that version 5.0.6 fixes an additional data sanitization issue today, on February 22, 2022.
So it may be prudent to update to at least version 5.0.6.
Source: WordPress Vulnerability in Essential Addons for Elementor
Microsoft Bing adds automobile and car search features
Microsoft Bing now has new car and automobile search features to let you find your next car, the company announced on its blog. You can search for used cars on Bing and then Bing will provide a search box that you can filter to find the car you are looking for.
What it looks like. Here are some screenshots of the search box in Microsoft Bing for searches on Kia K5 and SUV for sale: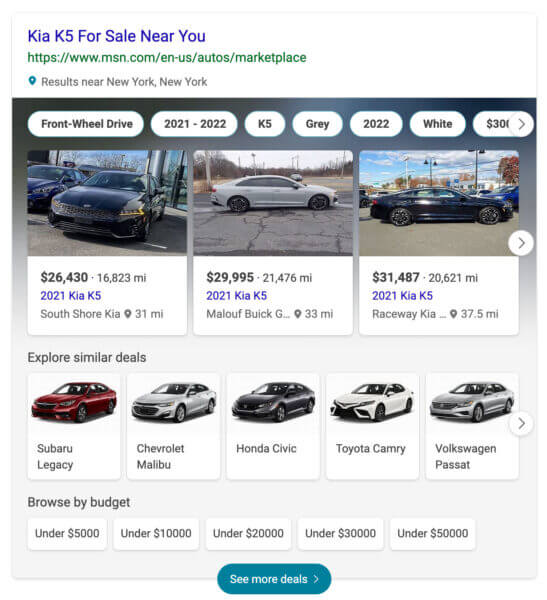 Also, there are links to the MSN Autos marketplace in the knowledge panels for these car-related searches under "learn more" and "shop used cars" right above the car specifications.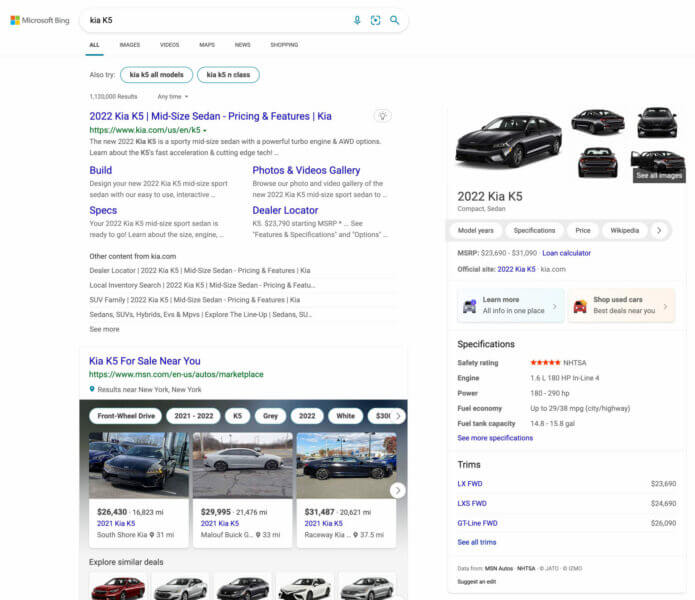 Local. You can also browse local car inventory on Bing Local and Bing Maps. Microsoft said you "can now quickly and easily find vehicles for sale on Bing.com's new Local Auto Dealership Storefront or using the browse-by-map feature."
List your car. Microsoft allows you to list your car on MSN autos over here, where you fill out a listing form that will post your vehicle ready for sale. "In just a few simple steps, sellers enter the basics about the car for sale, upload photos, add a detailed description and finish the listing with any extra info that might make the car appealing to buyers. Your car is now for sale," Microsoft said.
Source: Microsoft Bing adds automobile and car search features
Revamp your ABM strategy and fix the broken sales-marketing lead funnel
Account-Based Marketing is essential to any B2B strategy. And advanced practitioners are now looking for the tools to give them an edge to better connect with their audiences. This requires sales and marketing to work together to identify and engage buying groups within their target accounts. Enter Buying Group Marketing.
According to Forrester, 94% of B2B purchasing decisions are made by buying groups and not individuals. Using a traditional Account-Based Marketing (ABM) approach these days is not enough. You have to go more granular to reach the right contacts. You have to go to the buying group.
To learn more, register today for "Market, Engage and Sell to Buying Groups Who Want to Hear From You," presented by Influ2.
Source: Revamp your ABM strategy and fix the broken sales-marketing lead funnel
More News:
Neeva seeks to expand user base with free subscriptions
Instagram Subscriptions Let Creators Make Monthly Recurring Income
Shopify chat bug leads to titles with (1) in Google's search results