Pinterest is doubling down on Shopping by adding 4 new features
This week Pinterest introduced four new merchant features to help retailers promote their stores.
Product Tagging on Pins
Video in Catalog
Shop Tab on Business Profiles
The API for Shopping
Product Tagging on Pins. Product Tagging allows merchants to make their pins shoppable, so shoppers can click and purchase seamlessly within the app. In early tests, Pinterest reported a 70% higher intent on product Pins tagged in scenes versus standalone product photo Pins.
Video in Catalog. Video ad formats increased click-through-rate by 158%, lowered cost-per-click by 42%, and lowered cost-per-acquisition by 58% in early tests versus static images. Video ads allow merchants to show additional angles of their products to further drive conversions.
The Shop Tab on Business Profiles. Merchants will be able to display a prominent Shop button on their business profiles, giving shoppers an easy way to find and view shoppable products. In early tests, merchants reported about 30% of their first attributed sales from the Shop tab.
The API. The API allows for better and more accurate metadata management and product quality. Accuracy in early tests came in at about 97%.
Source: Pinterest is doubling down on Shopping by adding 4 new features
Google updates advanced location options for Performance Max campaigns
For Performance Max campaigns with a Google Merchant Center feed, you'll now see advanced location options for targeting and exclusions.
Entrepreneur and ad agency owner Kasim Aslam first noticed the new feature yesterday.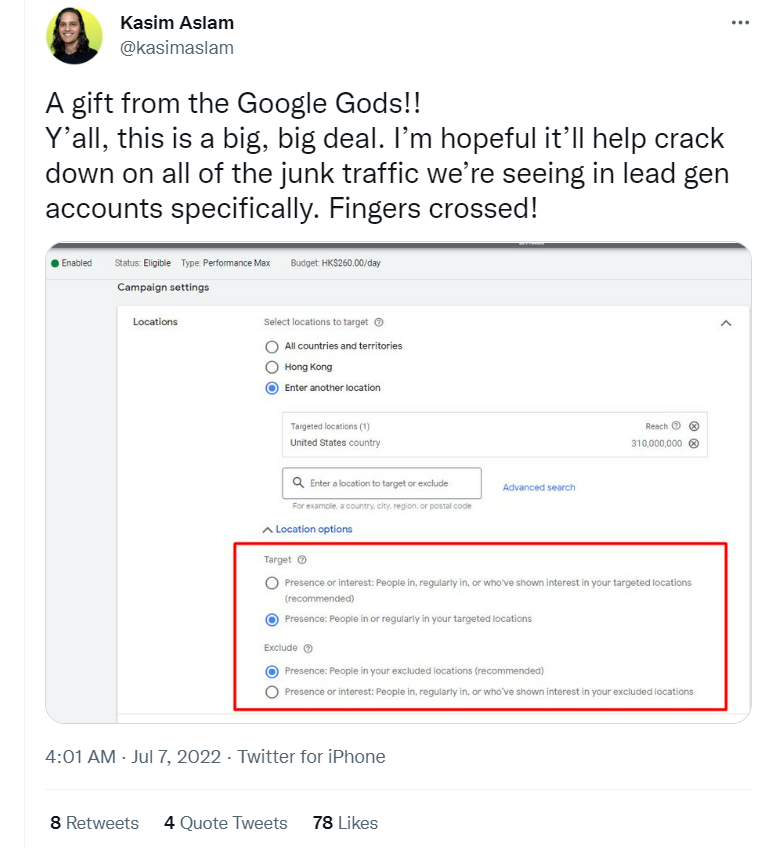 Google confirmed it. "In campaign settings under "Location options," advertisers will now find the ability to target based on physical "Presence" or "Presence or interest". For Performance Max campaigns for online sales with a product feed, we'll also be adding advanced location exclusions for "Presence" or "Presence or interest" similar to what is available in Smart Shopping campaigns today," a Google representative told us.
Advertisers who receive junk clicks or leads should now have the option to exclude certain locations from their targeting. Google is attempting to give advertisers new feature updates aimed at more transparency and account/campaign-level controls- specifically with Performance Max campaigns. When taking advantage of this feature, ensure you're clicking the correct option to avoid excluding the wrong targets.
Source: Google updates advanced location options for Performance Max campaigns
DuckDuckGo, Ecosia, Qwant Pen Open Letter On Fair Choice
In response to the Digital Services Act, Google's rivals present 10 principles for fair choice in search engines and practical switching.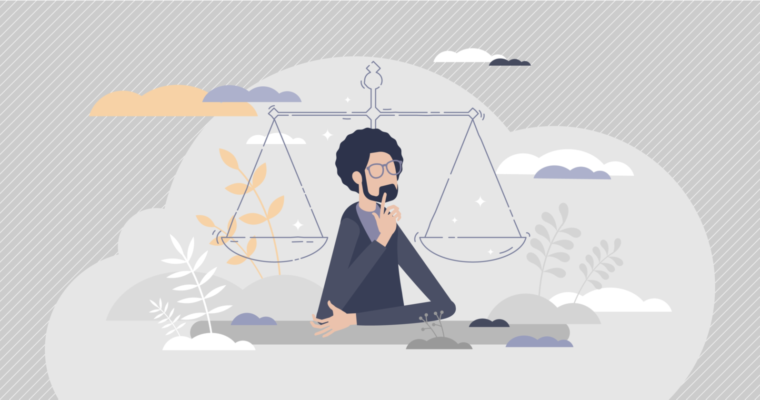 In an open letter released on July 5, 2022, the three search engine chief executives outlined 10 principles to enable internet users to change their default search engine effectively.
The release, entitled "10 Principles for Fair Choice Screens and Effective Switching Mechanisms," comes on the same day the European Parliament adopts the Digital Services Act (DSA).
This groundbreaking political agreement aims to protect consumers by establishing a new standard to hold dominant online platforms, or gatekeepers, liable for illegal and harmful content. Companies designated as gatekeepers include Google, Meta, and Twitter.
Fair Choice Seeks to Break Away from Gatekeeper Defaults
The letter, signed by Gabriel Weinberg, CEO of DuckDuckGo, Christian Kroll, CEO of Ecosia, and Corinne Lejbowicz, president of Qwant, calls for a set of 10 "common-sense" principles that will improve online user experience.
The executive's state in the letter:
"Choice screens and effective switching mechanisms are crucial tools that empower users and enable competition in the search engine and browser markets. Without strict adherence to both clear rules and principles for fair choice screens and effective switching mechanisms, gatekeeping firms could choose to circumvent their legal obligations."
Adoption Could Cut into Google's Market Share
Should these principles be adopted, it could lead to the signatory companies and other search engines claiming a more significant piece of the search engine market. Google currently accounts for more than 90% of all internet searches worldwide.
This could have rippling effects through the search engine optimization and digital marketing industries, as optimization tactics would have to be adjusted for these other algorithms.
Source: DuckDuckGo, Ecosia, Qwant Pen Open Letter On Fair Choice
Google Search Console Insights For GA4 Properties Now Available
Google Search Console Insights now supports Google Analytics 4 properties, giving you access to more data.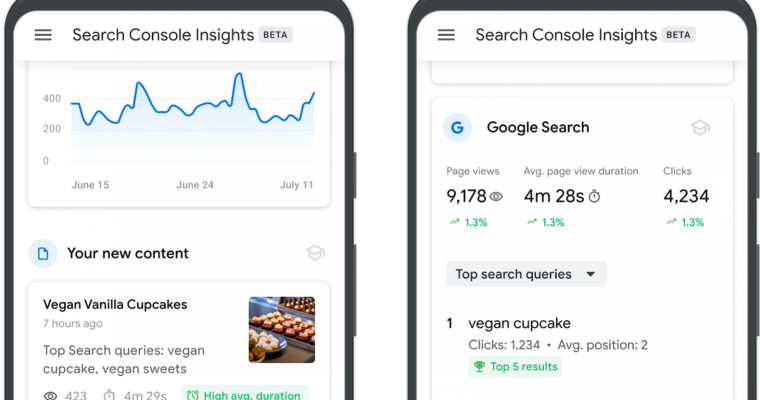 In an update rolling out today, Google addresses a limitation of Google Analytics 4 (GA4) properties by making them compatible with Search Console Insights.
Combining data from Search Console and Google Analytics, Search Console Insights provides a thorough overview of how people discover your content across the web.
Since its launch in June 2021, Search Console Insights has only been compatible with Universal Analytics (UA) properties. If all you have are GA4 properties, your Insights section in Search Console would have been pretty bare.
It was a matter of time before GA4 support was added, however, as Google is sunsetting UA properties next year.
Using Search Console Insights
There are different ways to access Search Console Insights. You can get to it via:
A link at the top of the Overview page
From the navigation menu of Google's mobile app
Search Google for a query that your site ranks for
Search Console Insights is accessible without Google Analytics, though linking the two together will provide you with more significant amounts of data.
Analyzing Data In Search Console Insights
Google designed GSC Insights to offer a snapshot of content performance within recent weeks. It only shows GA data for the last 28 days, which is sometimes compared to the prior 28-day period.
With that being the case, it's helpful to check GSC Insights regularly as the data is frequently updated.
If you have a GA4 property and don't see any data in the Insights section after today's update, here are a few reasons why:
Your GSC property is not associated with a GA property.
You do not have sufficient permissions on GA.
You have the wrong GA view selected in GSC.
Source: Google Search Console Insights For GA4 Properties Now Available
Elon Musk pulls out of the Twitter deal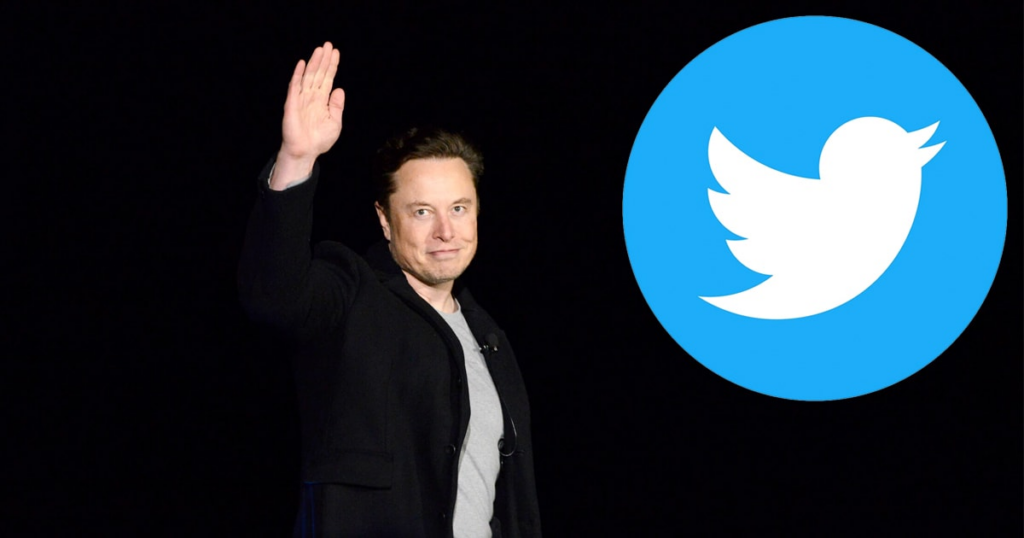 Elon Musk calls out his deal with the Twitter buying process. He is trying to take out his $44 billion agreement. It is as per fling from the Securities and Exchange Commission. Elon Musk's lawyers are calling it false and misleading. The statement was after the negotiation in concern with the number of monetizable active users (mDAUs) with the platform.
Musk's lawyer stated, "Twitter is in breach of the Merger Agreement because the Merger Agreement appears to contain materially inaccurate representations…
Twitter has repeatedly made statements in such filings regarding the portion of its mDAUs that are false or spam, including statements that: 'We have performed an internal review of a sample of accounts and estimate that the average of false or spam accounts during the first quarter of 2022 represented fewer than 5% of our mDAU during the quarter…"
Mr. Musk believed in representing the merger agreement. Twitter is focused on many public statements in concern with the agreement. It is about the merger agreement. We also saw a false and spam account. The publicly filed SEC document is another problem of concern. Mr. Musk believes in providing the right recession in the Merger. However, Twitter's material representation is also in the determination of false statements.
Source: Elon Musk pulls out of the Twitter deal
More news:
Meta to shutter its Novi digital wallet, drawing a line under Libra
How to use Google Ads Competitive Metrics