Are you looking for the WordPress Membership Plugins to build, manage, and grow your memberships and protect your premium content? Obviously, it seems quite strange for beginners. They might think a membership website takes time and money or needs technical skills. In fact, it's easy, and it brings a dozen benefits. 
To understand more about these awesome tools, let's check them out below.
What is a WordPress Membership Plugin?
It's not really necessary to define what the WordPress Membership Plugin is; however, we still want to explain it to newbies in a simple way.
WordPress Membership Plugin is a plugin used for creating memberships and restricting access to specific content such as online courses. Hence, users have to pay for unlocking the premium content. Apart from that, you can create membership levels as well as audience segmentation. In general, integrating the membership plugin is a perfect solution for you to build your own community and create opportunities to earn money from registered members.
What to Look For in WordPress Membership Plugins?
Normally, you will check what specific features are in these themes, these plugins before deciding to purchase one of them. For that reason, below are some important features that we recommend choosing and creating a membership website since not all of the plugins on the market included them in.
Easy to use: This is to help all levels easily use these WordPress Membership Plugins even with a little technical knowledge.
Drip content: This feature will help you slowly release new content followed by the user's membership ages.
Flexible subscriptions: Giving various choices to users instead of a single one such as free, trial, and premium levels.
Payment gateways: Of course, it's necessary to unlock the premium content. It will be great if your website accepts multiple payment channels such as PayPal, Stripe, Authorize.Net, credit card, etc.
Integrations: WordPress Membership Plugins need to integrate on various platforms, for example, email marketing services, WooCommerce, forums, online course system, etc.
Reasonable price: This is quite important as well. There are some free membership plugins, but it's only suitable for experience purposes and basic features. In the meanwhile, you have to purchase the pro version to have premium features for raising your revenue.
That's all for the definition and main features should include the best WordPress Membership Plugins and now is the time to dive in the list!
10 Best WordPress Membership Plugins
MemberPress – WordPress Membership Plugins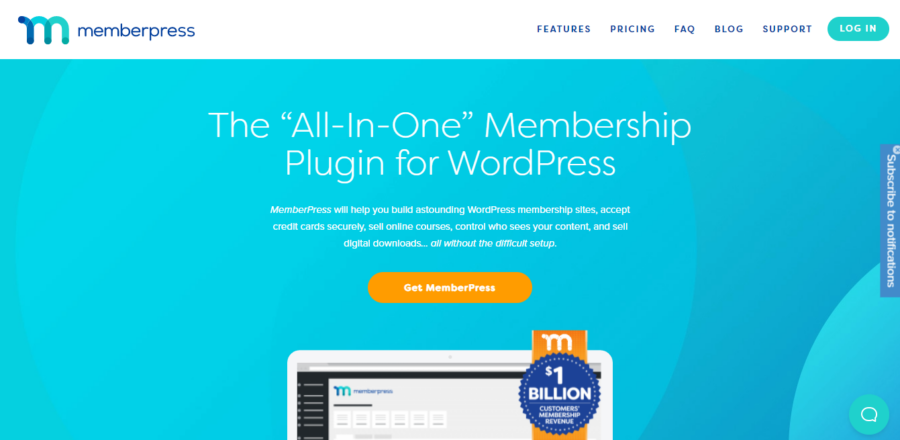 Learn More
MemberPress is one of the most famous WordPress Membership Plugins on the market. This plugin includes all the basic or premium features you need. Firstly, MemberPress is really easy to set up and use. It will automatically set up the price, registration, login account then start charging users immediately for access to your content.
With MemberPress, you can create unlimited membership levels and set up user's access rights separately. Or you can gather these levels into different "Membership Groups" to help them upgrade easily once they want to. That's nice, isn't it?
In addition, you have many options to restrict access. It's possible to restrict pages as well as posts, categories as well tags, or individual files so you can control downloads. Apart from that, you can set up a certain time and this plugin will follow that schedule to drip out your content. If you are running an LMS website, this feature will help you a lot in selling courses. Together with the drip content feature, you can create coupon codes via a promotion strategy to boost more sales.
What's more? Well, MemberPress integrates with famous email marketing services such as MailChimp or MadMini and popular payment channels like PayPal or Stripe without any transaction fee.
Pricing: MemberPress starts from $179/year for the Basic plan, $299/year for the Plus plan, and $449/year for the Pro plan.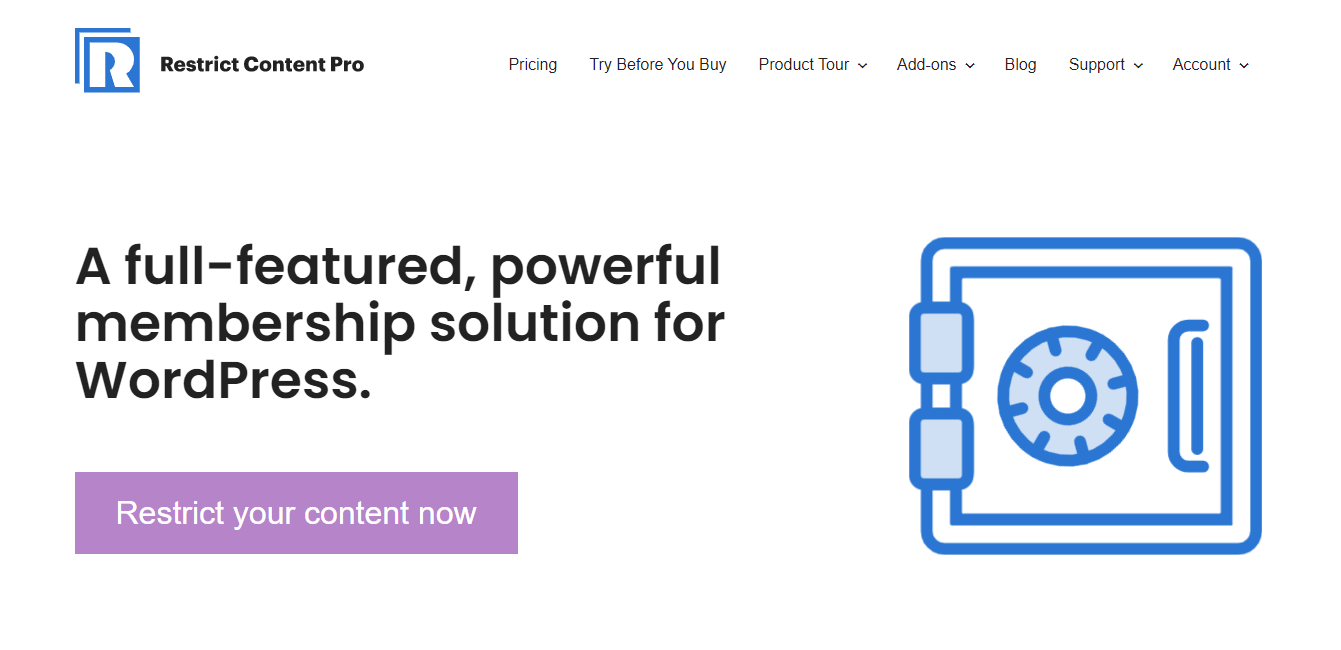 Learn More
Restrict Content Pro is another Best WordPress Membership Plugin from Pippin's Plugins, one of the top WordPress plugin development sites. Together with easy to install and use, Restrict Content Pro also offers unlimited subscription packages (free, trial, premium). Restricting whatever content on your site with this plugin based on each member's type, for instance, posts, pages, tags, categories, etc.
In the same way with MemberPress, Restrict Content Pro can drive your revenue by creating unlimited coupon codes and offering percentages or flat rates. This wonderful WordPress Membership Plugin works well with payment gateways (PayPal Standard, PayPal Express, 2checkout, Braintree, Stripe, Authorize.net), Easy Digital Downloads, and email marketing services (MailChimp, MailPoet).
Other features are member emails to notify your members about welcome email once you registered successfully, the payment receipts, the account expiration reminder time and user import as well as data export feature.
Pricing: Restrict Content Pro comes with $91 with 13 addons and 1 site license, $154 with 13 addons but 5 sites, and $245 for 23 pro addons and unlimited sites. The last one costs $525 with lifetime support & update and never worries about renewals.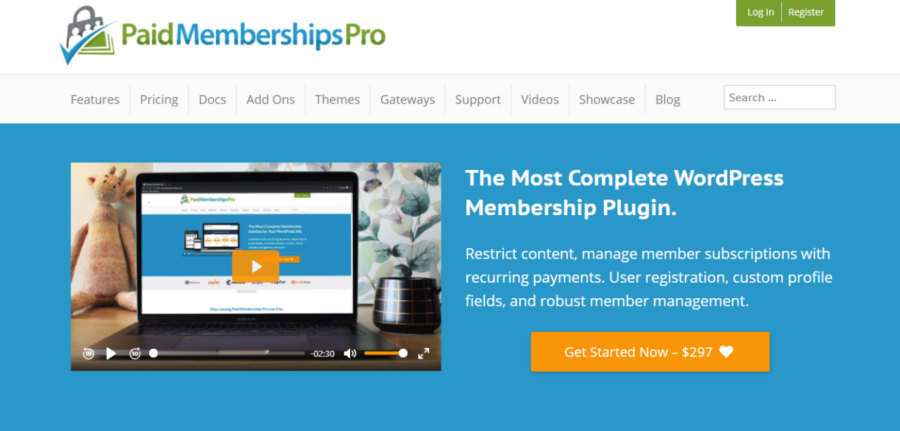 Learn More
In our list today, WordPress Membership Plugins, Paid Memberships Pro is a powerful tool for creating subscription websites. The first thing to remember is that this plugin provides the free version with 19 free add-ons, well-documented and installed video. It is a perfect combination if you just need a basic feature for your small business. Even if you need premium features, you have the choice to upgrade to the next level as well.
Moreover, this plugin includes creating unlimited membership levels and restricts individual or whole content types, like posts, pages, forums, communities, downloads, online courses, etc. The drip content feature is worth considering too. You can set up the flexible membership level pricing like free level, 1-time payment level, or recurring subscription (hourly, daily, weekly, monthly, yearly).
Paid Membership Pro has a simple interface so you can use and set up quickly. In the meantime, you can view your membership data in the admin reports such as the number of signups, cancellations, revenue, site traffic. On top of that, the plugin supports WooCommerce to sell products or discounts for members in your store. BuddyPress, BuddyBoss, and bbPress are integrated to create a useful social community. Plus, your members don't need to take time for the login process since this plugin helps members to login or join through their social media profiles. Other famous plugins which are compatible in Paid Membership Pro are MailChimp, Zapier, Members-only events.
Pricing: It starts from $0 (free version), $297/ yr with 64 plus addons but support for 1-5 sites only, and %597/ yr with 65 plus addons but support for unlimited sites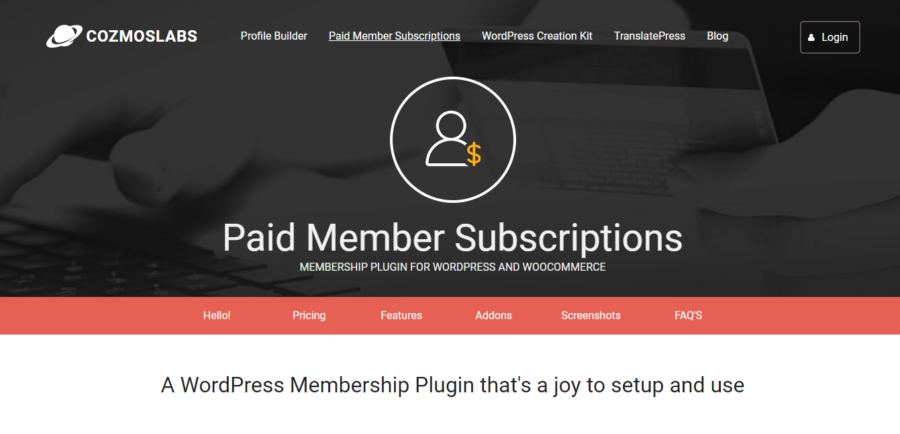 Learn More
Paid Member Subscriptions is a simple, but powerful Membership Plugin For WordPress. It has a free and premium version. The free version can be found at WordPress.org and the pro & hobbyist version can be found at cozmoslabs.com.
With only 4 steps, your website already has these WordPress Paid Member Subscriptions. You also can use it easily without any problems to start getting paid. Managing member subscriptions are in your hand by grant or even revoke the access to posts, pages, tags, categories based on a user's membership level. It not only restricts product view but also restricts product purchasing on your WooCommerce store. You can give the discount per subscription or product as well.
Of course, downloading the Membership Plugin WordPress for free is good if you just need basic features. Meanwhile, if you need a content dripping feature or extend payment gateways choices such as Stripe and PayPal Express, you need to go with a paid plan.
Pricing: Except for the free version, there is Hobbyist version with €69 and Pro version with €149.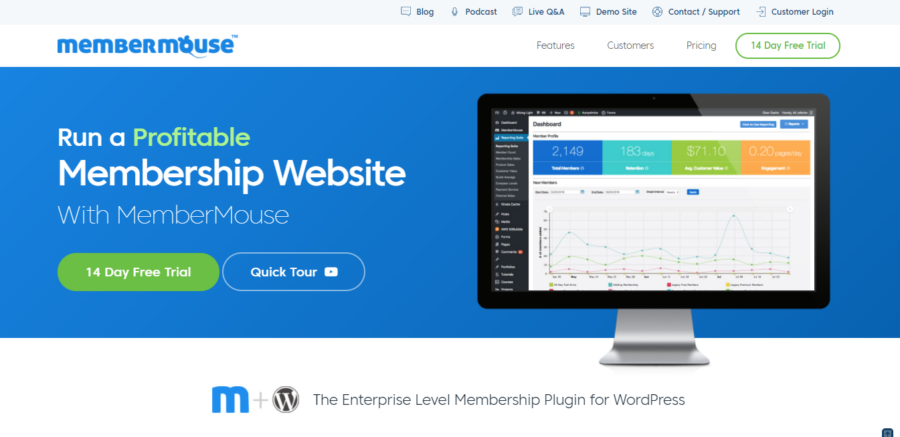 Learn More
MemberMouse is one of the most feature-rich WordPress Membership Plugins available at the moment. This plugin comes with fast activation and simple member import within a few minutes only. After having MemberMouse in your hand, it's time for you to earn money. It allows users to create multiple membership levels with free or paid version options. It also includes useful features such as giving coupon codes, content dripping, import members from other plugins.
Furthermore, protecting content is the most key point we should mention here. You can limit login attempts and custom login pages, especially, it can detect users sharing accounts and automatically lock them. Obviously, we have not seen any other plugins that can offer this feature. In the meantime, MemberMouse shows detailed reporting and analytics statistics. These will help you know your sales and view trends graphically.
This plugin fully supports with all other famous plugins: For email integration: Zapier, MailChimp ActiveCampaign, Drip, Aweber, Icontact, GetResponse and for payment integration: Stripe, Authorize.net, Braintree, PayPal, ClickBank, Sticky.io, Coinbase.
Pricing: MemberMouse starts from $29/ month with a builder plan, $79/ month with an advanced plan, and $199/ month with the premium plan.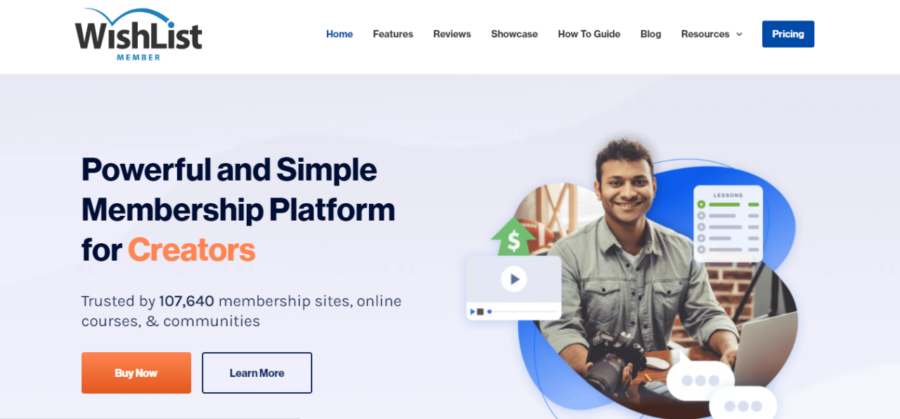 Learn More
WishList Member is a newbie but it's still considered the Best Membership Plugin WordPress for in-depth features as well as user-friendly interface even if you are a non-technical person. After installing WishList Member, you will quickly have a membership system with only a few clicks to create online courses, build monthly recurring revenue, open an online store for selling digital products, and also protect your content.
This plugin also lets you create unlimited modular membership levels and set triggers to create new posts or even move members within your website. In the meantime, content dripping is included in WishList Member, you can manage and offer free, premium, or pay per post content on different levels.
Also, it is integrated with the BuddyBoss platform for building an online community or with email marketing services, like ConvertKit, arpReach, AWeber.It's easy to collect the payments via a dozen channels such as PayPal, Stripe, PayBlue, 2CheckOut, ThriveCart, Woocommerce, etc. Sadly, WishList Member does not integrate with the plugin which can help to create an affiliate program to increase revenue.
Pricing: It costs $147 for 1 site, $297 for 5 sites, and $397 for 20 sites.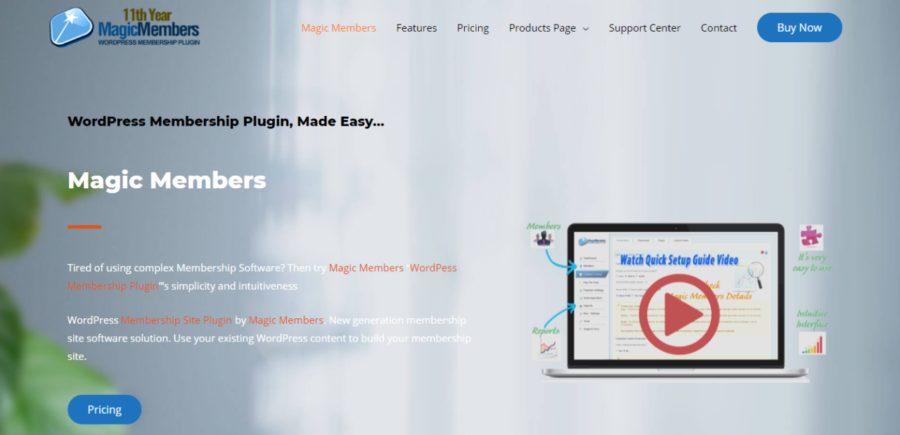 Learn More
The next name in the collection of WordPress Membership Plugins is Magic Members. Firstly, installation is easy within a few minutes only. Secondly, the Magic Members plugin allows building unlimited membership levels, unlimited coupon creation, and even free 1-year unlimited updates.
Plus, if you want to limit the content access to basic or standard members, you can control your content easily by hiding information via the admin dashboard. Pay per view is also another key point here, apart from selling memberships. It's possible to set the access limit to 1, 2, 3 or whatever number you want to enter. Afterward, users cannot view anymore.
Pricing: It starts from $97 for a single site, $197 for 3 sites, and $207 for unlimited sites. Magic Members plugin only accepts one-time payment but it gives you the option to apply for a full refund with a 30-day money back guarantee.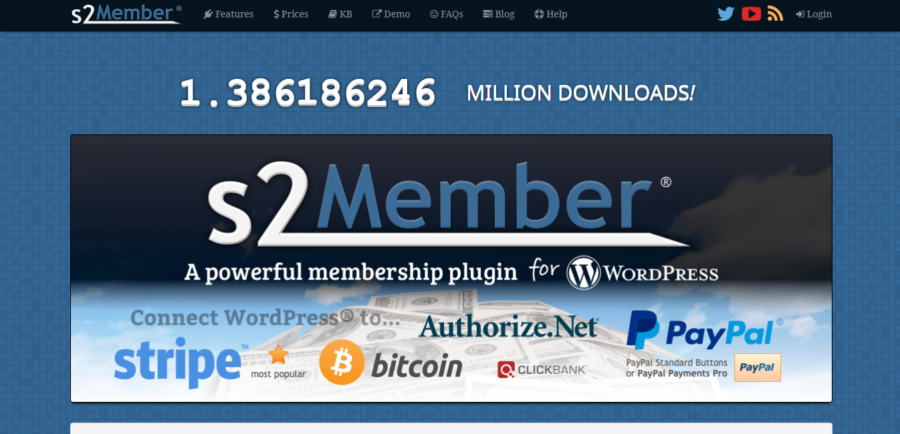 Learn More
s2Member is a free and paid popular Membership WordPress Plugin. The free of charge version offers quite a lot of features unlike others. It provides various options to restrict or protect your content (pages, posts, tags, categories, URIs, or a specific post type, etc). You can enable or disable the open registration option too. Especially, s2Member fully integrates with the mailing list, affiliate programs bbPress or BuddyPress, PayPal Standard Button. Brute-Force login protection, member profile modifications, WordPress Roles/capabilities/CCAPS, and so much more are included in this plugin package.
However, the free version does not integrate PayPal Pro, Stripe, Authorize.net, or even the ClickBank button. This version also doesn't support coupon code, content dripping, unlimited paid membership level, public members list. So you should upgrade to at least a pro version to experience all the rich-features in your Best Membership Plugin for WordPress.
Pricing: s2Member has 2 pro versions: Single site with $89 and Unlimited sites with $189.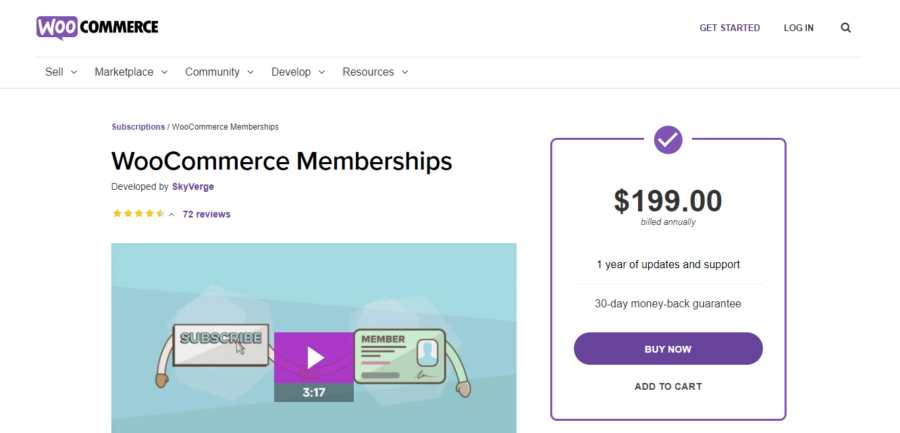 Learn More
WooCommerce Memberships is built on the WooCommerce platform, the famous plugin forever. Hence, when we list out the best WordPress Membership Plugins, we have to write it down. Especially, if you intend to sell your online products, using this membership plugin is a plus point. The plugin also lets you grant access for members, set up schedules for content dripping or even drip with a free trial, encourage customers with members-only free shipping. And giving out special discounts is an engaging solution to reach out to new customers. However, billing members on a recurring basis is impossible since you have to purchase another add-on, WooCommerce Subscriptions. That might cause problems when compared with other sites.
Pricing: WooCommerce Memberships costs $199.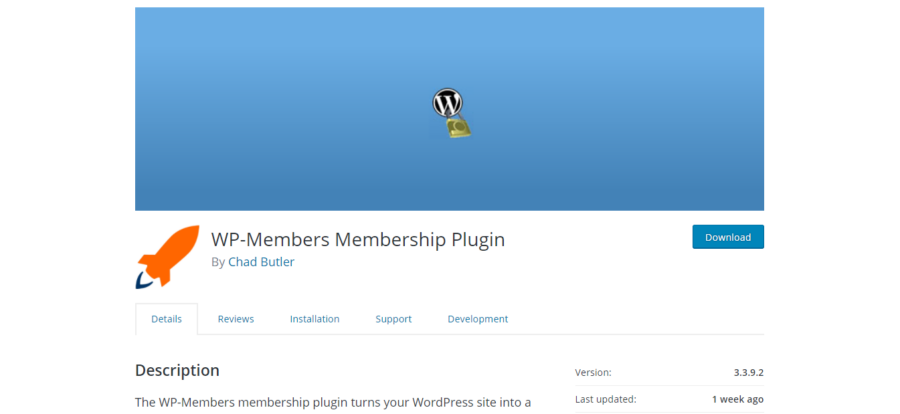 Learn More
WP-Members is the last but not least WordPress Membership Plugin, especially, it's free and easy to set up and use. If you think the free version is not enough to your needs, you can check out the premium extensions as well. With WP-Members, you can hide your posts, pages, and even custom post types depending on their level. Once there is a new user registration, the system will notify you and wait for your admin approval. Adding custom registration and profile fields are available as well. Further, this plugin provides shortcodes for login, field, forms, etc.
Pricing: WP-Members starts from 0 to $125 for the pro bundle.
Final Thoughts
In conclusion, all the WordPress Membership Plugins are good for any kind of needs and budgets. If you want to try for free first, let's try Paid Member Subscriptions. If you want the best one to make your site powerful, we suggest MemberPress or another one, Restrict Content Pro.
Read More: Top 10 Best BuddyPress Themes (Free & Paid)