Instagram Releases New Reels Features
Instagram adds new functionality to its short-form video format Reels, providing creators with new ways to engage with audiences.
Additions Include New Audio Options, Interactivity, & Templates
In addition to refreshing its collection of sound effects, Instagram Reels now allows users to directly upload their own audio files.
Interactive stickers that were previously only available for Instagram Stories are now also available for use in videos. This provides new opportunities for audience engagement via polls, quizzes and emoji sliders.
Instagram now also allows creators to use another video as a template when creating their own Reels. By pre-loading audio and clip placeholders from source videos, users will only need to add and trim their own unique clips.
Reels Provides Value To Marketers, Advertisers, & Branders
As the amount of views online videos generate has nearly doubled since 2018, it has become an important tools in many marketers' arsenals. This is especially true of Reels which has been proven to help attract viewers.
According to Instagram, public accounts with more than 10,000 followers who posted at least five reels over a 60-day period gained 250% more followers than those in the same category who did not post reels.
Instagram video posts currently generate an engagement rate of 1.5%, which indicates people are doing more than scrolling through. Additionally, 86% of consumers say they are more likely to purchase a product with Instagram content rated as "shareworthy."
Source: Instagram Releases New Reels Features
Snapchat now offers Dynamic Ads for Travel
Snapchat has released an easy and automated way for businesses to reach travelers. The new product is called Dynamic Ads for Travel.
The new ad features. According to Snapchat's announcement, the new ads will include the following components:
Customized catalogs built to meet the needs of travel advertisers
Advanced audience targeting based on intent
Locally relevant delivery based on destination popularity
Good news for travel brands. Dynamic Ads for Travel, originally developed for companies such as Booking.com, allows advertisers and businesses to upload catalogs or feeds and show targeted ads to serve users based on their travel preferences and intent.
The announcement comes just months after many pandemic-related restrictions on masks and testing are being lifted, allowing tourism a chance to bounce back to pre-2020 levels. 
Early results. Booking.com recently adopted the new strategy, serving ads with locally relevant listings of properties users had already viewed. The results were 20x lower cost per purchase, 1.3 times higher swipe rate, and 10.7 million impressions.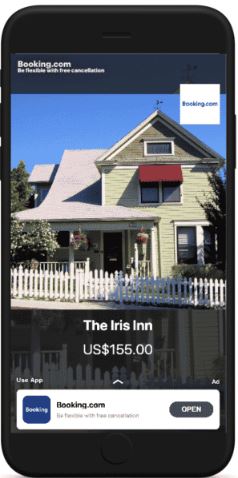 What Snapchat says. Snap head of U.S. verticals Sharon Silverstein said in a statement, "As the summer vacation season approaches, travel businesses are looking to optimize reach and drive conversions. Snapchatters are a particularly salient audience for the industry, with many eager and more likely to travel than users of other platforms. Dynamic Travel Ads are driving impressive results for our partners, and we look forward to unlocking them for more businesses as the travel industry enters its busiest season."
Source: Snapchat now offers Dynamic Ads for Travel
New Twitter 'Search Subscribe' feature coming soon?
You may soon have a new way to get push notifications from Twitter whenever someone's tweets match a search query that you specify.
The Twitter feature is called "Search Subscribe."
Twitter has not confirmed if or when the feature will roll out to users. It was first spotted by Dylan Rousse, an Android developer, in the latest pre-release version of Twitter's mobile app.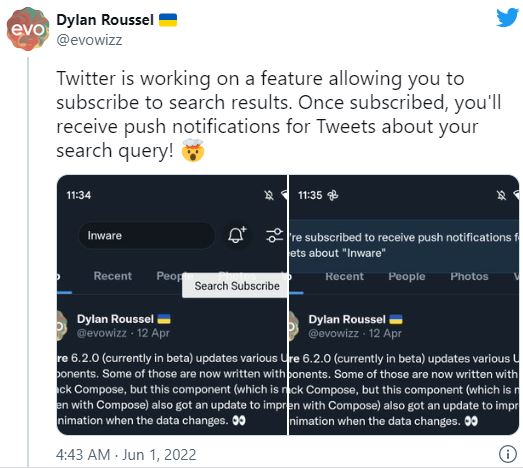 How it works. When you do a search in the Twitter app, you will see a bell icon next to the search bar. Tapping that bell will bring up a message: "You're subscribed to receive push notifications for Tweets about [insert your search query here]".
Similar to TweetDeck. TweetDeck, which is also owned by Twitter, gives you an option to add a column. "Search" is a column type. So if you put in the search term "SEO" you would see every tweet that matches "SEO" in that column. Or, you can filter those results by location, authors and engagement levels.
Push notifications. Twitter lets you enable or disable a variety of notifications. This includes mentions, replies, retweets, new followers, direct messages and more. To date, search has never been one of these options.
For Twitter Blue? We previously reported that an edit button is coming to Twitter. But if and when that does finally launch, it will be part of the paid Twitter Blue service. Early speculation is that Search Subscribe would be part of Twitter Blue.
Source: New Twitter 'Search Subscribe' feature coming soon?
WP Engine Acquires Company Behind ACF, WP Migrate & Better Search and Replace
WordPress managed web hosting company WP Engine acquires Delicious Brains, makers of plugins used by about 4 million users
Managed WordPress web hosting company WP Engine announced they were acquiring Delicious Brains, the company behind five popular plugins relied on by millions of users worldwide.
The acquisition includes plugins that are highly popular with the WordPress development community include:
Advanced Custom Fields (ACF),
WP Migrate,
Better Search and Replace,
WP Offload SES
WP Offload Media
What The Acquisition Means For Delicious Brains Plugins
Perhaps of top concern for customers of the plugins are changes. WP Engine reassures that no significant changes will happen and that they will continue to support the development and improvement of them.
All five Delicious Brains plugins will continue to be updated and made compatible with future releases of WordPress. The development teams will also remain the same and the plugins will continue to remain available in current WordPress repositories.
Their announcement stated that this acquisition is done in the spirit of their commitment to open source. WP Engine also stated that they will honor lifetime licenses to the products.
WP Engine and Headless CMS
WP Engine also shared that they are committed to innovating and investing in making WP Engine a leader for building and modeling content for headless WordPress sites, highlighting the synergy between ACF and their Atlas Content Modeler (ACM).
Source: WP Engine Acquires Company Behind ACF, WP Migrate & Better Search and Replace
More News:
Apple Search campaigns shifting to cost-per-tap (CPT) pricing model
LinkedIn Debunks Algorithm Myths In New Video Series