Google Analytics 4 guide for PPC
Like many of you, the first time I looked at Google Analytics 4, I immediately closed it and said, "nope!"
A year passed. Then we learned that Universal Analytics was going away in 2023, which finally forced me to explore GA4.
It feels like going from Windows to Mac. You just have to know what you're looking at.
Universal Analytics is going away
GA4 uses an event-based model as opposed to the old session-based model that UA uses. This allows for a lot more data to be sent to your analytics.
The GA4 tag can send up to 25 event parameters. UA could only send four per event.
GA4 can have up to 500 distinctly named events. The 500 event limit is only for events you set up. This limit does not count toward GA4 events that come by default like page_view, click or video_start.
I'm not going to go into detail on how to install GA4 because lots of people have already done that.
One thing you should do is turn on Enhanced Measurement.
You do that by going to Admin > Data Streams of the property you are working on. Click on the Web tab and make sure the slider for Enhanced measurement is on.
If you click on the gear icon on the far right you will see all the different things to measure like Scrolls and Outbound clicks.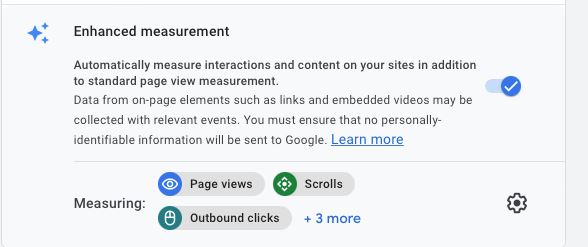 Setting up conversions
If you already have goals set up in Universal Analytics, Google has rolled out a tool to move your conversions over to GA4. If you don't have this you will need to use Google Tag Manager to set up a Custom HTML tag to push your conversion data to the data layer.
Some plugins and third-party services may already do this for you. Once the events exist, all you have to do is go to the main menu and click on Configure and the first thing you will see is Events.
Always check here first when you want to create a conversion. What you want to count as conversion may already be in here. Just find your event and click the slider to activate.
New concepts
One of the main concepts of GA4 is differentiating between user engagement and session engagement. The main difference is that user engagement statistics can span more than one session.
A session engagement includes data for each session. GA4 is all about engagement.
The biggest difference you will notice in GA4 is that the bounce rate is gone. It has been replaced with "Engaged Sessions." A session is either engaged or not.
Google Ads
The first thing that you will notice in GA4 is that the menu on the left is much smaller and there are fewer sub menus and many things are missing or buried.
Another thing I noticed is that not all sections have the ability to change the time period you are viewing. Specifically, if you are running a custom report in the library, you can't change the time period for that report.
The solution is to navigate to another section like the Report main menu that has the ability to change the time period. Then go back to your report and it will reflect the change.
For paid search, we are missing the Google Ads section. The Google Ads section can be found in the Acquisition Overview submenu under Report > Acquisition on the second row, the third box on the bottom right.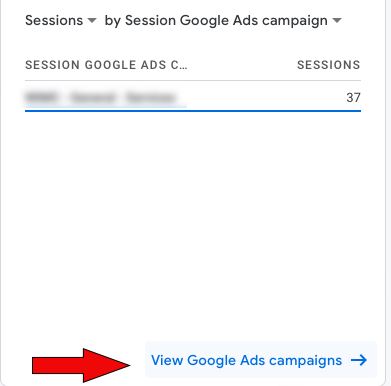 Advanced reporting is extremely limited
The default GA4 seems to be designed for novice users to get overview information quickly.
Many of the detailed reports that were easy to get to and easy to use are no longer available without advanced knowledge of GA4. The custom reports that you can build under the Explore menu are extremely powerful if you know how to set them up.
There is a gallery of pre-made reports, but not many at this time. Once GA4 has been around longer there will be more custom reports and articles on how to create specific reports.
Source: Google Analytics 4 guide for PPC
DuckDuckGo's Search Deal Prevents Browser From Blocking Microsoft Trackers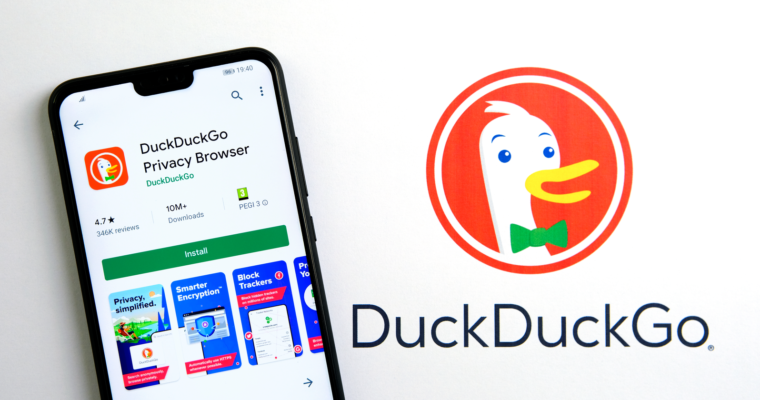 DuckDuckGo's search syndication deal with Microsoft is the root of an issue leading to data being tracked in the company's allegedly private mobile web browser.
It was discovered this week that DuckDuckGo's mobile browser transfers data to Microsoft-owned properties when visiting certain websites.
This was confirmed by DuckDuckGo CEO Gabriel Weinberg, who is working to preserve the company's reputation after the potentially damaging discovery was shared on Twitter.
Does that mean the privacy-centric DuckDuckGo isn't as private as we've come to believe?
Here's what was revealed about DuckDuckGo's browser, what the CEO has to say in response, and why critics aren't satisfied.
DuckDuckGo Browser Allows Microsoft Trackers
Security researcher Jacob Edwards posted evidence in a lengthy Twitter thread showing DuckDuckGo's mobile browser transferring data to Microsoft's LinkedIn and Bing Ads.
DuckDuckGo CEO Responds To Criticism
Weinberg was quick to respond to the criticism of his company, confirming Microsoft trackers aren't blocked on the DuckDuckGo browser.
However, he attempts to downplay the situation because it doesn't impact DuckDuckGo's search results.
"This is not about search," he begins in statement published to the Hacker News forum.
Isn't it, though?
If it weren't for the search syndication deal between DuckDuckGo and Microsoft, this wouldn't be an issue in the first place.
Source: DuckDuckGo's Search Deal Prevents Browser From Blocking Microsoft Trackers
YouTube Analytics Now Separates Data By Video Type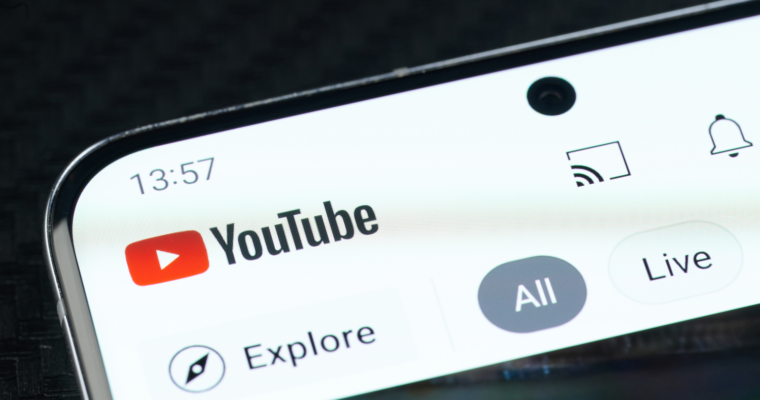 YouTube is rolling out an update to analytics reports that will benefit content creators who make videos in different formats.
You'll now be able to see the total number of video views for each type of content you publish to your channel.
Previously, data was combined into a single metric that counted views for all content types.
YouTube is making these changes to help you understand and compare the performance of different video formats.
You can compare views of regular videos, versus Shorts, versus livestreams to see which type of content is driving the most engagement for your channel.
Here's more about the changes to YouTube Analytics, why they're being made, along with answers to questions you're likely to have.
Separate Data For Content Types In YouTube Analytics
When this change rolls out, what you'll notice in YouTube Studio is an absence of the Reach and Engagement tabs you're used to seeing at the channel level. They're getting replaced by a new tab called Content.
The Content tab is going to be a merged home where you will be able to follow up on the performance of your different content types.
When you click on the Content tab you'll see several navigation items that take you to metrics for individual types of videos.
Why Is YouTube Making These Changes?
YouTube is adding separate analytics, as well as the ability to compare metrics for the first time.
No data is being removed, it's simply getting presented in a different way.
If data appears to be missing it has likely been moved to a new location. For example, traffic sources data will appear throughout YouTube Analytics instead of having its own section.
Source: YouTube Analytics Now Separates Data By Video Type
WordPress reveals its most affordable website builder option yet
Building your dream website could soon be easier than ever thanks to a new update from WordPress.
The website builder has launched a stripped-back platform that costs just $5 per month, offering WordPress managed hosting and unlimited site traffic for what it calls "a revolutionary price".
WordPress Starter looks to offer a middle-tier option for users, sitting between the company's current Pro premium offering and its free basic option.
WordPress Starter
"From building your audience with a blog, to sharing your business, design, expertise, or experiences with the world. If you're looking to make your work visible, and make it visual, the Starter plan has you covered," WordPress wrote in its announcement(opens in new tab).
Subscribers to the new platform will get access to a wide selection of tools helping them to set up and personalize a website, starting from custom .com domains instead of the company's basic wordpress.com offering.
When building their site, users will benefit from 6GB of storage for their assorted photos and images, and will get access to Google Analytics as a default alongside WordPress' own tools. The company says this partnership will allow website owners much greater visibility into who is visiting their site, what content they are engaging with, and much more.
For those looking to dip their toes into the world of ecommerce, WordPress Starter will give access to a number of useful tools and payment platforms, including a Payment Button block that provides a fast way to take payments and set up subscriptions with Stripe. They'll also get access to the Donations Form block as a way to accept tips and donations, and the Premium Content block for the option to sell one-off, monthly, or yearly premium content.
WordPress says it will also soon be be introducing a range of add-ons that will pair with Starter to give users "an extra boost".
Source: WordPress reveals its most affordable website builder option yet
More News:
Google News new design being tested
New Video Explores Site Building Progress From WordPress 5.0 to 6.0