After having a WordPress website, the next important step for you is to install the best WordPress Backup Plugin. Basically, backup plugins help to make your website safe and secure not only from user errors but also from vicious attacks or malware. Hence, you will never worry about crashing your site. Even if it happens, you can quickly restore your site without losing data, like content and files with ease.
Of course, a lot of WordPress Hosting Services integrate the auto-backup features. But you can feel safer if you are the one to set up your site, right?
However, there are a large variety of free and paid backup plugins on the market and it takes so much time to find the best one. To help you avoid unnecessary work and save time, our expert checked and listed the best collection – the 10 best WordPress backup plugins. Let's stay with us on this topic so you can find the right plugin that fits your needs.
Top 10 WordPress Backup Plugin
UpdraftPlus – Top WordPress Backup Plugin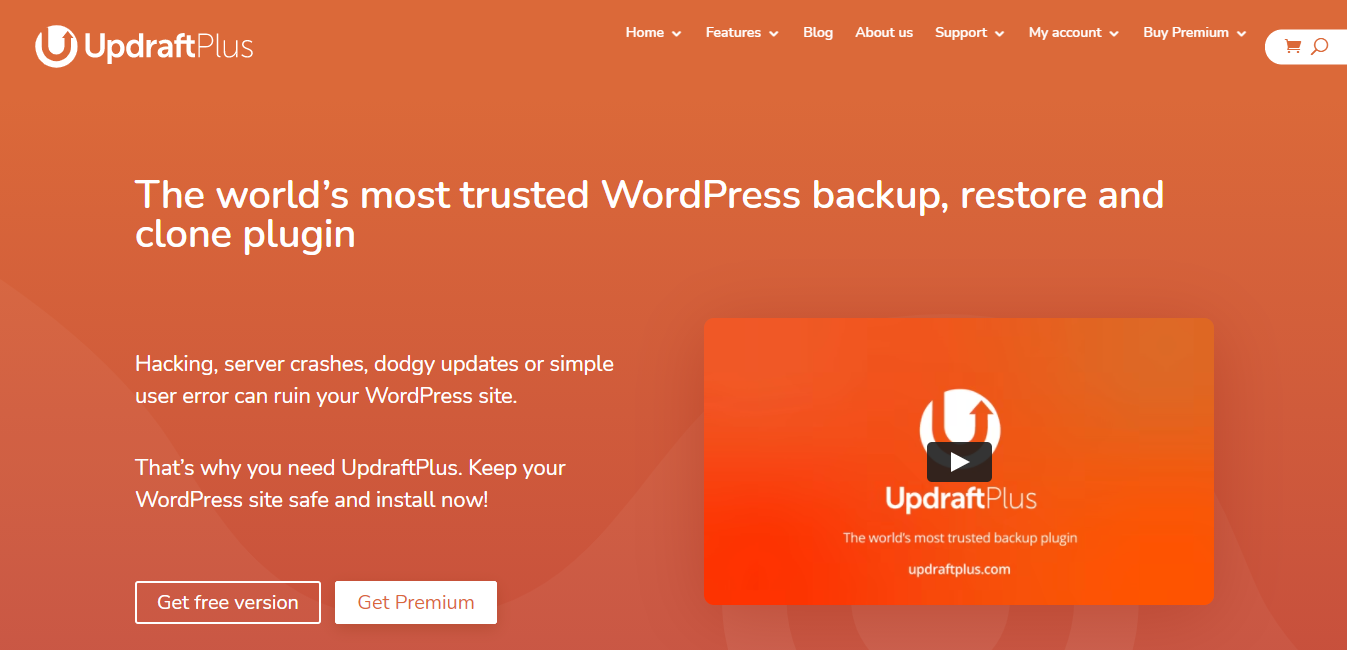 Learn More
The first WordPress Backup Plugin we definitely have to mention in our collection is UpdraftPlus. It's the most famous tool available on the market that you can find and install easily. You can choose either free and premium versions, depending on your purpose. To download the free version with basic features, you can find it on WordPress.org. UpdraftPlus is especially used by more than three million WordPress websites.
UpdraftPlus basically offers not only backup but also set schedules and restore. You can choose one of the files, database, content, plugin, theme or all the data then set up the scheduled time to back up. It's possible to backup every 12 hours, 24 hours, weekly, monthly too. After that, you can restore these backups easily from the WordPress admin control panel.
What's more? Well, the premium plan brings various benefits aside from the above basic features such as cloning and migration, incremental backups, or lock settings. If it's time to update your WordPress cores, plugins, and themes, UpdraftPlus will auto-backup your website first to ensure all data is safe and secure. Even if your site has non-WordPress files and databases or its multisite/ networks, this plugin can back up without any problem. There are so many more features that we suggest you visit UpdraftPlus' website. Try UpdraftPlus now!
JetPack – Best Backup WordPress Plugin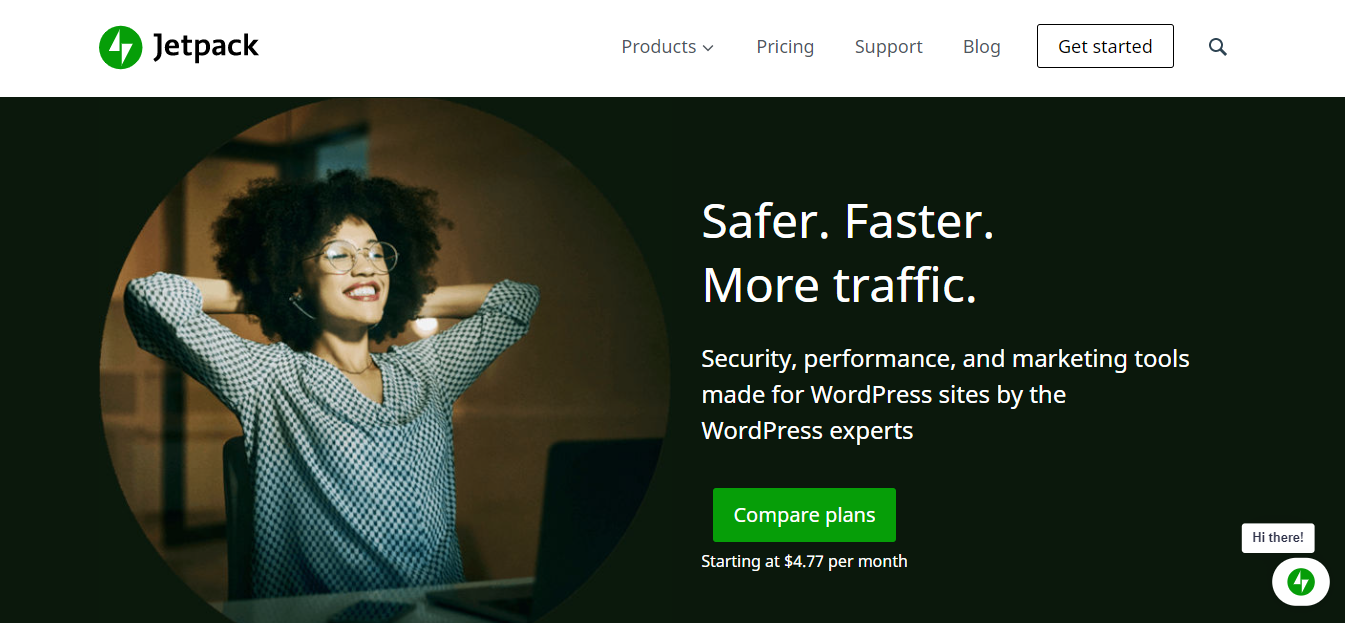 Learn More
JetPack is the Best Backup WordPress Plugin for improving your website security, plus, performance, and growth within a few clicks only by the famous company, Automattic. As we know, there are some backup WordPress plugins that make your site slow down. However, JetPack is different. It offers daily backup and real-time backup so it can save all changes right away. Plus, you can visit your site on any device, such as desktop or smartphone to restore your site with unlimited storage by 1-click restore feature.
Also, JetPack has automated malware scanning with daily or real-time scanning. The daily scanning is perfect for portfolio websites or restaurant websites while real-time scanning is suitable for membership websites or forums websites. Another key point of JetPack is that this plugin has an app to download on your Android or iOS device. So that you can control your site immediately, from backup and restore to security scanning, from activity log to site statistics right on the app.
BackupBuddy – WordPress Backup Plugin – Top 10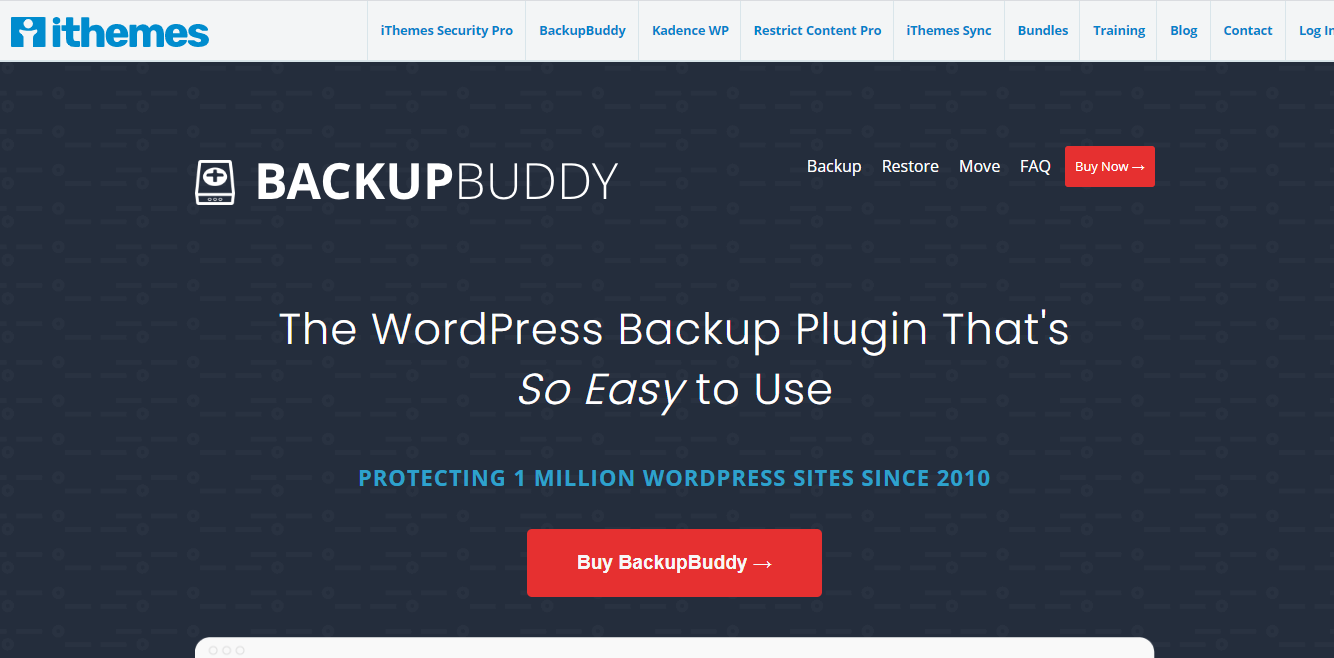 Learn More
With over 1 million websites protected by BackupBuddy, no wonder many users know this famous WordPress Backup Plugin. BackupBuddy comes with a simple interface and you can backup your entire website with only a few clicks from the WordPress dashboard. Also, setting up backup schedule time by hourly (24 hrs, 48 hrs, 36 hrs), daily (every day), weekly (every week), or monthly (every month) is possible as well.
Moreover, this plugin will automatically send your backup files and content to the remote storage places such as their cloud service – BackupBuddy Stash, or Google Drive, or Amazon S3. Once the backup process is done, you will receive the instant email notification and also you can download a zip file of your website. Especially, you can do real-time backups if you use their BackupBuddy Stash service.
Lastly, this plugin does not offer a monthly fee, it offers a yearly fee. There are 3 plans: Blogger plan with $80/ year, freelance plan with $127, and gold with $199. You can backup 1 site or unlimited sites and get 1 GB or 5 GB of their Stash storage space depending on each plan you choose. Try BackupBuddy and make it yours today!
BlogVault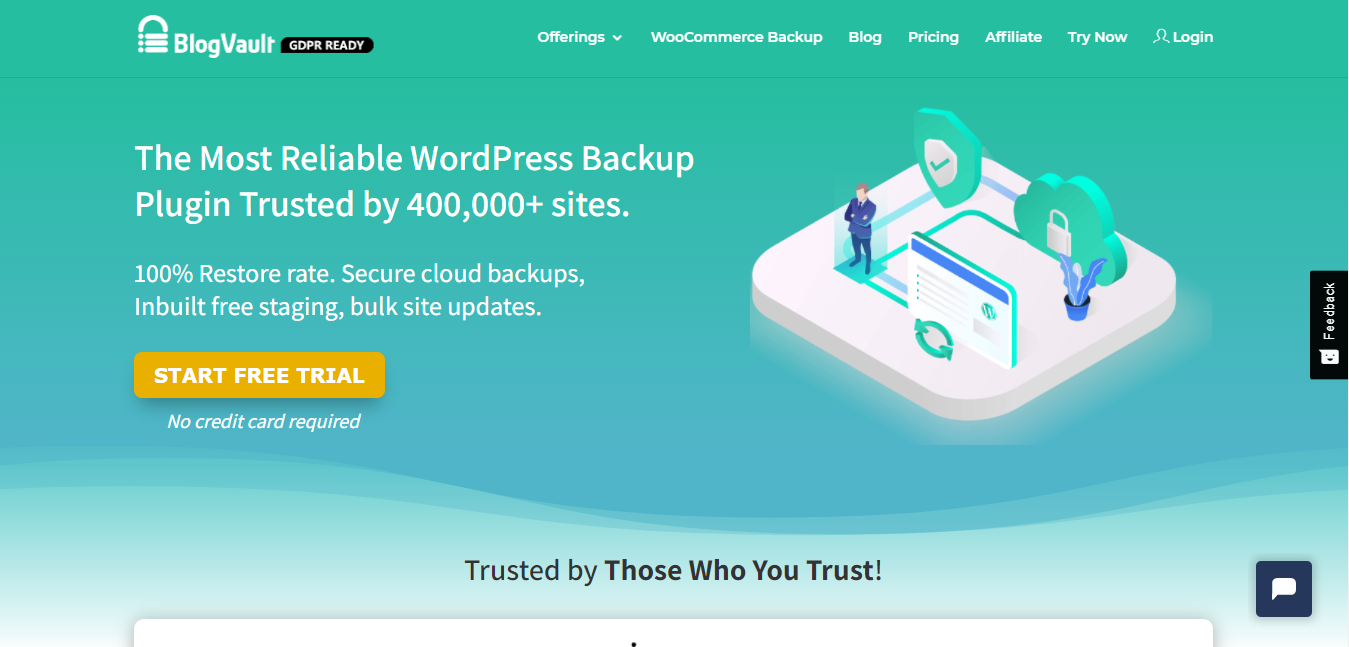 Learn More
BlogVault is a powerful Backup WordPress Plugin for small businesses. It's trusted by over 400 thousand WordPress site owners. You will never worry about overload on your server since it offers smart incremental backups with free offsite storage to make sure optimal performance. In particular, Blogvault is the first tool with multi-site backup support.
On the other hand, it's possible that some WordPress Backup Plugins failed to be restored. But BlogVault will never have this issue. It promises a hundred percent success rate based on restoration from over one million websites. You can store a maximum 90 days backup archive with the basic plan & plus plan, and 365 days with the advanced plan. Together with that is the staging site feature, which's used to test your changes before publishing it live. BlogVault basic plan starts with $7.4/ month and no real-time backup features. If you want a real-time backup feature, you might use an advanced plan with $20.75/ month. Try BlogVault now!
BoldGrid Backup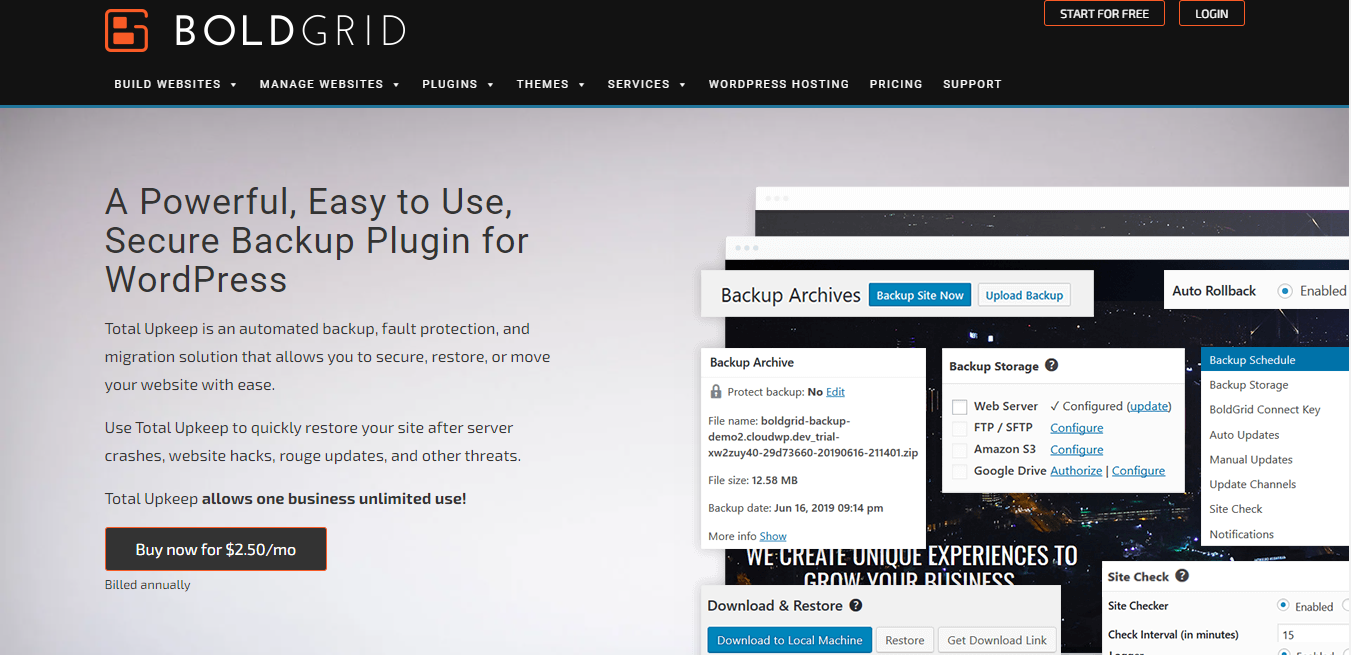 Learn More
BoldGrid Backup is the next WordPress Backup Plugin on our list today. Even if your website crashes, you can backup and restore it easily with only a few clicks. You can freely set daily, weekly, monthly backups or create backups manually with ease.
If your theme or plugin needs to update, your site will do backups first. You also can set auto backups as well. Like other WordPress backup plugins, you can save backup archives not only on your dashboard but also on remote storage places, such as Amazon S3, Google Drive, or FTP / SFTP. Also, you can get a lot of tools if purchasing this plugin. Worth considering, try BoldGrid today!
BackWPup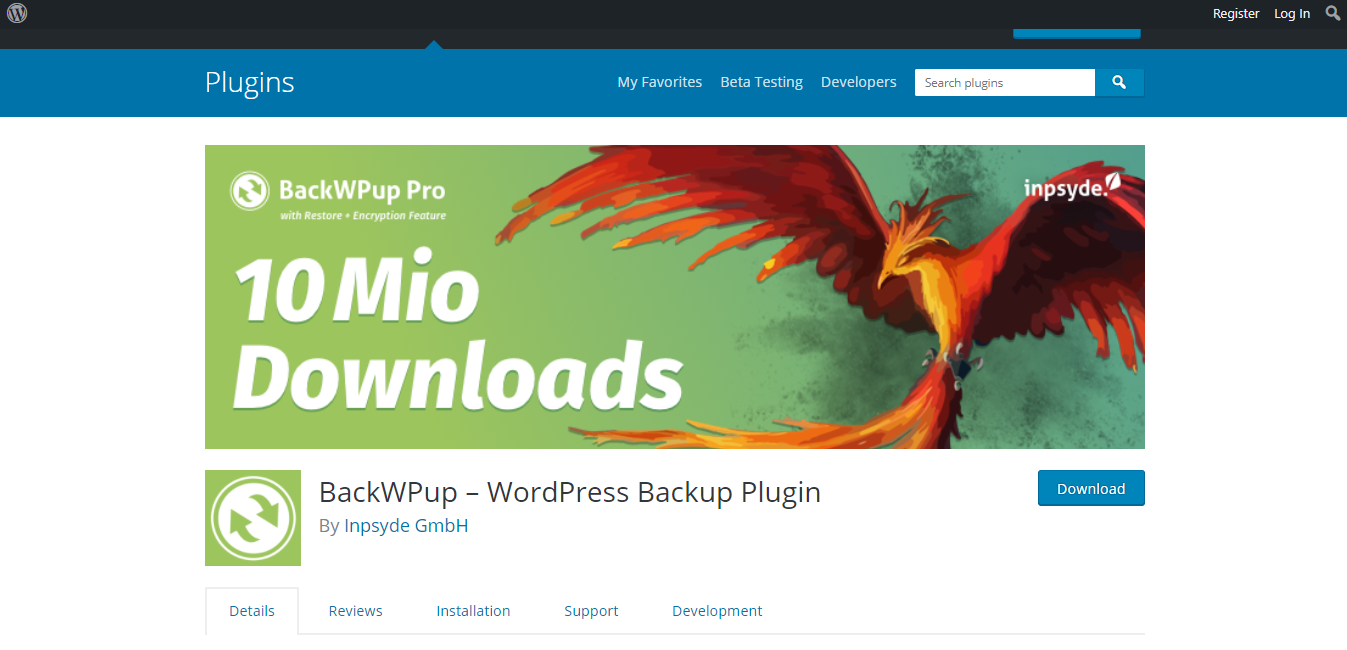 Learn More
BackWPup is a free Backup Plugin WordPress that you can install easily on WordPress.org. However, you also can upgrade with the pro version with premium features, such as priority support, migration to a new domain, backup to OneDrive/ HiDrive/ Google Drive. With BackWPup, you now can back up your WordPress website on cloud storage, like Dropbox, FTP server, S3 service, SugarSync, or even on your computer. Particularly, this plugin can back up all your file formats, from zip format to tar format or tar.gz. Another key point of BackWPup is it can quickly check, repair, and also optimize your database. Apart from using backup plugins to protect your site, you can check out WordPress Contact Form Plugins to make your website more powerful by keeping your customers in contact with you.
Duplicator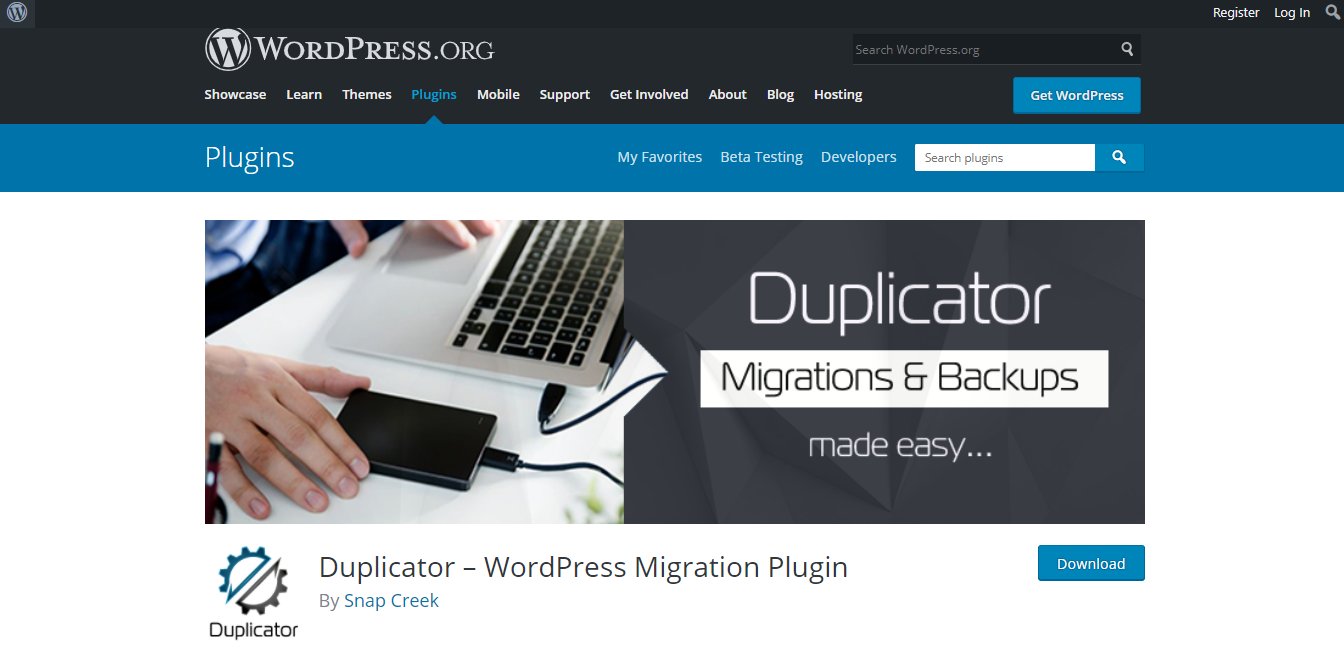 Learn More
Duplicator is a famous backup and migration WordPress plugin. It is known as a famous migration WordPress plugin but it can also be used for backup as well. There are over one million active installations. Duplicator on the WordPress.org site. If you want to migrate as well as clone your website to different domains/ hosts, it's entirely possible within a few mins. Plus, you can choose a file, theme, plugin, database, or content to backup or even backup a whole website. However, this free version doesn't have automated scheduled backups, it's only included in the pro version. Try Duplicator today!
WP Time Capsule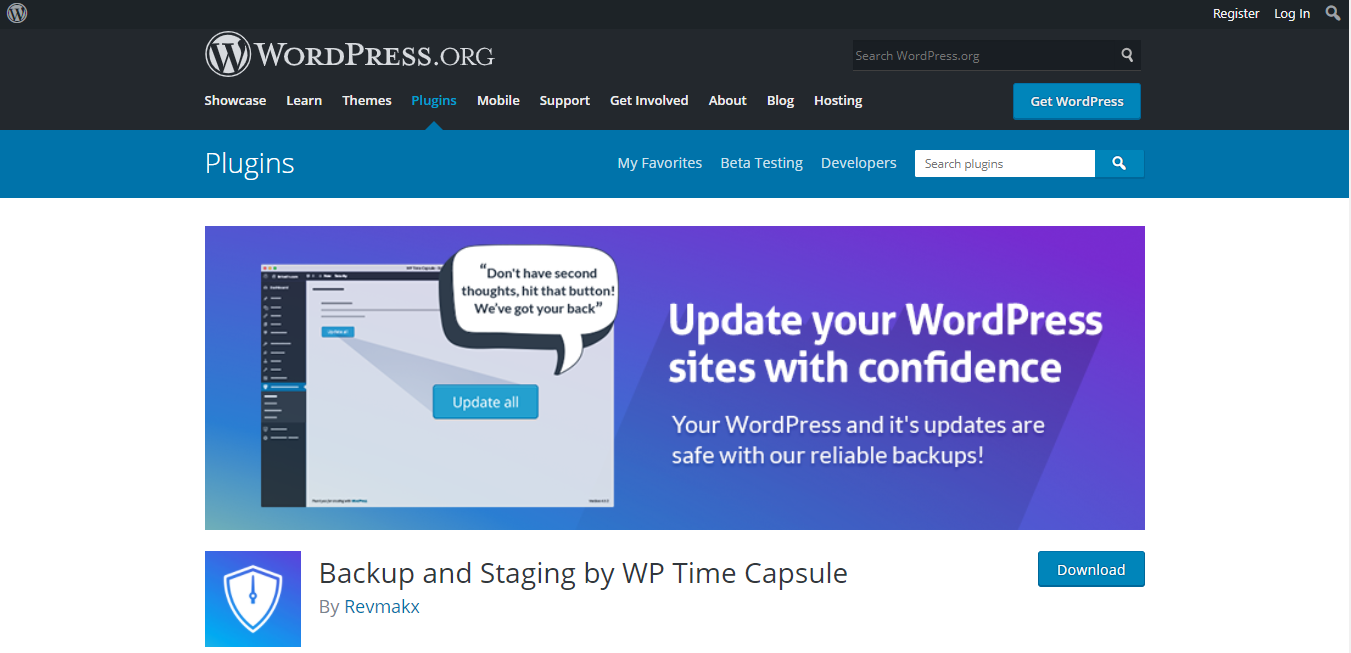 Learn More
As we know, WP Time Capsule is a flexible WordPress Backup and Restore Plugin for any WordPress site. Instead of backing up the whole website, you can choose the recent file and database to backup too. All these files can be stored in your cloud app account, like Google Drive, Dropbox, or Amazon S3. Plus, you can set up a backup time and it will auto-do it following your schedule. Testing updates and restores on the staging site is included in this plugin too. Once everything is alright, you can apply the theme to your live website
WP Time Capsule comes with 3 plans: Business, freelancer, agency. The business version costs $49/ year with 30 days to restore windows and 2 sites. The freelancer version costs $99/ year with 120 days restore window and 10 sites. The last version costs $199/ year with 365 days restore window and unlimited sites. Worth considering. Try WP Time Capsule today!
BackUpWordPress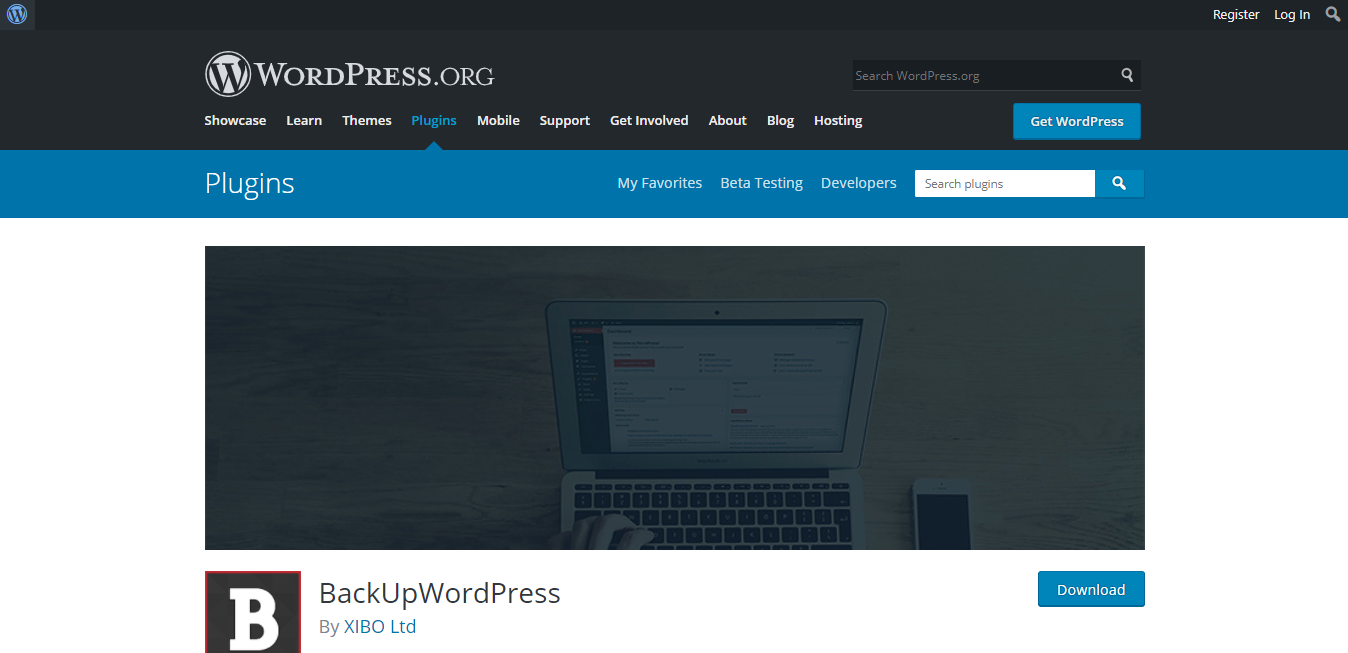 Learn More
BackUpWordPress comes with a super simple interface, especially, there's no setup required on your end. This theme uses zip as well as mysqldump to make sure your backups process fast and secure. Plus, BackUpWordPress can work well on Linux and also Windows servers without any problem. In particular, if you don't have plans to backup files or folders, you can exclude them as well. Unlike others, this plugin does not have the paid add-ons anymore on Dropbox or Google Drive cloud storage location. Greatly, you can contact their customer support even with this free version if you meet any issues. Try BackUpWordPress today!
Backup Migration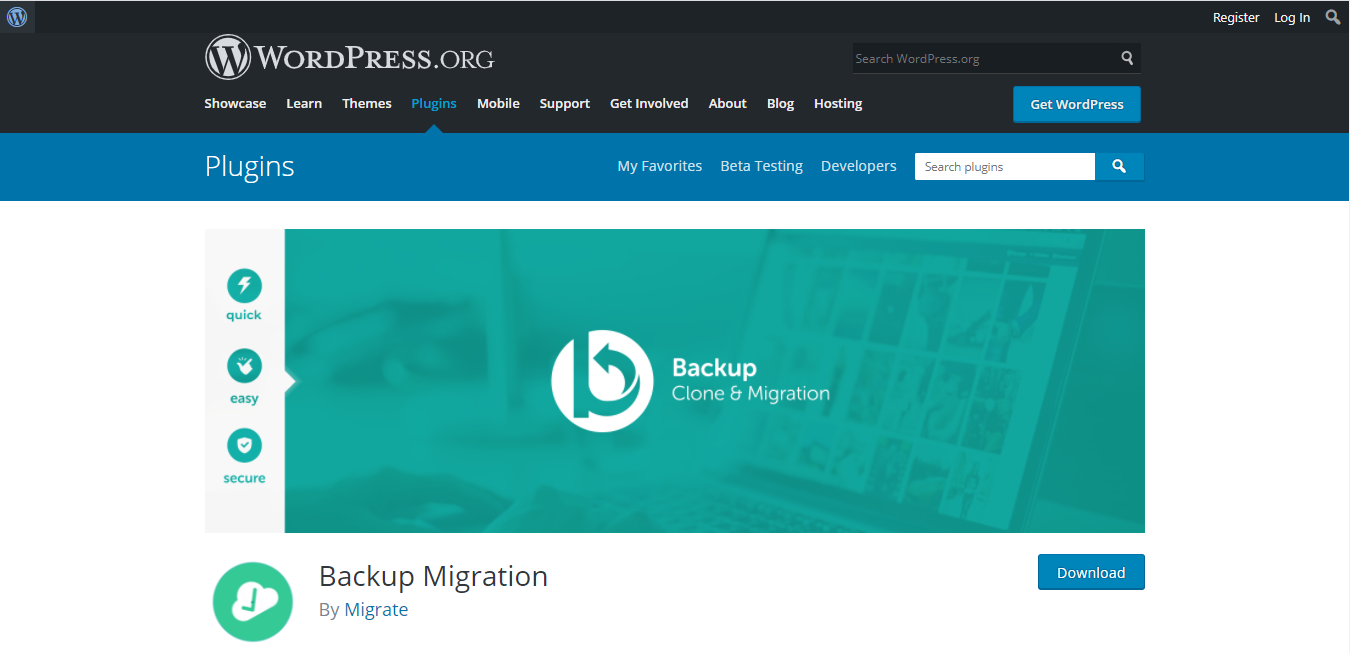 Learn More
Backup Migration is the last but not least in this list of the Best Backup WordPress Plugin. You can easily find and download this free plugin on the WordPress.org website. You can either manual backups or create automatic scheduled backups following daily, weekly, monthly schedules. There is another highlight feature that you can migrate your website to another host. However, this free version only provides 2GB for backups. But it is possible to go with the higher level – the premium version to extend more sizes and features.
Final Thoughts
Without a doubt, this is a perfect collection to look for a perfect WordPress Backup Plugin to protect and secure your website. Of course, each plugin has its own pros and cons but all provide completed backup features. BackupBuddy and UpdraftPlus will definitely fit your small or medium size. You also can check out VaultPress if you have a big website and you want all data always updated. Remember that no to save your backups on hosting. You might store it all on the third-party storage service, like Dropbox, Amazon S3, FTP, etc.
Read More: Top 10 Best BuddyPress Themes for 2021 (Free & Paid)