Are you looking for a perfect and suitable WordPress Translate Plugin?
To begin a business, creating a website is supposedly one of the vital steps every owner should do. And WordPress is always the first platform recommended. WordPress especially can be used for building a website in whatever language you want with the help of a WordPress translation plugin. Then your website will become multilingual.
In this article, our experts have carefully checked and tested dozens of plugins to give us the best list of translation tools that you should try. Let's together with us to explore what plugin we are going to share with you.
How to choose a WordPress Translate Plugin
If you are a newbie, you definitely don't know what is the next step to do and which one is the best translation tool for your site.
Here are some of the suggestions when you want to choose the right tool:
– Easy to use: A translate plugin should be easy to install as well as use to fit every level.
– Responsible: A responsible plugin will bring a lot of convenience when you are offline on a laptop.
– SEO-friendly: This feature will bring a better traffic for your website via URLs for all languages
– Multilingual plugins or automated translate plugins: If you plan to use multilingual plugins, you have to add multilingual content manually to your WordPress website. Of course, this way brings a perfect quality of your translation website but it takes time. However, if you plan to choose automated translation plugins, you don't need to spend so much time. The plugin will use an online translation service to translate all the content, however, the quality is not good like the first one.
Top 10 WordPress Translate Plugins
If there is one truly convenient way to translate your website, it must be through ConveyThis!
It is the most translated language plugin in the WordPress directory (over 38 language contrubutions) and is growing fast. ConveyThis makes it very simple to integrate into WP website and activate as many as 100+ languages.
ConveyThis uses automatic machine translation to translate your entire site, and adds a language switcher button. So within the first couple of minutes, you'll already have a working, SEO-friendly multilingual site.
It comes with both free and paid plan. Free plan that lets you translate up to 2,500 words into one language, the paid plans use SaaS-style billing, which means you'll need to continue to pay for as long as you want to use the service.
Paid plans start at €4 a month for one language and up to 10,000 words.
TranslatePress – Top 1 WordPress Translate Plugin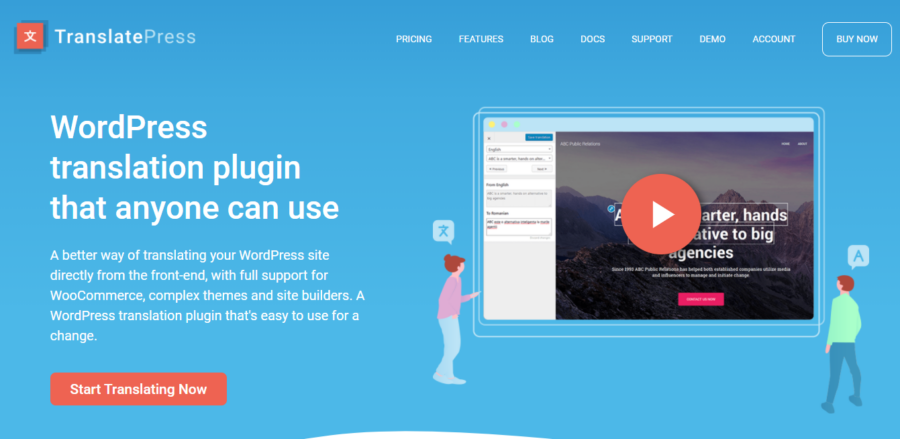 Learn More
TranslatePress is a famous WordPress Translate Plugin on the market now. It's trusted by over 180 thousand websites, 220 languages, and more than 460 5-star ratings. TranslatePress is completely simple to use with no other add-on requirements or issues after installing. Then you can click the automatic translation option to allow the system to translate your whole pages automatically. Now is the time for you to re-check if there are any mistakes, it's called manual translation.
Another highlight feature you can receive from this amazing tool is it supports SEO-friendly URLs so your website will have high rankings in the local SEO results. It especially supports image translation for each language. If you don't have time, you can create a translator account to translate your site so you don't need to work on the backend anymore. Lastly, TranslatePress comes with 3 plans: developer plan costs €199/ year, the business plan costs €139/ year, and the personal plan costs €79/ year. The developer plan is considered as the most popular one since you can use it on unlimited sites. This version also integrates with Google Translate, provides a flexible language switcher, detects automatic user language, etc. Try TranslatePress today!
WPML – Translate Plugin WordPress (Our favorite)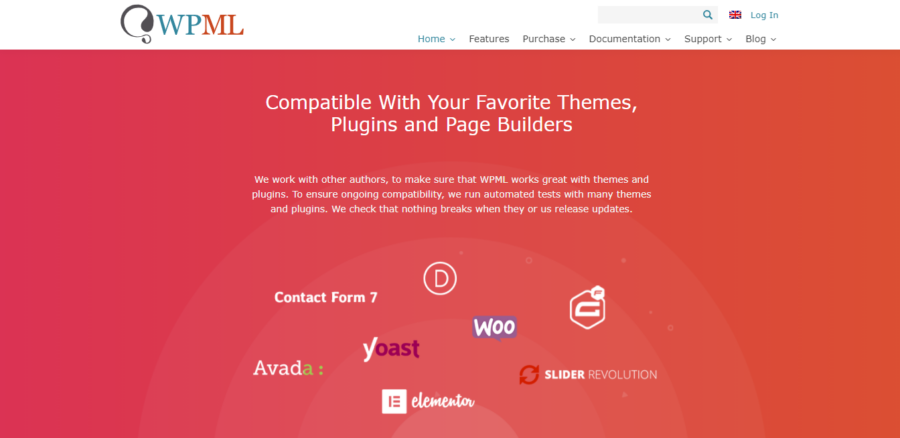 Learn More
Have you tried to make your own WordPress website before? If so, you might see WPML somewhere else since it is the popular Translate Plugin WordPress at the moment of writing this article. Within a few mins, you can have a powerful website with multiple languages (40 languages) and a powerful translation management system. You not only can translate content but also can translate themes, plugins, and others.
In addition, WPML helps to translate any aspect of your site automatically with ease. None-stop from there, the plugin supports the translation memory, spell checker, and glossary. With the WooCommerce Multilingual integration, your online shop will turn to customer's language and their currency as well. It not only supports your primary language SEO but also supports multilingual SEO too, from page slugs to SEO title or meta. Finally, you don't need to worry if it is suitable with your theme or other plugins since it totally works well with them. WPML provides 3 plans: The most famous one is multilingual CMS with $79, the rest is multilingual blog with $29 and multilingual agency with $159. Each of them has different offers that are worth considering. Try this powerful WordPress Translator Plugin now!
Polylang – The Best WordPress Translate Plugin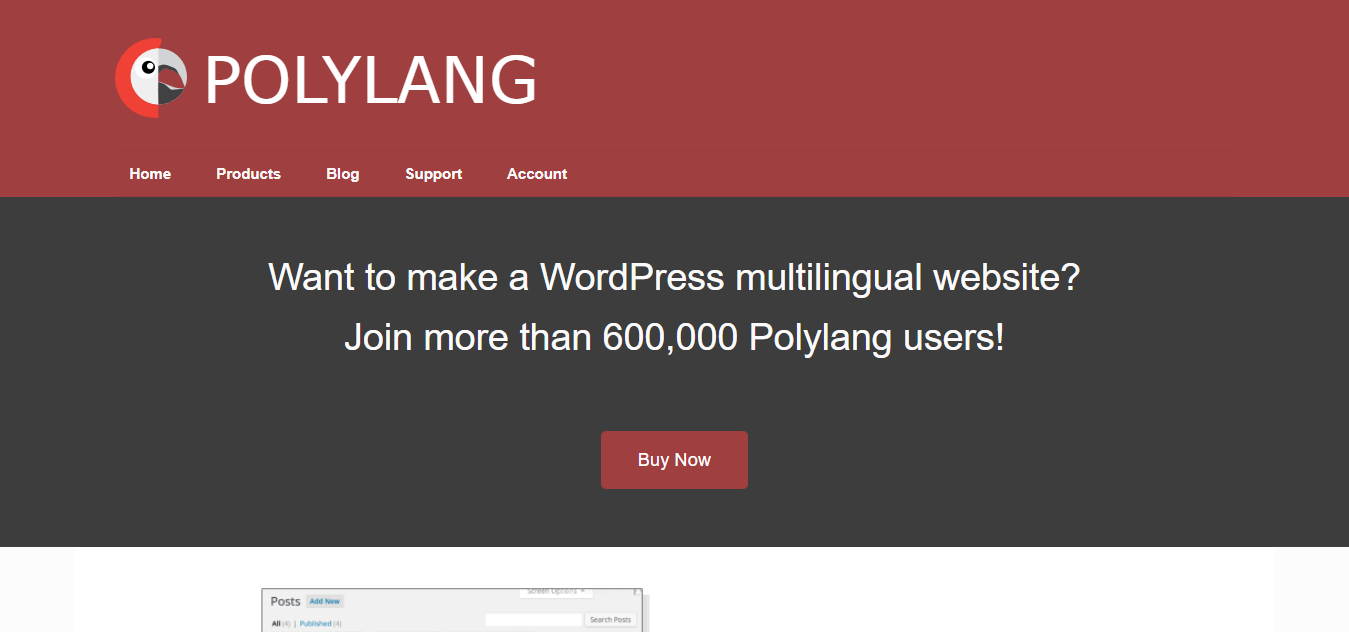 Learn More
Polylang is a free and simple WordPress Translate Plugin that you can download freely on WordPress.org. No wonder the plugin comes with over 600 thousand active installs and almost 2 thousand 5-star ratings. After having the plugin, you can now convert your website to a bilingual or multilingual site. Whatever translation types you want, from posts to pages, from widgets to categories, you can define the preferred language with ease. In Particular, it supports a customizable language switcher and the RTL language scripts too.
However, it doesn't translate your theme and plugins. Also the default of Polylang doesn't support WooCommerce. It requires a paid add-on. Each language will surely have SEO friendly URLs, promising to boost local search rankings. Try Polylang today!
Weglot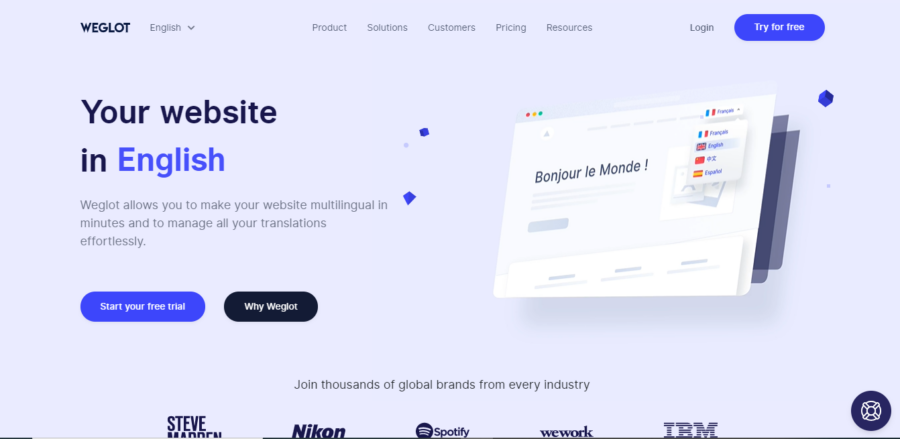 Learn More
Weglot is a simple but powerful WordPress Language Translation Plugin. It's trusted by over 50 thousand businesses with 4.9 star ratings on WordPress, 4.8 star rating on Shopify, and 4.9 star rating on Capterra. In particular, the plugin's compatible with almost all famous CMS like WP, Shopify, Squarespace. One thing to remember while setting up is you must enter the Weglot API so your website and the plugin can connect together. Then you can choose the language you want to set as a default and others languages you want to add more.
What's more? Weglot is highly optimized for multilingual SEO, integrated with WooCommerce, compatible with 3rd-party translation services. Besides, it supports the language switcher button. Weglot gives monthly and yearly options. It has 5 plans to choose, the starter plan costs € 99/ year, the business plan costs € 190/ year, the pro plan is € 490/ year, the advanced plan comes with € 1990/ year, and the enterprise costs € 4990 / year. You can also try the free trial first, it offers 2000 words and 1 translated language. Try this Language Translator WordPress Plugin now and make it yours!
MultilingualPress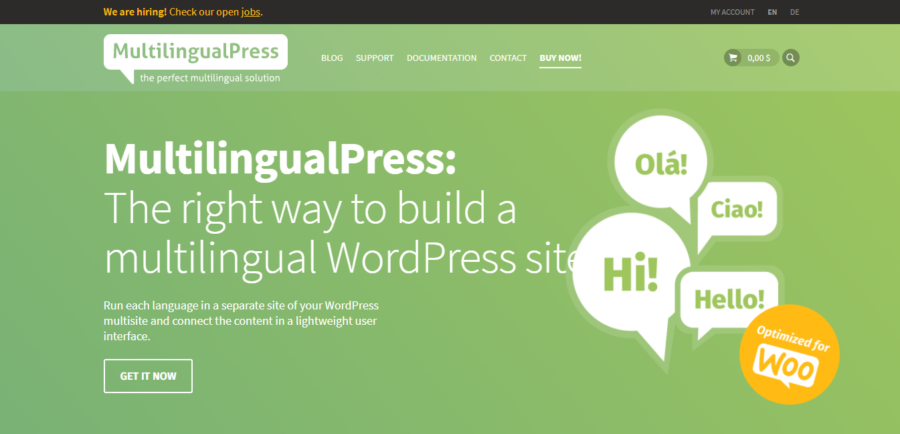 Learn More
MultilingualPress is a powerful WordPress Translate Plugin that is used to create multilingual WordPress sites. Thanks to the WordPress multisite network, it makes your site different from other normal installing processes.
The plugin provides full control over the content of any language. Instead of multitasking, it loads only one language at the time required to boost the performance. MultilingualPress comes with a simple interface, surely, every level can manage the translation on the dashboard easily. In particular, your site can have different language subdomains or custom domain names. By allowing you to translate not only posts & pages, you can now translate custom post types, taxonomies, and so on. Together with the advanced custom fields compatibility, MultilingualPress supports many famous plugins like BeaverBuilder, MailPoet, WooCommerce, Elementor, Gutenberg, Yoast SEO, etc. Lastly, the pro plan is the best seller one in their 4 plans. It costs $299 and supports 6 languages and 3 multisites. Let's get started with MultilingualPress or you can refer the Best SEO Plugins for WordPress too.
Translate WordPress with GTranslate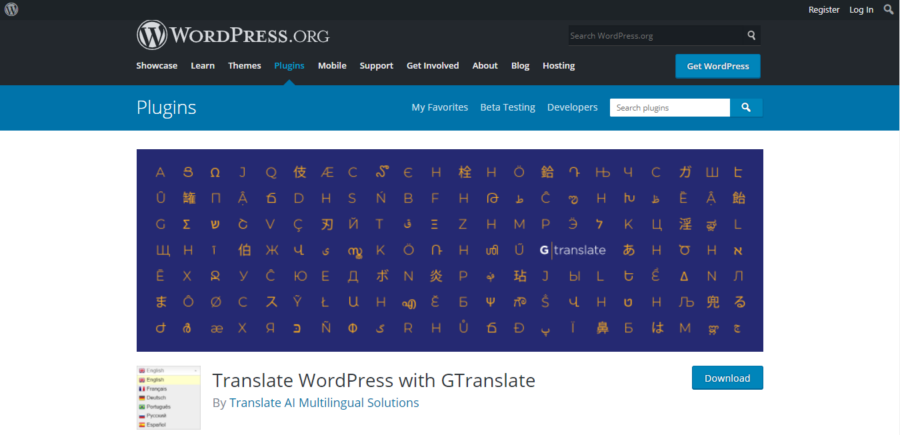 Learn More
In general, Translate WordPress with GTranslate offers a free Google automatic machine translation that we usually use. The WordPress Translate Plugin is used to translate your website into multilingual sites. Plus, the plugin offers over 103 languages, promising support for all customers around the world. In addition, the Translate WordPress with GTranslate plugin has free and paid versions. The paid plans are optimized for SEO to boost more traffic and sales.
Plus, the plugin enables either automatic or human translations, depending on your preference. It includes all basic translation features such as posts, pages, menus, widgets, plugins, and even themes. Thanks to RTL ready function to support international clients. With the integration of Google Analytics, you can check your translation data right on your WordPress dashboard. A bonus point here is the lazy loading for language flags, this way definitely helps to increase the site's performance. Besides, you can try the GTranslate paid version with incredible extension features like WooCommerce and Yoast SEO compatibility. Why don't you try this Best WordPress Translation Plugin now!
Transposh WordPress Translation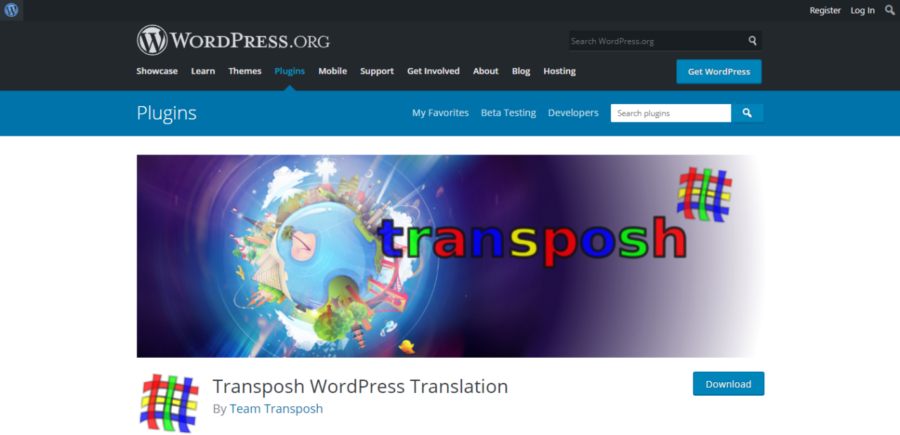 Learn More
The next WordPress Translate Plugin we should mention in the list today is Transposh WordPress Translation, the famous tool you can download easily on WordPress.org. The plugin especially combines automated and manual translation.
Plus, there is a function for you to allow readers to contribute the translation. The automatic mode can translate all the content, even RSS feeds or comments. It supports the famous translating backends like Google or Bing and over 117 languages. Worry no more about link tags, meta, titles, or hidden elements if you use Transposh.To increase the social networking, the plugin integrates with the famous tool, BuddyPress. Once you installed transposh, your site will go to the next level because of the performance, security, SEO, and simplicity.
Google Website Translator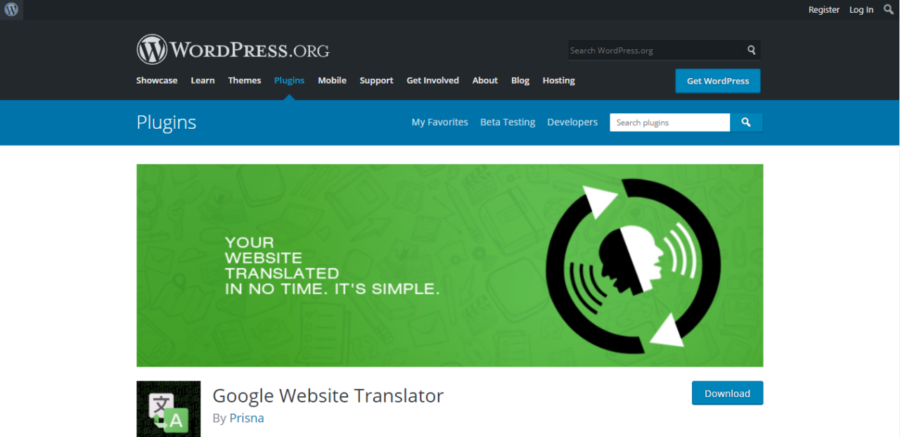 Learn More
Google Website Translator actually likes Google's automatic machine translation service so it helps to become a multilingual site. The plugin supports over 100 languages. First thing to remember, this Translate WordPress Plugin is completely easy to set up even if you don't know techy. There are 3 inline and 4 tabbed style modes to choose, powered by Google Translate. Whatever language you want to display in language switcher, the one can be shown using the powerful sidebar widget or even an beautiful inline shortcode. For more information, try to check out this WordPress Language Plugin now!
Loco Translate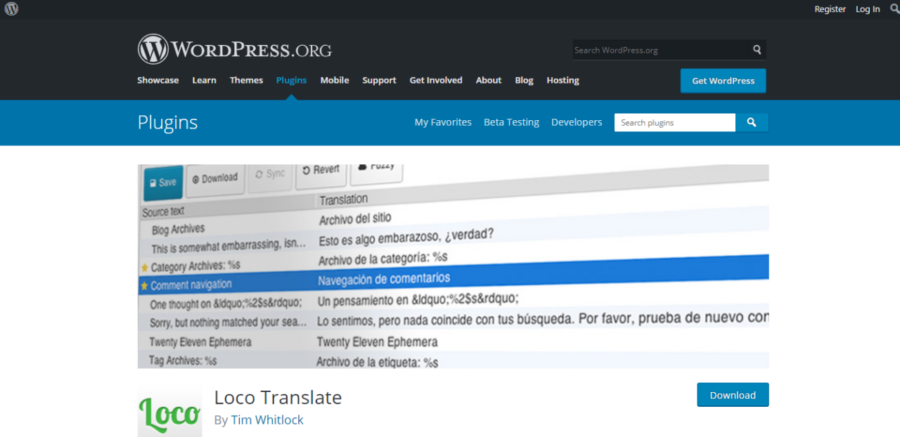 Learn More
As we know, Loco Translate comes with over 1 million active downloads on the official WordPress site. No wonder, it's considered the most famous automatic WordPress Translate Plugin. Plus, Loco is compatible with translation APIs, consisting of Google, Yandex, or even Microsoft. You can create as well as update your language files into your plugin/ theme. Surely, it will not take so much time for you to start using the plugin since it's a simple user interface with 1 column for original strings and the rest for translation.
Google Language Translator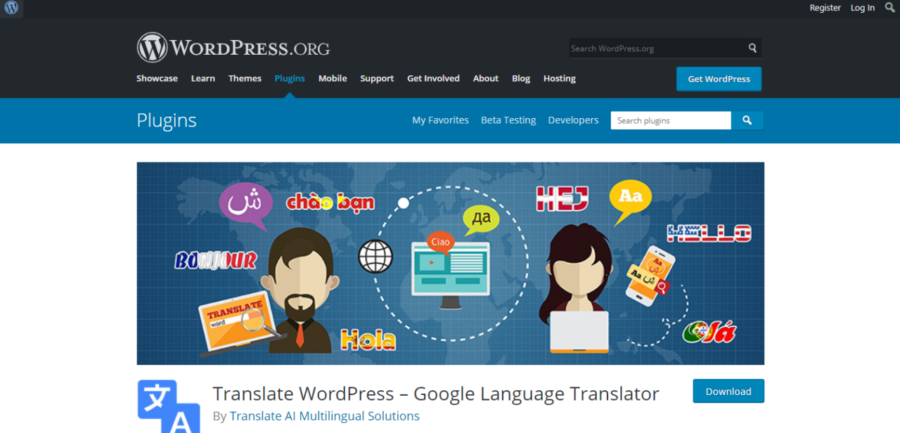 Learn More
Google Language Translator is the last but not least in the Translate Plugin WordPress today. It now is part of the GTranslate family. Hence, it includes all powerful features like suggest better translation popup, Google Analytic compatibility, WooCommerce Shop integration, RTL ready, and so on. Google Language Translator has a paid version if you wish to upgrade your site to the next level.
Final Thoughts
Summing up, choosing the best WordPress Translate Plugin in our list is so much easier than a dozen of plugins on the market. Hopefully, you will have an amazing multilingual website together with better traffic & SEO.
Read more: 10 Best WordPress Cache Plugins for 2021