OptinMonster Vulnerability Affects +1 Million Sites
WordPress security researchers reported that a flaw in the OptinMonster WordPress plugin was found to allow hackers to upload malicious scripts to attack site visitors and lead to full site takeovers. Failure to perform a basic security check exposes over a million sites to potential hacking events.
Lack of REST-API Endpoint Capability Checking
According to security researchers at popular WordPress security company Wordfence, the exploit was due to a failure in the WordPress REST-API implementation in the OptinMonster WordPress plugin which resulted in "insufficient capability checking."
When properly coded, REST-API is a secure method to extend WordPress functionality by allowing plugins and themes to interact with a WordPress site for managing and publishing content. It allows a plugin or theme to interact directly with the website database without compromising security… if properly coded.
Majority of REST-API Endpoints Compromised
REST-API endpoints are URLs that represent the posts and pages on a WordPress site that a plugin or theme can modify and manipulate.
But according to Wordfence, almost every single REST-API endpoint in OptinMonster was improperly coded, compromising website security.
Recommended Course of Action
Wordfence notified the publishers of OptinMonster and about ten days later released an updated version of the OptinMonster that plugged all of the security holes.
The most secure version of OptinMonster is version 2.6.5.
Source: OptinMonster Vulnerability Affects +1 Million Sites
Google introduces new 'Deals' features for the Shopping tab and Merchant Center
Google is introducing a new "Deals" feed in the Shopping tab along with additional Merchant Center features to support retailers running promotions, sales and price drops, the company announced Thursday. It is also expanding its integrations with Shopify and WooCommerce to enable merchants to showcase their deals across Google surfaces.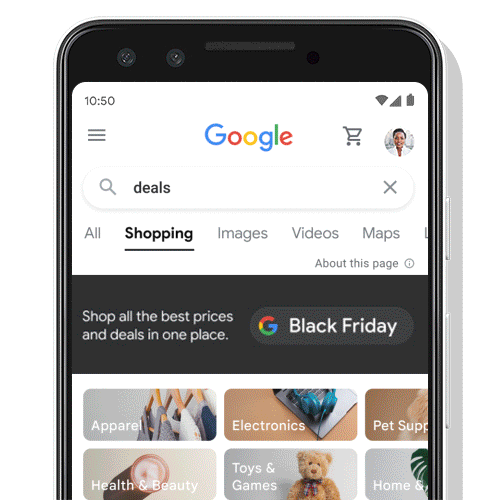 The new "Deals" feed. All products with a deals badge are now automatically eligible to show in a new feed within the Shopping tab of the search results. This new feed is shown when a user searches for generic deal-related or shopping event-related queries, like "deals" or "black friday," (shown above) or when "Deals" is selected from the drop-down menu in the Shopping tab (shown below).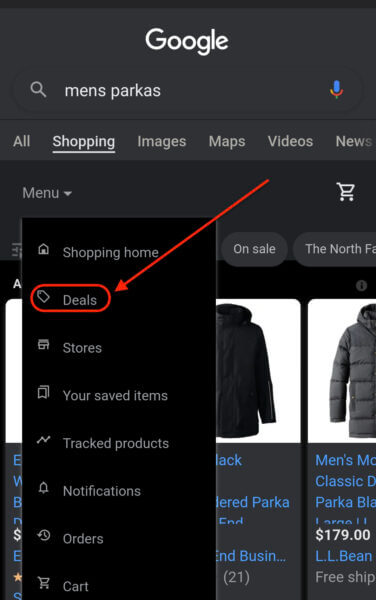 New ways to track your deals in Merchant Center. Merchants can now see which of their products is eligible for a deals badge from the products tab in Google Merchant Center. Eligibility is based on promotions, sales prices and/or price drops.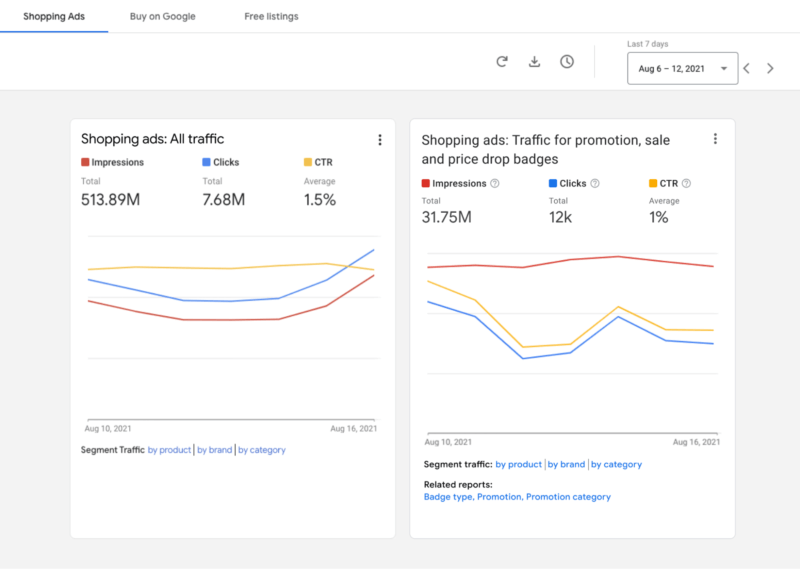 In addition, a new dashboard (shown above) breaks out data on impressions, clicks and click-through rate for Shopping ads for products with a deals badge. The data can be segmented by promotion type, product, brand and category.
Deeper integration with Shopify and WooCommerce. Building on Shopify and WooCommerce integrations announced earlier this year, retailers on these platforms are now able to show their existing deals across Google surfaces (Search, the Shopping tab, Images and Lens).
And, starting next month, retailers that use Shopify's Google channel app or WooCommerce's Google Listings and Ads extension will be able to show their promotions in Search and the Shopping tab. Retailers can sync both existing and new promotions to their products listed on Google directly from their store dashboard.
Source: Google introduces new 'Deals' features for the Shopping tab and Merchant Center
LinkedIn Adds New Features To Help Companies Attract Talent
LinkedIn is adding new features to company pages to improve internal communication, attract new talent, and gain insight on competitors.
We're in the most competitive hiring market on record.
What others are calling The Great Resignation, LinkedIn prefers to The Great Reshuffle because of the opportunities to make positive career changes.
As workers seek new and better jobs, businesses have to communicate to prospective employees that they're the right company to work for.
Moreover, businesses should be striving to create stronger connections with employees to keep them around long-term.
New Features For LinkedIn Pages
Updates To 'My Company' Tab
LinkedIn is updating the My Company tab with new ways to keep employees engaged and informed with what's going on internally.
The My Company tab is a space within LinkedIn pages that's exclusively for employees. Businesses can utilize this space to grow their employee community and advocacy efforts.
Openly Share Your Workplace Policies
Job seekers in today's market aren't choosing their next position based on salary and benefits alone. They also care about workplace policies.
See How Your Page Compares To Competitors
LinkedIn has added customizable competitor analytics to the Analytics tab, which allows you to add up to nine competitors to benchmark their LinkedIn Page performance.
With this feature you can track how many followers your competitors have and how the performance of their content compares with yours.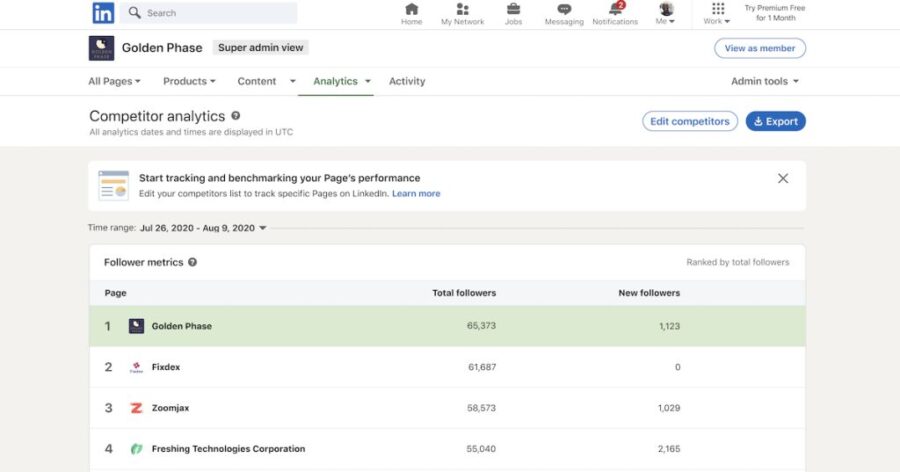 Source: LinkedIn Adds New Features To Help Companies Attract Talent
Jetpack Launches New Licensing Portal for Agencies
Jetpack is finally formalizing its approach to agency licensing with a new portal launched this week. The program is aimed at streamlining product setup and account billing records for agencies and professionals who use Jetpack on client projects.
The dashboard shows partners their total licenses and costs at a glance. It also allows agencies to monitor clients' backups, scans, and activity logs. This is an improvement over managing billing for licenses scattered across client sites. Once an agency is approved for the program, Jetpack representatives will migrate existing plans into the same account. An agency's clients can then all be rolled into one monthly bill.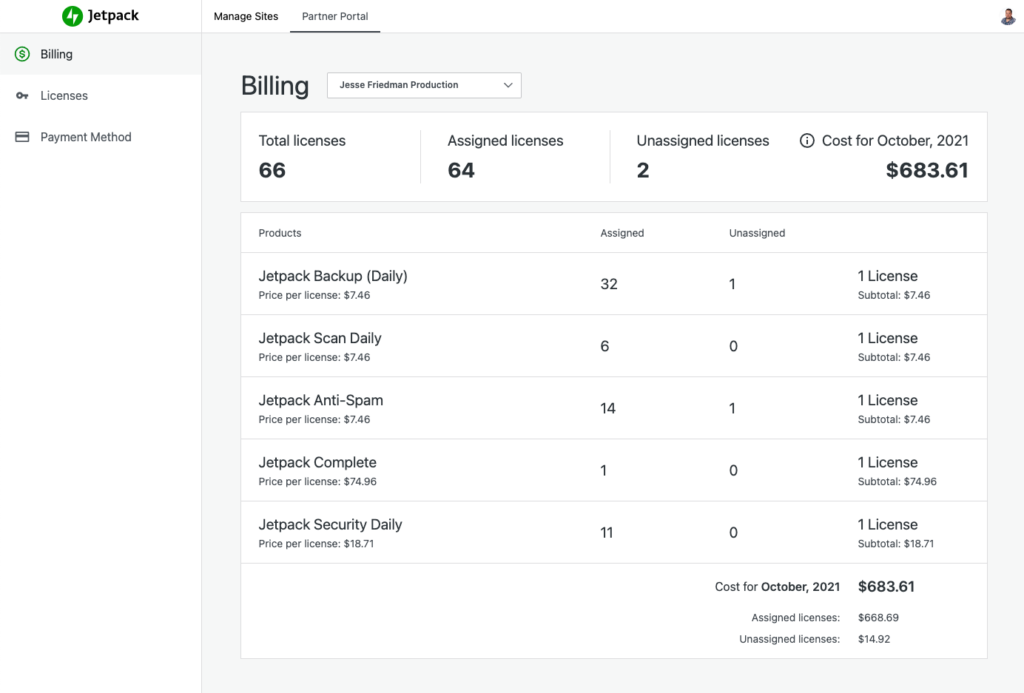 "The Jetpack licensing portal is the first solution we've launched to address licensing for agencies or professionals that manage multiple sites," said Jesse Friedman, who manages Strategic Marketing and Partnerships for Jetpack. "We've spent a lot of time focused on making it easier for customers to setup and get started with Jetpack. This licensing platform streamlines that setup flow specifically for agencies. They will be able to issue a license, and have Jetpack backing up or scanning a site in moments, by eliminating the checkout flows and reducing multiple monthly bills into one single invoice."
Source: Jetpack Launches New Licensing Portal for Agencies
It's Time To Shine a Spotlight on the WordPress Community + Where You Can Get Assistance in a Pinch
One of the best things about WordPress is its lively community. There are many websites, communities, and resources run by WordPress developers and enthusiasts that you can turn to when you need answers to any of your WordPress questions.
In this post, we'll highlight the best resources to get help with WordPress and shine a spotlight on the amazing WordPress community.
Where To Get WordPress Help
Official Support Forums
One of the first places to look for help is the official WordPress support forums. They have a variety of resources to point you in the right direction. In fact, in many cases, you might even find the answer to your question by simply searching for the appropriate topic.
Bluehost Blog
Their blog is another excellent resource for learning more about WordPress. You'll find plenty of tutorials, guides and articles to help you learn more about different WordPress features.
WordPress Codex
WordPress Codex describes itself as the online manual for WordPress. It has detailed instructions for installing and working with WordPress.
Stack Exchange
If you can't find the answer to your question using one of the official resources, WordPress Stack Exchange is your next best bet.
WordPress Learn Page
This is another official WordPress resource with plenty of workshops and lesson plans to help you master WordPress.
YouTube Channels
If you're more of a visual learner, numerous YouTube channels focus on delivering content around WordPress. A few notable mentions include:
Create WP Site — you'll find plenty of tutorials covering all kinds of topics related to building a website with WordPress.
WPLearningLab — On this channel, you'll find tutorials that focus on WordPress fundamentals and take you through to advanced skills.
Darrel Wilson — another channel with plenty of tutorials about WordPress, plugin and theme reviews and WordPress news updates.
WPTuts — This channel has WordPress tutorials as well as some specific WooCommerce tutorials if you want to learn more about customizing your online store.
Source: It's Time To Shine a Spotlight on the WordPress Community + Where You Can Get Assistance in a Pinch
More News:
YouTube Shorts: An Introductory Guide
WordPress Releases Gutenberg 11.6 – Top 4 Achievements
Google is Developing 'Big Moments' Feature For Breaking News