TikTok's In-Feed Ads get more visual with Interactive Add-Ons
A handful of new Interactive Add-Ons have arrived within TikTok's "For Your Page." These new additions are available globally for In-Feed Ads and will be unique creative additions that will allow for more customized, engaging ads.
These new features come in two different flavors, Standard or Premium. According to TikTok, standard Add-Ons are made to "reach lower-funnel marketing goals, like driving clicks and conversions" while Premium Ads move up the funnel to aid in "brand awareness and community building."
The new Interactive Add-Ons are compatible with App installs, Conversion, and Reach & Frequency (Traffic, Video Views) campaigns.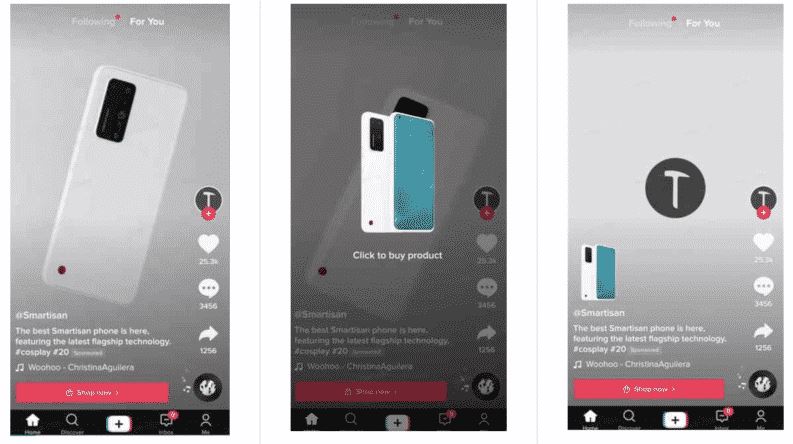 Premium Add-Ons. The new elements to target the lower funnel include:
Pop-out Showcase. This image element will lay over the ad with the ability to drive product clicks that can be accompanied by text.
Gesture. With a tap or swipe, a user can interact to obtain reward credits in the 'Gesture reward card'.
Super Like 2.0. This is coming soon but will allow for an even more visuals after a user likes an ad, including a pop up card after the like.
Standard Add-Ons. The new elements to target the mid/upper funnel include: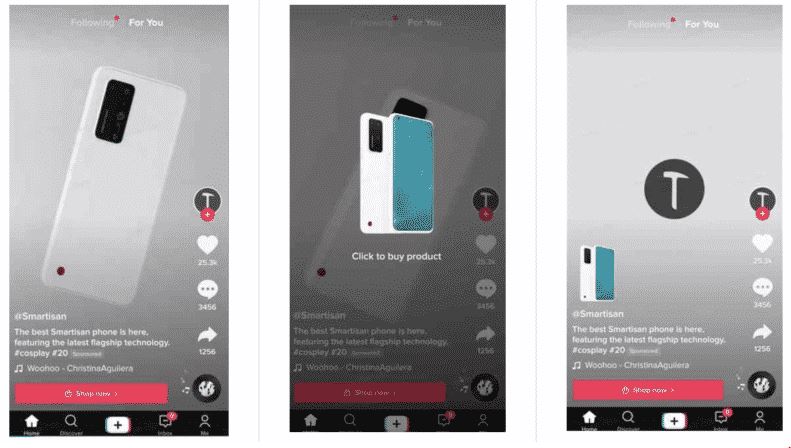 Source: TikTok's In-Feed Ads get more visual with Interactive Add-Ons
Instagram Changes Ranking Algorithm To Favor Original Content
Instagram's home feed ranking algorithm is receiving an update that's designed to boost the visibility of original content.
Head of Instagram, Adam Mosseri, announced the ranking change is one component of a larger effort to reward originality and give credit where it's due.
He goes on to discuss three updates intended to help credit creators for their work:
Home feed ranking change
Product tags
Enhanced people tags
Instagram Ranking Update
Without revealing too many details, Mosseri says Instagram's ranking algorithm will now assign more value to original content.
That means content someone creates and publishes themselves is likely to be more visible on Instagram than republished content.
Product Tags
The ability to tag products in Instagram posts was previously available to select users. Now, this feature is available to everyone.
You can tag a product in an Instagram post by following these steps:
Start to create a post.
Tap 'Tag people'.
Search and tag the brand first.
Two options should show up at the bottom labeled 'People' & 'Products'.
Tap 'Products'.
Tap the photo to start tagging products.
Hit 'Share' to publish the post.
Enhanced People Tags
Instagram's existing people tagging feature is getting a small enhancement.
Now, individual users can add categories to their profile that show up when they're tagged in a photo or video.
If someone publishes a video of you speaking at a conference and tags you, this new category feature will allow people to see who you are and what you do.
Source: Instagram Changes Ranking Algorithm To Favor Original Content
Google SpamBrain: AI-based spam prevention system launched in 2018
Meet SpamBrain. That is the name of Google's AI-based spam prevention system that the search company launched in 2018, yes over a few years ago.
SpamBrain is credited by Google for catching about six times more spam sites in 2021 than it did in 2020, reducing hacked spam by 70% and reducing gibberish spam on hosted platforms by 75%.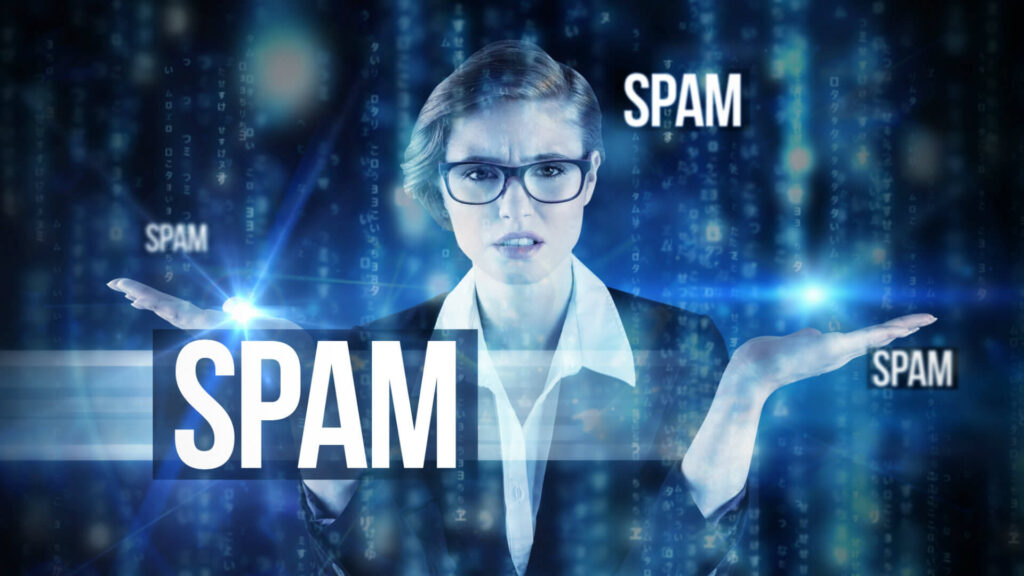 SpamBrain. It is the first we are hearing the name SpamBrain. Google referenced it in the 2018 Google spam report, specifically the spam trends section where Google talks about its "machine learning systems" to improve search spam detection.
Google confirmed that this is the first time they are talking about this name, SpamBrain, publicly. "Since we first started using it, we've been updating SpamBrain constantly, and it's grown much more effective at detecting and nullifying both existing and new spam types," Google told us.
Google also said that SpamBrain "was built to be a robust and evolving platform to address all types of abuse."
Spam improvements. Google said that in 2021 it made additional strides in detecting and thwarting search spam attempts. These highlights include:
~6 times higher identification of spam sites
70% reduction in hacked spam sites
75% reduction in gibberish spam on hosted platforms
99% "spam free" searches
More on spam. Google talked a bit about its spam-fighting efforts, saying that links are still important for ranking and that its link spam algorithm in 2021 helped "broadly identify unnatural links and prevent them from affecting search quality." Google also released a two-part spam update, part one and part two in June 2021 and then a November 2021 spam update.
Source: Google SpamBrain: AI-based spam prevention system launched in 2018
Gutenberg 13.0 Previews WordPress 6.0 Improvements
WordPress released Gutenberg version 13.0 which includes numerous improvements that bring it several big steps closer to becoming the easy to use website builder it is intended to be.
This update to Gutenberg is an important milestone because the features in this plugin will be included within the core of WordPress 6.0, which is currently set for release on May 24, 2022 and that's a very big deal in the world of publishing.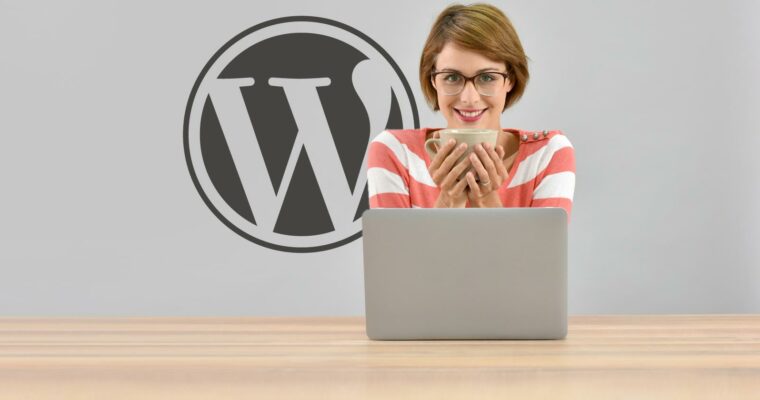 WordPress Gutenberg Editor
Gutenberg is a visual style website builder designed to make building websites easier for publishers.
It's called visual to describe the process of building a site using a drag and drop or point and click interface on a virtual canvas that can be visualized how it's going to appear as you design it.
Instead of manipulating code, with this style of website building the publisher is manipulating web page elements like the header or footer. Those web page elements are called Blocks.
Gutenberg Blocks
Gutenberg's design interface is described using the word, blocks. For design purposes, a web page is divided into sections called blocks.
Select Text Across Blocks
An innovative improvement introduced into Gutenberg 13.0 (and into WordPress 6.0) is the ability to select text across multiple blocks. This is important because blocks exist as a way to design what the web page looks like and text is something that's dropped inside those blocks.
Page Level Patterns
This is a breakthrough feature that moves Gutenberg several strides closer to being an easy to use website builder.
The patterns feature was introduced in 2020 in Gutenberg version 7.8 as an API for developers to use to create layout patterns for sections of a page.
What the latest version of the patterns feature does is enable page templates that can be selected as a starting point for creating a web page layout.
Stack or Row Layout Manipulation
Continuing with the goal of making WordPress easy to design, the new version of Gutenberg allows organizing selected blocks as a layout of blocks or rows.
And from there a publisher can use the contextual menu to further manipulate the design.
Block Border Control
This is a refinement of an already existing feature with a new BorderControl component.
A contextual menu provides a way to control the borders around the block to change the style, color and width.
Source: Gutenberg 13.0 Previews WordPress 6.0 Improvements
Ahrefs has raised $1.5 million for Ukraine
Ahrefs, which provides what it calls an "all-in-one SEO toolset," has stepped up in a big way to help support Ukraine. After Russia invaded Ukraine, Ahrefs began a fundraising effort on Feb. 24. As of today, the company has raised more than $1.5 million.
How they raised it. Ahrefs added a banner linking to a list of approved charities on its product dashboard. Here's what it looked like: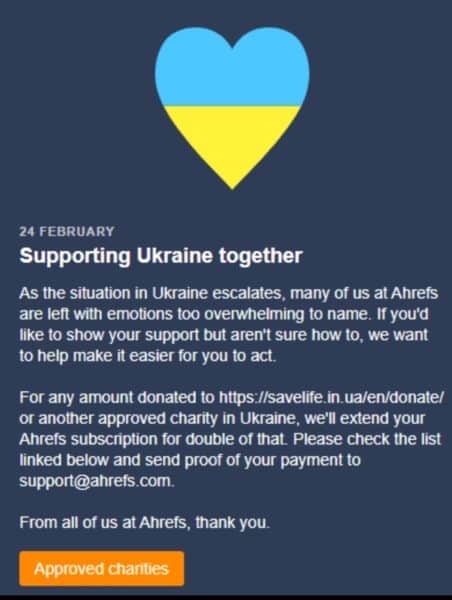 Ahrefs told its customers they would extend a subscription for double the amount of whatever was donated. So if someone paid the equivalent of a one-month subscription, that person would get extended to two months.
Some people who donated didn't want anything in return from Ahrefs – they just wanted to help. So that $1.5 million number may be low because the numbers from Ahrefs are based on people who sent in receipts for account credit.
On the first day, Ahrefs said they got hundreds of donations from worldwide (in various currencies, from Bitcoin to U.S. dollars), totaling $94,342. On Feb. 28, $125,068 was donated, the biggest single-day total. That was when we learned of Russia's attacks on Kharkiv and Kyiv.
Why Ahrefs wanted to help. Dmytro Gerasymenko is Ahrefs founder and CEO. He is also Ukrainian. Ahrefs employs 29 Ukrainian people.
Where the money is going. The $1.5 million is all going to Ukrainian charities. Most of these provide humanitarian help for civilians – delivering water, food and medicine; evacuating and transporting older citizens; and helping find temporary homes for relocated citizens.
What else Ahrefs is doing to help Ukraine. Starting March 3, Ahrefs blocked Russia and Belarus from accessing its tool. Ahrefs also extended Ukrainian business accounts by six months.
What Ahrefs is doing to help its employees. Ahrefs is providing free psychotherapeutic help to all of its team members. Samokish said the Russian invasion brought a lot of grief to the entire team.
"Our Ukrainian teammates have been through a lot, from hiding their small children in bomb shelters from Russian attacks to evacuating parents who left their homes and whole lives behind them," Samokish said. "Some of us lost family members and friends in this war. The horrible news of war crimes toward civilians in Bucha and Irpin was the last straw for many people. Even for those coping well enough to continue working and taking care of families."
Source: Ahrefs has raised $1.5 million for Ukraine
More News:
WhatsApp is bringing polls to group chats: Here's how it will work
Pinterest for WooCommerce extension turns products into shoppable pins