Rank Math Integrates IndexNow for WordPress Sites
Popular WordPress plugin Rank Math now supports IndexNow for faster website indexing and ranking.
Website owners and SEO experts spend time and money in creating content, product descriptions, and other changes to websites only to wait weeks or longer for changes to be seen on Bing, Google, Yandex, and other search engines.
Integration of IndexNow into Rank Math for WordPress allows users to quickly inform search engines of changes such as new content, deleted content, and redirects. This leads to faster indexing, traffic, and conversions.
Now, over a million WordPress sites using Rank Math can utilize IndexNow to immediately ping search engines about changes.
Importance of Fast Indexing
There are ways to notify the search engines, but they are time consuming, especially for a website that makes thousands of changes.
WordPress users now have an easy and automatic way to ping search engines of any changes to their websites thanks to the Rank Math integration.
Rank Math and IndexNow
Rank Math is an SEO plugin for WordPress designed to easily configure and implement various SEO features for a website. It has a user interface that features previews of rich snippets and how posts look on social media.
It uses artificial intelligence to generate SEO suggestions many website owners overlook and provides Google Analytics integration.
IndexNow allows website owners to manually notify search engines of changes using code, but integration with Rank Math automates the process.
When websites utilize Rank Math, the plugin generates the host the API key for the IndexNow protocol.
When changes are made, everything is submitted to search engines in the background. There is nothing the user needs to do. Users also have control of the types of URLs submitted.
It takes the wait time for search engines to reindex pages from weeks or months to days.
Source: Rank Math Integrates IndexNow for WordPress Sites
Google Search local pack's map is now interactive
Google Search has updated the map in the local pack within the web search results from a static map to an interactive map. The new interactive map allows you to zoom, pan, hover and click to see more details on the map. Previously, clicking on the map just took you into the Google Maps interface.
What is new. When you do a search in Google Search and the local pack comes up showing you nearby businesses that match your query, you can now hover your mouse over the map and see the businesses, their reviews, zoom in and out of the map, drag the map around to see more places or click on a listing directly in the map interface.
Here is a GIF I made of this in action: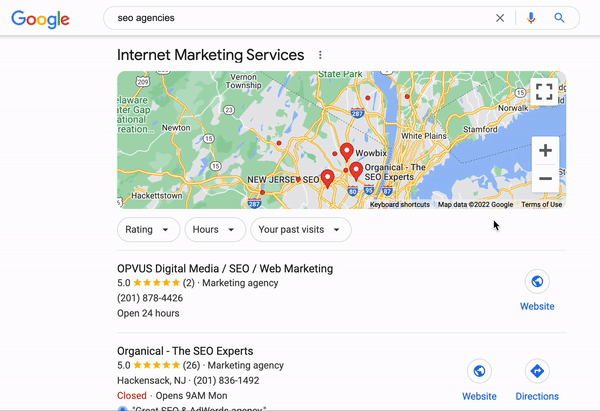 Note, this may also appear on the right hand side of the three local listings.
How does this impact local search? Allie Margeson, who first spotted this change, said "businesses that aren't ranking in the top 3 positions may still have a pin on the map, and now a searcher can hover over that pin and see the business's review stats at a glance." This is why, she said, reviews may now be even more important than before – because those customers can quickly see those reviews and decide to click or not click on your listing.
Source: Google Search local pack's map is now interactive
YouTube Adding More Analytics Data About Views & Revenue
YouTube is working on ways to give creators more data about video performance, including detailed reports about the sources of views and revenue.
In addition, YouTube plans to actively assist creators with generating new video ideas by adding reports on trending.
These features are previewed in a new video on YouTube's Creator Insider channel, which offers a "sneak peak" at what the reports might look like when they're available.
Some of the reports are actively being worked on, while others are in the idea stage.
Here's more about the analytics data YouTube plans to roll out later this year.
Video Views Broken Down By Type
YouTube creators want more information about where their video views are coming from.
If you publish regular videos, post Shorts, and host livestreams, all the views are counted as a single metric in analytics reports.
YouTube is working on new reports showing an overview of different video formats and views generated by each type.
You'll be able to see data on how many hours of video you uploaded, how many hours you streamed, how many views you received for each format, and more.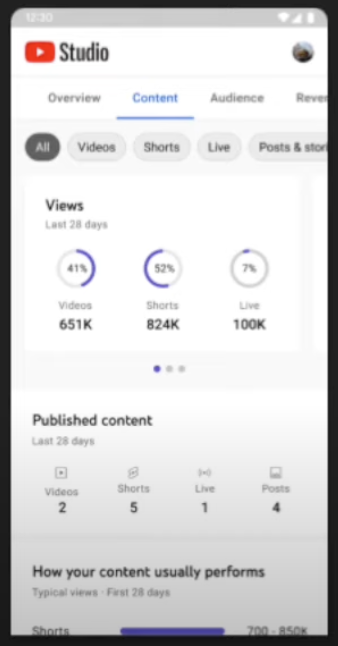 Revenue Broken Down By Source
For creators eligible to monetize their videos, YouTube plans to add more data about the individual sources of revenue.
Revenue data will be broken down by type of video, and how the revenue was generated.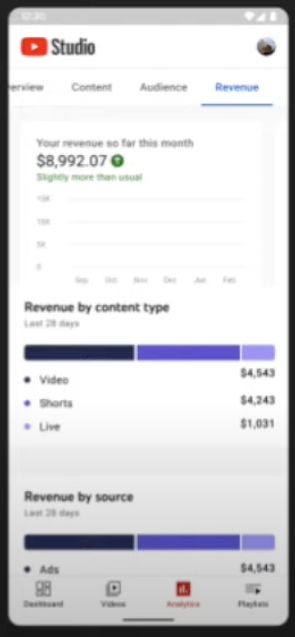 You'll be able to see directly how much money you made from regular videos, versus shorts, versus livestreams.
In addition, YouTube is planning to add more data about the methods of monetization it offers.
The new revenue report will offer a more detailed look at memberships, tagged products, SuperChats, and all the different ways to make money on YouTube.
Helping Creators Find New Video Ideas
Another type of report YouTube is working on will provide data intended to help generate new video ideas.
YouTube recently launched an experimental tool showing the popularity of certain search terms and which video topics have a lack of content.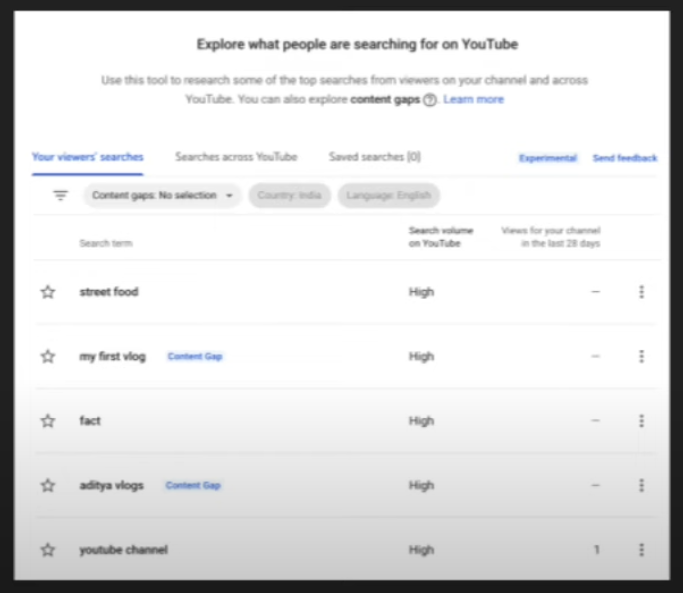 That tool will be expanded to show which topics are trending on YouTube and which videos are starting to grow in popularity with your audience.
Source: YouTube Adding More Analytics Data About Views & Revenue
LinkedIn launches podcast network aimed at professional audiences
LinkedIn is piloting its own podcast offering, known as the LinkedIn Podcast Network. The pilot program will include shows about topics such as technology, recruiting and mental health, from external experts as well as its own in-house news team.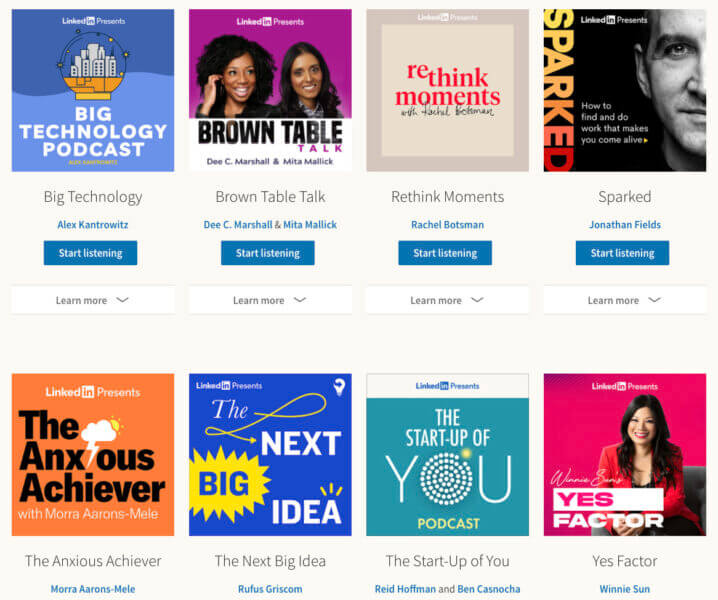 There is a growing number of podcasts aimed at professional audiences — this is especially true in the search marketing industry. Hosting your podcast on LinkedIn may help your brand — particularly if it's a B2B brand — get closer to professional audiences than they might on Apple Podcasts or Spotify, for example.
While the LinkedIn Podcast Network isn't open for all brands to join, there is a lead form for those that are interested in learning how to join it, so that may be a possibility down the road.
Source: LinkedIn launches podcast network aimed at professional audiences
5 Creative Ways To Use The Facebook Ad Library To Your Advantage
The Facebook Ad Library is still stirring up the digital marketing ecosystem.
This tool gives marketers free access to "spy" on the ad imagery, headlines, copy, formatting, how long it has been live, A/B testing, and more.
It also gives you a line of sight into the landing pages of any ad that is currently live on Facebook, Messenger, and Instagram.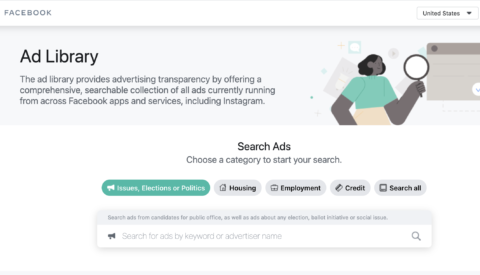 Considering that Facebook has captured one of the largest advertising audiences on the world wide web (an estimated 2.91 billion people) for an astonishingly competitive cost per click of $0.43, it is no wonder that marketers are spending their dollars in this digital channel.
Why Facebook Gave Us The Facebook Ad Library
Initially, Facebook created the ad library to ramp up transparency on political ads in a bid to reduce claims of election interference.
Other Ways To Unlock The Benefits Of The Facebook Ad Library
Expose Yourself To Other Industries
Viewing competitor ads is a great benefit, and there are so many other industries and brands worth looking at that have amazing ideas.
Why not search for a brand that you love or that is a complementary industry to yours?
Look at their competitor's ads and see what they are doing well, what they have in common, what strategies they use, and what you'd like to emulate.
Spot The Difference With A/B Testing
A/B testing – like many other aspects of digital marketing like email marketing, landing pages, etc. – is so important for Facebook campaign success.
Much like those quizzes you did as a child where you had to spot the difference, your task will be to identify the elements being tested.
See Trends And Longevity
If you spend a bit of time browsing the Facebook Ad Library, you'll eventually pick up on trends in design, layout, offers, and more.
Are other brands using video ads, carousel ads, image ads, slideshow ads, etc.?
This could be a great guide on where the target audience network is favorably leaning towards.
You'll also be able to see what ads have been live for a long time – which means they are working!
Get The Jump On Competitors With Timing Cues
Take a cue from successful advertisers in your space when it comes to timing and adapt it for your own campaigns.
This is particularly useful when getting the jump on big-budget events in your marketing calendar like Back to School, Valentine's Day, or Black Friday.
Make use of historical data on the Facebook Ad Library to exactly time your next campaign.
Funnel Mapping
Ads are not an end to themselves – they are typically built with a customer journey or funnel in mind.
The ad drives traffic to a destination; usually, a landing page that has been finely crafted to extract an action from the visitor.
Not only does the Facebook Ad Library allow you to see what ads are running, but you are also able to follow your competitors' funnel by clicking through.
Do it – click and go down the rabbit hole.
Source: 5 Creative Ways To Use The Facebook Ad Library To Your Advantage
More News:
Lookback: Google launched the Panda algorithm update 11 years ago
Monetize Facebook Reels With Overlay Ads
Google's Pirate Update can cause 89% drop in search traffic for offending site