Apple is expanding ads on iPhone and iPad
Apple will be expanding ads to new areas of the iPhone and iPad, in an effort to drive revenue.
App Tracking Transparency (ATT). Last year Apple launched ATT which allowed consumers to decide whether they would allow third-party apps to track their activity across apps. The feature was said to cause billions of dollars in losses for Meta, Snap, and other, smaller developers. In response, Meta was rumored to be developing Basic Ads that only tracked the most simple metrics such as engagement or video views.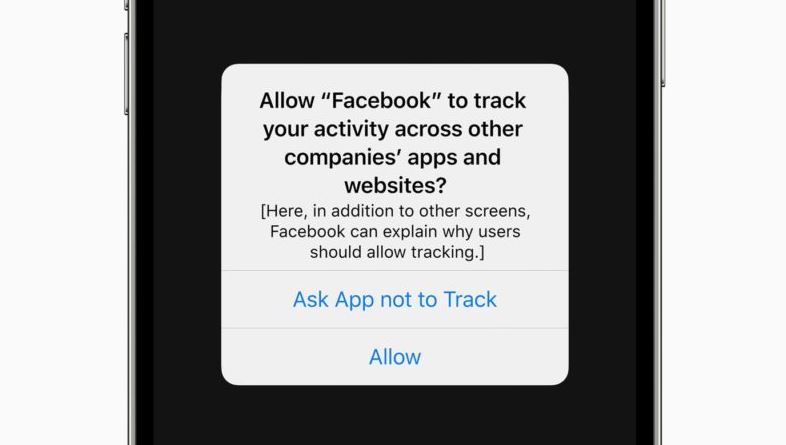 The current state of Apple ads. Apple's current advertising efforts include display ads inside the News and Stocks apps, in the App Store (advertising apps) across all Apple devices, and inside TV+. A portion of ads in the News app go to publishers, and will appear even if you subscribe for $10 a month. You can choose to turn off the ad personalization feature in your device, but the system will still use information from your device, carrier, and types of articles you're reading to show ads. Apple says they can do this because the system "does not follow you across apps and websites owned by other companies." ATT is designed to prevent tracking across outside apps and websites. Apple says that since this isn't happening, they don't need to show a pop-up.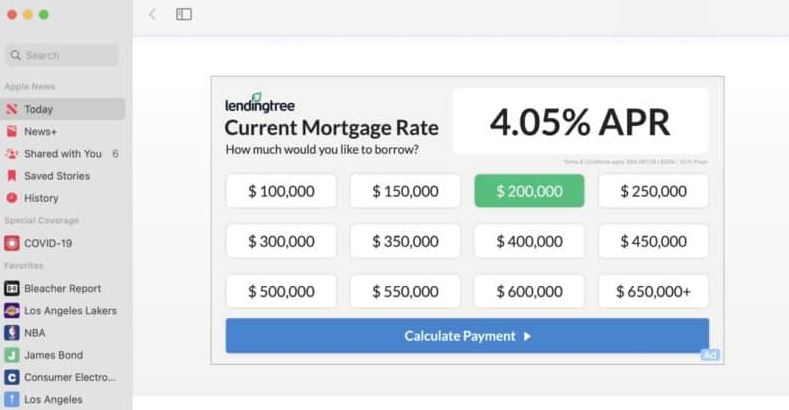 Where Apple ads are heading. According to a report from Bloomberg, display ads are shown in the search tab. But soon Apple will expand the ads to the main Today tab as well as in third-party app download pages. For search ads in the app store, developers can pay to have their apps featured in the results when users search terms related to the app.
Source: Apple is expanding ads on iPhone and iPad
Bad news – your Microsoft Teams calls are about to get a lot more interactive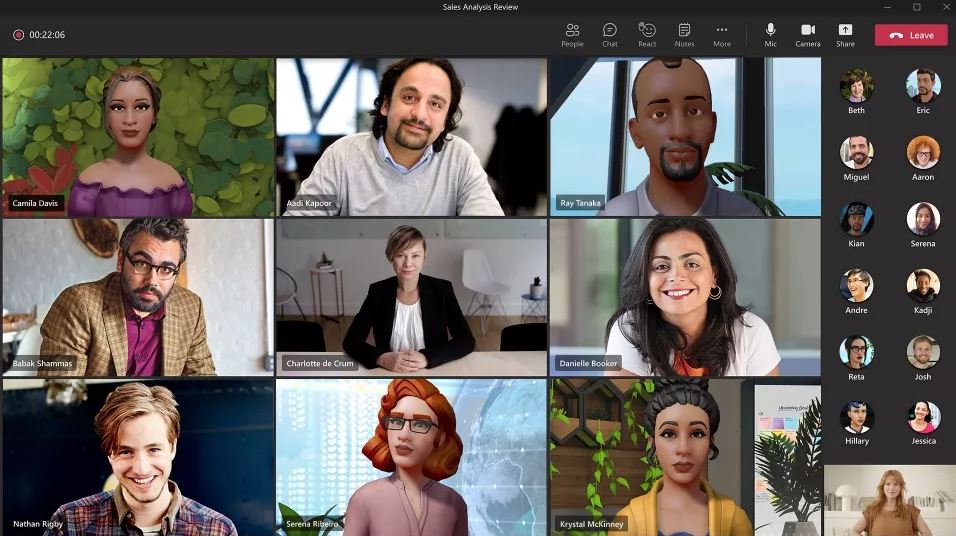 A new update to Microsoft Teams will mean that you'll soon get to see a lot more of your colleagues, whether you like it or not.
The video conferencing platform is working on an "Interactive Large Gallery" upgrade that will mean your calls will now include feeds from even more people than ever before.
In its post on the official Microsoft 365 roadmap, the update description notes that user will soon be able to view up to 49 video participants at once – so you'd better get practising that "engaged smile" look. 
Microsoft Teams calls get bigger
As well as being able to see more participants, the update will also mean that users can interact with others via actions like pin and spotlight, and observe their meeting activity like raise hand and reactions.
The update is still listed as being in development for now, but has a scheduled general availability date of September 2022, meaning users won't have too long to wait.
When available, the update will be available for Microsoft Teams users across desktop and web.
Source: Bad news – your Microsoft Teams calls are about to get a lot more interactive
Google reenables the validate fix feature in Search Console and adds new classifications
Google has reenabled the validate fix feature in Google Search Console while launching the new "more simplified" classifications for the coverage reports. This was expected, earlier this month Google temporarily disabled the validate fix feature in order to launch these new classification labels.
Validate fix is back. Now when you go into Google Search Console and click on some of the coverage reports, the "validate fix" button should be back. Google disabled it while upgrading the classification system. There was a notice that read "Limited functionality: We are making some minor updates in the next few days. During this period you will not be able to issue new validation requests." That notice has been removed and you now have the validate fix feature back.
Here is a screenshot I took: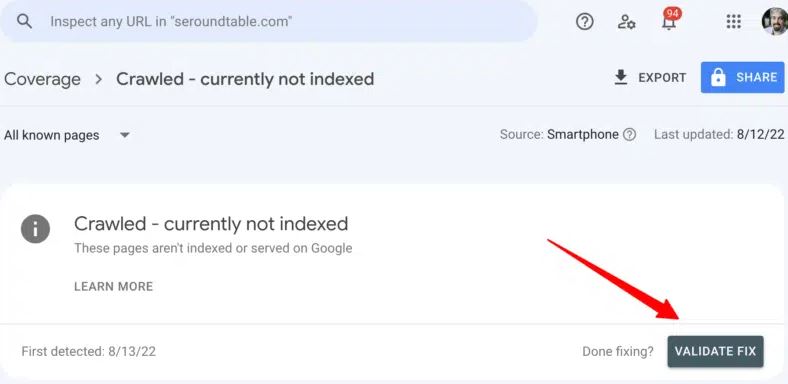 New classifications. As mentioned above, Google launched more simplified classifications for these reports. Instead of the coverage report showing errors, valid with warnings and valid; now the report just shows invalid or valid information.
New Tour. When you login and go to the coverage overview section, you can now click on "full report" and Google will ask you if you want to see a tour of the changes, here is what the tour looks like: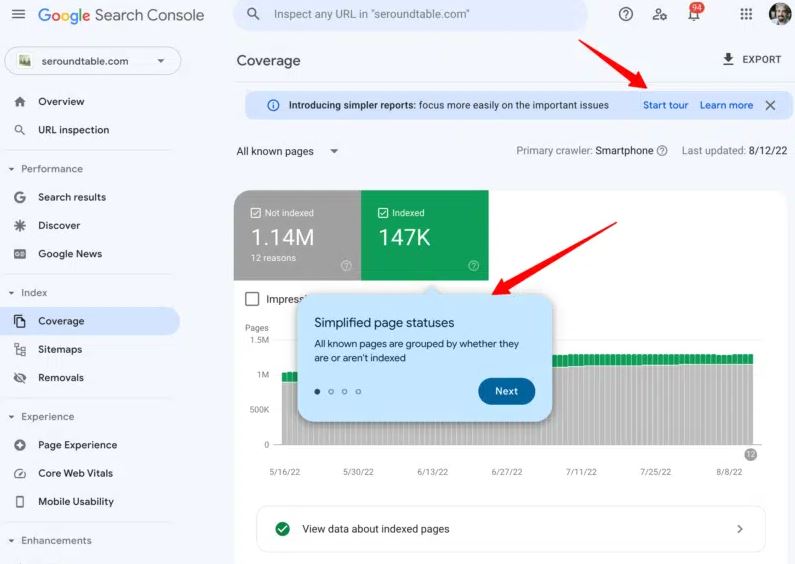 Source: Google reenables the validate fix feature in Search Console and adds new classifications
Newsletter Glue Closes Free Plugin on WordPress.org
The creators of Newsletter Glue have removed their free plugin from WordPress.org in favor of focusing on the commercial version. The plugin streamlines the publishing workflow for newsletter authors who also publish to their WordPress sites. It includes blocks and patterns for email templates and subscriber forms. Five months ago the plugin's authors warned users that they would be closing the free version and would no longer be updating it as of May 1, but the process of removing it was delayed until today.
Co-founder Lesley Sim announced the plugin's closure on Twitter and shared a few valuable lessons for WordPress product businesses looking to use WordPress.org as a their primary distribution channel.
"We made a bunch of noob mistakes in the way we set up free vs paid," Sim said. "Which made the customer upgrade flow kind of weird. I think it could've worked. We just didn't set it up right, and it just doesn't make sense to fix it."
At the time of closure, the free Newsletter Glue plugin had approximately 200 active installations, which seems low for a growing commercial plugin. This is because the free version got uninstalled when a user upgraded to pro, so it was never a good representation of how many people were using the product. Sim said Newsletter Glue wasn't growing the free user base and "it was just sitting there like a dead tree stump." The company had not updated it in over a year.
"We stupidly set it such that when a user upgrades, they install the pro version and the free version automatically uninstalls," Sim said. "So we lost free active users as a 'reward' for new conversions."
This architectural choice meant that WordPress.org wasn't bringing the product a significant flow of traffic and prospective upgrades.
Despite not finding WordPress.org a good source of traffic for the product, Sim said the decision to close was not easy.
"Here are some things we lost out on:" Sim said. "1) Biggest distribution channel in WP. 2) Easy way for reviewers to check out the plugin for free without having to contact me. 3) Source of credibility (reviews)."
Current users can still use the free plugin but it will not be getting updates anymore. In lieu of a free plugin, Newsletter Glue is offering a test drive option where users can try it on a demo site before purchasing. The company has taken a unique path to becoming a commercial plugin that is fully independently distributed.
Source: Newsletter Glue Closes Free Plugin on WordPress.org
More News:
IndexNow attributed for 7% of all new URLs clicked on in Bing in the past month
Google's Algorithms Can Understand When Sources Agree On Same Fact