Google Expands Verification Requirement For Finance Ads
Google is expanding its verification program for finance ads, which will require advertisers in more countries to prove they're authorized to promote financial services.
Verification adds an extra layer of protection against financial fraud, helping to ensure people aren't scammed when they click on search ads.
Google first launched this program in the UK in September 2021, which has reportedly lead to a noticeable decline in ads promoting fraudulent services.
Following the successful UK launch, Google is expanding the verification program to additional countries starting with Australia, Singapore, and Taiwan.
What Does This Mean For Advertisers?
Advertisers in the above-mentioned markets will have to go through two extra steps before running ads that promote financial services.
They will have to:
Demonstrate they are authorized by their respective financial services regulator
Complete Google's advertiser verification program
This policy goes into effect on August 30, and advertisers can begin applying for verification at the end of June.
Getting Verified By Google
Google's advertiser verification program consists of multiple requirements that each have their own set of steps to complete.
Advertisers are required to:
Answer a series of questions about their business
Verify their identity
Verify details about their business operations
The process is extensive enough that Google doesn't expect advertisers to complete it in one sitting. After initiating the verification process you'll have 30 days to complete it.
Source: Google Expands Verification Requirement For Finance Ads
LinkedIn announces Business Manager
LinkedIn today announced the creation of Business Manager. The new Business Manager is a centralized platform designed to make it easier for large companies and agencies to manage people, ad accounts and business pages.
A centralized platform. Business Manager will aim to simplify how marketers keep track of their accounts by offering their Campaign Manager and Pages options easily visible from a central location. Here's what else LinkedIn Business Manager offers:
View and manage teams, ad accounts, pages, and business partners from the central dashboard.
Easier management and control of admin tasks such as permissions and billing.
The ability to share and update Matched Audiences across ad accounts.
What LinkedIn is saying. "We built Business Manager with you, our B2B customers, in mind to help you maximize efficiencies, so you can create and execute engaging campaigns that cut through a crowded market with no added cost. Early test customers, like GroupM Canada, Merkle B2B, VMware and Xero, saw immediate value from the platform, and we're excited to make LinkedIn Business Manager publicly available to marketers across the globe in the coming weeks." That's according to Gyanda Sachdeva, LinkedIn's VP of product management.
Source: LinkedIn announces Business Manager
Yoast On Why It's Adopting IndexNow Protocol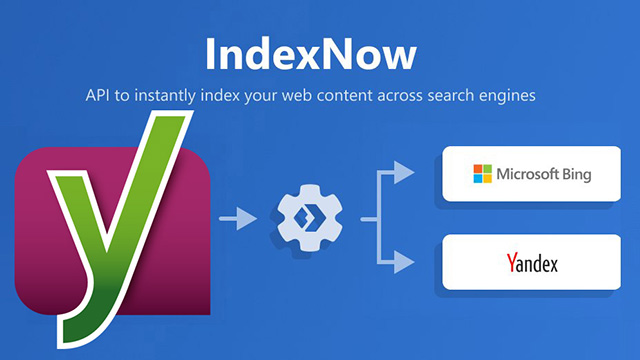 After originally dismissing Microsoft's open-source IndexNow search engine indexing protocol, Yoast has reversed course and indicated they will now support it.
In a conversation with Search Engine Journal, founder Joost de Valk explains why.
Adoption of IndexNow by Yoast is a watershed moment for publishers and the search marketing community. It may signal even wider future adoption of the new protocol which may substantially alter SEO and content marketing in a positive way.
IndexNow
IndexNow is an indexing protocol that helps websites receive near-instant indexing by search engines.
It is an open-source initiative designed to help websites alert search engines to new or updated content.
Search engines benefit by no longer wasting data center resources by redundantly crawling web pages that are unchanged and already indexed.
The IndexNow indexing protocol can even be used to notify search engines of pages that are newly removed and returning a 404 server response code.
IndexNow reduces the amount of energy used by data centers, which in turn contributes to helping minimize the causes of global warming.
Informal Announcement By Yoast
When IndexNow was initially announced in October 2021, De Valk was the most prominent skeptic of the new indexing protocol, tweeting that he didn't see any value in it.
So after all of that opposition and naysaying it was surprising when De Valk informally announced that Yoast will be integrating IndexNow into the premium version of the Yoast SEO plugin.
Yoast Integrating IndexNow
De Valk didn't mention if the other search engines he heard were adopting IndexNow included Google.
Regardless, it's a big deal that Yoast is adopting the new indexing protocol because it's the biggest WordPress SEO plugin in the world, with over five million active installations.
This helps cement IndexNow as an important indexing protocol and encourage more search engines to join the movement toward instant indexing, which will in turn help SEOs and publishers.
Source: Yoast On Why It's Adopting IndexNow Protocol
WordPress pages or posts: Which should you use?
Since its launch in May 2003, WordPress has become the most-used website platform globally. The WordPress platform powers almost 37% of the top 1 million trafficked websites, according to BuiltWith data.
Given the low cost (you really only pay for hosting), ease of installation and use and flexibility, WordPress is ready for websites of all sizes, from personal blogs to enterprise businesses.
Count me as a fan. I've advocated for its use, going back to nearly the beginning of its existence in 2003.
I've worked on many WordPress websites, and one of the most common questions I still get is about pages versus posts – which one should be used?
Before answering that question, let's review how WordPress pages and posts differ.
WordPress pages
Pages in WordPress are intended to hold content that may be considered more "evergreen," such as the home page, product/service pages, or about us-type content.
WordPress posts
Posts in WordPress link the platform back to its roots as a blogging platform. Posts were intended to hold news-related, time-sensitive, and other content that might be associated with websites that are strictly blogs.
One crucial thing to remember: Both pages and posts are content for your users and the search engines.
The website owner sets their appearance and use. Pages and posts can be used interchangeably for any purpose – though it's a terrible idea to mix similar content between the two formats.
Evolving recommendations
My recommendations now are slightly different if a site is being built from scratch or undergoing a significant reorganization.
In that case, I have two recommendations based on the type of content that will comprise the majority of the website:
For sites with a majority of evergreen-type content, I recommend the site be all pages.
This allows pages to be built and nested together in parent/child relationships to construct a logical folder structure. Even if there is timely blog-type content, pages will work quite well unless there is an absolute need for tag or author connections.
For sites with a majority of timely, blog-type content, I recommend the site be all posts.
This allows for content to be organized along category lines. Posts also allow for tag and author archives to be used. This type of setup also allows for easy RSS feeds. The home page can be set up to show the latest posts to help keep it fresh with the newest information.
Should I uproot everything and change the structure of my site?
As I mention above, I recommend building this type of structure on a new site or if a site is undergoing significant work like a re-platforming onto a new theme or migration to a new design.
If your website is working well and you don't notice any significant problems, it's OK to take an "If it ain't broke, don't fix it" approach.
Source: WordPress pages or posts: Which should you use?
Twitter announces Product Drops for merchants
Merchants have a new Twitter feature, called Product Drops, to help engage their followers and stay on top of new product releases.
What are Product Drops. Product Drops from Twitter is a new feature that allows brands to notify their followers when they launch a new product. The feature is the first of its kind for a social media platform.
How does it work. When a merchant tweets about an upcoming launch, followers will see a "Remind me" button at the bottom of the tweet. They'll simply tap that button to be reminded of the launch day.
On the product's launch day, they'll receive a notification in the app 15 minutes before, and at the time of the drop. Clicking the notification will bring them to the merchant's website where they can shop for the product and (hopefully) grab it in time.
The devil is in the details. Before followers click the "Remind me" button they can view the full details of the product that's dropping. To do this, they'll just click on the tweet and the Product Details page will open. From there, they can view the price, description, and more.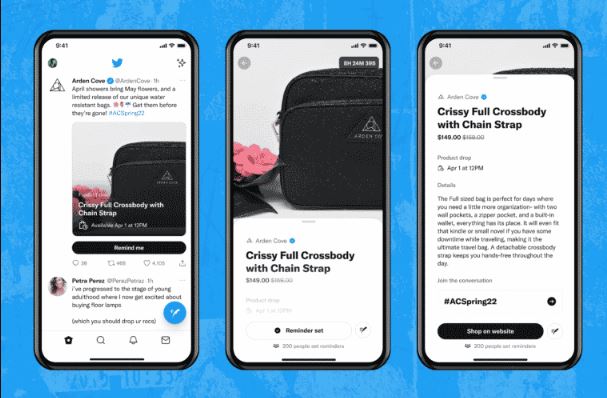 Ready. Set. Launch. Twitter is rolling out Product Drops to merchants in the US only, on English iOS devices. It's being tested with select partners including:
Dior
Fossil
Jeff Staple
Home Depot
There is no word on when the feature will roll out to all merchants.
What Twitter says. "People come to Twitter to talk about products and product drops every day. And merchants have long been dropping products on Twitter without any native product support. We're excited to change that and introduce new shopping features that empower shoppers to stay on top of the launches that matter most to them and provide merchants with another way to engage shoppers around big product moments."
Source: Twitter announces Product Drops for merchants
More News:
Google May 2022 core update is finished rolling out
Instagram Releases New Reels Features