Ahrefs mentions vanishing from Semrush-owned Backlinko
Want to cause outrage in SEO? Change one word.
Especially if that one word is a recommendation in the form of an SEO tool company.
At issue. Brian Dean of Backlinko – and his integrity – is under attack for altering references (and links) from Ahrefs to Semrush. As recently as May 16, the most noteworthy article in question said this:
"But if you had to make me pick ONE tool to use for SEO, I'd have to go with Ahrefs."
At some point, it changed to say:
"But if you had to make me pick ONE tool to use for SEO, I'd have to go with Semrush."
Why is this an issue? Because Semrush bought Backlinko in January.
What has not changed. The line following the two variants of the above sentence: 
"This was a REALLY hard call to make. I honestly think you can't go wrong with either tool."
The above line was written long before the acquisition. And if something could have gone either way, and Dean wrote as much, changing a choice from one tool to another feels like a stretch to label this an ethical breakdown.
Is it shady? Maybe somewhat. Dean could (and probably should) add a simple disclosure to any mentions or recommendations of Semrush, along the lines of "Disclosure: I work on a part-time basis for Semrush, which owns Backlinko.)
The only mention I see clearly of Semrush's involvement in Backlinko is a link in the footer of the Backlinko website: "© 2022 Backlinko is a Trademark of Semrush Inc."
Will every Backlinko visitor know Semrush owns Backlinko or scroll down past all the comments to see it? No. But it's there.
Also at issue. There is more. Here's what Ahrefs CMO Tim Soulo tweeted: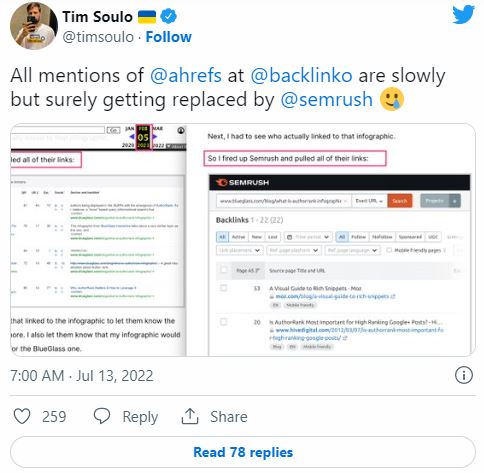 This LinkedIn post by ​​Daniel Emery, head of SEO at PWD Australia, implies this is an ethical issue because:
Links to competitors have been removed.
Mentions of competitors scrubbed.
Opinions changed sitewide in what appears to be independently and objectively written review content.
Source: Ahrefs mentions vanishing from Semrush-owned Backlinko
WordPress Performance Team Is Working on a Module for SVG Uploads
If you have ever tried to upload an SVG (Scalable Vector Graphics) file for a logo or favicon in WordPress, you may have been astonished to find that it doesn't work. There is no core support so users rely on plugins like SVG Support (900K+ installs) or Safe SVG (600k+ installs) to upload SVG files to the media library and use them like any other image file.
The main advantage of SVG files is they can scale to any dimension without losing quality. They are also compact and SEO-friendly because they are stored in XML text files that can be crawled and indexed.
WordPress contributors have been discussing adding SVG support for more than nine years. It was talked to death with various proofs of concept and no clear path forward, and the ticket eventually became a place where people periodically stop by and comment that it's "a goddamn tragedy that WordPress doesn't support this yet."
Despite the format having nearly universal support across the web, there are security concerns associated with scripted SVGs, where files might contain a malicious script. Without an SVG sanitizer library, users would be uploading SVG files at their own risk.
Source: WordPress Performance Team Is Working on a Module for SVG Uploads
Instagram announces payments in chat
Mark Zuckerberg announced today that you can now buy products from small businesses and track those orders in Instagram chat.
How does it work. You simply send a message to a qualified business you're interested in buying from. The business initiates a payment link, where you'll be able to purchase, track the order, and ask follow-up questions. Meta Pay will also be enabled for an easier check-out experience.
Early tests. Jaw Surf tested the feature to sell their custom hand-made surfboards and fins. Owner Joshua Weisfeld said that customers would often contact him via Instagram chat before purchasing. But since payments in chat were enabled. Customers can pay directly from the chat thread. Additionally, the chat thread stays open so customers can send messages about their purchase.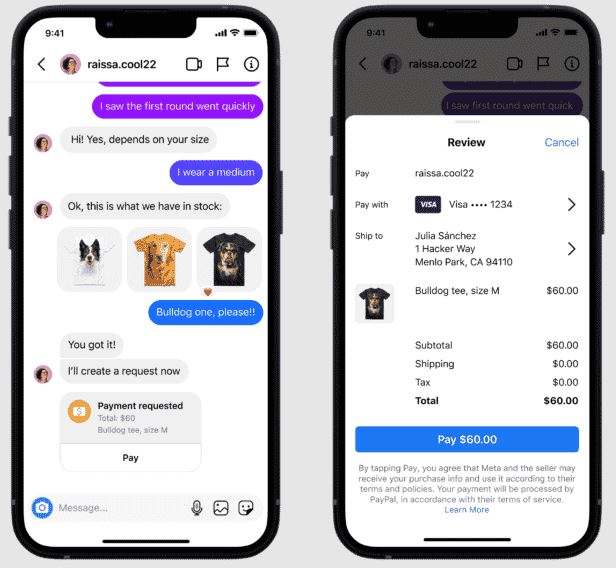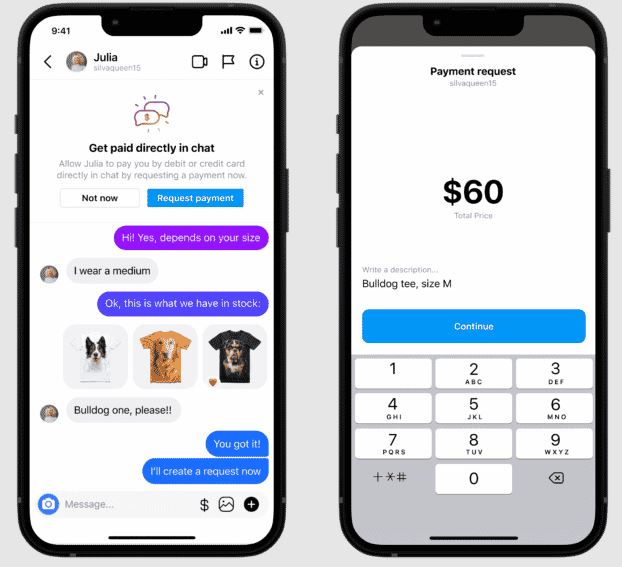 Source: Instagram announces payments in chat
Microsoft Patch Tuesday update has broken another really important software
It seems some updates that came as part of this month's Patch Tuesday(opens in new tab) broke MS Access runtime applications.
Multiple users have reported having this issue to Microsoft, saying MS Access 2016(opens in new tab) and MS Access 2013 are having issues, post KB5002112 and KB5002121 updates.
Microsoft has since acknowledged the existence of the problem, with Shane Groff, software design engineer, noting(opens in new tab), "The Access product team is investigating this issue. Thank you for the report, we will update soon."
No workarounds yet
The documents published in the follow-up to the cumulative updates also discuss the problem:
"After this update is installed, when you open an ACCDE or MDE file in Microsoft Access, you might receive an error message that states, 'Requested type library or wizard is not a VBA project'," they say. "Additionally, the file won't open. Microsoft is researching this issue and will update this article when a fix is available."
The flaw allegedly affects MS Access compiled databases, including those on MS Access in Office 365.
Right now, there is no official workaround, or a way to bypass the issue, so the only way to address the problem is to uninstall the patches. That, however, also means exposing the system to multiple known vulnerabilities, including a flaw in Microsoft Office, tracked as CVE-2022-33632, which is of medium severity, the publication reminds.
Source: Microsoft Patch Tuesday update has broken another really important software
1-star review attacks plague restaurants on Google
Restaurants around the U.S. are under attack from negative reviews.
The New York Times covered the newest scam, where people are leaving 1-star reviews for restaurants and then emailing saying that they have to send them a gift card before they'll remove the reviews.
Google's response:
"We've recently become aware of a scam targeting businesses on Google with the threat of 1-star reviews unless they send money via gift cards. Our policies clearly state reviews must be based on real experiences, and our teams are working around the clock to thwart these attacks, remove fraudulent reviews, and put protections on business profiles that may have been affected.
If your business is being targeted by these scammers, please do not pay them. Instead, please flag the reviews here or reach out to Google support via our Help Center, so that our team can review and remove policy-violating content. If you haven't yet claimed your business profile, you can do so here."
Negative reviews. This restaurant in Houston posted on the Google Business Profile community asking for help after being hit with five negative reviews. They were sent an email that stated:
"We sincerely apologize for our actions, and would not want to harm your business, but we have no other choice. The fact is that we live in India and see how other way to survive. We are begging you to send us google play gift card worth $75 […] After selling this gift card we can earn approximately $50, which is three weeks of income for one family."
As of July 18, 12 days after they posted for help, Google has removed the original five reviews yet there are seven new ones that have been posted within the last week.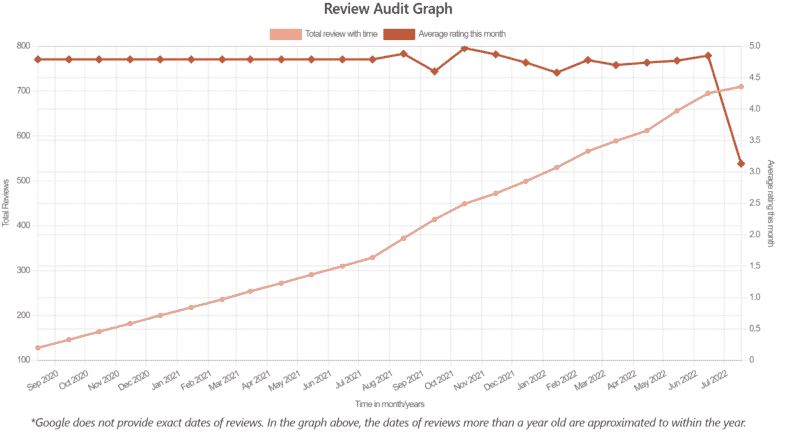 Using the GMB Everywhere Chrome Extension, you can easily tell this pattern is not natural. Their normal average rating for new reviews is between 4-5 stars in any given month. This month it has a sharp drop to 3.13 due to this attack. 
Google is bad, but Facebook is even worse. While Google isn't removing reviews as quickly as we'd like, at least they're removing them. Here is an example of a business that has loads of fake reviews from June that are still live with zero response from Facebook.
Source: 1-star review attacks plague restaurants on Google
More News:
Google confirmed an indexing issue affecting a large number of sites
Google launches Ad Creative Studio to customize video and display ads
Netflix, Microsoft partner for ad-supported subscription plan