Google launches Ad Creative Studio to customize video and display ads
Google has announced a new way to create ads. The Ads Creative Studio was officially launched after a beta last year and is now available globally.
Ad customization is possible. In the ACS, advertisers or creators can create multiple versions of a single display or video ad. The ads can be customized for different audiences, locations, languages, or contexts.
How does it work. To make the changes, creators select the changes they want to make and provide the different versions of that particular element based on the rules you set.
The feature is now available for video and will soon be launched for display as well.
Seamless workflows. Google is now allowing advertisers to export images from the ACS asset library to the Google Ads asset library of any linked account. This means that when you're assembling creatives for display or Performance Max campaigns, you'll be able to easily find the images you want to use.
Another newly released feature is the ability to connect the ACS account to Campaign Manager 360. Previously the ACS was available to those advertisers in beta, but starting today it becomes available for everyone to upload, manage, and export HTML5 creatives. Google says that video exports will also be available "soon."
Early testing and results. The feature was available to PepsiCo who wanted to use it to reach audiences in different contexts such as house parties, BBQs, and sporting events. The creative team at PepsiCo used ACS to customize their ads at the relevant audiences and found the results to be "smoother and more efficient and, with a single tool, the team was able to standardize processes across functions." PepsiCo and Google did not share numbers or specific stats related to performance, however.
Learn more about Ads Creative Studio. You can read the announcement from Google here.
Source: Google launches Ad Creative Studio to customize video and display ads
YouTube Answers Questions About Community Guidelines Appeals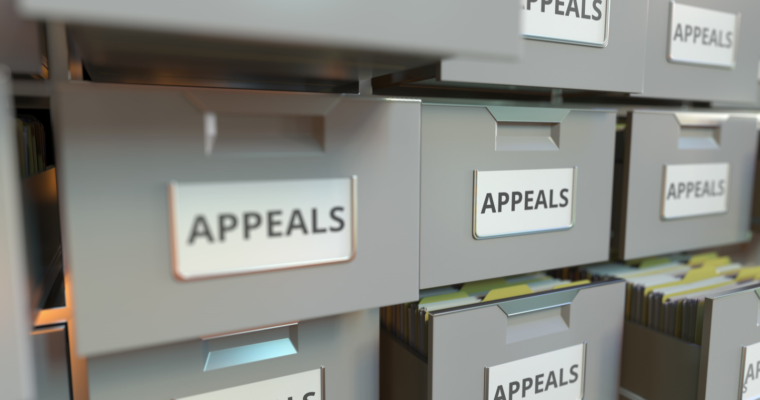 YouTube demystifies the community guidelines appeal process in a new video answering commonly asked questions from creators.
A product manager at YouTube clears up misunderstandings about who reviews an appeal, how appeals get reviewed so quickly, what to include in an appeal, and more.
This information will help you understand and navigate the community guidelines process if you receive a strike against your channel.
Before going over the questions answered in the video, let's first go over what an appeal is and the reasons why you'd need to submit one.
What Is A Community Guidelines Appeal?
When a YouTube creator publishes content that violates the website's community guidelines, they receive a strike against their channel.
If a creator repeatedly violates the community guidelines, YouTube bans the channel on the third strike.
Who Reviews An Appeal?
YouTube confirms it's humans, not machines, that review community guidelines appeals.
A team of content reviewers is employed worldwide to evaluate every appeal manually.
How Did My Appeal Get Reviewed So Quickly?
Creators sometimes get the results of an appeal so quickly they wonder how a human can review their video so fast.
YouTube recognizes the importance of getting back to creators promptly and has the resources to make it possible.
Will Deleting Or Editing A Video Remove A Strike?
Deleting a video won't remove a strike. The only way to get a strike removed is to submit an appeal.
How Many Times Can I Submit An Appeal?
YouTube allows one appeal per restriction. If an appeal is rejected, it can't be appealed again.
What I Should Include In My Appeal?
Creators who are most successful at their appeals have thoroughly compared their content against the policy that's cited.
That means it's worth reviewing YouTube's community guidelines and analyzing whether your video is in violation.
Creators have the option to add feedback when submitting an appeal where they can include details to help make their case for getting a strike removed.
Source: YouTube Answers Questions About Community Guidelines Appeals
The state of attribution modeling in paid search
There are numerous ways to measure paid search and its contributions across channels. Your PPC strategies can guide specific user behaviors, and in turn, change how you measure attribution and cross-channel lift within your marketing mix. In this session at SMX Advanced 2022, Alyssa Altman and Andy Orlando discuss the role of paid search in attribution. 
Paid search and attribution
Paid search is a critical piece of the attribution modeling puzzle, with over 8.5 billion searches a day happening in Google. But not all searches are created equal. People tend to search using terms that indicate where they are in the buying funnel. Whether that's intent to purchase or perform competitor research. Considering the attribution model, those searches are assigned a certain weight, which can become complicated.
The marketing funnel and paid search types
Orlando goes on to explain that the top of the funnel is where awareness happens. Non-branded searches are typically here. The point is to increase brand awareness and target visitors to your website. The next step is where interest and consideration come into play. The bottom of the funnel is where the commitment and conversion happen. Brand search and Performance Max campaigns target bottom of funnel buyers by finding targeting those searchers who are ready to buy.
Campaign types and their contribution
The four campaign types that target buyers ready to convert are:
Brand
Non-brand
Conquesting
Remarketing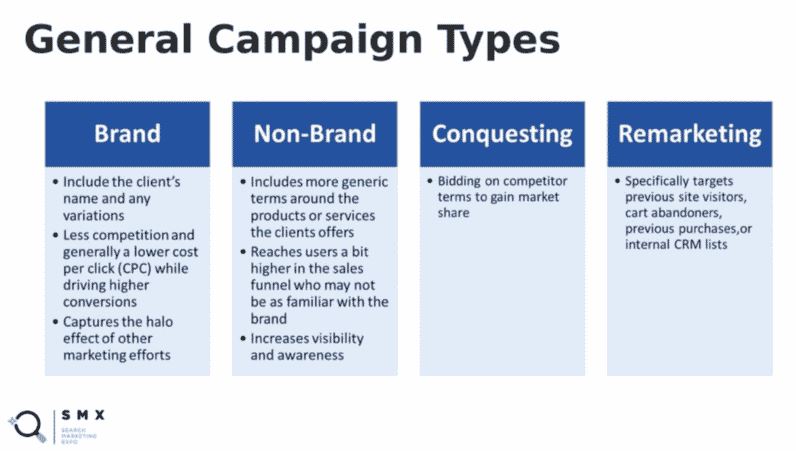 Attribution challenges
Altman explains that a lot of the challenges around attribution have to do with the fact that there are different models within the different platforms. Google has more options available for advertisers within the platform and Analytics, whereas Microsoft has a lot less. So even if you are attempting to use the same model across channels, issues can arise.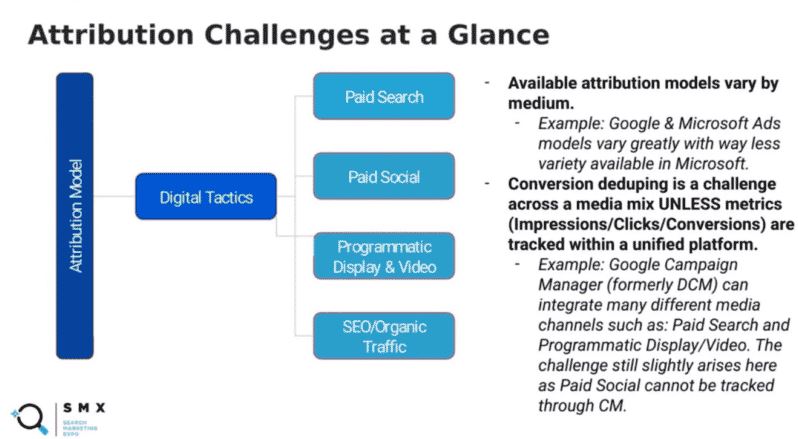 Attribution model comparison tools
Google Analytics is arguably the most popular option for comparing attribution models. If you're using Google Analytics, you'll be able to compare the different models and look at all media coming in (if tagged properly). Altman suggests using UTM parameters to ensure conversions are being tagged properly. GA lets you compare the different models before you make a decision on which one you want to use.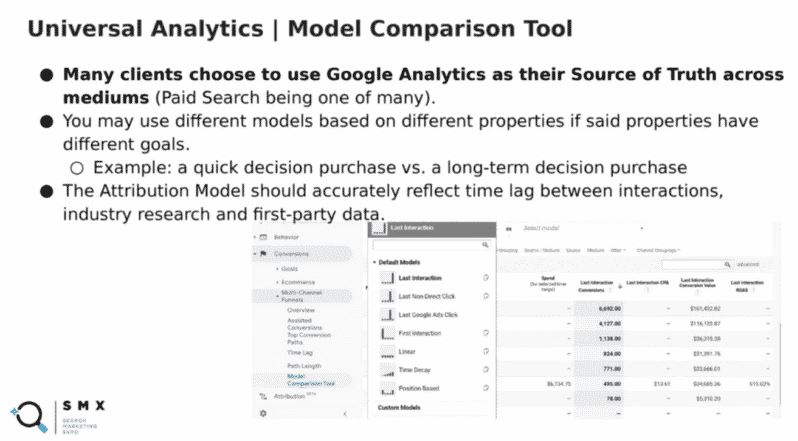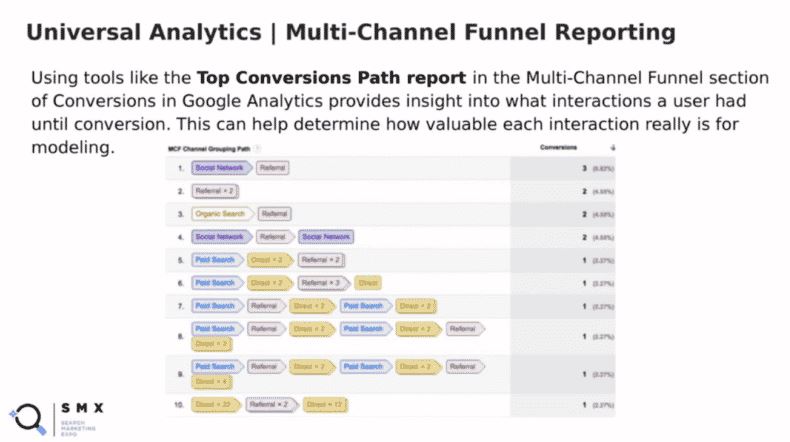 Data modeling and data-driven attribution
Orlando explains that having a data-driven attribution model can help marketers optimize, in real-time, across the conversion journey. Machine learning and AI are used to assign attribution across the conversion journey. Microsoft As calls this "As it Happens" attribution modeling, which is essentially Google's "Last Click."
Create an attribution toolkit
Altman suggests the following tips when creating your attribution toolkit:
Collect data on your audience
Begin creating and testing
An arsenal of tools to help you perform a deeper analysis
Utilize Google tools such as Analytics multi-funnel reports and path reports, and attribution model comparisons
Land on the attribution model for your organization or business segment
Use third-party tools
Use zoomed-in attribution models within the platforms such as Data-Driven attribution in google ads to optimize in-platform
Attribution model recommendations for paid search
Altman suggests that if you're running brand awareness campaigns through Google ads and other platforms, you may want to look at First-Click attribution. If your campaigns are a mix of brand awareness and mid and lower-funnel advertising, you might want to go with Linear attribution because it distributes the credit for the conversion equally across all of those paths. And if you're running a lot of media and multiple channels, both digital and traditional, you might want to look at that last non-direct click.
Source: The state of attribution modeling in paid search
WordPress Seeks User Input on Homepage and Download Page Redesign Project
WordPress.org hasn't seen a redesign since 2016, when it went from sketches to prototype to live in a matter of a couple weeks. In six years, the software has undergone a metamorphosis by adopting a new block paradigm that should be reflected in its website. Contributors are now looking at giving the homepage and download page a design overhaul that showcases its new capabilities.
Earlier this year WordPress.org launched design updates for the news and Gutenberg pages. "There's a ton of room to expand and evolve this look as we turn our attention to other parts of the site," Garofalo said.
The designers working on the project are particularly interested in hearing from WordPress.org users about what they want to see on the homepage, which means everyday users are welcome to contribute their thoughts and suggestions.
The Download page used to prominently feature the download button at the top of the page, but sometime in mid-January 2021, it was pushed further down below recommended hosts. This was presumably to help people who want to set up a self-hosted site but don't know where to get started but doesn't make sense for those who came there to download the software. A transparent approach to redesigning this page would be appreciated, as changes like this are not always publicly documented.
More News:
Netflix, Microsoft partner for ad-supported subscription plan
Google Search Console Video Indexing Report Now Available
Pinterest is doubling down on Shopping by adding 4 new features