Google Answers If Stop Words Should Be Used in URL
Google's John Mueller answered a question about whether stop words should be used in the URLs.
Mueller answered the question but also discussed the impact of words in URLs and recommended how to approach what words are used in URLs.
Background of Stop Words in Search
Stop Words are common words like "a", "and", and "the."
In the early days of search, those kinds of words used to not be considered important for SEO because they weren't considered important for search engines.
As I recall, in the early 2000s, stop words were not considered important because search engines of the time didn't actually understand what a page is about. They worked by identifying what keywords a page was relevant for, with stop words being generally disregarded.
The result is that sometimes stop words like "a" and "the" were considered important to the meaning of keyword phrases, but this patent, like the previous patent Bill discussed, was limited to stop words in the content and in search queries.
The patents didn't even bother with stop words in the URL.
So, do stop words matter when they're in a URL?
Stop Words in a URL
John Mueller paraphrased the question:
"In Short, when using words from a page title in the URL, should I include stopper words, too?
For example, should I call a page why-is-the-sky-blue.html or why-sky-blue.html?"
Mueller answered:
"Words in URLs only play a tiny role for Google Search.
I would recommend not overthinking it.
Use the URLs that can last over time, avoid changing them too often and try to make them useful for users.
Whether you include stop words in them or not, decide to use numeric IDs, that's totally up to you."
Importance of Stop Words in URL is Minimal
Mueller minimized the importance to Google of words in the URL, to the point that he said it didn't matter if one uses numeric IDs in a URL.
A numeric ID is a URL file name that doesn't have any words, like /article-id-12345.
That answer is similar to a Google Office hours hangout answer he gave back in 2016 (watch at the 17:57 minute mark).
Six years later, Mueller didn't even mention whether words in URL were even a tiny ranking factor, he just said that they played a "tiny role for Google Search."
Circling back to the use of stop words in the URL, Mueller said to make the URLs useful for users and that's good advice.
Google doesn't show the URLs in the search results, so it doesn't matter (for click through rate) if the URLs contain stop words or not because it won't have an effect in any way.
It's likely, in a context where a potential site visitor can see the URL, a URL that contains stop words that add meaningful context will look more natural than a URL that is missing those stop words and as a consequence may inspire more confidence and a higher click through rate.
There are many other recommendations and warnings about URLs on that Google Search Central page, but nothing about stop words.
That's probably not an oversight, it may be an indicator that maybe it's a consideration that is trivial in the bigger scheme of things.
Ultimately, as John Mueller said, "that's totally up to you."
Source: Google Answers If Stop Words Should Be Used in URL
Here's how Google's helpful content update is going to make AI better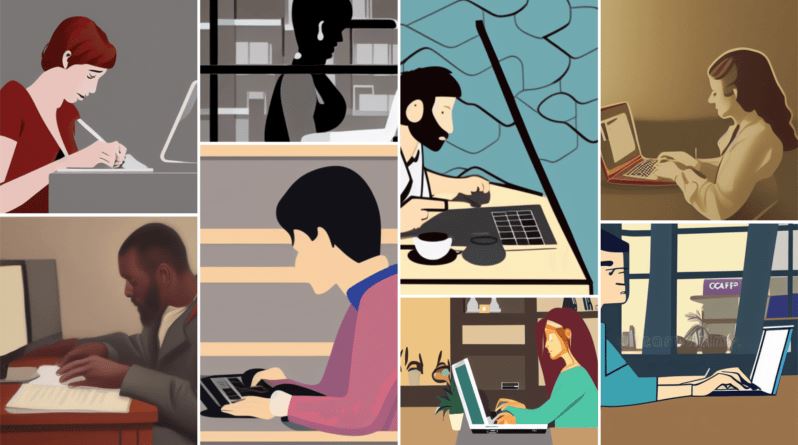 Almost as soon as word broke out about Google's latest algorithm, an update that advocates for "original, helpful content," the questions started flying: Is this targeting AI content tools? Does this mark the end of artificial intelligence in content creation?
How to use AI to create high-quality, original content
Google has long asked content creators to stop writing content for search engines and start writing it for people. But the pressure to rank in business writing is ever-present, and despite Google's own advice, creators are still trying to crack some Konami Code of SEO in how they write and structure content. I've been writing professionally for decades now and have seen every variation: specific word-length targets, hyper-frequency in publishing cadence. You name it. When you take those fictional hoops and add in tight deadlines and resource shortages, you'll likely see even the highest skilled and best-intentioned writers make bad choices.
There are already great articles about how to ground your writing in good practice for Google's latest update. Google's guidelines are fairly clear here. Stay away from writing about topics that fall outside of your site's core expertise just because you think they're traffic magnets. Don't create bandwagon content that just repeats what has already been said. Don't write shallow summary content that never delivers on its promise. Don't chase arbitrary word counts. These are pretty core to good writing regardless. Now, there's also the matter of AI-generated content. Google mentions that creators shouldn't use "extensive automation to produce content on many topics."  That is open to some interpretation, so let's go a step deeper into what we think constitutes good use of AI in content creation. 
AI should be your partner, not your replacement
Could you write an entire article using AI commands without a single original thought? Probably. Would the resulting content be shallow and a waste of everyone's time? Most definitely. AI tools like those within Jasper's Content Platform are built to help people convey their ideas. But you have to have original ideas for that partnership to work. AI works best when it helps you through common barriers writers face: suggesting a transition paragraph, for example, or rephrasing a line you can't seem to get right. Every week writers and content creators lose precious time stuck in their own work. Think about how many books have gone unwritten and how many ideas are left to wither away in a digital doc somewhere because their originators got stuck and walked away. This is where AI shines.
Don't rely on AI for your research
The good news is the time you save using AI tools to write your content can be put toward more in-depth research to strengthen the substance of the content. Research or first-hand experience is what turns a shallow, summary piece into an article of substance.
Leave the content farm for the editorial table
But content farms are bad for consumers and writers alike. And as a result, they're pretty damaging to the reliability of search engines and the future of AI too. There's no doubt about it. You will get your writing done faster with AI, but we can't lose the plot here. The benefit of becoming more efficient in your writing is not that you can suddenly churn out twice as much content. On the contrary, the benefit of becoming more efficient is having twice as much space in your day and mind to pursue and develop original ideas. If you use it right, AI should unlock creative potential, getting content creators off the content hamster wheel and onto a more strategic and editorial track. Google's Helpful Content roll-out was completed on September 9, 2022, and while we're still waiting to see how it will manifest in rankings, the intent here is one we support. We all want an internet with better quality content and writers who are incentivized and enabled to create their best.
Source: Here's how Google's helpful content update is going to make AI better
Granite Digital in €3.1m partnership deal with WP Engine
Irish digital agency Granite Digital has today announced a new partnership with WordPress technology company WP Engine.
Granite said today's deal is set to generate €3.1m in additional revenues for it by the end of 2023.
It said the new partnership will strengthen its enterprise offerings such as hosting and infrastructure architecture, enabling it to grow its client portfolio across Ireland and the UK.
WP Engine has played a major role in the recent shift for businesses to expand across all digital touchpoints.
WordPress technology is used by 41% of the global internet and WP Engine hosts 1.5 million websites in more than 150 countries.
It has 185,000 customers worldwide including the Irish Heart Foundation, Riverdance, Avvio, Microsoft, eBay, and Volvo.
WP Engine also operates a global customer support centre in Limerick, employing more than 120 people.
Robert Carpenter, founder and partner of Granite Digital, said that WordPress is growing at an incredible pace with more than two out of every five websites now powered by its technology.
Source: Granite Digital in €3.1m partnership deal with WP Engine
New Block Diffusion Plugin Creates AI-Generated Images from Text Prompts
AI image generation has quickly become more accessible over the past few months and is making its way into different industries that require asset creation. Although it's still somewhat limited, AI image generators can create breathtaking photorealistic images from complex prompts. AI-assisted artists have even begun selling their works on stock photography sites.
DALL-E 2 was the first to make a big splash on social media. Its closed platform and invite-only beta has kept many potential creators on the sidelines, but open source alternatives like Stable Diffusion are taking off. The machine learning, text-to-image model is improving thanks to its growing ecosystem of contributors and extenders.
Kevin Batdorf, an Application Developer at Extendify, has created a free plugin called Block Diffusion that uses Stable Diffusion to generate images inside the block editor based on text prompts.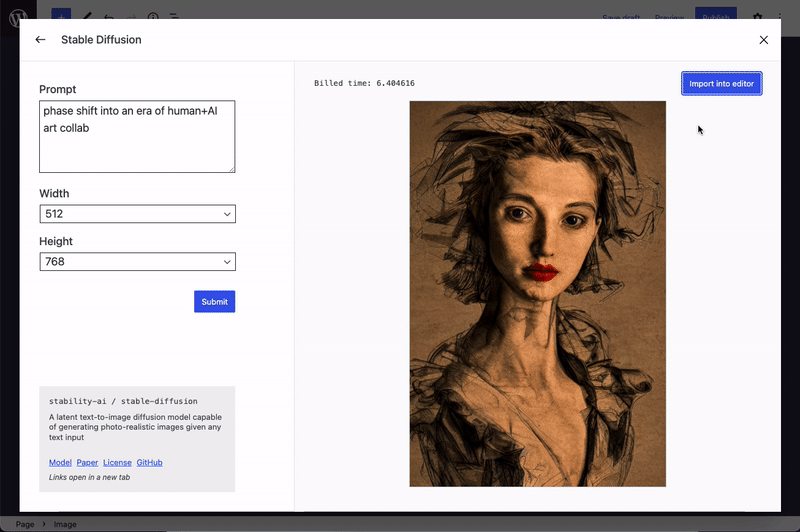 Block Diffusion uses the public Replicate API to generate images in the cloud. This requires users have an account at replicate.com. It will generate some images for free but thereafter will be $0.01 USD per image using Replicate's Stable Diffusion model. Images generate in six seconds.
The model was trained on LAION-5B, an open AI training dataset containing over five billion image-text pairs. It has some limitations in that it cannot achieve perfect photorealism or render legible text. It also may have difficulty rendering faces and people.
For many WordPress content use cases, the Stable Diffusion model should be adequate for illustrating posts and creating unique featured images. Batdorf plans to add the following features in future releases:
Use an existing image as starting point
Add an image mask to only generate specific areas
Help with prompt ideas and inspiration
Run multiple image predictions at once
Have more control over the image generation steps
View your prediction history
Model selection from collections
The Block Diffusion plugin is a personal side project for Batdorf and he doesn't plan to turn it into a commercial plugin.
Source: New Block Diffusion Plugin Creates AI-Generated Images from Text Prompts
More News:
Search advertising is thriving amid economic uncertainty, new report confirms
Over 280,000 WordPress Sites Attacked Using WPGateway Plugin Zero-Day Vulnerability