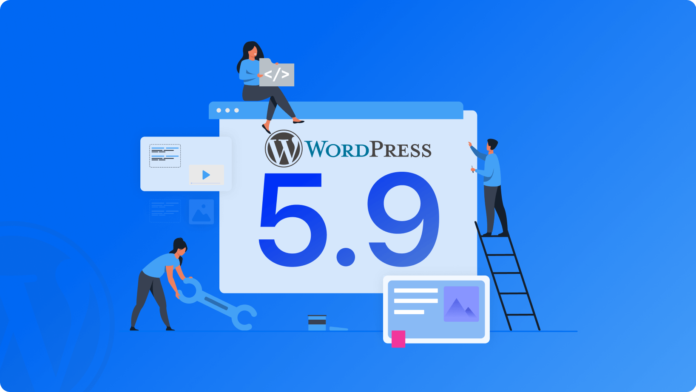 WordPress 5.9 Beta 1 delayed
A new date will be set for WordPress 5.9 Beta 1 so that 5.9's exciting new features can be delivered in full, together with the intuitive, cohesive user experience. Beta 1 was originally scheduled for release yesterday and tentatively shifted to today to accommodate this. The overall schedule will be updated to reflect this and give contributors more time to collaborate further on the release.
Why postpone the beta?
WordPress has a specific philosophy of development. Its contributors follow the process that deadlines are not arbitrary. Schedules can shift if the results demand it.
Any changes to the proposed timetable are and must be carefully considered, as changes impact users preparing for the release and contributors contributing time and energies to make it happen.
As WordPress is open-source software, you can follow the discussion in real time on the release squad channel in the Make WordPress Slack group.
So. The choice.
As communicated yesterday (16 November 2021), in #core-editor, a red flag was raised about a blocker to the Beta phase.
There are some others items too. These items could affect the 5.9 Release Candidate (RC) and, likely, the final release. So it is better to allow time to focus on them at this stage.
How long of a delay?
The information that surfaced several hours ago suggests two to three weeks of focused work will produce a significantly better 5.9 version—much better than would a set of quick fixes intended to meet the current schedule.
The release squad is pulling together a revised schedule. Of course, given timezones, the discussion started before some members of the global team were awake for the day. So not every member has had a chance to weigh in. A proposed schedule is pinned in the 5.9 release-leads Slack channel. This proposal could change during the next 24-48 hours.
When will the Beta 1 release happen?
The current best guess is a two-week delay with an additional beta added to the cycle.
What will that do to the rest of the 5.9 release cycle schedule?
Again, please refer to this proposed schedule. A delay in the schedule also has to work with holidays, the end of the year, and the start of 2022.
As always, please add your thoughts to the comments on this post or the Slack discussion. Thank you for everyone's feedback so far. Together, let's continue to make WordPress better and better.
Source: WordPress 5.9 Beta 1 delayed
Eftpos added security features go-live as digital upgrades continue
Australian payments provider Eftpos has gone live with new online security features through a handful of payment merchants, ahead of a full rollout next year.
These security features, which include two-factor authentication functionality, has initially been adopted by Till Payments, Fat Zebra, and Eftex.
The rollout of these features is part of Eftpos' five-year, AU$100 million investment it's making on digital upgrades to its network, designed to enhance the level of protection up-front for consumers and merchants, rather than retrofitting security to legacy systems.
"This is a tipping point for Eftpos, online Australian businesses and the digital economy, and it is great to have partners like Till Payments, Fat Zebra, and Eftex onboard," Eftpos chief Stephen Benton claimed.
"This is a game changer for Eftpos and Australian retailers because retail is quickly transforming to become an increasingly digital marketplace, accelerated by COVID. Big economic benefits could flow from increased competition in addition to enhanced payments security."
The company said Eftpos payments are already available online for some card-on-file payments where banks have implemented the service for their merchant customers. Since launching the Eftpos digital service that enables LCR last year, Eftpos said it has been subject to zero fraud.
LCR is an initiative aimed at promoting competition in the debit card market and helping to reduce payment costs in the economy.
Source: Eftpos added security features go-live as digital upgrades continue
Rank Math SEO Launches a Content AI Feature
Last week, the popular Rank Math SEO plugin received a major update that includes a new artificial intelligence system. The Content AI feature is a SaaS product that behaves like a personal writing assistant to boost search rankings.
"We built Rank Math's Content AI feature to revolutionize the content production and optimization process with proprietary AI that gives SEOs and content marketers a competitive edge," said Bhanu Ahluwalia, Rank Math's CMO.
The system allows users to research what their content should look like based on a keyword. Each keyword analysis costs one credit. This data is stored on the user's server, so the same keyword used on multiple posts does not cost extra. Users get five free credits after signing up for a user account with Rank Math. However, they must upgrade to one of the three commercial plans, ranging from $59 to $499 per year, for more.
Each of the commercial plans comes with a specific number of credits. They are marketed as free extras, but they are not "free" for users who want to upgrade for credits alone. The team says they are working on a pricing solution to address this.
Users should see a new Content AI module that they can enable from the plugin's Dashboard screen. Turning this on creates a new tab under the plugin's General Settings page for further configuration.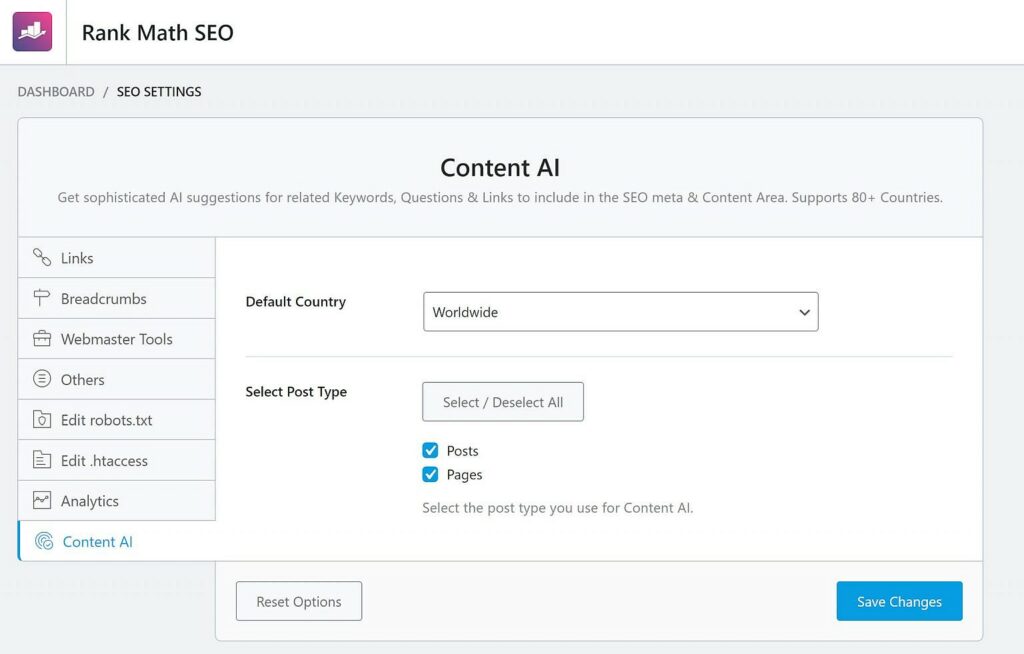 The Content AI feature works with the WordPress editor, the classic editor, Elementor, and Divi. However, the team plans to extend this support to other page builders in the future
Users can then enter a focus keyword from the post-editing screen and click the Content AI button. From there, they can research their chosen keyword, and Rank Math pulls up suggestions from their system.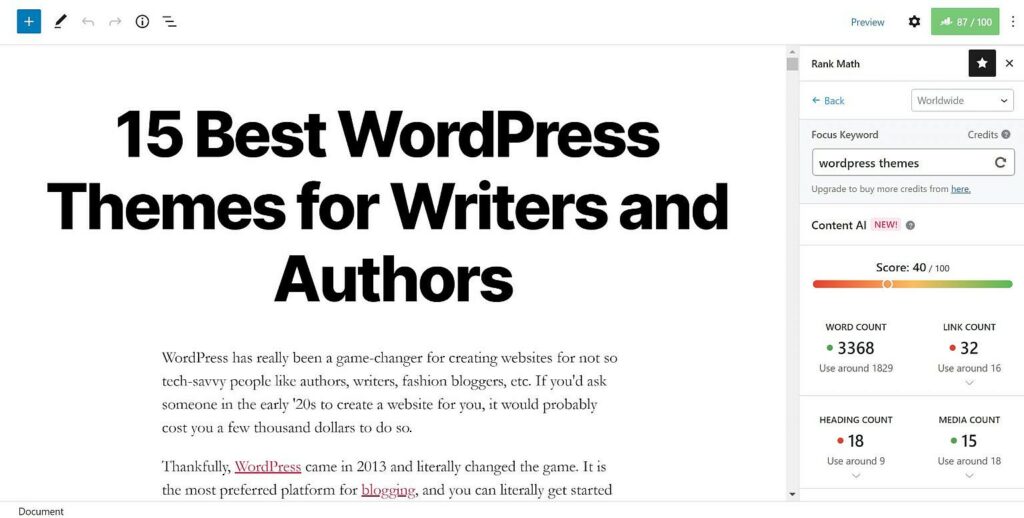 The scoring system is easy to understand. Above 80 (in the green) is considered "good." Anything below might need some work based on the plugin's recommendations.
The primary suggestions from the Content AI center on total words, links, headings, and media. When asked how the numbers were figured, Ahluwalia said, "This is a computation performed based on the top-ranking content in search engine results pages (i.e., characteristics of content that ranks)." It is a proprietary system, so maybe the team is not ready to give away the exact details.
The feature also lets users copy related keywords to use in their posts, offers questions that the content should answer, and lists potential links to use.
Source: Rank Math SEO Launches a Content AI Feature
75+ Black Friday / Cyber Monday 2021 WordPress Deals – Big Savings
Looking for the best Black Friday and Cyber Monday deals on your favorite WordPress products? The next few days are the perfect time to buy premium WordPress plugins, themes, web hosting, and tools to grow your business.
As always, to help you find the best deals, we have created the ultimate list of the best WordPress Black Friday and Cyber Monday deals for 2021. Some of these are exclusive just for WPBeginner readers.
These offers are LIMITED TIME only. We've indicated the expiration date next to each offer. Some deals are not live at the time of publishing this blog post, but they will be going live throughout this week.
Bonus Giveaways
Some WordPress companies are doing exclusive Black Friday giveaways. Here are the top ones:
Source: 75+ Black Friday / Cyber Monday 2021 WordPress Deals – Big Savings
Get your favorite gamer set for 2022 with this PlayStation Plus/VPN Unlimited package on sale for under $50
The VPN Unlimited and PlayStation Plus Subscription Bundle offers a year of premium PlayStation Plus membership, as well as a lifetime of online security for under $50.
If you're salivating at the thought of the biggest and best games coming to your PlayStation in the coming year, the 2022 calendar is already filling up with some amazing top-shelf possibilities. From God of War Ragnarok to Batman spinoff RPG Gotham Knights, from Horizon Forbidden West to a pair of new Final Fantasy games, 2022 is already shaping up to be a bumper year.
Of course, fans will be missing out on most of what the hottest new games can actually do without a subscription to PlayStation Plus. Right now, you can set your 2022 gaming up the right way now with this package featuring a one-year subscription to PlayStation Plus as well as a lifetime of VPN Unlimited protection, now on sale for just a super-low $49.99 for both from TNW Deals.
Source: Get your favorite gamer set for 2022 with this PlayStation Plus/VPN Unlimited package on sale for under $50
More News:
Google Maps Adds 4 New Features For Local Shopping
Google Ads shopping ads bug results in huge CPC increased; issue now resolved
Freelancers can now offer their services on LinkedIn's new gig marketplace