LinkedIn matched audiences: How to get started
LinkedIn can be a difficult platform to master, but with the right combinations of targeting and messaging brands can see success in generating results.
Matched audiences allow you to reach people who have engaged with your business in some way and go after lists of "dream companies" that you'd like to work with.
This article provides an overview of how you can get started with matched audiences along with tactics for using them in your campaigns.
Types of matched audiences
LinkedIn allows for a variety of first-party and third-party methods to build audiences. Here are the available categories at the time of writing this article:
Contact lists: Targeting individual people.
Company lists: Targeting anyone who works for a particular organization.
Pixel-based retargeting: Reaching anyone who visited select pages on your website.
Engagement-based retargeting: Based on in-platform activity
Guidelines
The platform will show a match rate after the list has finished syncing, allowing you to double-check your fields if the match rate seems abnormally low.
However, just because you can target as few as 300 people doesn't mean you should. Larger audiences generally see more efficient CPCs and CPAs, with a threshold of at least 50,000 individuals being ideal.
For company targeting, LinkedIn recommends including a minimum of 1,000 companies.
For contact targeting, LinkedIn recommends a minimum of 10,000 email addresses. If more than one email address matches with the same user, that person will only be included once.
The maximum file size for either type of list is 20MB or 300,000 records.
Layering targeting
Matched audiences can be used in combination with LinkedIn's other available targeting. Think about ways you can use your own audiences plus additional layers such as company size, job function, seniorities, titles, or others. Just note that you cannot combine contact lists with interests and traits.
For example, you can target a company list layered with job seniorities of Senior level and up if you're seeking to avoid junior-level individuals.
Or you can retarget people who visited your website and also work for companies with over 500 employees.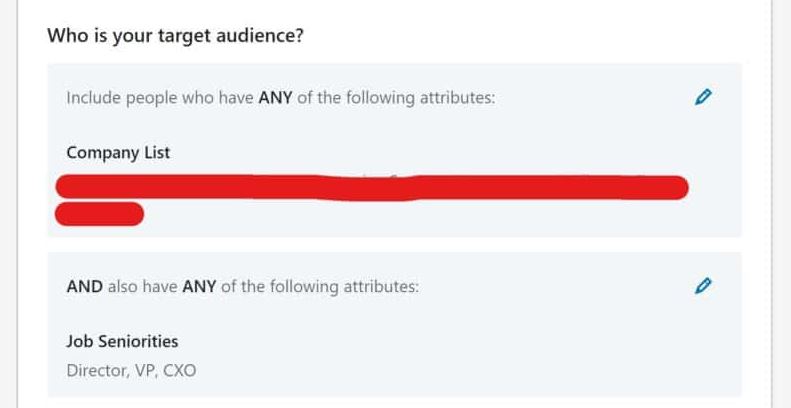 You can use "AND" as well as "OR" targeting when setting up layers. For instance, you can reach people who are members of either list A or list B, and if they also have Director level seniority.
Exclusions
Lists can also be valuable to make sure you're not wasting spend on individuals you don't want to target.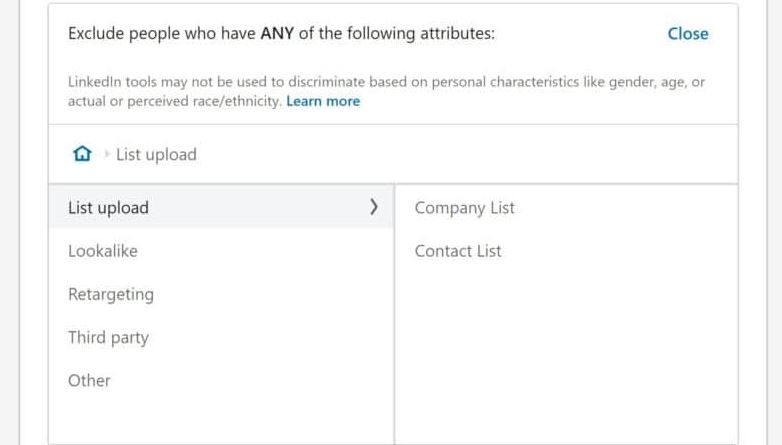 For instance, you can upload a list of your current customers and exclude them from campaigns to avoid reaching them. You also should exclude competitor companies so their employees don't see your ads.
Upselling and ad sequencing
If your brand entails the opportunity to upsell customers on additional levels of service, sync lists of current customers based on their tier or existing plans to then serve ads for new products or services.
For example, users of CRM software could be upsold to add marketing automation features to their existing plans.
Lookalike targeting
Once you've created a matched audience, you can also make a corresponding lookalike audience. This will find people with similar characteristics to those on a particular list.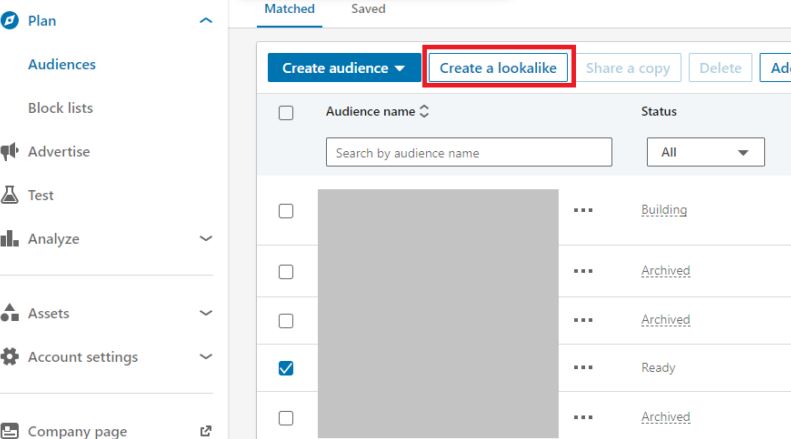 For instance, if you upload a list of current customers, you can then create a lookalike audience that will include people with similar job titles, group membership, interests, etc.
Getting data from audiences
In addition to campaign targeting, LinkedIn offers some useful analytics features to see details about the individuals in your lists.
To access this information for a contact list you've uploaded, navigate to the Audiences section, select an audience, and click the Insights button in the upper right.
Start testing audiences
If this article has helped you to identify some matched audiences you haven't yet tested, start thinking about ways to implement them in your campaigns.
Whether you assemble prospect lists to import into LinkedIn or start building engagement-based audiences to target people who are engaging with your brand, think about content that makes sense for the level of interaction people have had with your brand.
Source: LinkedIn matched audiences: How to get started
Easy Digital Downloads 3.1 Adds 10 New Core Blocks, Introduces Email Summaries
Easy Digital Downloads (EDD) put out a big release today, following several maintenance releases and the last major release in July. Version 3.1 introduces 10 new core blocks available to users who are running WordPress 5.8 or newer:
These blocks enable store owners to do more than their shortcode predecessors. Although the shortcodes still work, the block versions allow for much easier customization with a better UI. One example in the announcement is the Order History block. The previous Purchase History shortcode output a simple table of orders, but the new Order History block has a card style view and allows users to easily modify the number of columns and how many orders are displayed per page.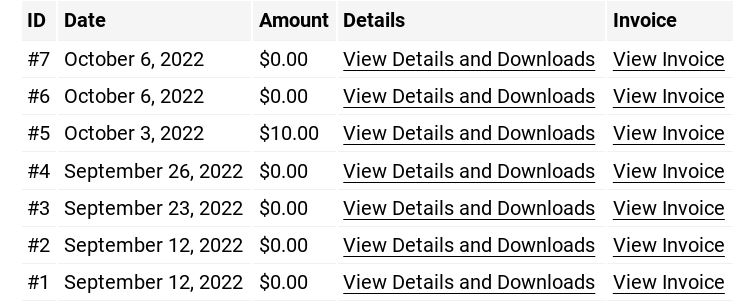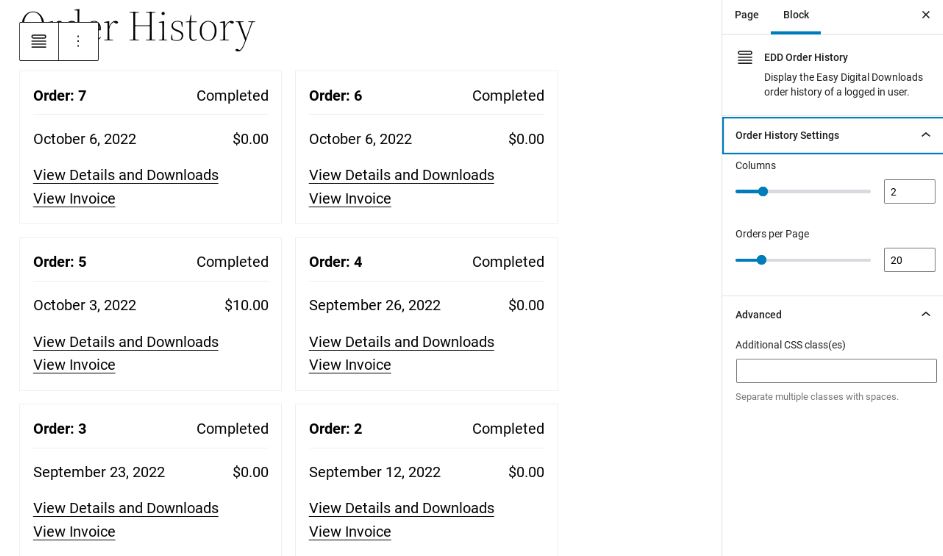 The other blocks have been updated in a similar fashion, with extended functionality and greatly expanded customization options.
It's important to note that the new Checkout block was released in beta. It is not turned on by default for new stores yet. 
Email Summaries is a new feature for store owners in 3.1.
A few other notable changes in version 3.1 include the following:
New setting to require users to login to download files
Success Page has been renamed to Confirmation Page to differentiate it from the receipt
More detailed views and filtering options for Reports
reCAPTCHA keys added to Downloads » Settings » Misc so users can automatically enable reCAPTCHA for the lost password and the registration forms
New color options for purchase buttons
New "View Receipt" link in the orders table
Source: Easy Digital Downloads 3.1 Adds 10 New Core Blocks, Introduces Email Summaries
Google to offer publisher first-party cookie support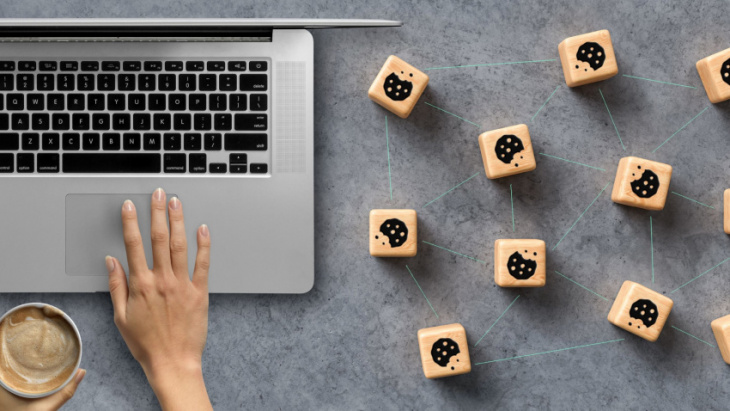 Google has just announced its plans to launch a number of features aimed at helping publishers monetize their websites and increase their emphasis on first-party data relationships. The features include support for ads personalization with publisher first-party cookies in Google Ad Manager and AdSense.
Expanding publisher first-party cookies. Publisher first-party cookies can help publishers deliver relevant ads without tracking users across third-party websites. Publisher first-party cookies have been available to address frequency capping and fraud control previously.
When a publisher allows, Google provides publisher first-party cookies to help improve ad relevance on that specific publisher's website. The solution uses information from ad interactions that users take on that publisher's own site. This information cannot be used on any other publisher's website. The feature also respects people's ads personalization preferences that they have indicated through AdChoice controls.
Publisher first-party cookies are an especially useful solution for smaller publishers, who may not have the resources or infrastructure to leverage first-party data independently. They require minimal technical work from publishers to use.
The introduction of audience signals. Google announced publisher-provided signals last month to help publishers categorize their first-party data into audience or contextual segments and then share those signals with programmatic buyers. Those signals make it easier for programmatic buyers to "find and purchase audiences based on things like demographics, content interests or purchase intent across multiple sites and apps without tracking people's activity in apps or across the web."
What Google says. In a statement to Search Engine Land, Google said:
"As part of a broader suite of tools, we're helping publishers of all sizes build durable advertising strategies that uphold user trust. This solution is really geared toward supporting the publisher base, especially smaller publishers who may not have as many resources, as they continue to navigate changing privacy expectations."
Peentoo Patel, Director of Product Management, Google Ad Manager
Launch date. This feature will be available to publishers beginning in November. 
Source: Google to offer publisher first-party cookie support
Uninstall these malicious mobile apps now, Facebook warns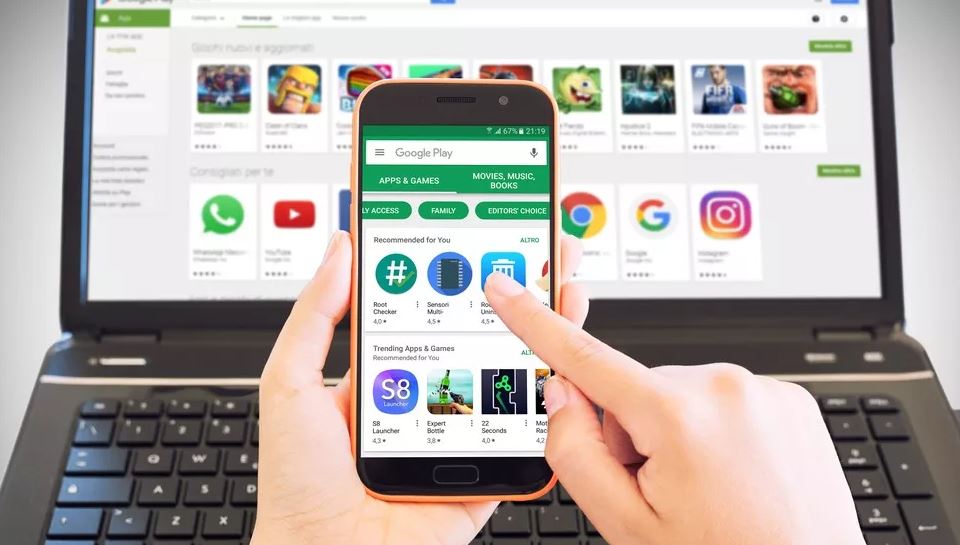 Facebook says it has spotted hundreds of malicious mobile apps that abuse its single sign-on (SSO) feature to steal people's login credentials.
While it has reported the apps to Google and Apple, the operators of the world's two largest mobile app stores, users who have already installed these apps will remain under threat until they are deleted.
In a blog post, the social media giant explained it identified over 400 malicious apps on Android and iOS. These apps range from fake VPNs to photo editors, mobile games, business apps, utility apps, and health and lifestyle services.
Dangerous mobile apps
When installed, the apps in question require users to "log in with Facebook" to use their features. However, doing so results in data being stolen, allowing threat actors to use their accounts for whatever they see fit.
Sometimes, threat actors would use Facebook to distribute malware and viruses, launch stage-two ransomware attacks, take over pages and groups the compromised account was administrating, amplify fake news, or boost fraudulent apps with positive reviews.
Photo editor apps are by far the most popular type, comprising 42.6% of the entire batch. Business utility apps are second with 15.4%, followed by phone utility services (14.1%).
While most of these apps can only be found on third-party app repositories and standalone websites (which should be cause for concern, to begin with), some manage to bypass security measures set up by Google and Apple, and end up getting listed on the Play Store and App Store. Facebook managed to get all the apps listed on official repositories removed, but for the others it can't do much, right now.
To protect against such apps, Facebook suggests users look for "telltale signs" that differentiate malicious, from legitimate apps, including requiring social media credentials to run, the app's reputation, or promised features.
The full list of the apps can be found here.
Source: Uninstall these malicious mobile apps now, Facebook warns
More News:
Twitter Update Sets Goal To Be "Best Place To Share Media"
4 new Instagram ad surfaces and tools
YouTube Shorts Adds Another TikTok Feature – Voice Narration