Google helpful content update is now done rolling out
Google has confirmed that the helpful content update is now finished rolling out. The update took 15 days to roll out, starting on August 25, 2022, and ending on September 9, 2022. Google has posted it completed today, September 9th.
As a reminder, Google's helpful content update is a sitewide signal. It targets websites that have a relatively high amount of unsatisfying or unhelpful content, where the content is written for search engines first.
In short, did you write that piece of content to rank on Google or did you write it to help users?
What to do if you are hit. Google has provided a list of questions you can ask yourself about your content. Read through those questions as we posted over here, and in an unbiased manner, ask yourself if your content is in sync with this update.
Note, if you were hit by this update, it can take several months to recover, if you do everything right and make changes to your content over time.
More on the helpful content update. The new helpful content update specifically targets "content that seems to have been primarily created for ranking well in search engines rather than to help or inform people," Google said. This update aims at helping searchers find "high-quality content."
Google wants to reward better and more useful content that was written for humans and to help users.
Content written for the purpose of ranking in search engines, maybe called search engine first content, has been a topic coming up more and more across social media and other areas. In short, searchers are getting frustrated with landing on web pages that do not help them rank well in search because they were designed to rank well.
This algorithm aims to downgrade those types of websites while promoting more helpful websites, designed for humans, above search engines.
Google said this is an "ongoing effort to reduce low-quality content and make it easier to find content that feels authentic and useful in Search." This targets content written for search engines over human-first content.
Source: Google helpful content update is now done rolling out
TikTok adds additional regional trend insights
TikTok has added more insights, into countries, industries, holidays, and other key market trends to its insights tool.
What are TikTok Insights? Insights help advertisers and creators understand the audience, behaviors, opinions, and effectiveness of their campaigns.
Part of its Creative Center platform, the Insights tool allows you to filter by age group, viewer type (creator, advertiser, user), industry, events, and year.
Use the tool. You can test the tool and view different insights by location here.
Why do we care? It's a start. While the tool can be useful to help advertisers plan campaigns, it's not as robust as it could be. With limited data, the tool doesn't show as much information as one might expect a platform with one billion users to have.
Source: TikTok adds additional regional trend insights
Instagram Beta Testing New Repost Feature
At last – the long-awaited "repost" feature on Instagram is coming soon. But not for all users.
On September 8th, a Meta representative confirmed to TechCrunch that they plan to test the repost feature soon to a select group of people.
As of today, Meta has not publicly announced this soon-to-be feature.
The Reposts Tab Is Being Tested
So, how did this news break to the community?
Matt Navara, a social media consultant, screenshotted the profile of Adam Mosseri, current Head of Instagram, to his Twitter followers on September 7th.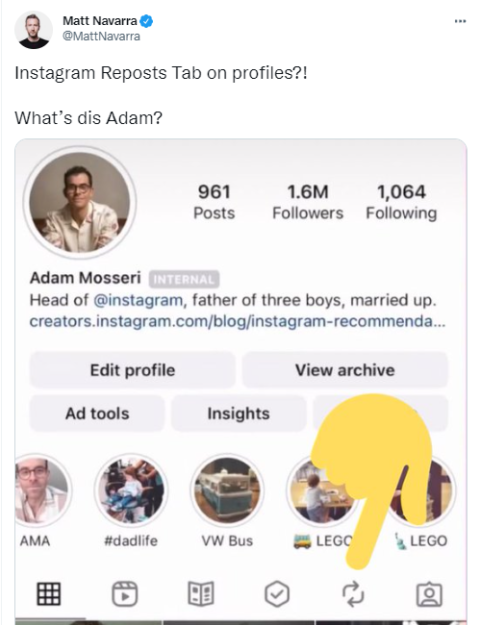 Based on the screenshot evidence, it looks like users will get a Repost tab within their profile. This tab will likely house all reposts a user has shared to their account.
This news becomes relevant again, as it seems that Adam's profile is the first to be spotted with the Reposts feature in the wild. Instagram may have been planning this for quite some time and is quietly rolling out the Beta test now.
Keeping Up With Other Platforms
The report feature on Instagram seems to be a long time coming. The platform already allows users to share posts within their stories, but not in their feeds.
Twitter has long held this type of feature with its Retweet function, enabling users to reshare tweets from users to their Twitter feed.
TikTok has also joined the resharing bandwagon by testing out its own version of reposting. TikTok currently has a Repost feature that shares specific content with a user's followers. However, it doesn't have the capability to show all the user's shared posts.
Source: Instagram Beta Testing New Repost Feature
WordPress.com Defies Marked Increase in Russian Takedown Demands
Automattic published its bi-annual transparency report this week, which highlights the different information and takedown demands received across the company's services.
Historically, Automattic has used these reports as an opportunity to publicly reaffirm its commitment to actively pushing back against requests that violate users' freedom of speech and bring attention to abusive takedown demands. In 2014, the company open-sourced its DMCA takedown process documents to help others implement their own processes. Past transparency reports have included information on intellectual property disputes, IRUs (reports from dedicated government Internet Referral Units), national security letters, government information requests, and other issues related to the hosted content.
In 2021, Automattic published a unified landing page for WordPress.com and Tumblr's transparency reports, which are now hosted on the same site, aimed at making it easier to navigate and compare the data. In the future, this may include the company's other products like Day One and Pocket Casts, as relevant requests come in.
The most recent report for the first half of 2022, includes information on the Russian censorship requests WordPress.com received.
"Over the past six months, in the wake of the Russian invasion of Ukraine, we have seen a marked increase in the number of takedown demands that target content which is critical of the Russian government and associates," WordPress.com Community Guardian Stephen McLeod Blythe said.
Source: WordPress.com Defies Marked Increase in Russian Takedown Demands
Yahoo Acquires Source Credibility Algorithms With Latest Acquisition
YouTube updates Masthead ad requirements to allow sports betting